Silesian Poppy Seed Roll with Streusel (Other Fillings Too!!)
In my mom's German Friend Group, she is famous for her Silesian Poppy Seed Roll with Streusel. (Although, to her it's just called "Mohnkuchen".) Made with enriched yeast dough, a filling of Poppy Seed and raisins, and topped with a crunchy flavorful Streusel… it's usually the first to disappear from the table! The thing is, since I was a child, I didn't want to eat the poppy seed part. I LOVED (and still love) the Streusel (and got my fingers slapped repeatedly for picking it off of her cakes!). My mom clearly loves me, because she always made a second cake, this one filled with Apricots or Cherries.
And now… after asking her for the recipe for over 10 years…. she has FINALLY shared it with me (and therefore, with us). It took a little deciphering. The recipe came as a Denglisch email (Deutsch-English)… and was missing a few key steps. Baking it was a bit like the Technical Challenge on the British Baking Show… it presumes that you are both an experienced baker, and a bit psychic.
BUT I pushed through… and my lovely family got to enjoy 4 cakes before I finally got it right! (and I was awarded STAR BAKER!) (…kidding)
The same recipe… but with Cherries
Because I had cherry, apricot, and apple filling at home, I made it with those. However, I am sharing her recipe for the Poppy Seed Filling because it's more traditional (Although frankly, she cheats a little. She starts with the canned Solo Poppy Seed filling, and augments it with raisins, citron and almond extract). She did give me her old recipe for scratch made Poppy Seed Filling, you will find it below the recipe.
The recipe is written with metric weights and I converted to cups. (Really, you should use a scale when baking German Recipes, they come out better).
This recipe makes 2 cakes, which means you can cut the Poppy Seed Filling in Half if you want to make different flavors. 
And if you see my mom, say thanks! She'll appreciate that…
Silesian Poppy Seed Roll with Streusel (Other Fillings Too!!)
Ingredients
Yeast Dough:
500

gr

3 1/4 cup All Purpose Flour

30-40

gr

Fresh Yeast

2 1/4 tsp or 1 packet dry yeast

1/4

Liter

1 cup Milk lukewarm (divided)

70

gr

1/3 cup plus 2 Tbl. Sugar

70

gr

5 Tablespoons Butter melted
Poppyseed Filling:
2

can Solo Poppy Seed Filling

12.5 oz

1

cup

Raisins

or less

3

Tablespoons

Citron

finely Chopped

1

teaspoon

Almond Extract
Streusel:
100

Gram

7 tablespoons Butter -melted

150

Gram

1 cup Sugar

175

Gram

1 3/8 cup Flour
Zucker Guß:
1 1/2 - 2

cup

Powdered Sugar

Few Tablespoons Milk
Instructions
Start with the Yeast Dough:
Sift the flour into a mixing bowl. Make a small depression in the flour.

In a measuring cup, combine 1/2 of the warm milk, yeast and 2 tablespoons of sugar. Pour into the depression in the flour, and kind of cover it with a dusting of flour (from the bowl, don't get more).

Let sit in a warm place for 10 minutes. The Yeast will start to activate... you will see bubbles forming on the surface.

Add the rest of the milk, the rest of the sugar, and the butter, to the flour/ yeast mixture. Mix in a mixing bowl until fully combined.

Then Knead for 10 minutes (I use the dough hook on the mixer)

Lightly oil a bowl, drop the kneaded dough in, cover with plastic wrap, and set in a warm place for 40 -55 minutes until doubled.

While it's rising, make the PoppySeed Filling
Poppyseed Filling:
Mix all ingredients together
Streusel:
Mix Sugar and Flour, add cooled butter and stir with a fork until it makes crumbs.

You can also add cinnamon or ground almonds.
Put it Together:
Preheat oven to 375 degrees Fahrenheit

Butter 2 Baking Sheets... or Cover with Parchment paper

Cut Dough in Half

Beat down each half, and roll out to a rectangle around 12 by 16 inches

Spread the filling of your choice on the rectangle (Leave an inch or so around the edge bare... more if you are using a lumpy filling)

Roll up the rectangles from the long sides. Don't roll too tight! Just 1/4 over, then onto itself.

Place seam side down on the baking sheet.

Cover with streusel.

Do the same with the second one. (They might both fit on the same sheet, but I have better success when I use two sheets)

Let the cake rise again for 20 minutes.

Bake 20 minutes. Will be browned, and streusel will be golden.

Let Cool

Combine Powdered Sugar and Milk until it looks like glue.

Drizzle on the cake.

Slice and serve

This cake freezes well for 2 months.

Wrap it up tight, and don't forget to label it!
Notes
This recipe makes 2 cakes. Make different flavors if you like.
Bake one for now, and the second for later.... 
Also know that the cake freezes really well. Wrap it up tight and label it. The cake should keep 2 months in the freezer with no problems.  
Canned Filling Makes this Recipe EASY
Solo Poppy Seed Cake & Pastry Filling (12.5 oz Cans) 2 Pack

Solo Cake & Pastry Filling Apricot – 12 oz

Musselman's Cherry Pie Filling,net wt 21 OZ(Pack of 2)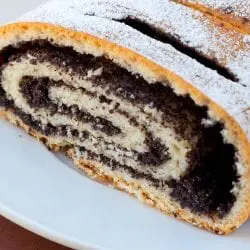 Poppy Seed Filling From Scratch for Silesian Poppy Seed Roll
For those who want to make this the original way, here is the original recipe from my mom's files. This makes enough for the cake recipe.
Ingredients
250

g

Poppy Seeds

125

g

Sugar

4

drops Lemon Extract

1

vanilla sugar

1

tsp

Cinnamon

50

g

Butter

50

g

Raisins

vorher einweichen (soften up ahead of time by soaking in a bit of water)

1/8

liter

hot milk

a pinch of salt
Instructions
Pour hot milk over poppy seeds and then mix in all the other ingredients . The filling should be spreadable.
Notes
Mom's note- I know from home that the poppy seeds were ground or pressed. It might be better if you could grind the seeds in a clean coffee grinder before you mix the filling. I take Almond extract and no cinnamon instead of lemon, but that is a matter of taste.
Silesian Poppy Seed Roll with Streusel
Step by Step
Let yeast activate with the milk and a little sugar in a depression in the flour
Mix, Knead 10 minutes, then let Rise until Doubled.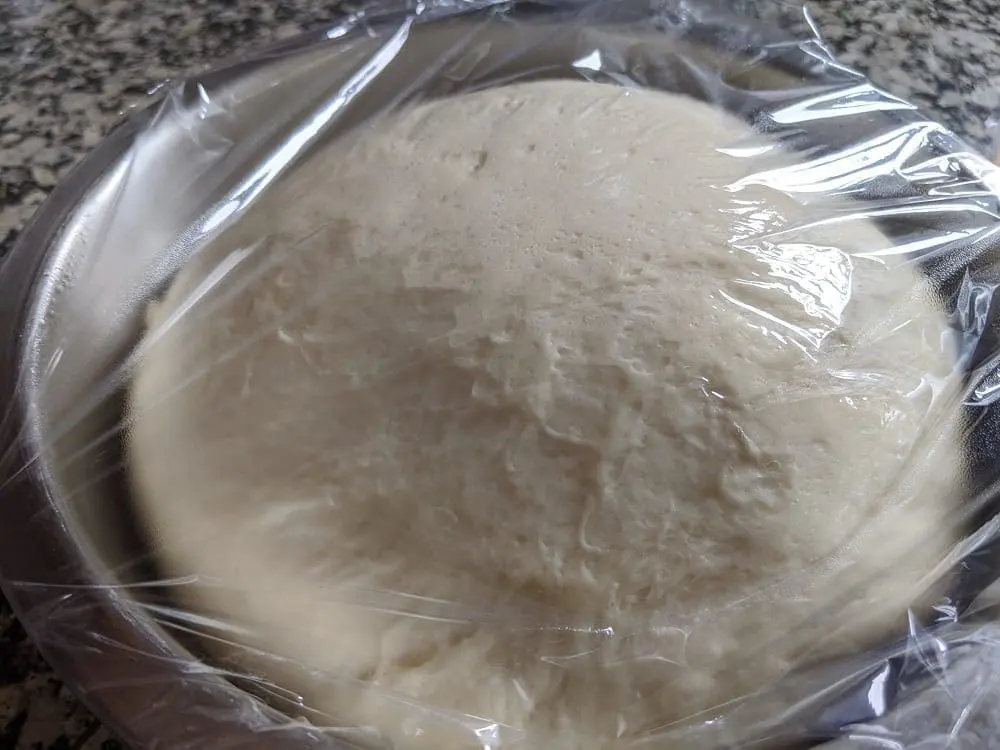 Cut dough in half… Roll to a rectangle…. Spread with Filling 
This one is an apricot filling (I used Apricot spreadable fruit)
instead of Poppy Seed Filling
Fold the dough and filling over 1/4 of the way, then roll on top of itself
This one is with cherry pie filling
Place on parchment covered or buttered Baking Sheet

Top with Steusel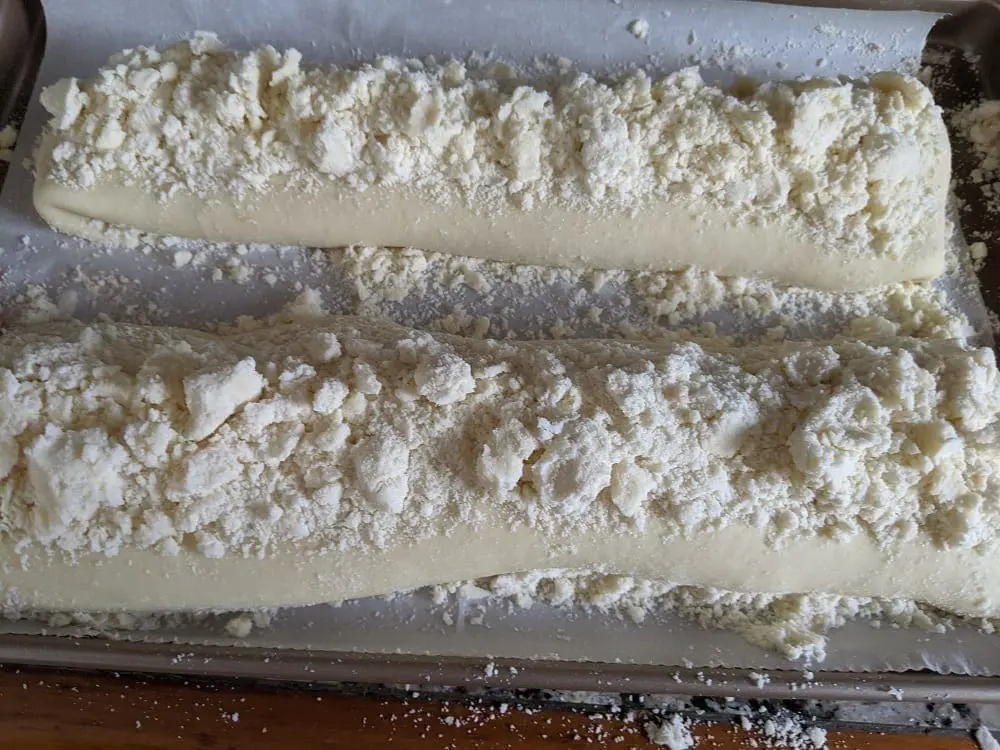 Let rise for 20 minutes….
Then Bake 20 Minutes
Drizzle with sugar glaze (Zucker Guß)
Slice and Serve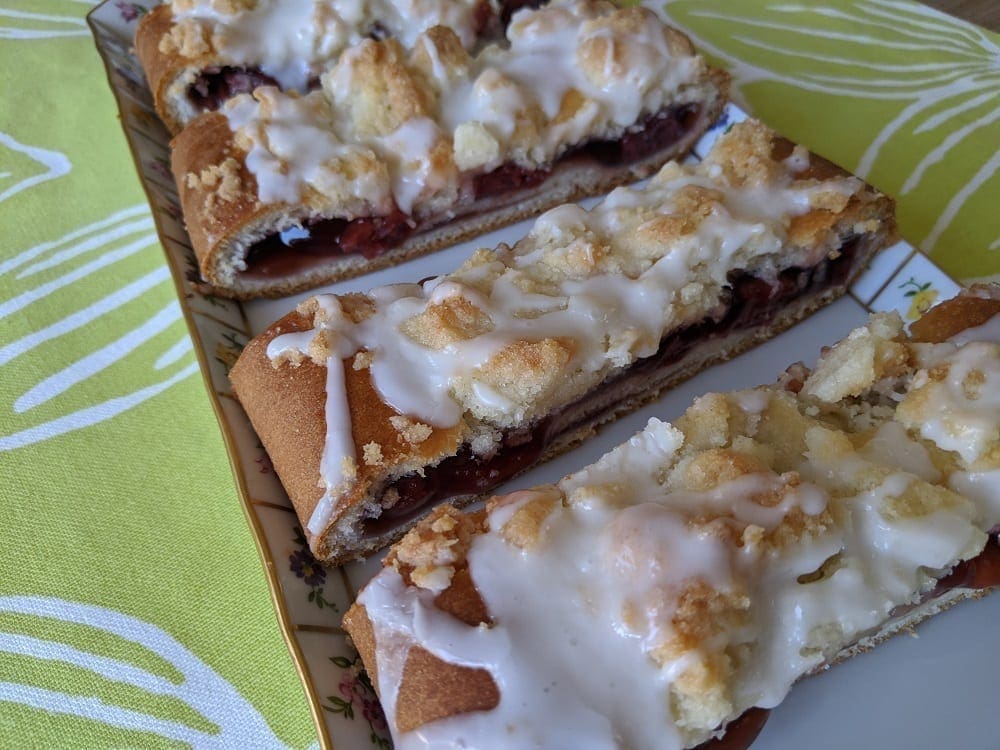 Apricot and Cherry Test Bakes…they were delicious!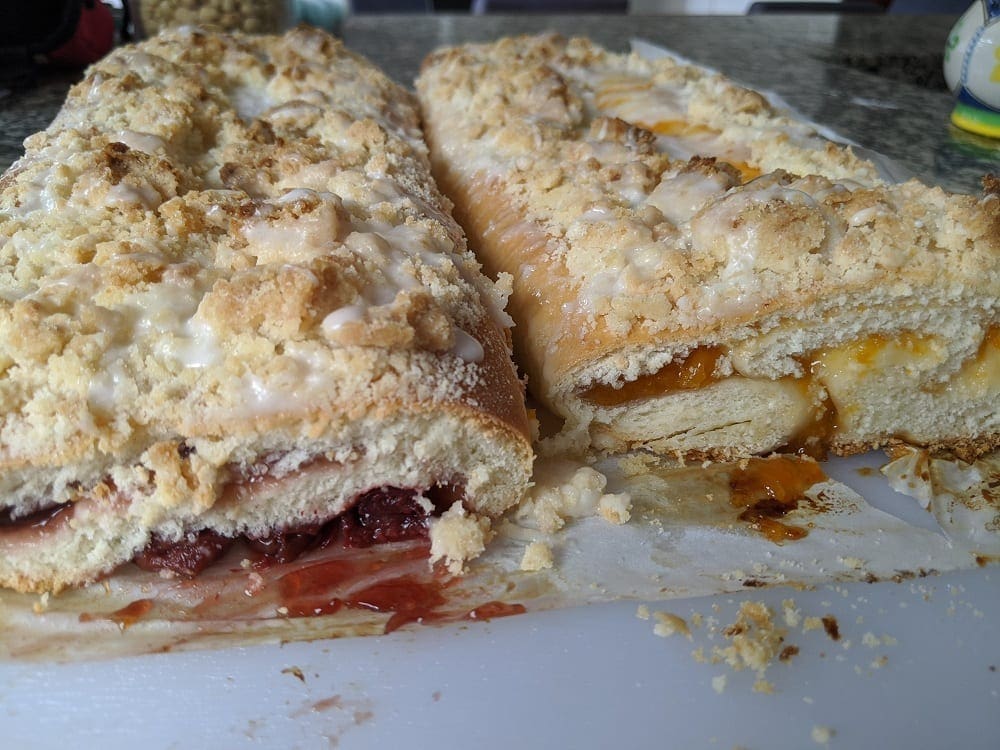 This one is with apple filling…use what you have!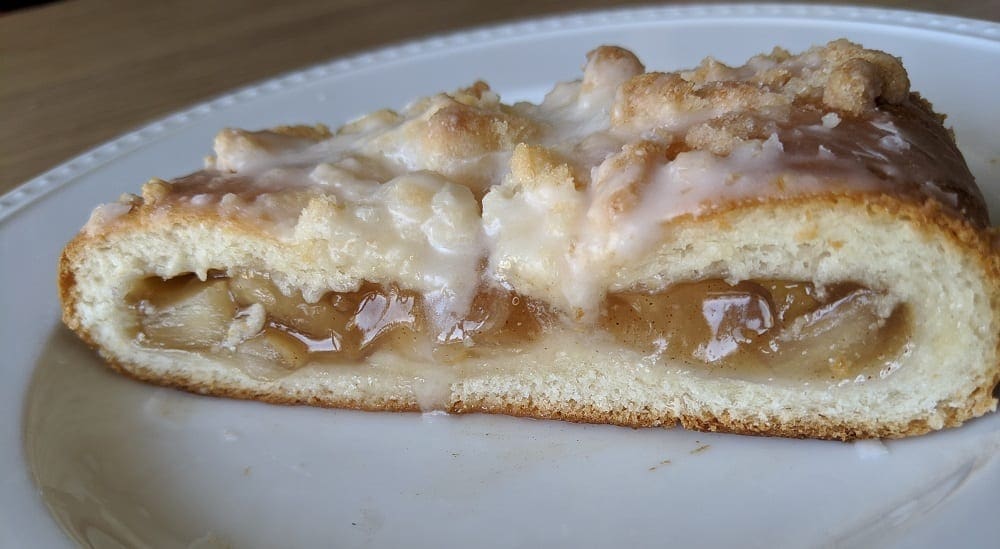 More German Baking Recipes
I've always reached for Dr Oetker first when baking… but lately I've pulled out Classic German Baking more often. Her version of Silesian Poppy Seed Roll with Streusel is a bit different from my mother's.
Classic German Baking: The Very Best Recipes for Traditional Favorites, from Pfeffernüsse to Streuselkuchen

German Baking Today