German House Windows – The Finest Example of German Engineering
For the finest example of German Engineering, look no further than German House Windows. Truly, what one other innovation so closely embodies German love for form, function and cultural norms than those shiny clean windows on the world?
Think about it.
German windows are designed to open in. This gives you with a great spot to hang your feather bedding out for air, or you can wave to passing friends.
They can go "auf Kippe" to get that oh so necessary air circulation through the house without leaving the home open to burglars.
When they close, they are AIR TIGHT… no drafts will come through. Oma will never say "es zieht!".
German house windows have a wide "Fensterbank", windowsill, perfect for plants. (What German household doesn't have a line of potted plants along the window?) OK, sure, I'd probably kill the plants, but, I'd really like to have that option.
You Can CLEAN German House Windows!
Best of all… they are designed to be easily cleaned. Since the windows can open inward, you can clean each window without use of ladder and circus training. And the frames are made from some wonder material that actually WIPES CLEAN! (My windows have painted wood frames designed to collect every last speck of dust and grime).
We all know that clean windows are the outward sign of a good German housewife. My poor Tante cleaned her windows four times in the week my cousin married… no, the wedding wasn't at the house, no their house wasn't in town…and heaven help her it was raining that week. It was the principle of the thing. People would see the windows. They must be clean. (Clearly, an extreme example… still… so that's how it is).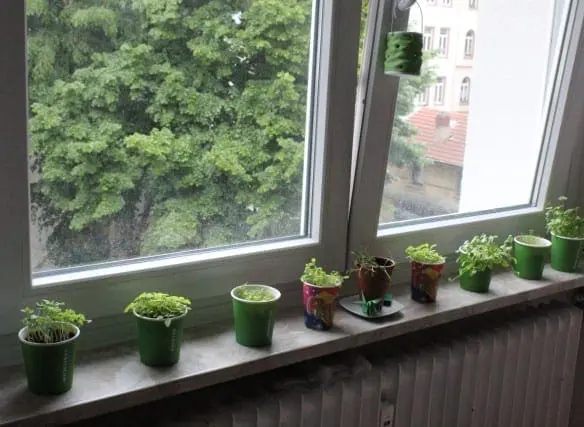 Why is this an issue for me? You see, I was imprinted with the desire for clean windows. Growing up in a Southern California Ranch style house, this was not too big of a problem. While I hated the chore, I would haul out the hose and squeegee, and (reluctantly) help mom do the job. Today, it's not so easy. I currently live on the 2nd floor (actually 2 ½ stories above ground) just out of reach of a ladder. (And as it turns out, spraying with the hose annoys the landlord downstairs). The windows slide up around 15 inches; barely enough to wriggle through, if there were something to stand on outside the window, which there isn't, but climbing out isn't possible anyway because someone bolted screens across the bottom of the windows.
So I sit here glowering. I can clean the inside… but can't get at the outside. This means I have to hire a professional, which kind of goes against my "don't pay someone to do a task that you can do yourself" policy (especially when you know they won't do it right anyway…).
Part of the problem is that I live in an older home (old by American standards, not German… it was built in 1898). And I think the windows are original. They sort of slide up and down. Sometimes they stick… sometimes they randomly drop. And they bang in the wind.
Don't get me started on how inefficient they are… you can see the curtains billowing even when the windows are closed.
Grrrrr……
(edit- Since writing this, I moved to a one story home with windows that open with a crank… still not German windows, but we are getting close. Renovations will happen eventually)
How to Open and Kipp German Windows
Granted, there is a little bit of training required to use a German window, and there was a time when I was sure I would turn that handle the wrong way and send the whole window crashing to the ground… handle sideways? handle up? But ultimately, it's easier than remembering to bring your own shopping bags to the store.
Handle DOWN– Window is closed
Handle UP– Window is Auf Kipp (tilted inward)
Handle HORIZONTAL– Window will open inward.
To close a German Window, turn the handle DOWN.
To put German Windows "auf Kipp" (tipped inwards) turn the handle UP. Then tug, and the window will fall open a few inches.
To Open the Window WIDE, turn the handle horizontally then pull.
Window Boxes
One last thing… Those flower filled window boxes... in every German City, in every small town or Dorf… people have window boxes lush with colorful flowers. As soon as the Spring rolls around, those boxes are filled and planted. They are watered and cared for, and they are so lovely.
Others may daydream of a big German car or a German vacuum… but give me a good German house window any day.
How to Clean a Window Properly like a German
(Remember, you want to get ordentlich in die Ecken und Kanten!)
Leifheit 3-in-1 Mini Hand Window Cleaner

Leifheit Window Wiper Powerslide 40 cm with Telescopic Handle, 120-200 cm, 51521

3pk Original German Shammy Towels Super Absorbent Chamois Cloths Large Size 20×27 Inch For Home Kitchen Bathroom Car Pet Stains (Orange)

Leifheit Glass Liquid Cleaner

HOMEXCEL Swedish Sponge Dish Cloth,12 Pack Reusable,Abosorbent Hand Towels,Sponge Cloth for Kitchen,Bathroom and Cleaning Counters (Pink/Blue/Yellow Assorted)…