What is Maifest? What is a Maibaum? Germany Celebrates May Day!
Maifest celebrates the end of the long dark winter, and the beginning of warm weather and light. It's a time of reawakening and joy! Best of all… it's a fun reason to have a party, now that Karneval is behind us, and Oktoberfest is still a few months away. But what is Maifest? And what is a Maibaum? How is Maifest celebrated in Germany?
Take a look and see!!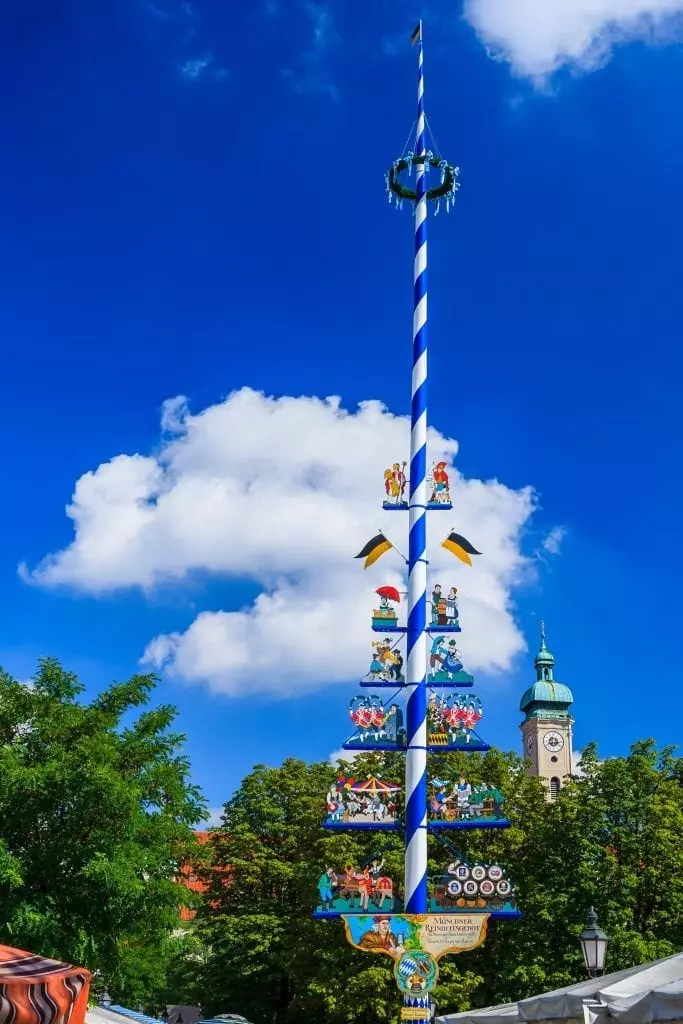 What is Maifest??
Maifest (Mayday) May 1st, is the official celebration that marks the arrival of spring. It's roots are in the Pagan celebration of Walpurgisnacht (April 30), tossing off the darkness and cold of Winter, although now, it's mostly a secular celebration. People of the cities and villages will decorate with ribbons and flowers. (In the Rhineland, it was custom for a young man to tie colorful ribbons in the garden of a girl he fancied…. during leap years, girls would do the ribbon tying). Most towns will erect a Maibaum (May Pole). There are bonfires to chase the darkness, and dances to celebrate. As with every German celebration, there are foods and special drinks like Maibock (strong spring beer) and Maibowle ( a wine punch with Waldmeister).
What is a Maibaum?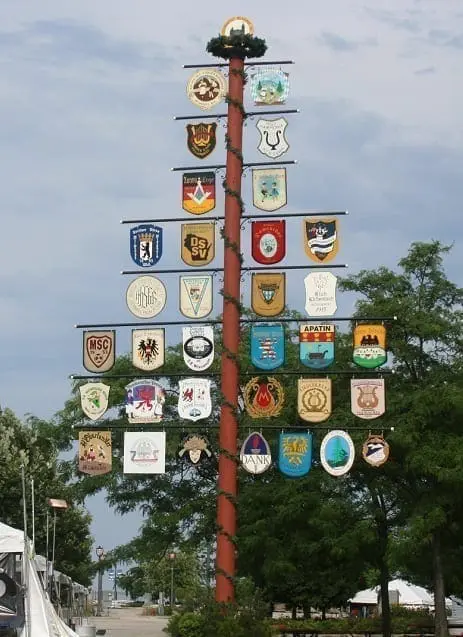 Around the 10th Century, the custom of the Maibaum/Maypole began.  The young men from the village would go into the woods and find a tall tree that they stripped of branches, and hauled back to town to decorate. Craftsmen carved shields or symbols depicting the various town guilds, or clubs that would be attached to crossbeams/branches on the Maibaum.  A wreath is added to the top, and long ribbons tied to it. The Maibaum would be guarded very carefully, since young men from other villages would try to "steal" it and hold the Maypole for ransom (usually, they could be paid off with beer or a nice lunch in a Gasthaus).
On the first day of May, the Maibaum is erected in the center of the town square or marketplace. In some places, the local Schtüzenverein (shooting club) will wake everyone up with cannon or gun fire! Once the Maibaum is secure, there is dancing, singing and games.
Celebrating Maifest
The dance around the Maypole symbolized spring, and the awakening of the earth.  In smaller towns, the entire village might be involved in singing and dancing! In addition to the Maypole,  there is dancing, eating and lots of drinking! Some towns burn bonfires. And special beverages like Maibock beer brewed especially for this celebration and Maibowle (a champagne punch) are served.
In 1934 Maifest became a  German National Holiday. Towns still celebrate the old traditions, but now May Day has taken on a new meaning. It's become a celebration of International Worker's day, so Unions and Political groups will hold events on May 1 as well.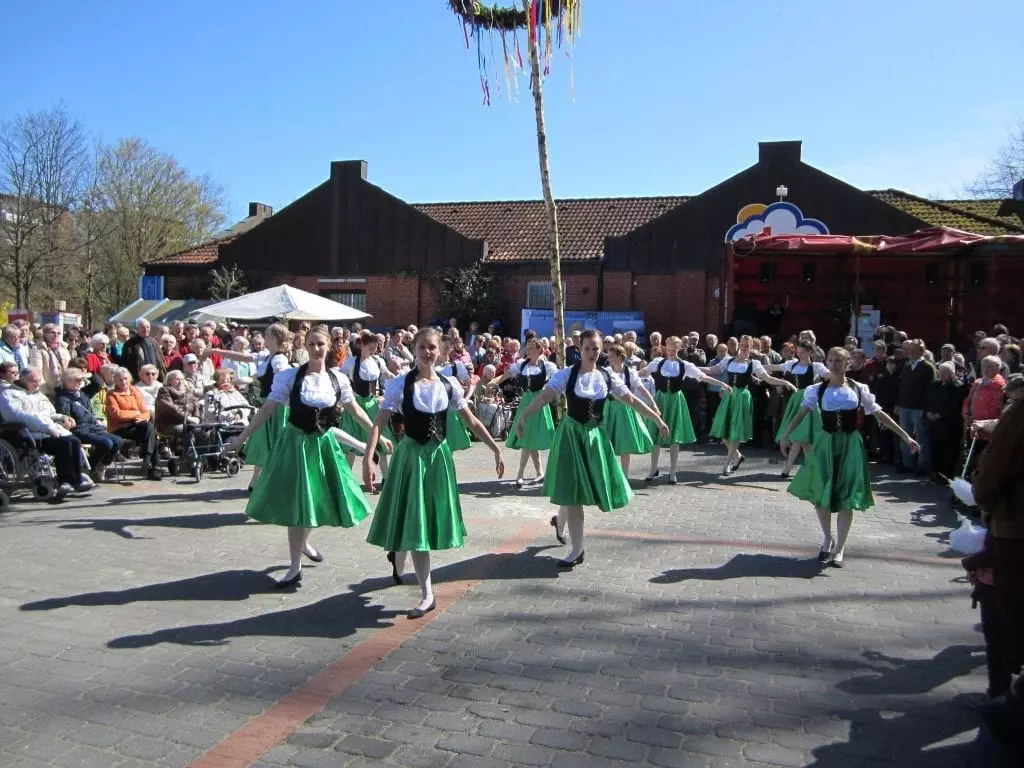 Maifest In America
Today, like many other traditions, Maifest came to America with German immigrants (it's been celebrated in Ohio since 1873). Trachtverein keep the tradition of building and decorating a Maypole… and they still dance. Take a look around at any large German Fest, you may see a Maibaum… and maybe you can identify the different symbols attached to it.
Maifest is a wonderful time to come together and celebrate the end of winter… and rejoice your way into spring!