Glanzbilder – Scrap Pictures to Collect, Trade and Decorate
Ernst Freihoff may not be a familiar name to many, but to many girls who grew up in, or spent time in Germany in the 60s, 70s and 80s, his company's Glanzbilder were an essential part of childhood. What are Glanzbilder? You may know them as Scrapbilder, Poesiebilder, Albumbilder, Rosenbilder or even Oblaten. These colorful sets of pictures were printed on a 23 cm by 16.5 cm sheet, with little tabs between the images. What kind of pictures? Hearts, flowers, trees, Christmas Motifs, toys, and the most adorable animals. These pictures could be separated and traded, or pasted into Poesie albums along with a poem.
My cousin helped me start my collection many years ago. We would ride our bicycles to the local stationary store and spend ages debating which ones we had to have. After buying them we would carefully split the sheets in half… so we could "double" the types of images in our collection. I still have an envelope full of them here at home, many still in the original cellophane. Looking through them always makes me smile… (I should do more than keep them in an envelope)
But what started the Glanzbilder mania? How did people get caught up in collecting and trading these colorful pictures? Believe it or not, the story starts with Beef Extract…
Invention of Glanzbilder
In 1837, when Godefroy Engelmann patented his "litho-color press or color lithography imitating painting" (basically, color printing called a Chromolithograph) , he was convinced that his works would replace paintings. They didn't… (well, not really, unless you consider the 1972 Pink Floyd concert poster you had hanging in your dorm room to be fine art.) What DID happen is that more and more companies used Chromolithography, and over time,  printing and paper became cheaper and cheaper. Suddenly, even people of average means could afford to have colorful pictures hanging on their walls (like your Pink Floyd poster).
Note- to give this a German connection, German playwright, Alois Senefelder patented the lithographic printing process in 1799 because he needed a cheap way to reproduce his plays. He stopped at black and white. Engelmann took the idea and added 20 colors.
The first Glanzbilder were produced a few years later by fine art printer Hagelberg, Berlin. That same year, 1860, he also did a nice portrait of Lincoln found in the Library of Congress collection. These early pictures could be found in German bakeries decorating cakes and Lebkuchen. But because they were so pretty, people usually saved the pictures to use again.
"Leibing Extract" and the Collecting Craze!
My mom tells me stories about collectible pictures that came in certain products, like margarine, that kids went crazy for. Putting collectible pictures in products started back in 1875 when a marketing genius got the idea to include a numbered picture with every jar of Liebing Extract (basically a beef bullion). Suddenly, everyone HAD to have the whole set! Other companies learned fast, and by 1890, the collecting mania was a thing. Special books were even sold to collect and mount these advertising images.
Then the collections began to blur. As the mania for collecting images grew, people got more creative with HOW they kept them. Special pictures were put into journals or family albums as decoration. These memory albums or scrapbooks were used to preserve memories (which explains why the English name for Glanzbilder is "Scrap pictures").  Visitors might sign someone's book and a Glanzbild would be glued in next to the signature. (Keep in mind, this was the time before everyone had a camera on their phone! Memories were preserved differently)
And while the advertising images remained collectible, the Glanzbilder, pictures that existed just because they are pretty, took off.
 Poesiealbum von Hedwig, 1901, Kurrentschrift, nördl. Niedersachsen
What are Glanzbilder?
Don't confuse Glanzbilder with stickers! Glanzbilder don't have any adhesive. Instead, a set of images, all related by theme, gets printed on a 24.5 cm by 13.5 (or sheet size A57) glossy paper. The paper is then embossed, giving the images a dimensional feel. Then, the white space between the images gets mostly cut away leaving tabs holding the images together. The "fancy" ones go back through a glitter process (these are everyone's favorite… think about how your kids got excited for shiny Pokemon cards…). The cutting (actually punching) and glitter are still done by hand.
Stationary stores sold the Albumbilder by the sheet, and people lined up to find the newest and prettiest ones. Common images were flowers or animals, but holiday images, especially Christmas pictures, are very popular.
So… what do people DO with the pictures?
Many Glanzbilder were collected because… well… they are pretty pictures. Most commonly, the images were glued into Albums, like Poesie Albums, along with a poem or saying. (What is a Poesie Album? Think of them as autograph books. You let a friend inscribe with a nice poem or phrase… something to remember them by forever. Poesie Albums were all the rage. Again, this is before Facebook… and before people had yearbooks to sign at the end of the school year).
Hannes Grobe, CC BY-SA 2.5 <https://creativecommons.org/licenses/by-sa/2.5>, via Wikimedia Commons
Creative people took things even further. Christmas Glanzbilder glued to a bit of stiffer cardboard made beautiful Christmas Tree Ornaments, or could be used to decorate a Christmas Card or letter. Decoupaging Jewelry boxes or Keepsake boxes (gluing the pictures on a box, then covering them with clear lacquer) was a great way to "pretty up" a plain box. You will still see people using them on Easter Eggs! And Mothers used them to decorate Schultüten for their children. If something could be decorated, a Glanzbild might just find its way onto it. Think of it as clip art in the days before computers…
And of course, Glanzbilder were traded on the school playground, sort of like Baseball Cards. People specialized in flowers or animals, wanting full sets of special images.
Keeping the Glanzbilder Tradition Alive
Although the peak of Glanzbilder trading happened between 1880 and 1910, in 1948 Ernst Freihoff founded the Ernst Freihoff Papierwarenvertriebsgesellschaft mbH (say THAT three times fast!) in Coesfeld. Why? According to company legend, the printing company was started with only 15 Glanzbilder designs. After seeing an older woman get misty-eyed when she saw the Glanzbilder he had produced, he decided to devote his business to the publication of Glanzbilder design. Over time the company grew to produce over 260 different designs!
Today Ernst Freihoff's children still run the company in Coesfeld. And honestly, they are the last of the German Glanzbilder producers still standing.  They focus on the "nostalgia" side of Glanzbilder. Every year they travel to Flea Markets, Second Hand stores, and Ephemera Sales searching for undiscovered Glanzbilder sheets to reproduce. (The company is up to 400 different designs now). And they still do print runs the old fashioned way, with the 24 color printers their father used. Punching out the spaces and glitter is done by hand.
Most of the Glanzbilder are bought around Christmastime when they are used for decoration. They also find their way into scrapbooks, to enhance family photos albums. And thanks to the current trend of decorative journaling (it's huge with my youngest and her friends), a whole new generation is buying Glanzbilder.
Did You Collect Glanzbilder? Do you still have them?
Some call them Kitsch, nostalgic old pictures of a time gone by. But for the many of us who still have a stack of Glanzbilder tucked away in a drawer, they are as important as a baseball card collection or stubs of concert tickets. They represent a time when we wrote poems in albums for our friends, and included our favorite Glanzbild to be remembered. A simpler time, but printed in 24 colors and dusted with glitter!
Valentine Motif's
Perfect for making your own Valentine's Day cards or notes…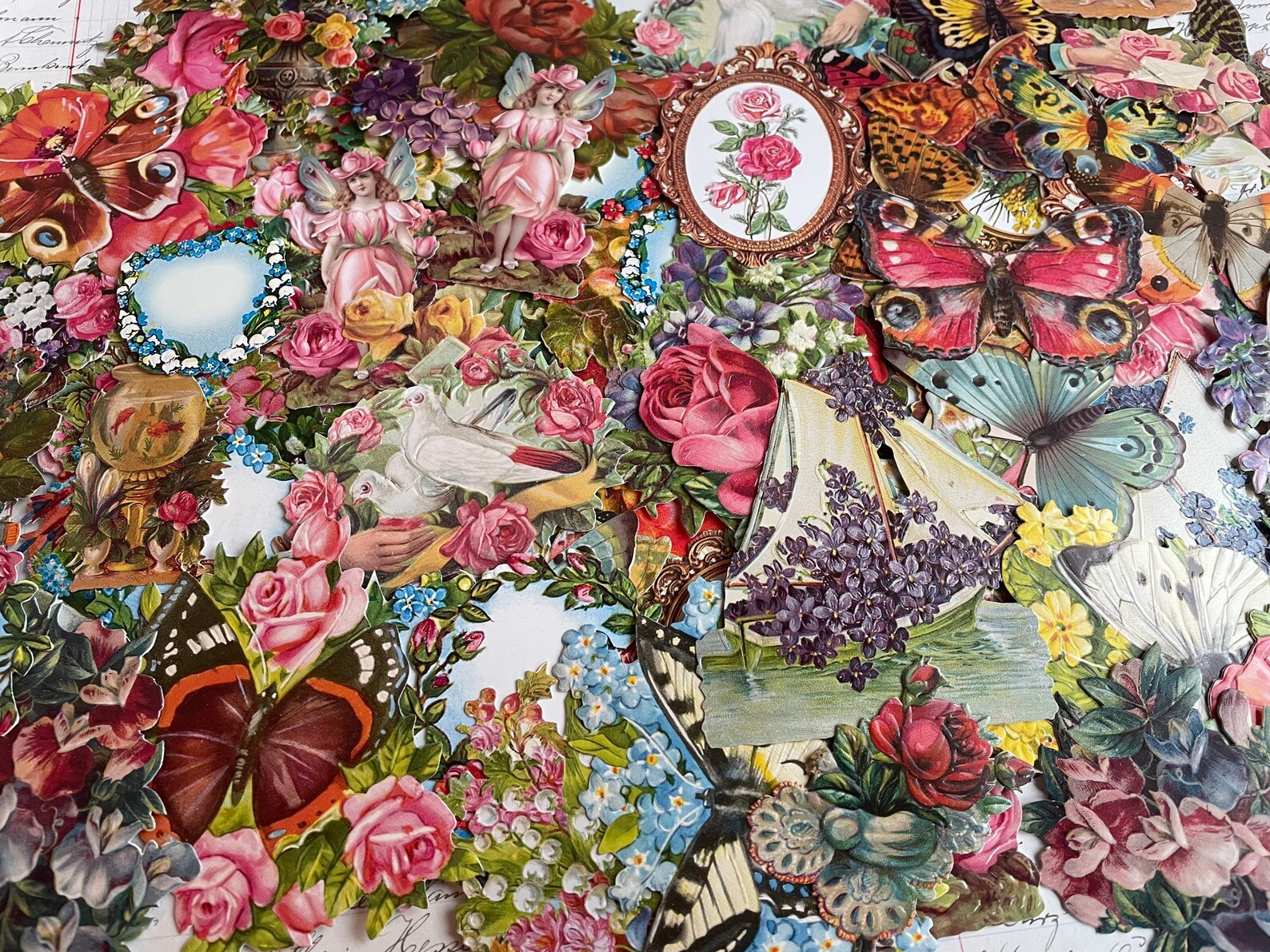 30pcs authentic German scraps – mixed bag – die cuts – Victorian scrap reliefs- for collages, junk journals and more!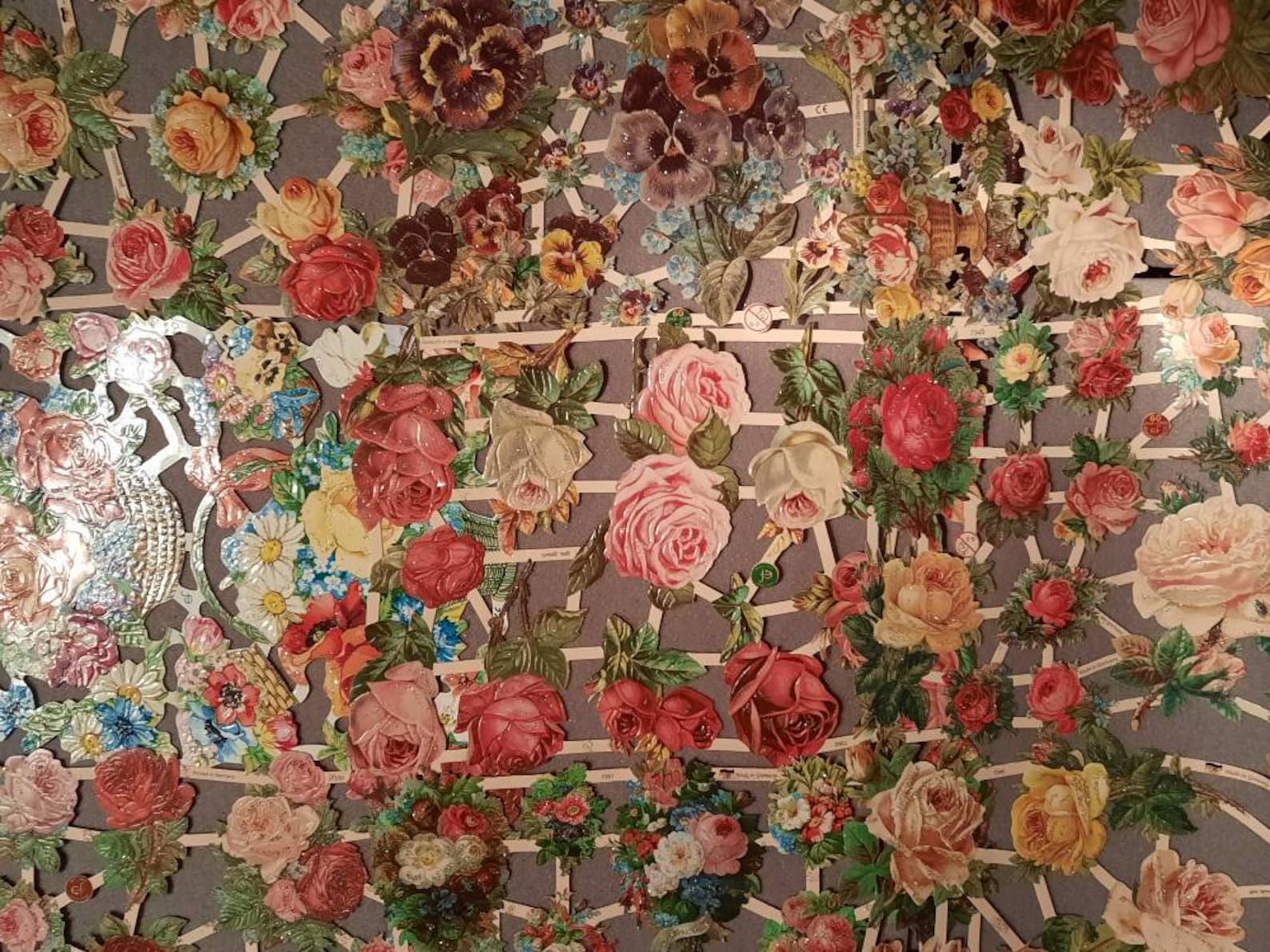 Glanzbilder Poesie Nostalgia, Blumen 11 versch. Motifs with and without glitter 7393,7362,7351,7346,7344,7330,7279,7182,7111 Ernst Freihoff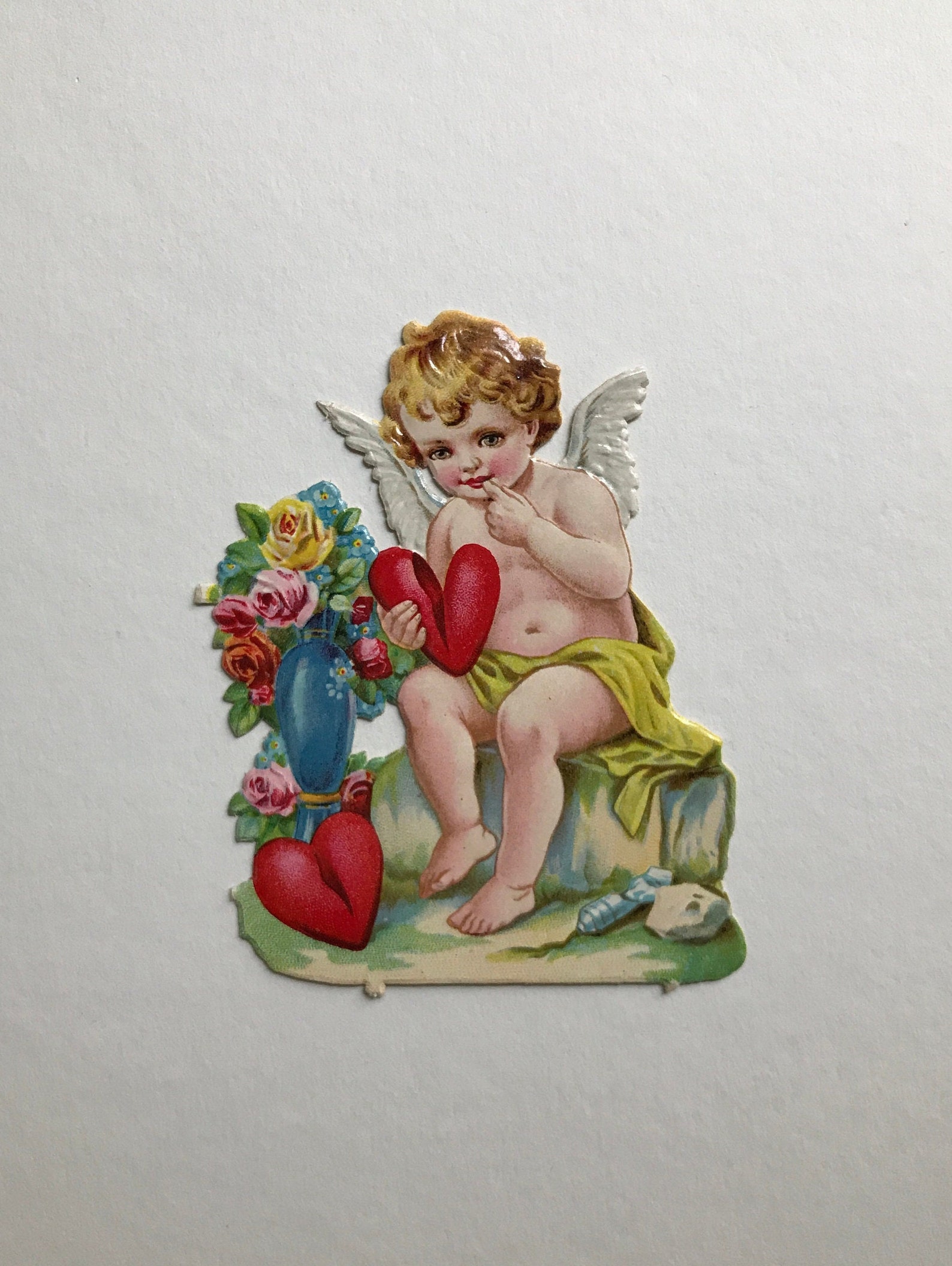 Antique glossy picture: Cupid with a broken heart, around 1900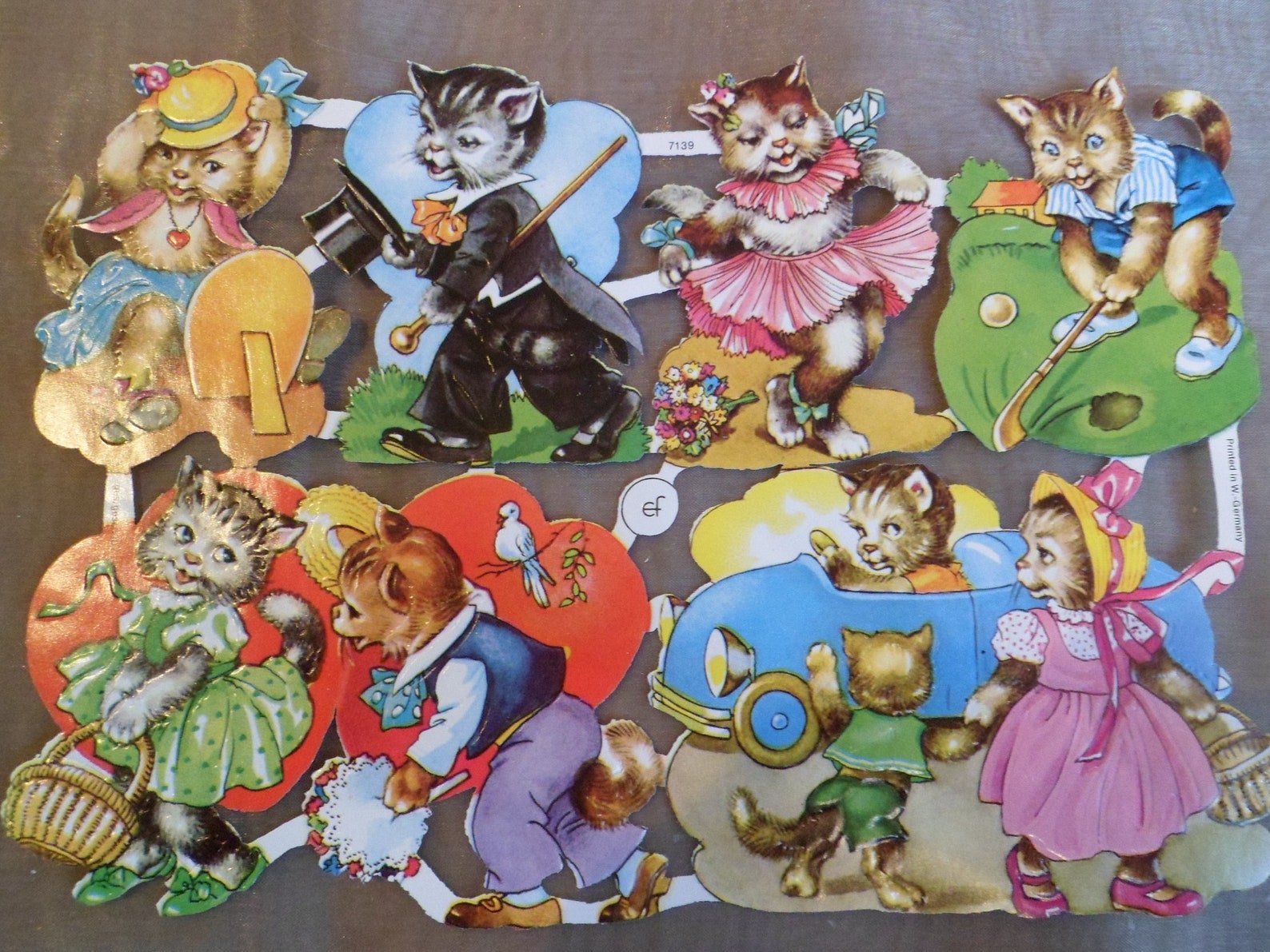 Glossy Pictures Poetry Pictures Nostalgia Cats , 7139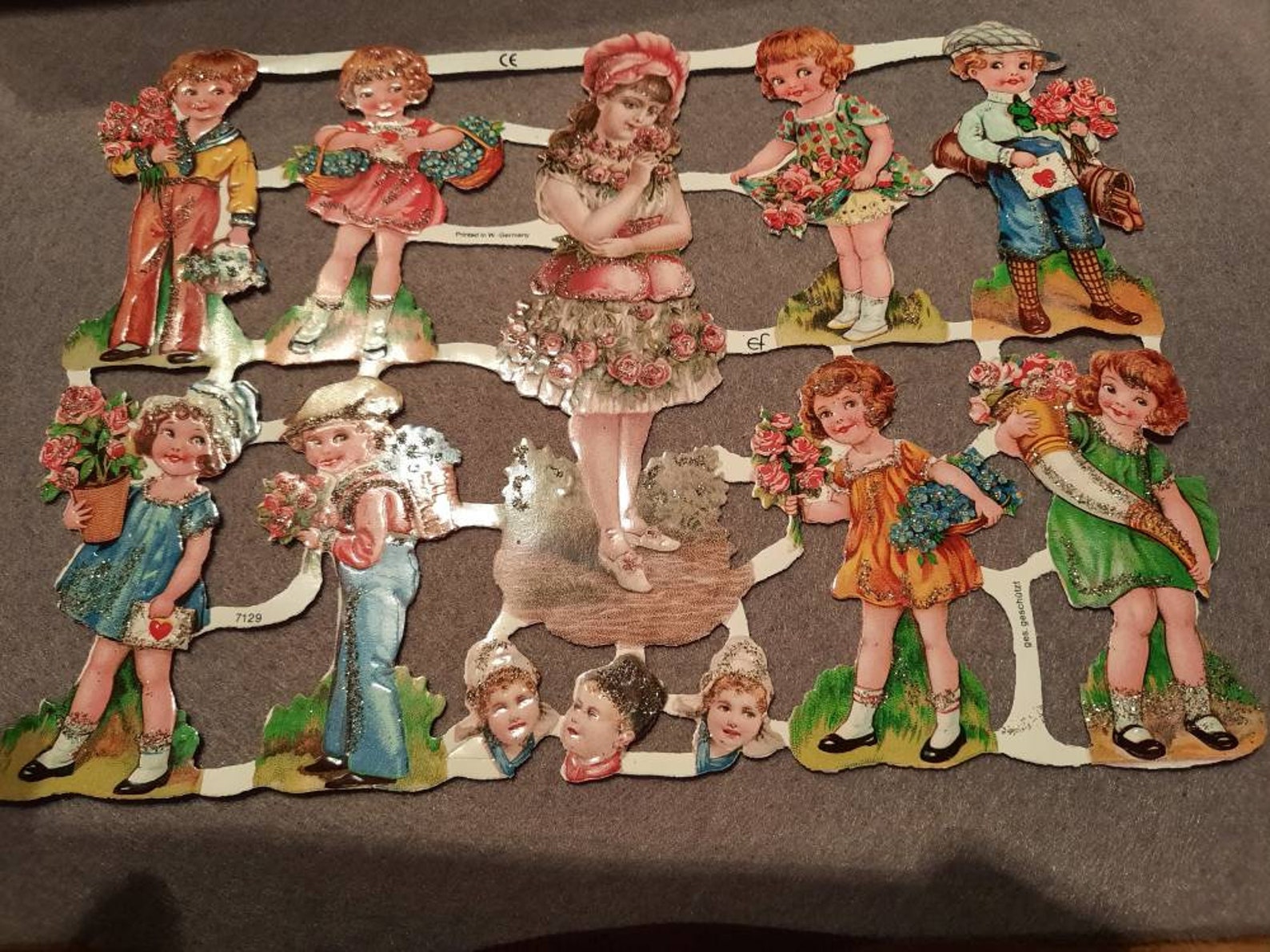 Glanzbilder mit und ohne Glitter, Poesiebilder, Kinder, 7129, Ernst Freihoff, German Embrossed, Vintage Style, Scrap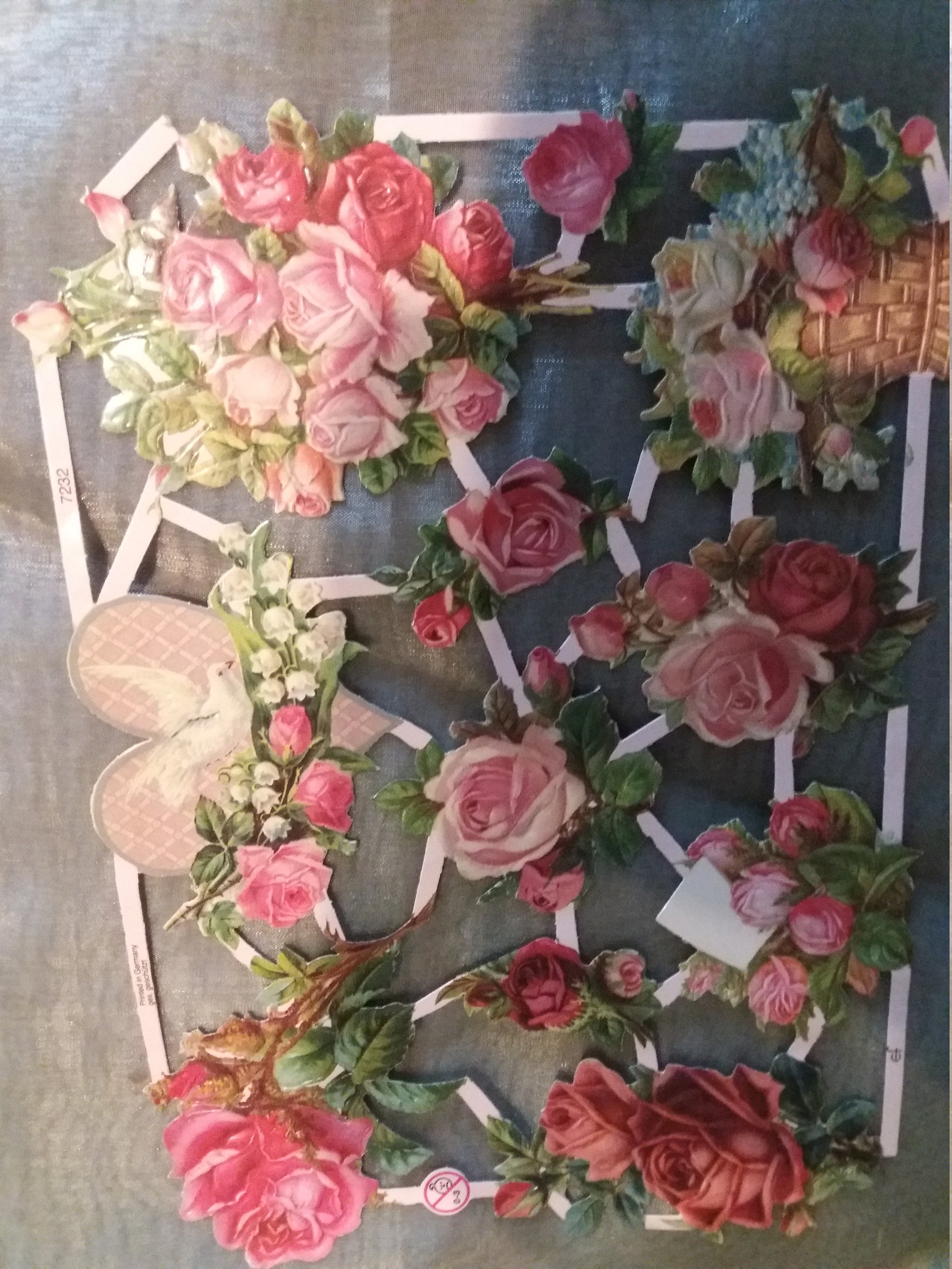 Glanz Poesiebilder Nostalgie Rosen, Taube, mit und ohne Glitter, 7232, Ernst Freihoff, German Embrossed, Vintage Style, Scrap, 27 x 17 cm

Easter Glanzbilder
Use these for Easter Cards or to decorate Eggs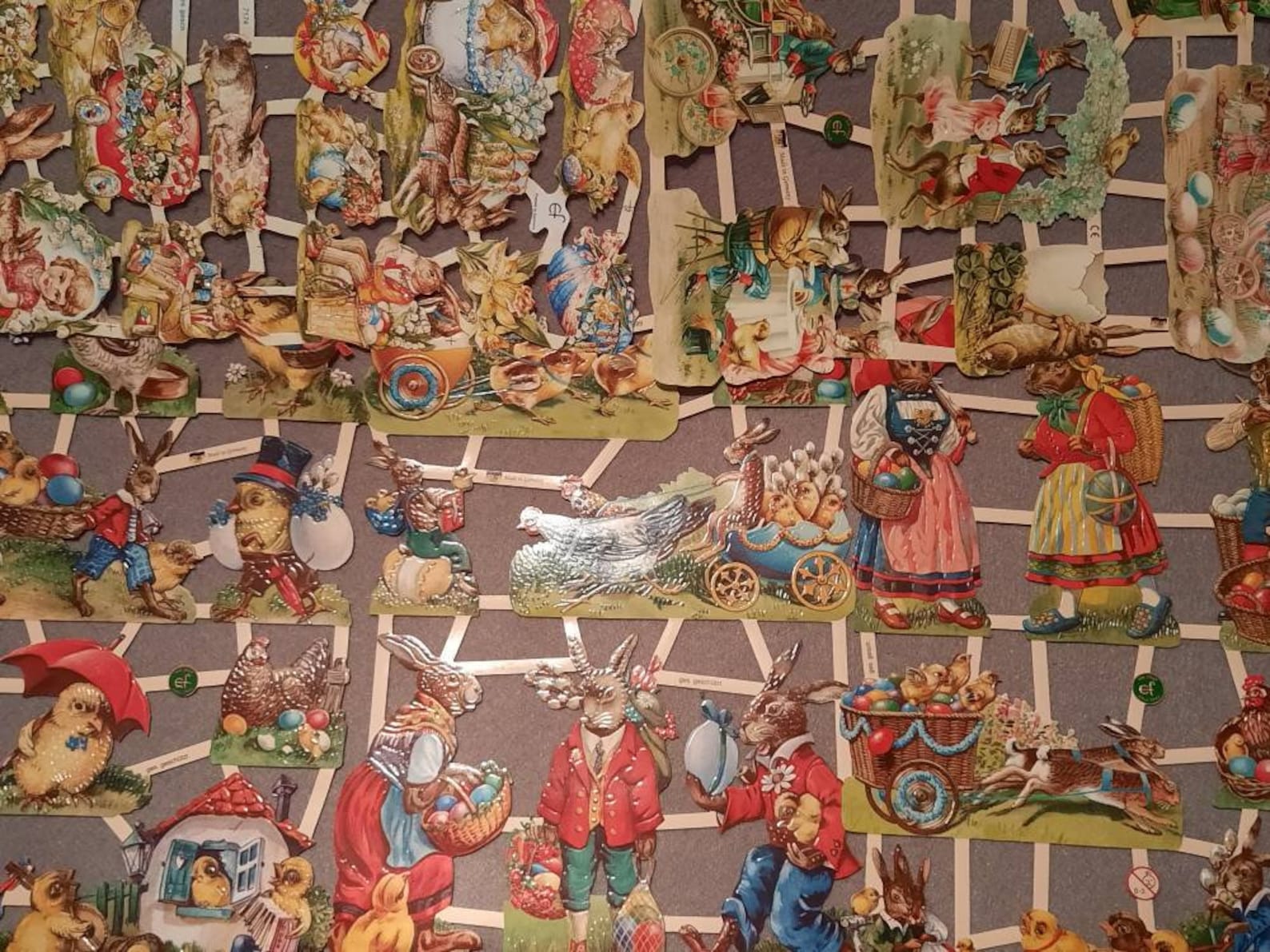 Glossy Pictures Poetry Nostalgia Rabbits, Chicks, Children, Easter 7 different motifs with 7174 and without glitter 7421, 7349, 7399, 7389, 7094, 7402

Vintage Easter Scenes Glanzbilder (1 sheet)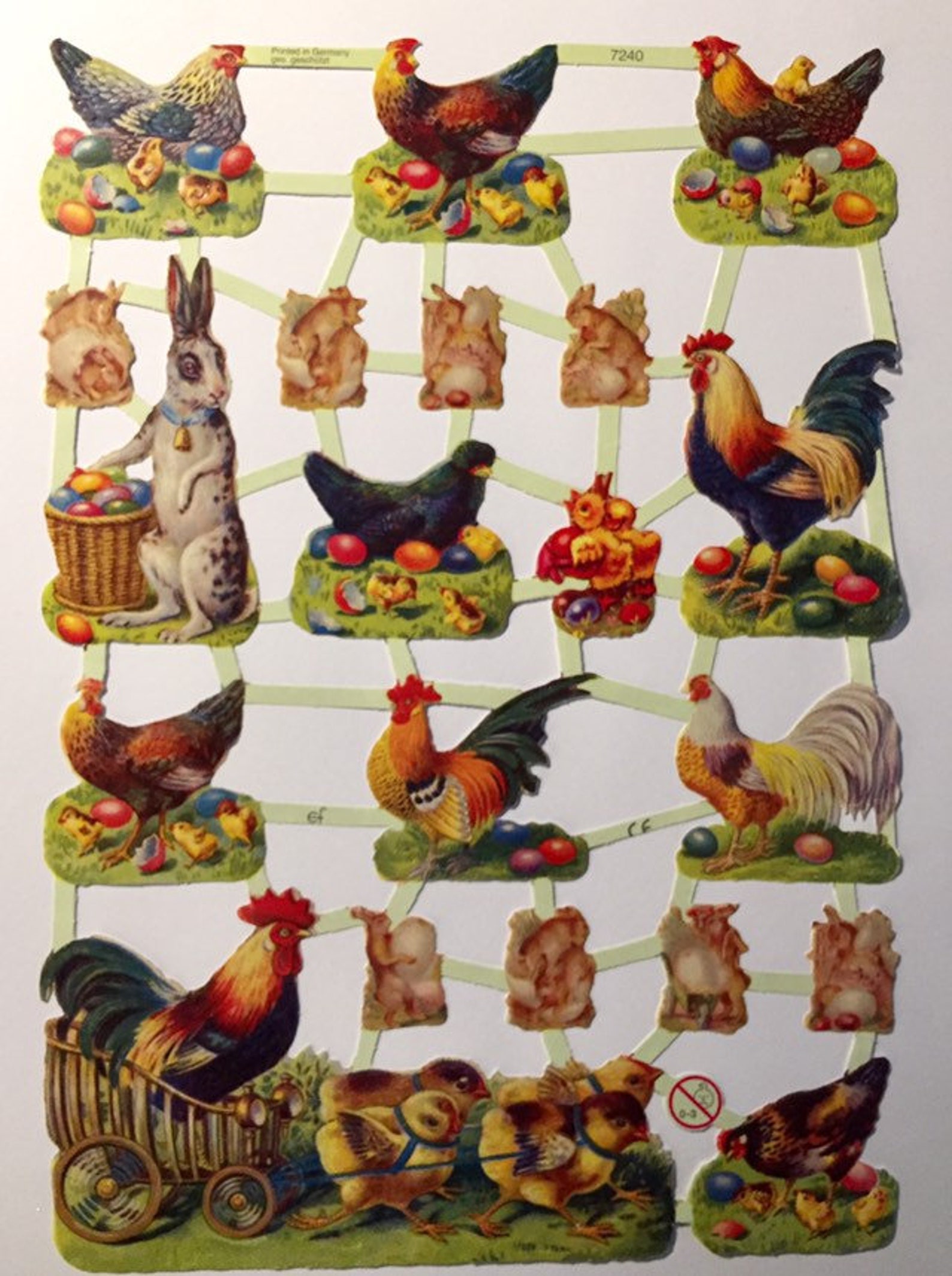 Easter Chickens Glanzbilder (1 sheet) #7240 Embossed Die Cuts – Ernst Freihoff GmbH Made in Germany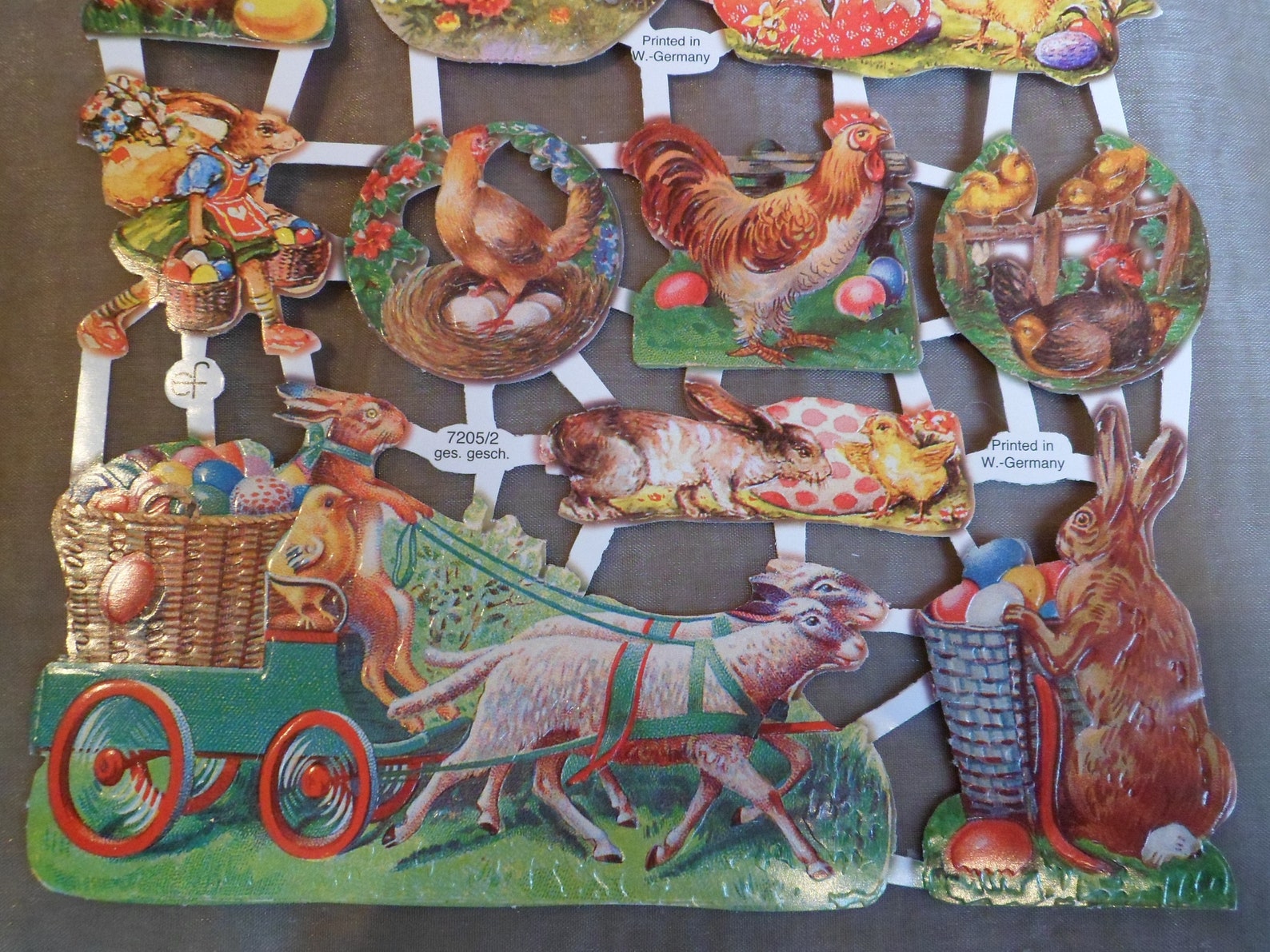 Glossy Pictures Poetry Pictures Nostalgia Easter with Glitter , 7205G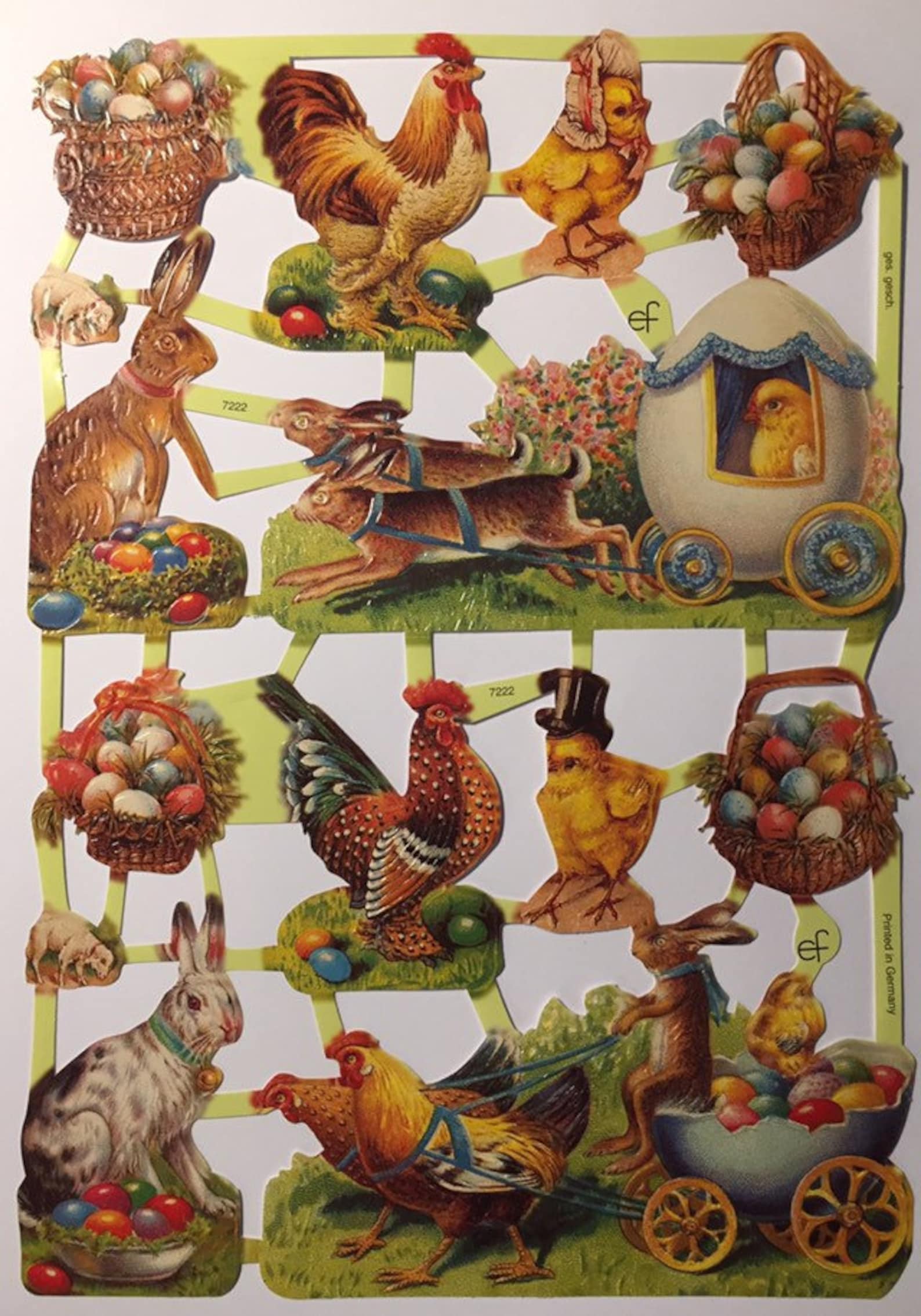 SCRAP RELIEFS Vintage Easter Glanzbilder (1 sheet) #7222 Embossed Die Cuts – Ernst Freihoff GmbH Made in Germany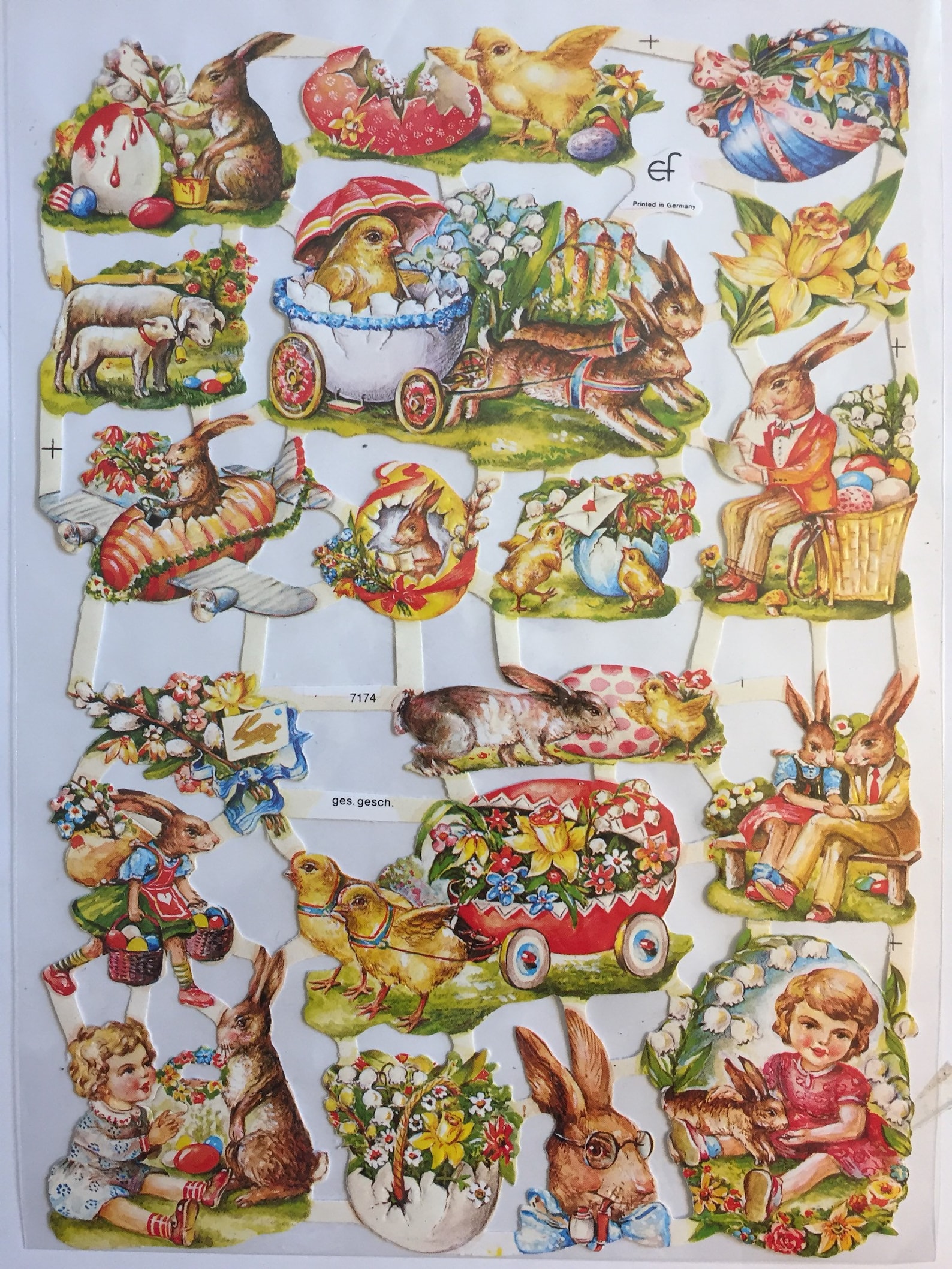 SCRAP RELIEFS 19 Vintage Easter Rabbits Chicks Children Glanzbilder (1 sheet) #7174 Embossed Die Cuts – Ernst Freihoff GmbH Made in Germany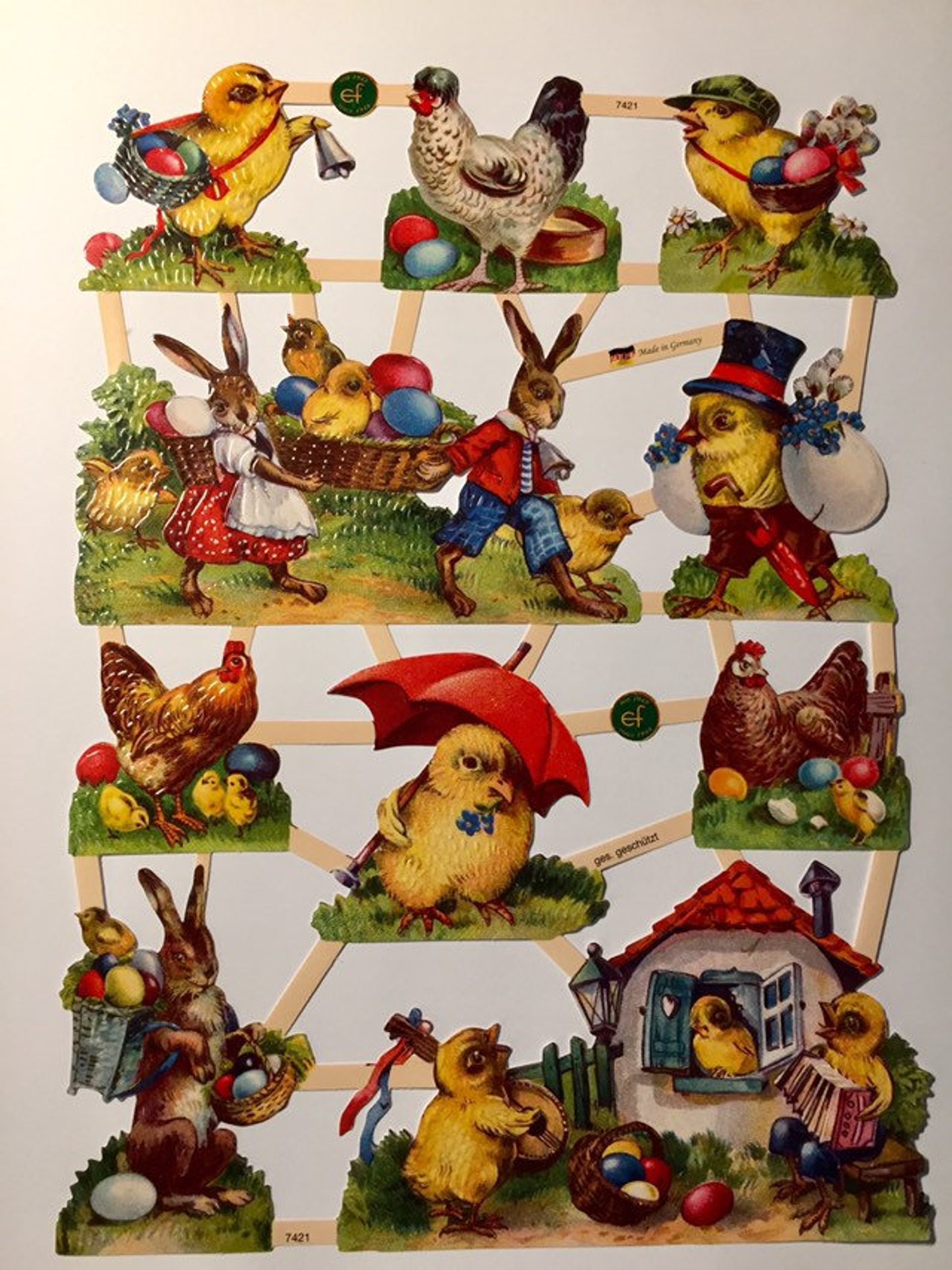 SCRAP RELIEFS Vintage Funny Easter Chicks Glanzbilder (1 sheet) #7421 Embossed Die Cuts – Ernst Freihoff GmbH Made in Germany

Add to Your Collection Here
Don't see what you like? click HERE for more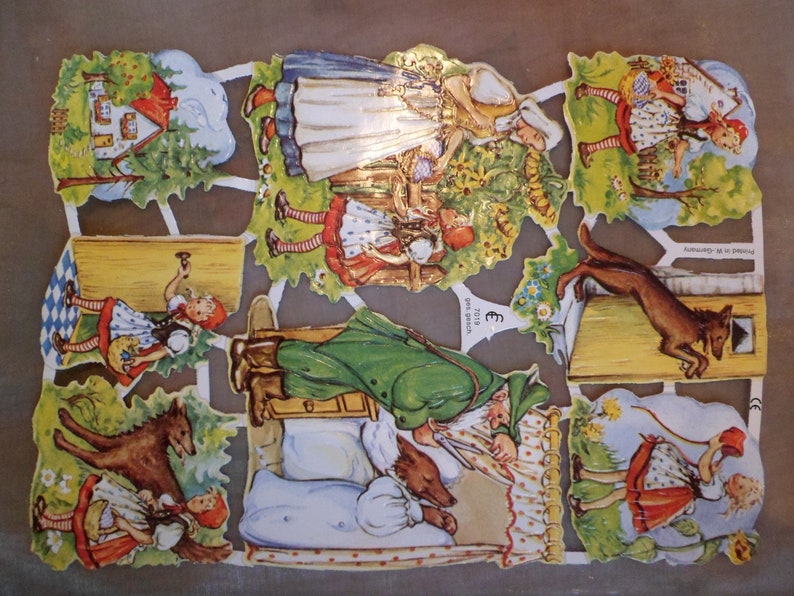 Glossy pictures Poetry pictures Little Riding Hood Fairytale 7019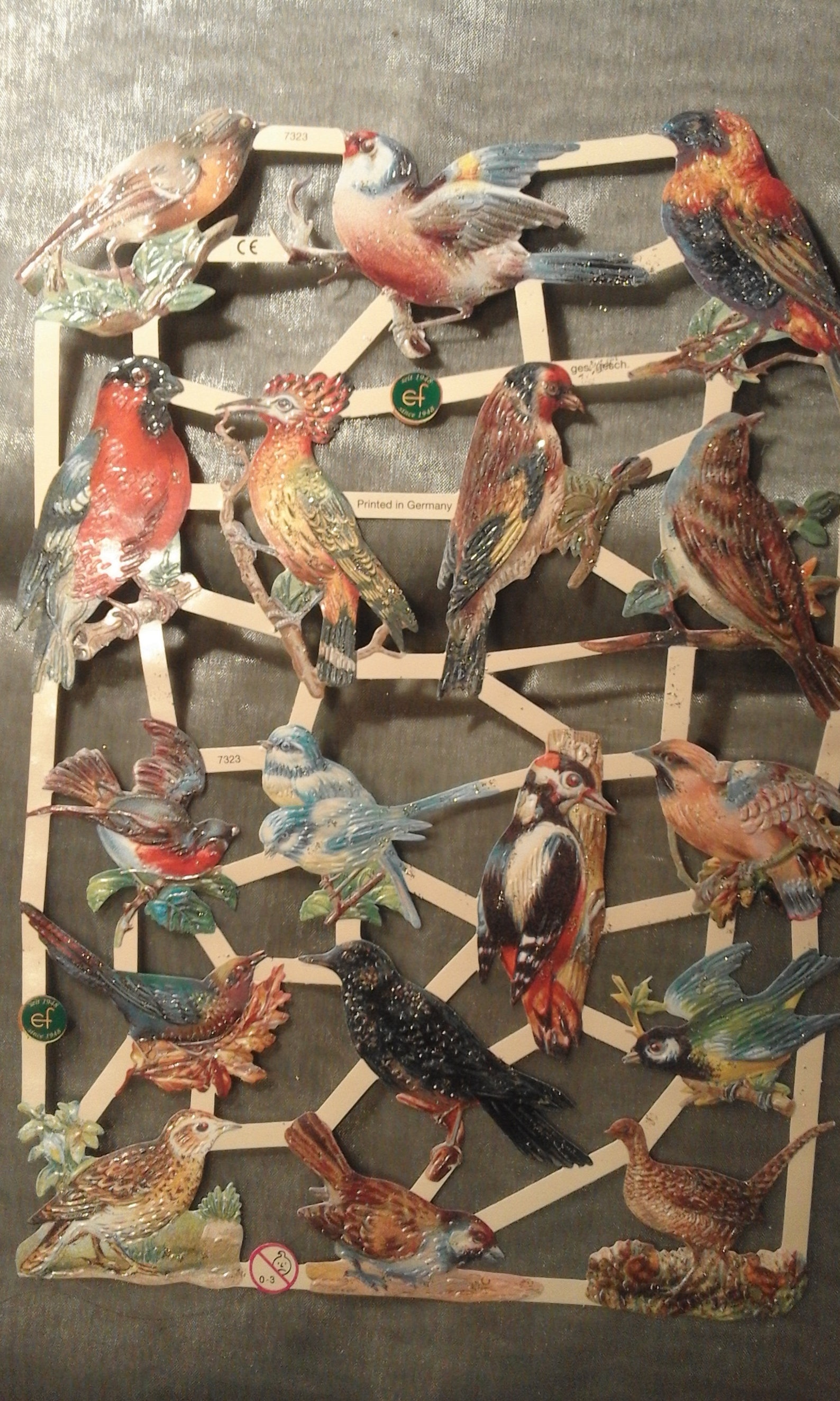 Glossy Pictures Poetry Pictures Nostalgia Animals, g7323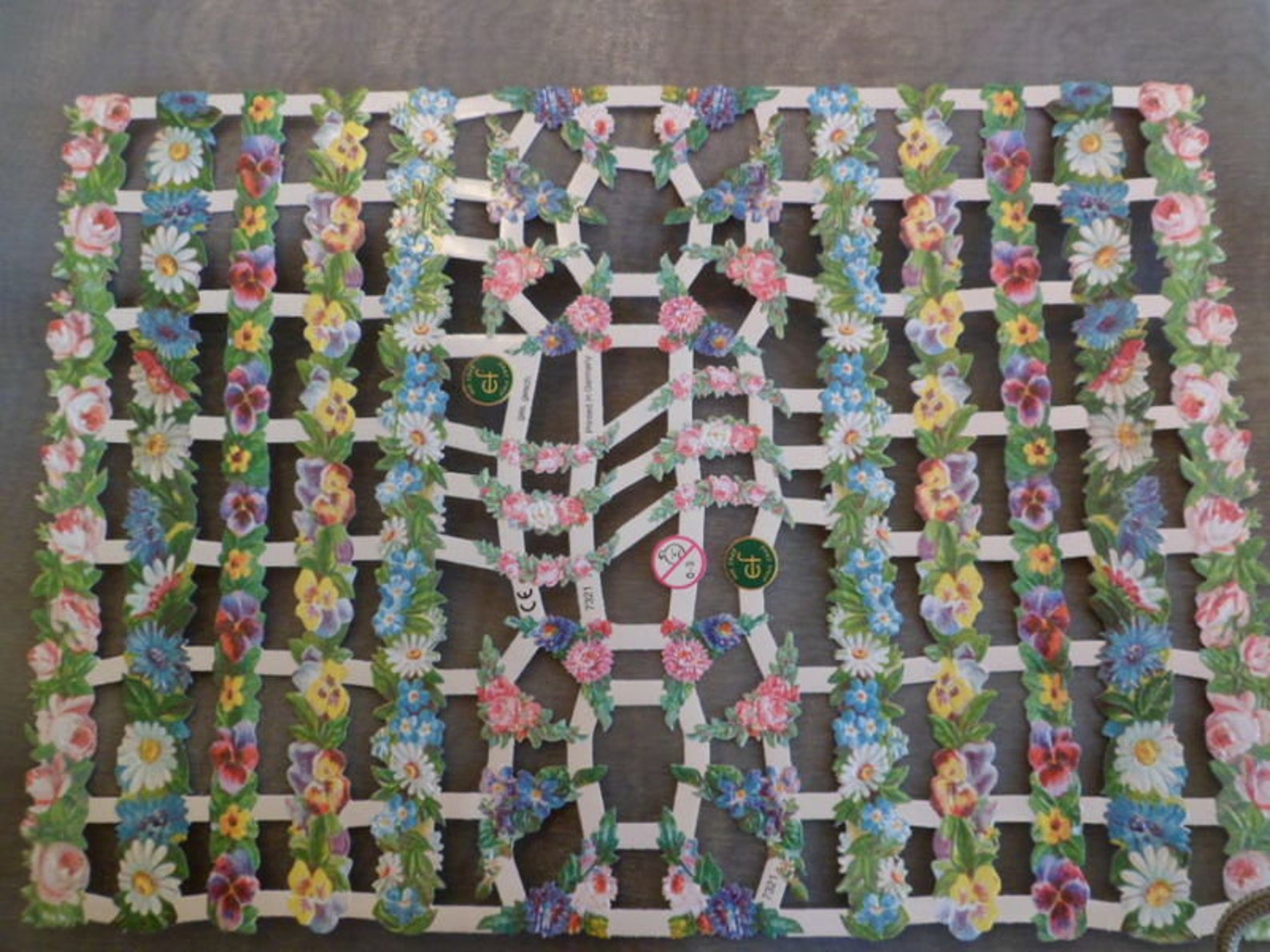 Glossy pictures poetry pictures flowers glitter 7321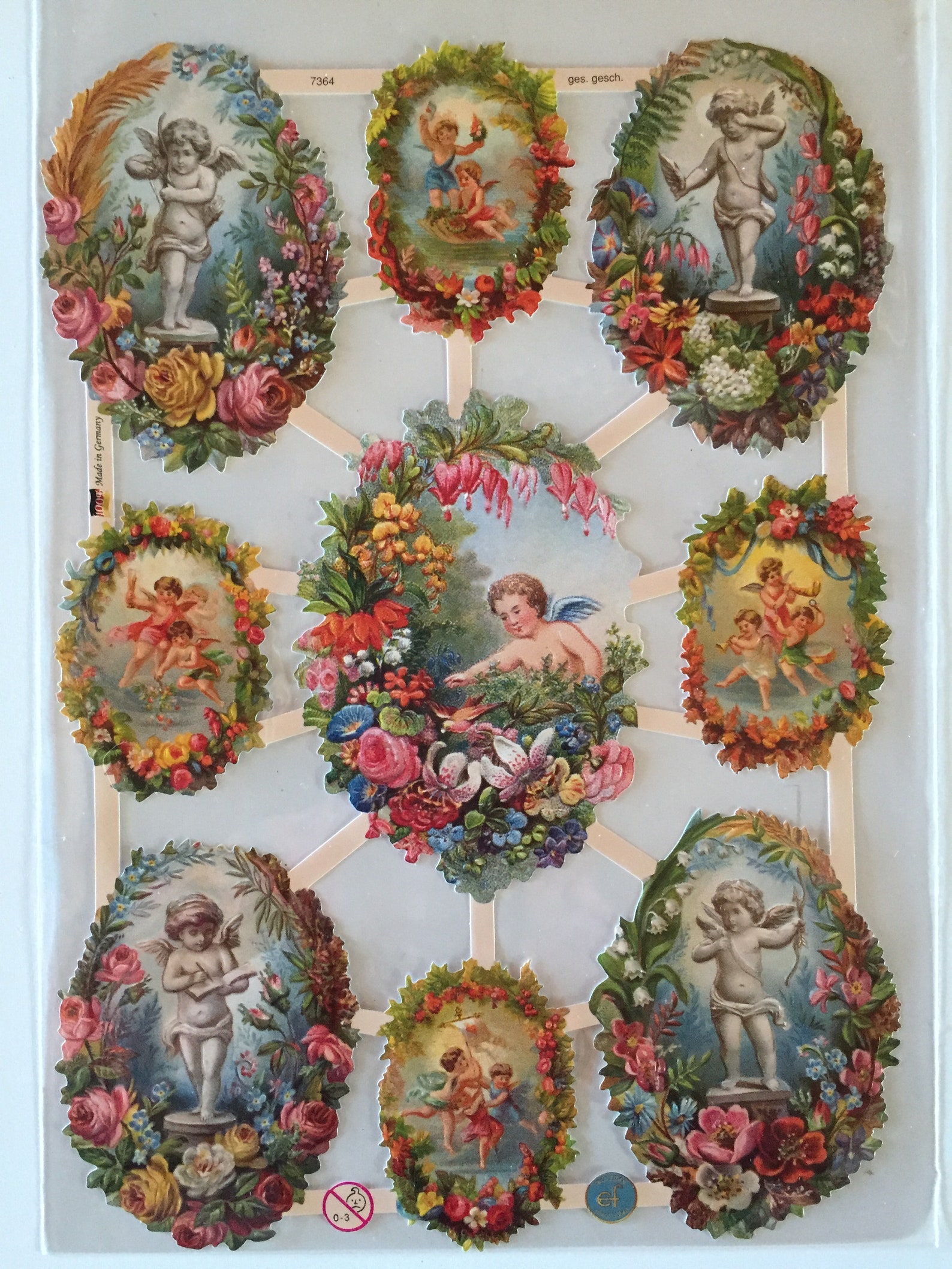 Angels Cherubs Children Statues Glanzbilder SCRAP RELIEFS (1 sheet) #7364 – Embossed Die Cuts – Made in Germany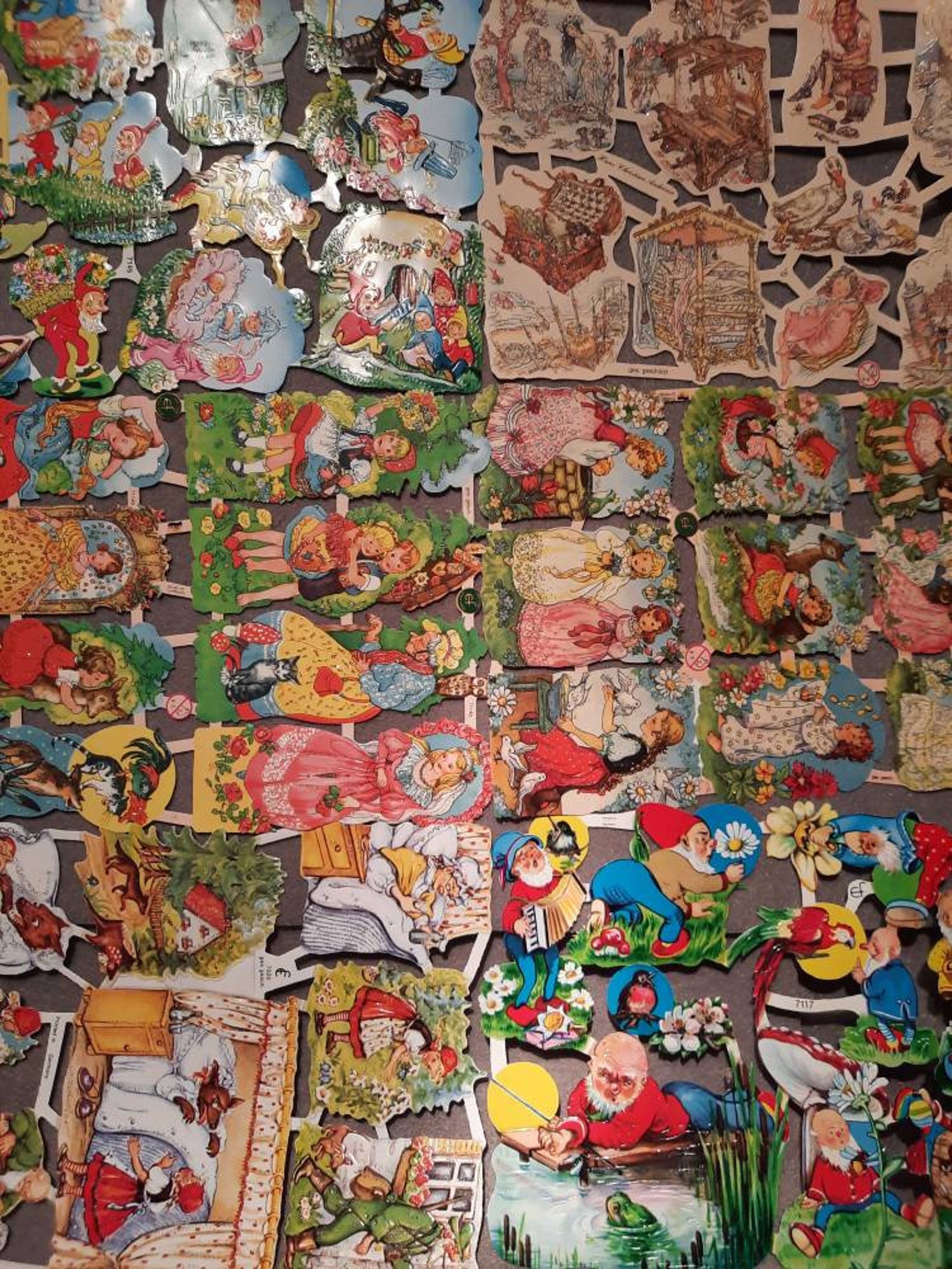 Glossy pictures Poetry Nostalgia, dwarfs, fairy tales, 7 different motifs with and without glitter 7265, 7145, 7142, 7117, 7114, 7020 Ernst Freihoff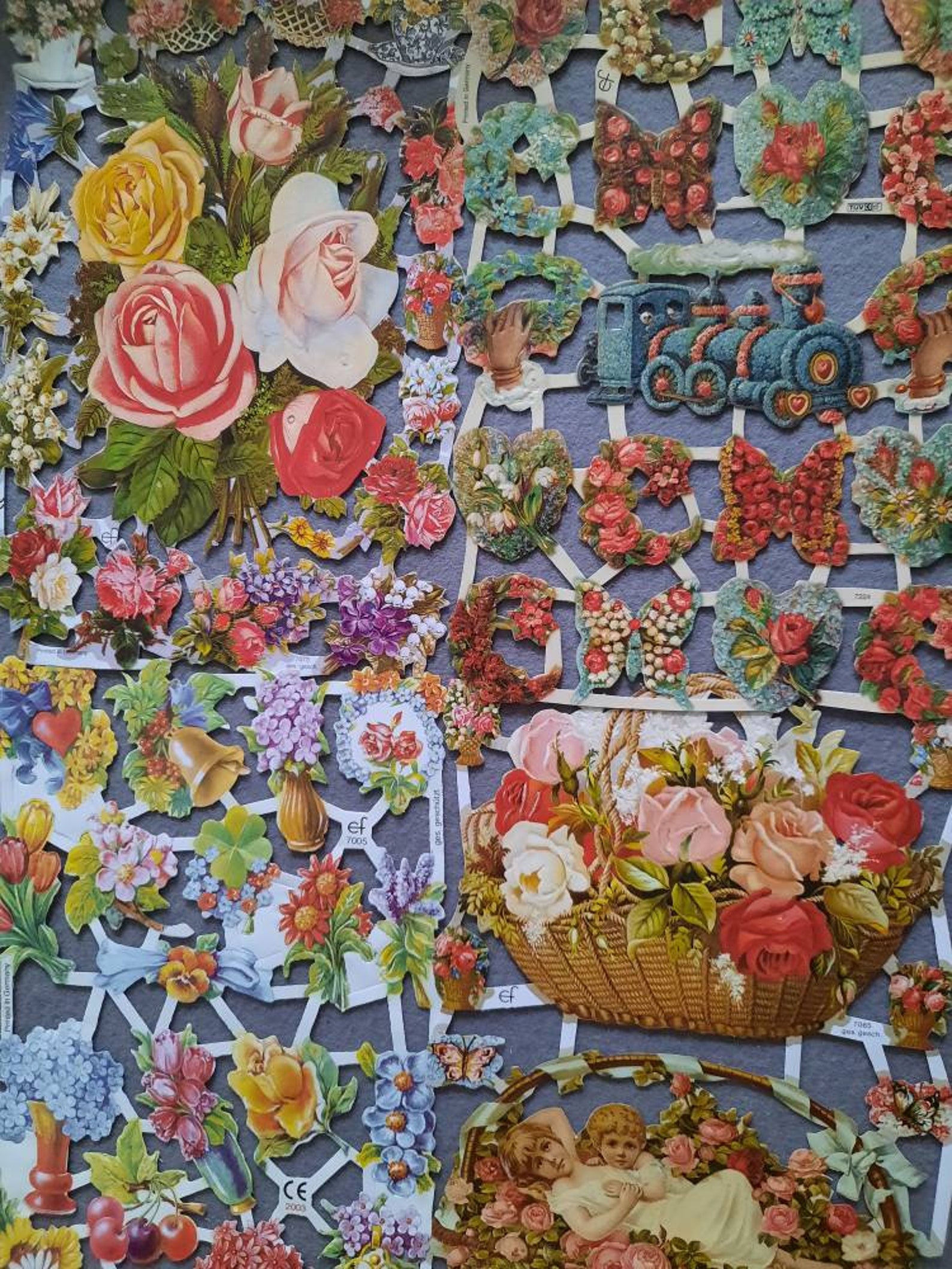 Poetry Nostalgia, roses, fruit, grapes, pigeons, tulips, with and without glitter,7005, 7065, 7066, 7073, 7092, 7176, 7224, 7311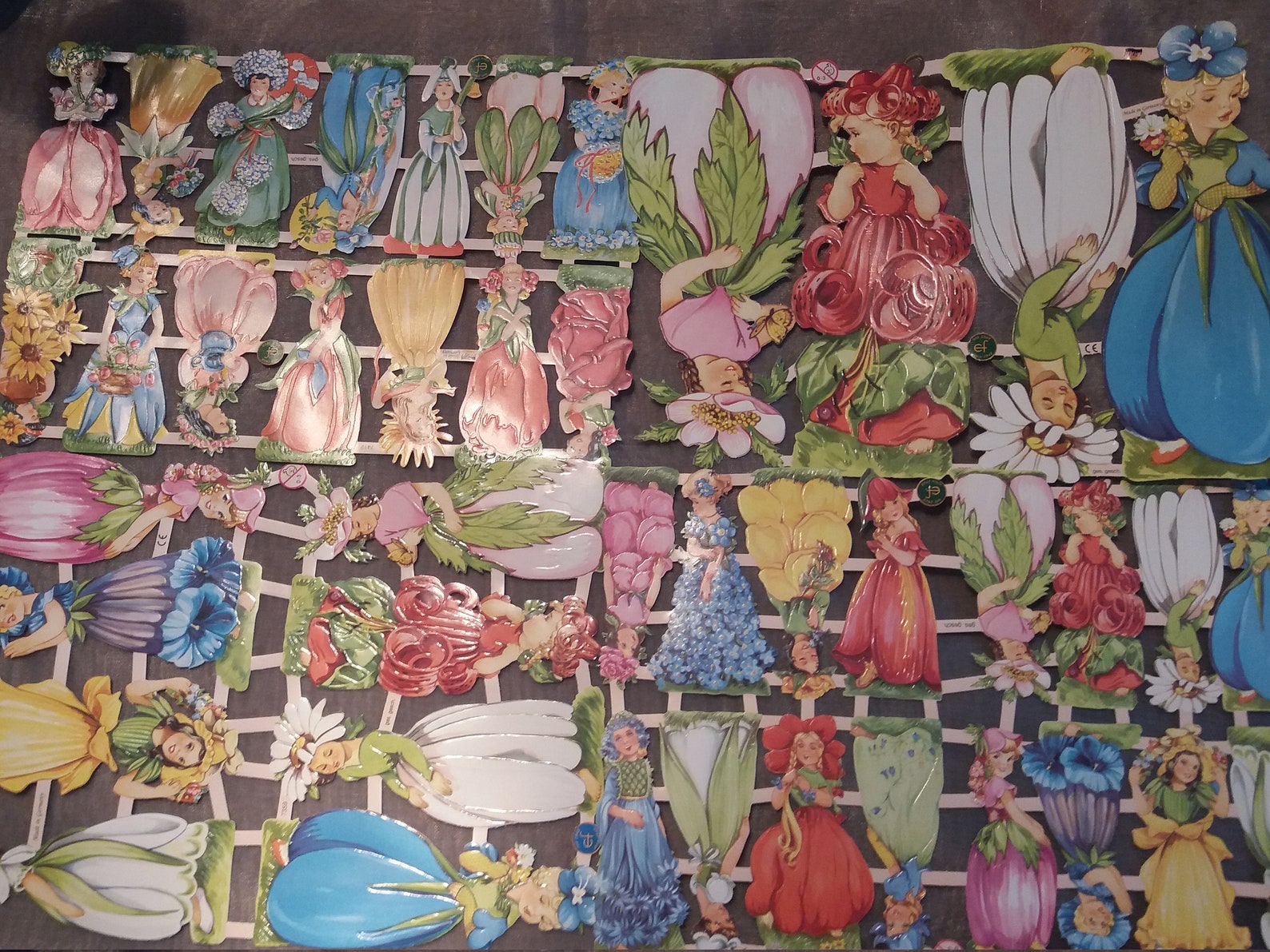 Glanzbilder Poesieb. Nostalgia flower children, elves, 5 different motifs with and without glitter 7425, 7309, 7412, 7359, 7184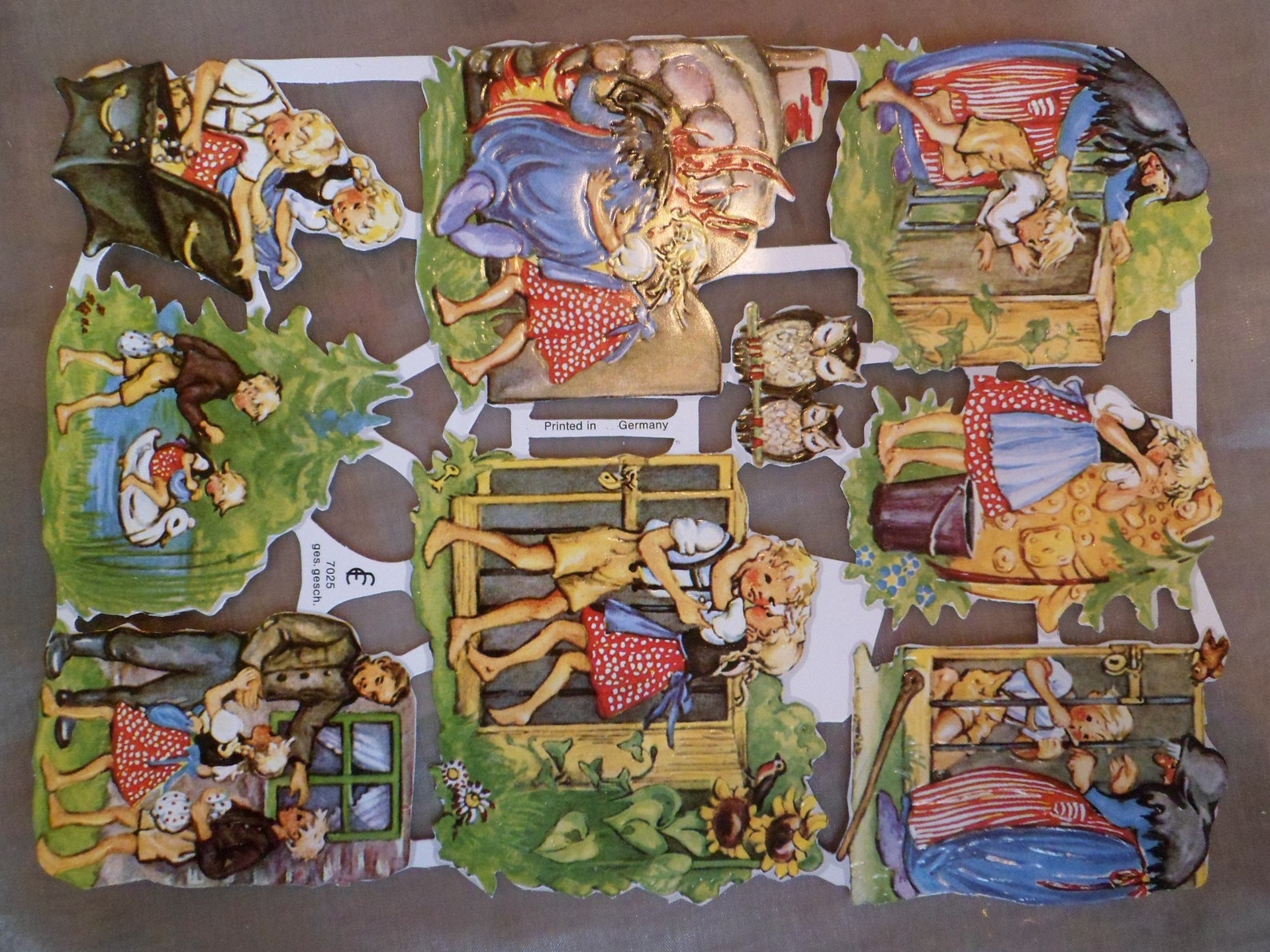 Glossy Pictures Poetry Pictures Hansel and Gretel 7025 G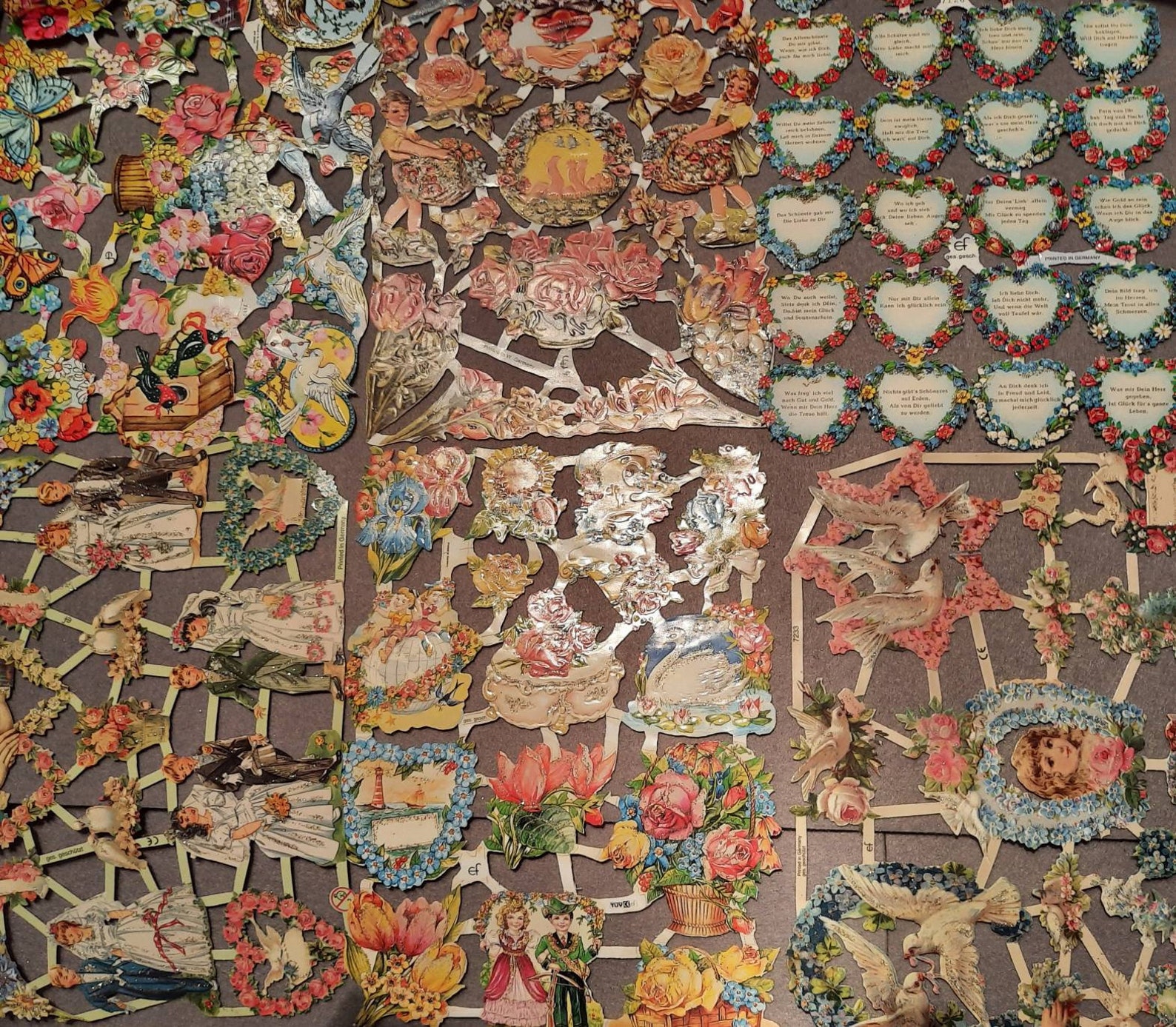 Glanzbilder Poesieb. Nostalgia wedding, love, trutel pigeons, elves, 6 different motifs with glitter 7250, 7233, 7171, 7126, 7110, 7022

Christmas Glanzbilder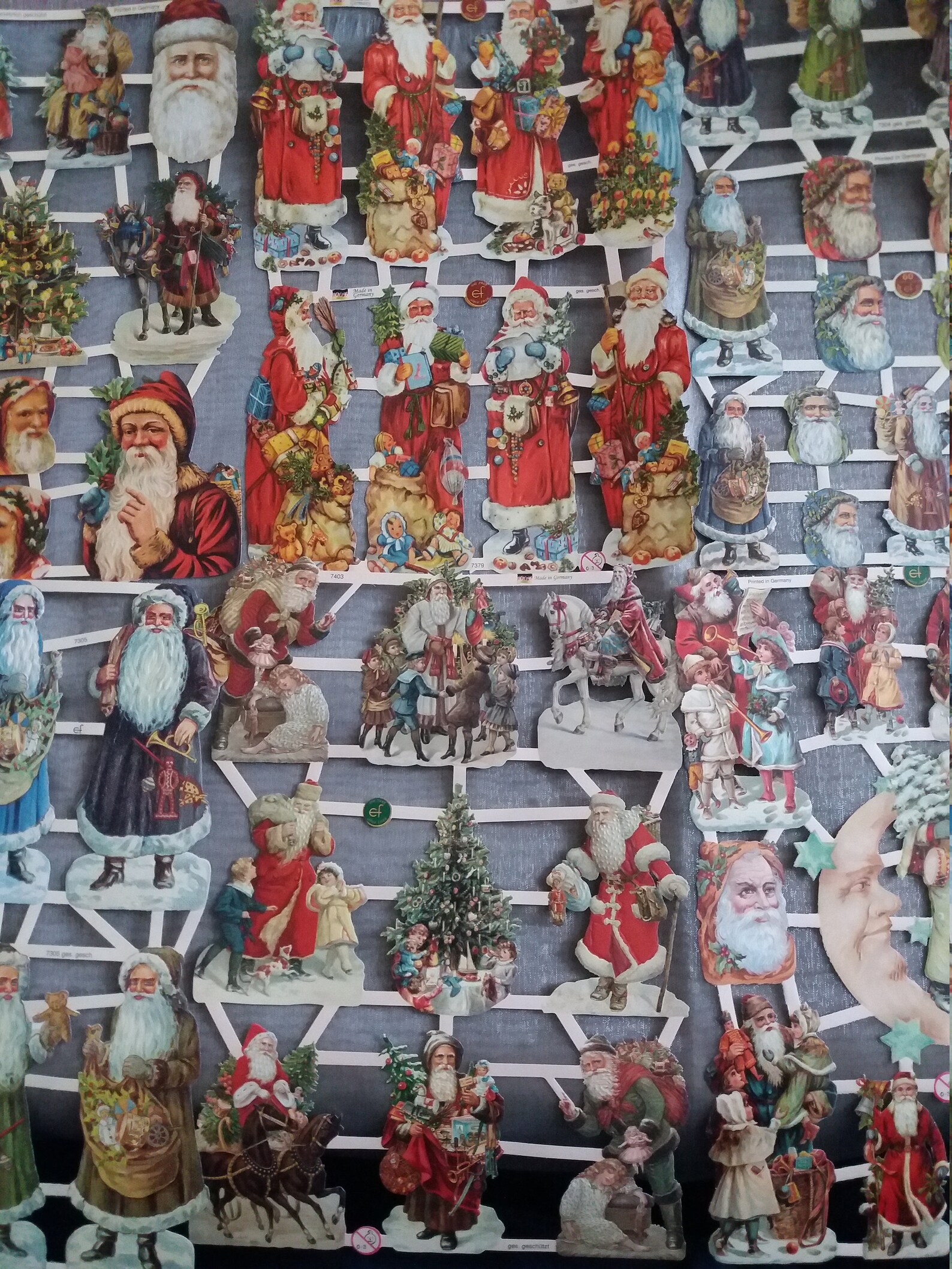 Glossy pictures Poetry Nostalgia Santa Claus, 9 various. Christmas motifs with and without glitter 7314, 7403, 7379, 7304, 7305, 7285 Freihoff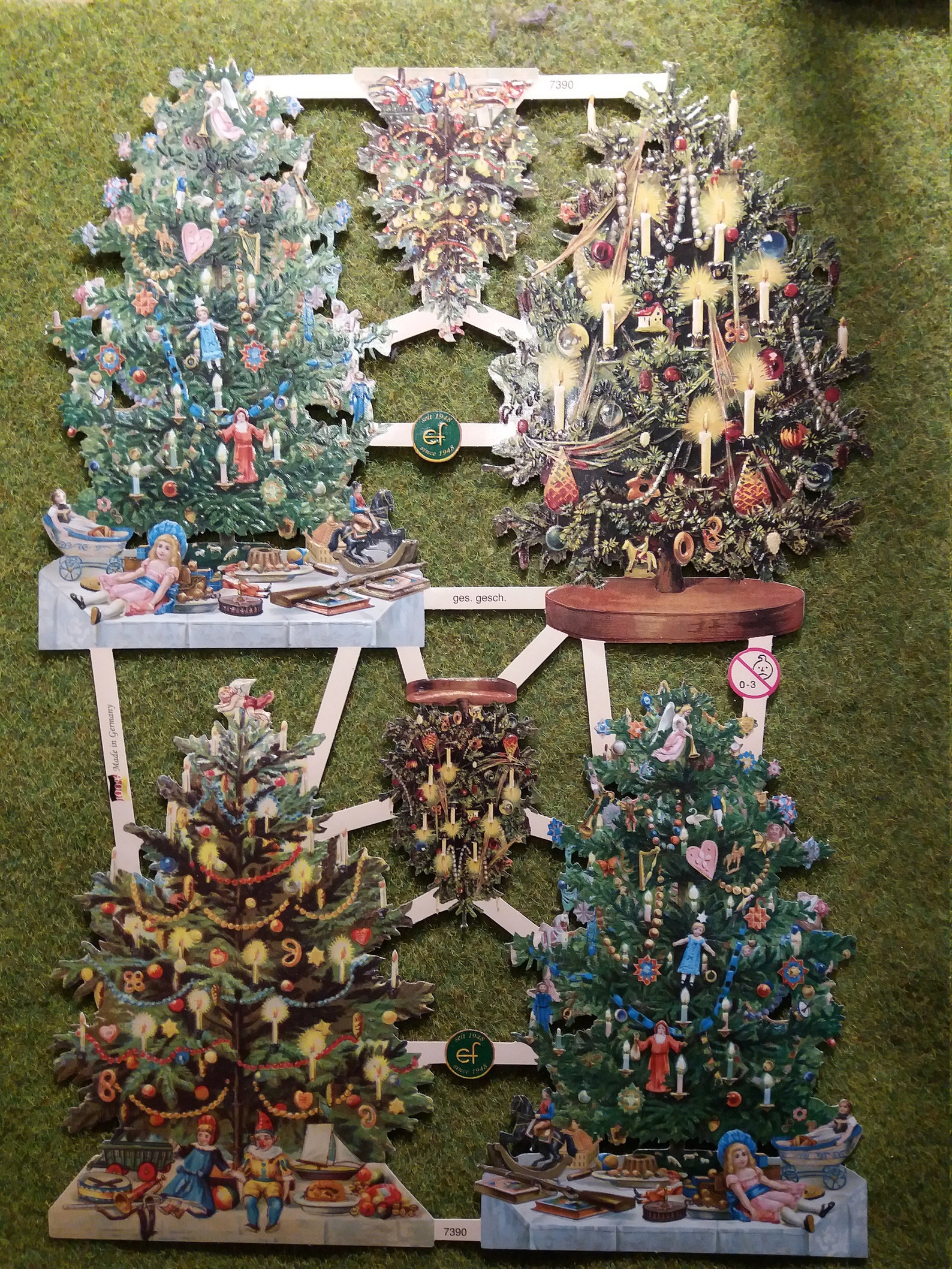 Glanzbilder Poesiebilder Nostalgia Christmas tree, with and without glitter, 7390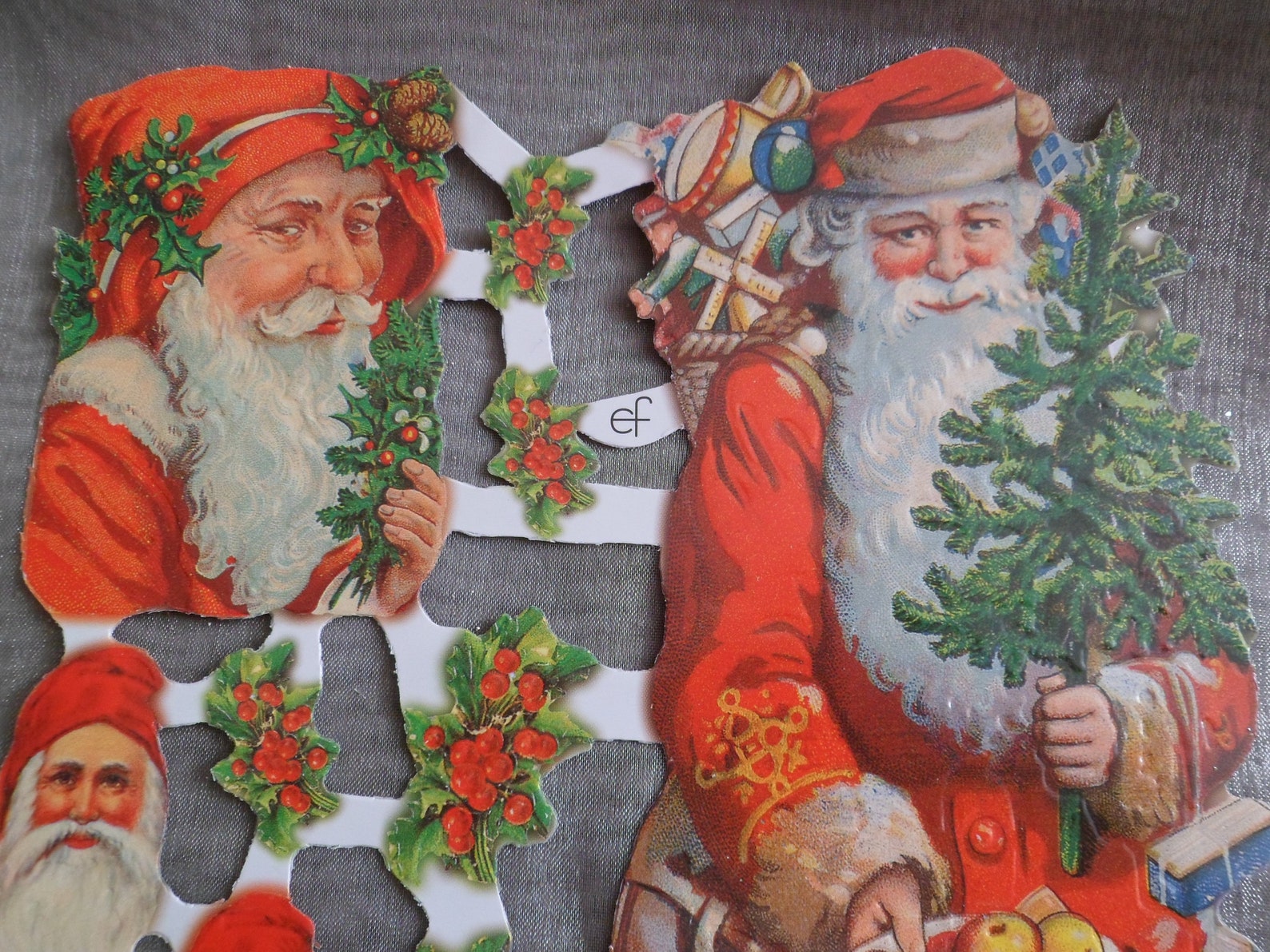 Glanzbilder Poesiebilder Nostalgie Santa Claus, with and without glitter, 7219, Ernst Freihoff, German Embrossed, Vintage Style, Scrap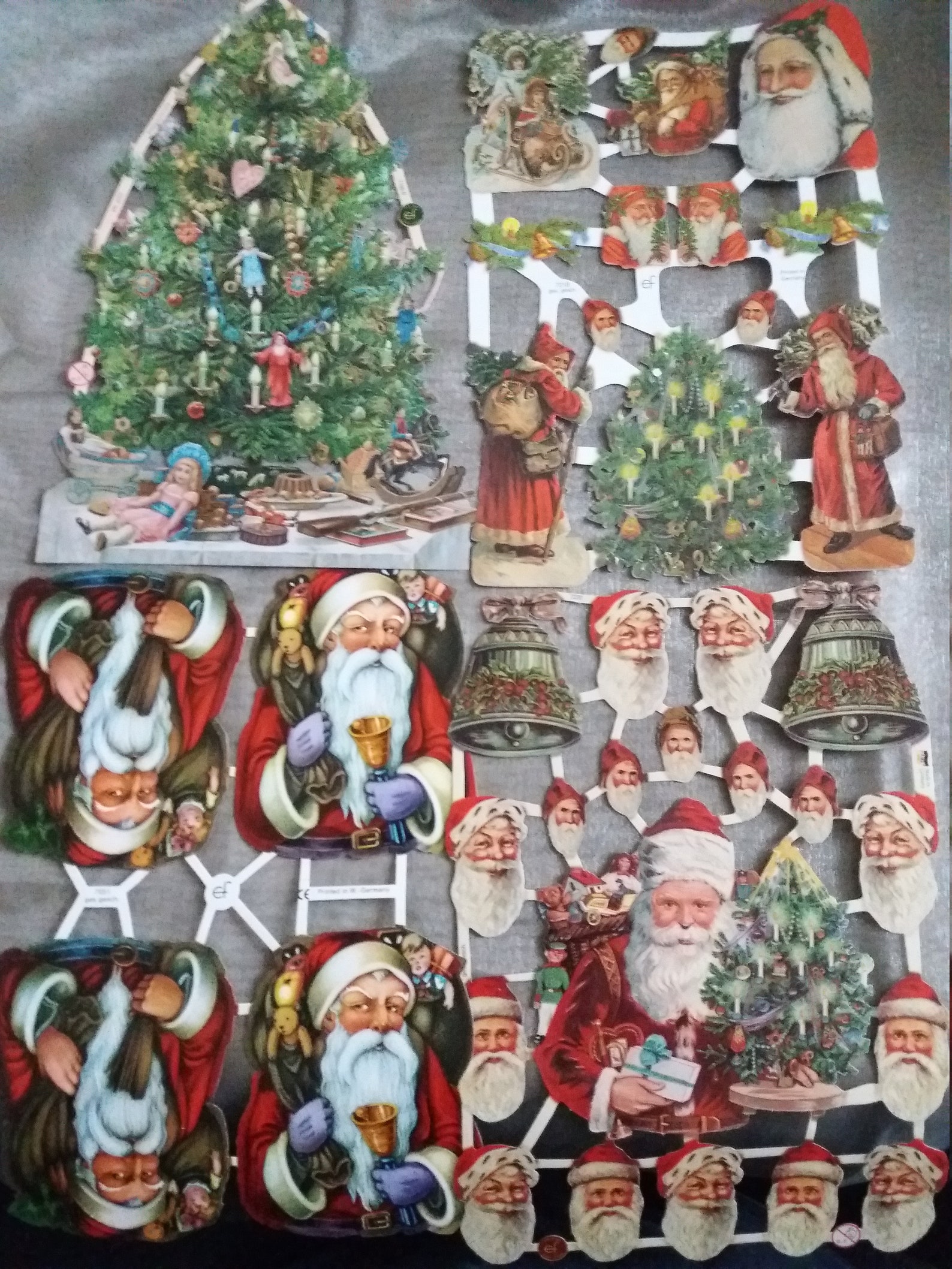 Glossy pictures Poetry pictures Nostalgia Santa Claus, 8 different Christmas motifs with and without glitter 7195B, 7051, 7218, 7220, 7271, EF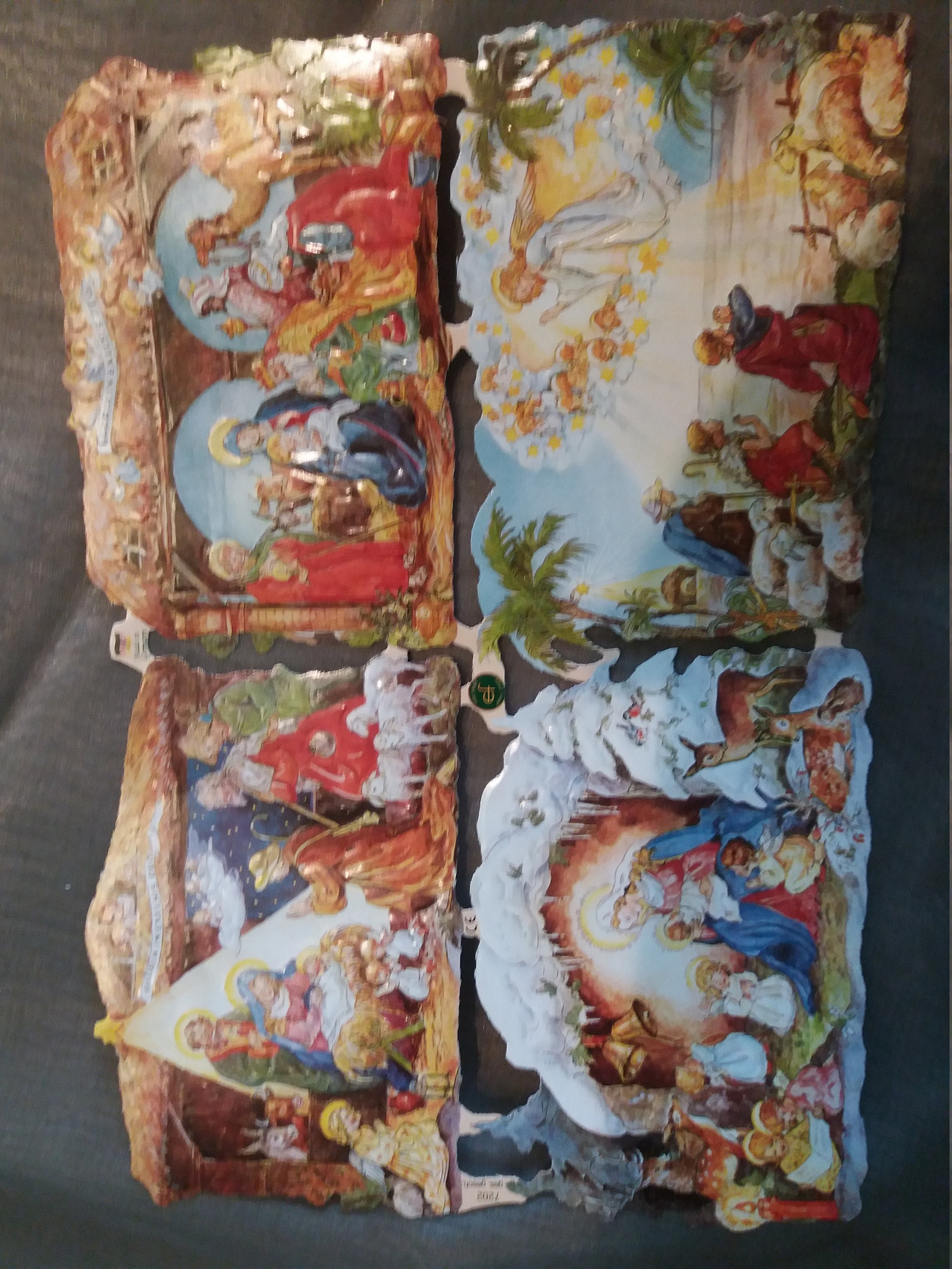 Glanzbilder Poesiebilder Nostalgie Maria und Josef Krippe Weihnachten, mit und ohne Glitter, 7202, Ernst Freihoff, German Embrossed, Vintage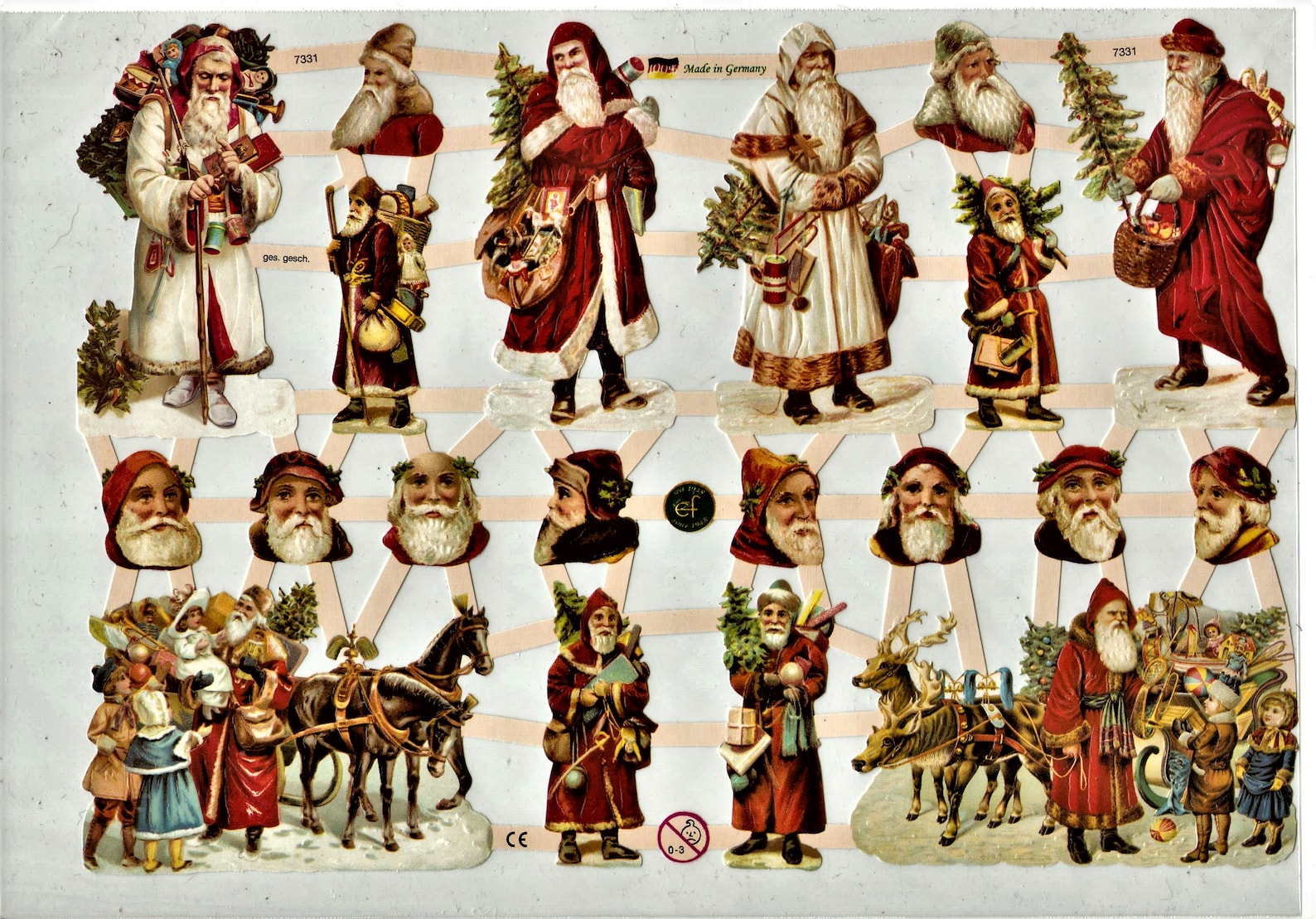 Glanzbilder 7331 ef 6 standing Santa Clauses, 10 Santa Claus heads and 2 Santa Clauses with sleigh (published 2010)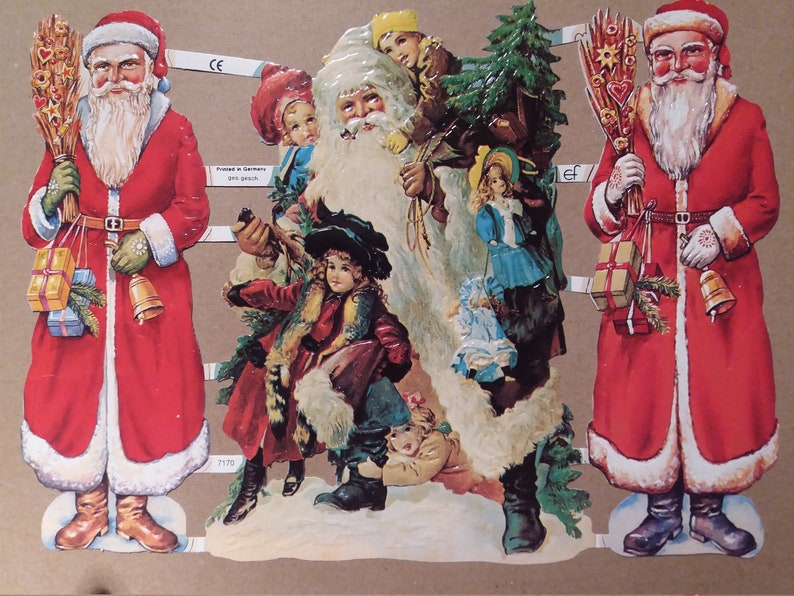 Glossy pictures Poetryb. Nostalgia Santa Claus, Christmas 6 different Christmas motifs without glitter 7385, 7071, 7160, 7153, 7159, 7258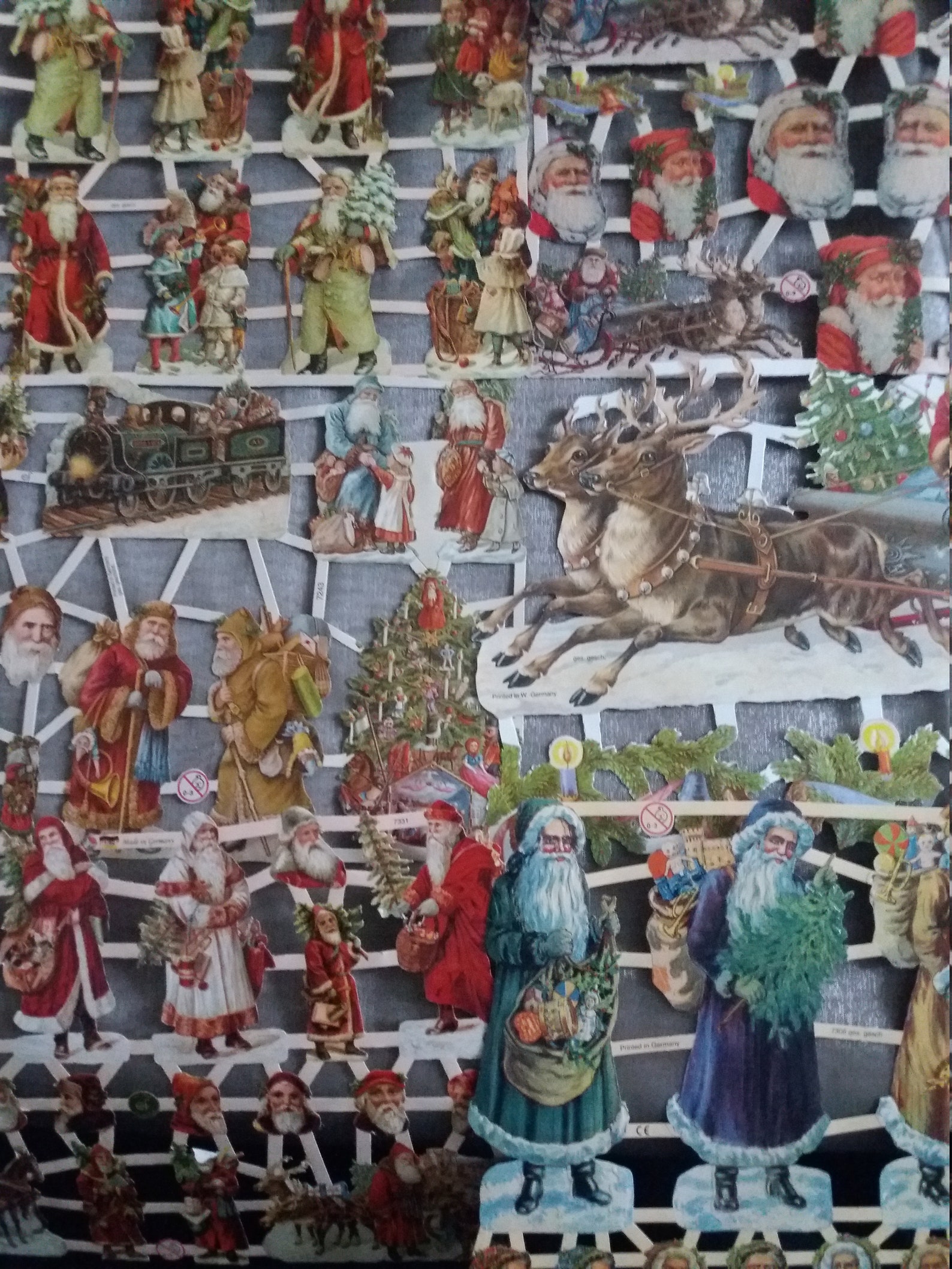 Glossy Pictures Poetry Pictures Nostalgia Santa Claus, 6 Different Christmas Motifs Without Glitter 7306, 7331, 7194, 7260, 7243, 7313

Xtra Large Collections
Assemble a HUGE collection all at once!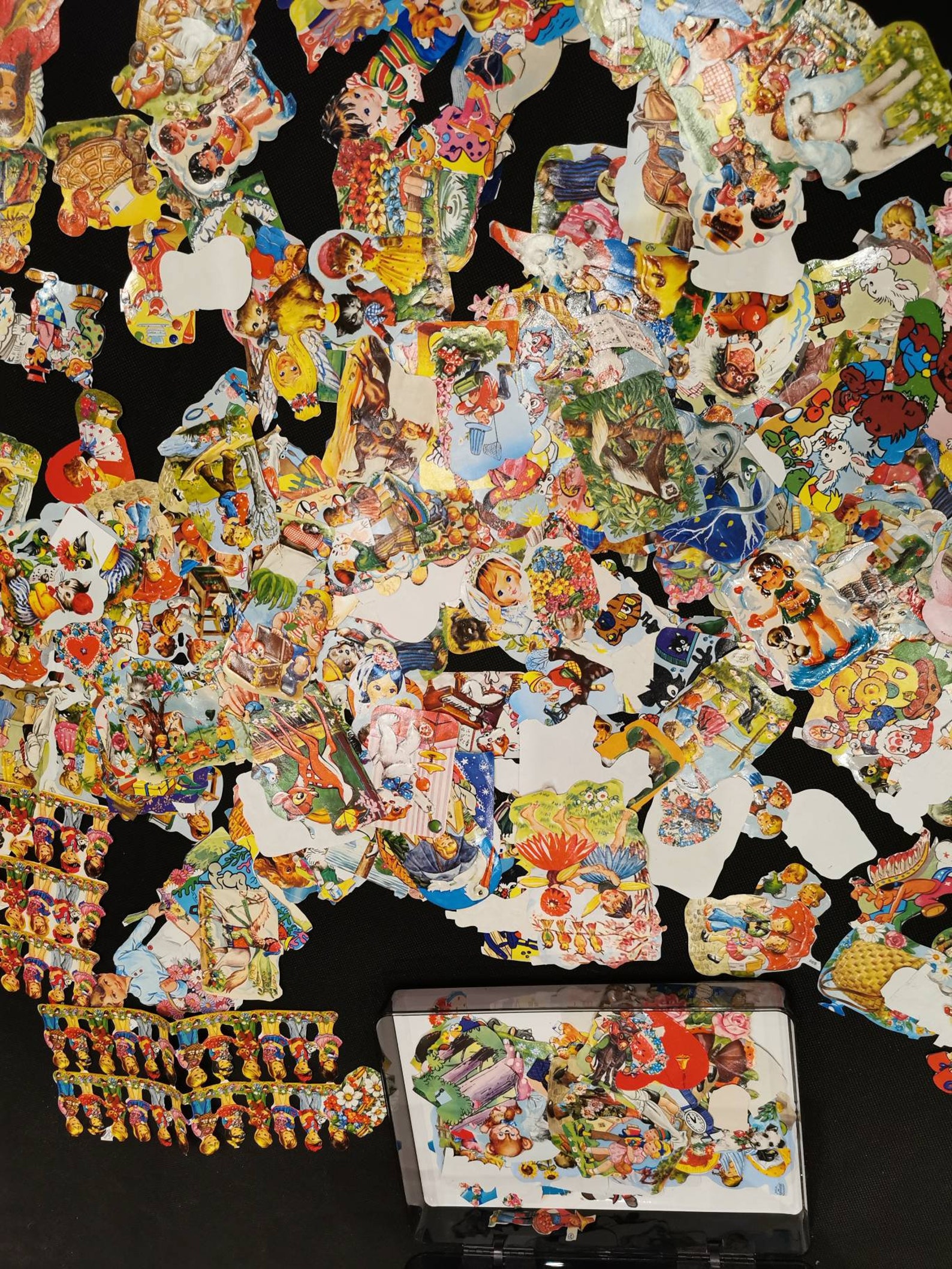 XL mixed lot glossy pictures all sorts of motifs 50-70s angel fairy tale kids 650-700 pieces