Places To Visit and Things to Do in Cologne, Germany!
When people plan a trip to Germany, they all seem to head to Munich or Berlin. But I'd like to add a third destination to your vacation. One of my favorite places to visit, Cologne! This beautiful city along the Rhine River should not be overlooked. The old town of Cologne has a taste of everything that a tourist expects to find in Germany… all in one convenient (and quite manageable) area. You will find history, architecture, fairy tales, chocolate, and, of course Beer. What more can you ask? Before making your plans, check out this list.
Places to Visit Cologne
There is SOOOO much to see in this beautiful city on the Rhine.
Cologne Cathedral/ Kölner Dom
This really if obvious… whether you arrive in Cologne by car or water, the Cologne Cathedral/ Dom dominates the skyline (oddly, you come up under the Dom if you arrive by train.) Thousands of people visit the cathedral annually, and for good reason. It's amazing. Now… don't just run to the door, peek in, and leave. Spend time. It's better to really SEE one amazing cathedral, than to get church-fatigue from trying to visit 37 churches in 2 weeks.
Start in the Nave (the main part of the church). Look up. Imagine building those amazing vaulted ceilings in the time before forklifts, cranes and OSHA. Wander to the area where the golden Shrine for the Three Kings is kept. There are saints and wonders all over Europe, but the Three Kings? You've heard about them ever since you were a child listening to Christmas stories. This is history you can almost touch (warning… you might be arrested if you try).
Admire the stained glass and the huge organ. You will have to pay extra to go into the underground treasure room, but it's worth it. The artifacts and treasures are pretty amazing.
Now for the best part…. climb to the top. There are 533 steps from the church floor to the very top. Fair warning, the staircase is a narrow spiral (it's claustrophobic), and people are constantly going up and down. But the view from the top is absolutely incredible. And it's not just the view of the city. From the tower you can see carved details of the Cathedral that are invisible from below. If you are lucky (or unlucky…depending on how sensitive your ears are) and you time it right, you could be in the bell tower at the top of the hour to see those magnificent bells toll.
One last stop…. go around toward the back of the Cathedral (on the river side) and look down. You will see the workshop where 114 people are employed to  carve and repair the stone for the Cathedral. I'm not sure where this animal fits, but it was interesting to see him.

For More information-Cologne Cathedral
Chocolate Museum- Imhoff Schokoladenmuseum
Chocolate Museum photo wikipedia commons by -pedelecs
You are in Germany, the land of amazing Chocolate, why not visit a museum dedicated to the sweet stuff? The Imhoff Schokoladenmuseum Chocolate Museum looks like a ship floating on the Rhine. Actually, it's on the Rhineauhafen Peninsula, on the banks of the Rhine, close to Old Town Cologne. This modern museum takes you through the 5000 year history and processes involved in making chocolate. Now, it's not just boring machines or photos. They have an actual RAIN FOREST in the museum growing Cocoa plants. There are huge displays of Kinder Egg Toys! And, there are master Chocolatiers working their magic…
Best of all, there is a gift shop (so you can take some home) AND the CHOCOLAT Grand Café. (Sadly, there aren't loads of free samples, but you can't have everything). Have a cup of coffee and a slice of Torte while watching ships go by on the Rhine.
More information about the–> Imhoff Schokoladenmuseum Chocolate Museum
Have a Kolsch
Various Kölsch Biers… Wikipedia Commons
Because you worked so hard and climbed all the way to the top of the Cathdral, you have earned a rest and a beer, but not just any beer… a Kölsch! The Kölsch beer is a specially beer only brewed in Cologne. It's a light ale that is served in the traditional 0.2 litre Kölsch glasses, which are tall and cylindrical. Leave the Cathedral from any of the doors, go down the steps, past the chalk artists, tourist groups following flag bearing leaders, and the silver painted people pretending to be statues.. cross the plaza and look around. You will see a number of  restaurants and Brauhauser (Breweries) that have set up open air tables. (
Order some food and Kölsch… relax, you've earned it. My personal favorite? Früh am Dom  this restaurant wanders up and down stairs and has fun pocket rooms to sit in.
Ride the Bimmelbahn
Honestly, the Bimmelbahn most fun if you have small children, a goofy sense of humor, or you just don't feel like walking (because you climbed to the top of the Dom, and then had a filling lunch). Ride to the waterfront on a little street train called the Bimmelbahn, a little green train that looks like it jumped straight out of a children's story book. Every half hour the Chocolate Express stops at the Dom to pick up riders. You get to travel through the old town, and hop off at the Chocolate Museum. Ok, yes, the train is more of an experience, than a place to visit, but you get to see things with minimal effort.  But after climbing up to the top of the Dom, riding is much easier on the feet than walking.
More information about the Bimmelhahn–> Bimmelbahn
The Heinzenmännchen Fountain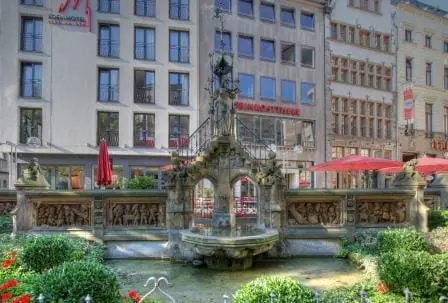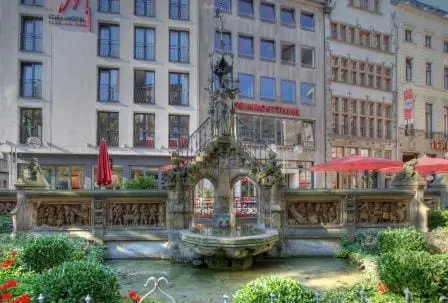 Heinzelmännchen Fountain in Cologne, Germany photo- Raimond Spekking
Legend has it that the city of Cologne was once inhabited by Heinzelmännchen or Elves who did all of the unfinished work; they cleaned, made shoes, did laundry, and were quite helpful while everyone slept. UNTIL! the Shoemaker's wife decided to find out who was doing all of these things. She set a trap of dried peas. The little men slipped and crashed to the ground. Everyone woke up and saw them, so they ran away never to be seen again. Now you can visit the Heinzelmaennchen Brunnen (Elf Well) which is conveniently located in front of the Früh Brewery… and remind yourself that curiosity killed the cat (and left the people of Cologne to do their own work).
Then go have another Koelsch to gear up for the last stop…
Find the Heinzelmännchen Fountain here–>
Der Heinzelmännchenbrunnen is at Brauhaus Früh
Am Hof 12-14
50667 Köln
Haus Farina, the Birthplace of Cologne
Almost every bathroom in Germany has a bottle of the gold and blue labeled 4711 Koelnisch Wasser (Cologne Water). But did you know that this Koelnisch Wasser was not the FIRST Cologne in Köln? The original comes from Haus Farina. If you've never smelled it… GO!And take the museum tour (you need a reservation for this… Reservations) and it's totally worth it. The fragrance library, beautiful furniture, workrooms… all are on display. Haus Farina has been in the same family for generations, and their fabulous scents were favorites of Princess Diana and Mozart (oh, and me).
Here's a post I wrote about my visit to this wonderful museum–Haus Farina
And yes…. you can also visit 4711!

You will see the 4711 museum near the Dom. And you will see 4711 EVERYWHERE!  Insider tip- Haus Farina came first… 4711 came after, but had a better Marketing Team. I suggest hitting both and making a comparison. Tours and seminars are offered every day… and, of course, there is a gift shop!
Find out more here–> 4711 Museum
See the Colorful Houses of the Fish Market
While the Fish Sellers are all gone, you can still find something delicious to eat in this colorful Market Square along the Rhine River (right behind the Grosse St Martin).
Check out These Great Cologne Tours!
To make the most of your time in Cologne, take a tour! Having a local guide will insure that you don't miss anything.
Or try a scavenger hunt! This makes a game out of sightseeing, and is fun for even the most reluctant traveler in your group.
Guided Brewery Walking Tour in CologneViator
Small-Group Bike Tour of Cologne with GuideViator
Private walking tour of Cologne's old townViator
myCityHunt scavenger hunt CologneViator