What is Playmobil ? Find New and Vintage Toys for the Imagination!
In 2017 a little Playmobil  Martin Luther, complete with quill and German Bible became the fastest selling Playmobil toy in the history of Brandstätter Toys. 34,000 of these "little Luthers" sold in under 72 hours! Created to honor the 500th Anniversary of the Reformation in 2017, the sales figures astonished everyone in the company known for its imaginative toy sets, and the factory was put on overdrive to keep up with the incredible demand. But… what is Playmobil? And what drives people to buy these amazing German Toys?
PLAYMOBIL 9325 Martin Luther Figure – Special Edition

What is Playmobil?
What makes Playmobil stay so popular in these days of electronics?
Hans Beck of Zirmdorf, Germany spent the early 1970's developing Playmobil toys, and in 1974 he and his partner Horst Brandstätter were ready to premier them at the Nuremberg International Toy Fair.  The friendly looking little people were based on children's drawings with big heads and big smiles. Best of all, they were also designed to be played with, since Playmobil toys are flexible and sturdy. The figures and playsets are exactly right for imaginary play; just enough parts and movement to keep things interesting, but not so complete that a story can't be woven around them.
"I would put the little figures in their (children's) hands without saying anything about what they were," Beck remarked. "They accepted them right away … They invented little scenarios for them. They never grew tired of playing with them."
While kids loved them, they were a little slow to take off. Luckily, a Dutch company placed a large order, and within the year, Playmos were flying off the shelves in Holland and in Germany. In fact, the early Playmobil figures were assembled by hand in the factory from 7 parts, but as demand increased, the company switched over to machine assembly.
Tower of Playmobil figures in the Nürnberg Spielzeugmuseum
The Playmobil company understands how to make toys that are fun to play with, and will allow kids to entertain themselves for hours.
When I was a child visiting Germany, I was amazed and astonished to see these wonderful toys in my cousin's Spiel Keller. We would play for hours, moving horses and riders, around the room. It was a treat to go to the Toy Store to pick out a set to bring back to America with me. I treasured those pieces, and amazingly enough, some of them still live in the toy box at my mother's house!
In 1982, Playmobil made the leap to the United States in the form of figures in Mac Donalds Happy Meals. (Naturally, American laws being what they are, the first toys were recalled because of choking hazard… even though no one ever choked). Today, Playmobil has become almost as popular in the US as it has in Germany.
PLAYMOBIL® Kebab Vendor Building Set

Playmobil – Fresh for a New Generation
Playmobil toys were designed to be sets, the first ones were Native American Indians and Construction Workers. Later sets include Beach, Circus, Fairy Tale Castles (my daughters LOVED these), a Grand Victorian House (perfect for the other daughter), Pirates, an Animal Clinic, Space (my son!) and Jungle. You can even buy a Playmobil Nativity (I hesitated at first, but the kids get to have their "Own" this way, and they don't break the good one).
Many of the sets have some assembly required, but they come with detailed instructions to make this easy. I know from firsthand experience that putting these together may take time, but it is not a torture. I've even managed to put together a house without the instructions, just from looking at the photo.
(After all the time I spent building, I am delighted to report that my kids played for hours with Playmobil, carefully staging elaborate scenarios, and acting them out. The Fairy Tale Castle was the scene of many reenactments from bedtime stories, while the city landscape was regularly visited by giant play dinosaurs!)
Playmobil 5422 Alpine Lodge Playset

&
&
Special Playmobil Figures
Playmobil regularly releases special figures and playsets in limited quantities to correspond with events. This year, in honor of the 500 anniversary, a Martin Luthor Playmobil figurine was introduced, and has quickly become the fastest selling Playmobil figure in the company's history, knocking the painter Albrecht Dürer, out of the top spot.
Another famous Painter, Rembrandt, became a Playmo figure as did several famous paintings in the Rijks Museum. Including Vermeer's The Milk Maid and the Night Watch. And now there is Mozart and Levi Strauss (not wearing denim)!
PLAYMOBIL 9295 Levi Strauss figure in tails – limited german exclusive edition

Playmobil Historic Figure Wolfgang Amadeus Mozart

PLAYMOBIL 6107 – Exclusive – Artist Albrecht Dürer

Playmobil #5067 The Milkmaid From Rijks Museum LIMITED EDITION -New-Factory Sealed!

PLAYMOBIL 5090 Rembrandt: The Night Watch Exclusive Special Edition

PLAYMOBIL 9325 Martin Luther Figure – Special Edition

&
&
Playmobil is 40 Years old!
2014 marked the 40th Anniversary of this iconic German Toy Company… and they show no signs of slowing down.
Today Playmobil is collected and played with by young and old. Stop action videos and war games have given the toys new life. People have used playmobil for art, as well as wedding cake toppers. They really are everywhere, ready to be played with by a new generation.
PLAYMOBIL Aquarium Building Set

PLAYMOBIL Family Camping Trip

PLAYMOBIL Hidden Temple with T-Rex Building Set

PLAYMOBIL Take Along School House

PLAYMOBIL® Cruise Ship

PLAYMOBIL® Camping Mega Set Toy, Multicolor

&
Playmobil Facts-
Geobra Brandstätter, the parent company of Playmobil had a hit with another toy you may have heard of… in 1958, they invented the Hula Hoop.
Playmobil toys were developed during the 1973 oil crisis, when there was a need to used LESS solid plastic to make the toys.
The first Woman Playmobil figure was released in 1976… she looks like the men, just a bit curvier and longer hair
In 1987, Playmobil began introducing more body types; young and old. Hands were changed a bit so they moved at the wrist. They also released more varieties of clothing that could be added and removed.
In 1991 the first Playmobil Fun Park was opened in Zirndorf, Germany, adjacent to the company headquarters. The park was designed to emphasize play and movement. Rides are downplayed, but there are many play stations.
Vintage Playmobil Toys!
Did you have a Playmobil set that you absolutely loved, but it's lost? You can replace the vintage sets here…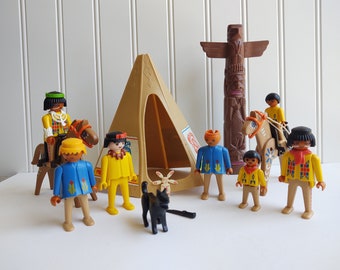 VINTAGE PLAYMOBIL INDIAN Set 1970s 1980s Geobra Playmobil Native American Play Set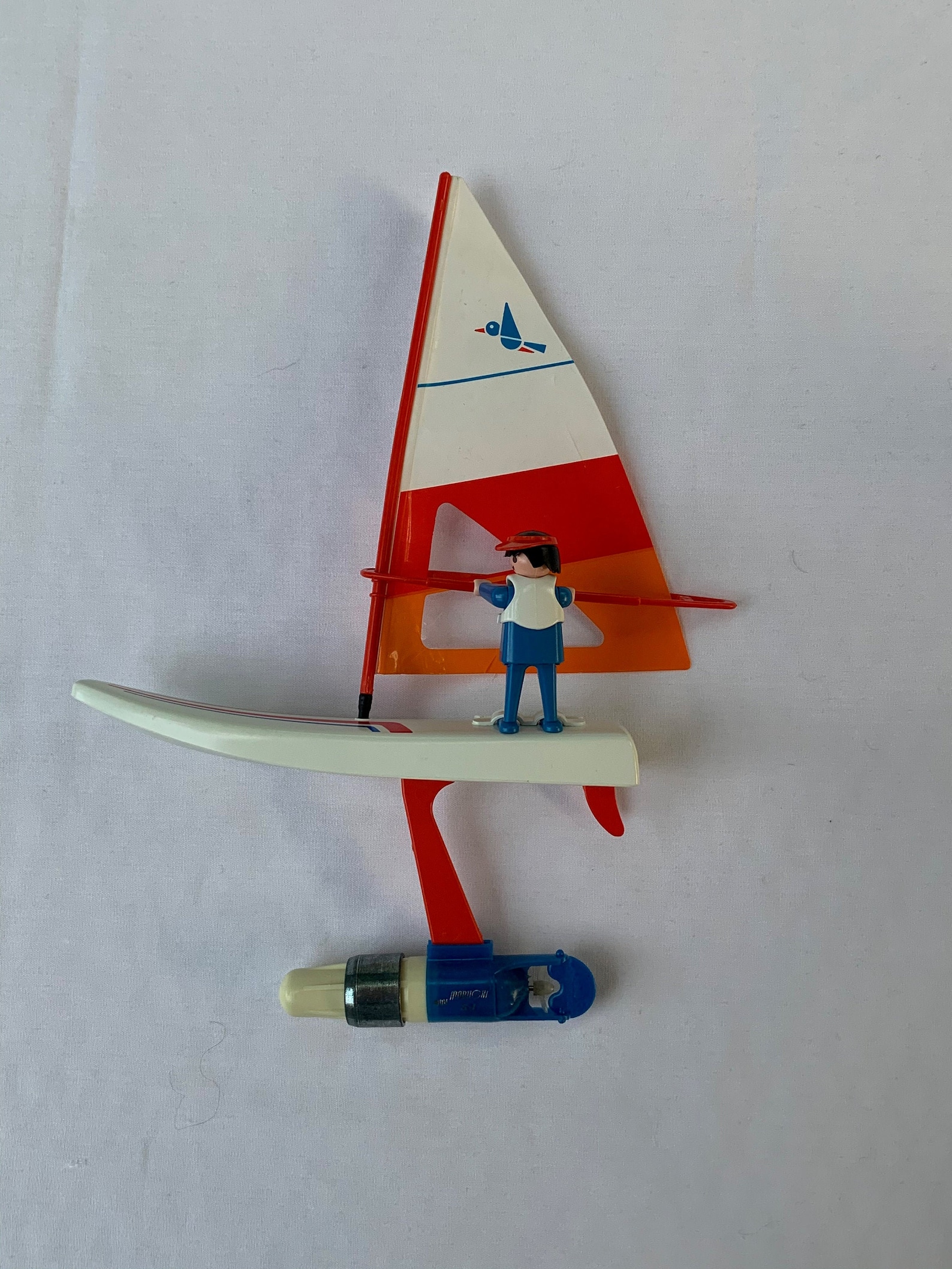 Vintage playmobil set 3584 motorized windsurfer/playmobil battery operated sailboat with windsurfer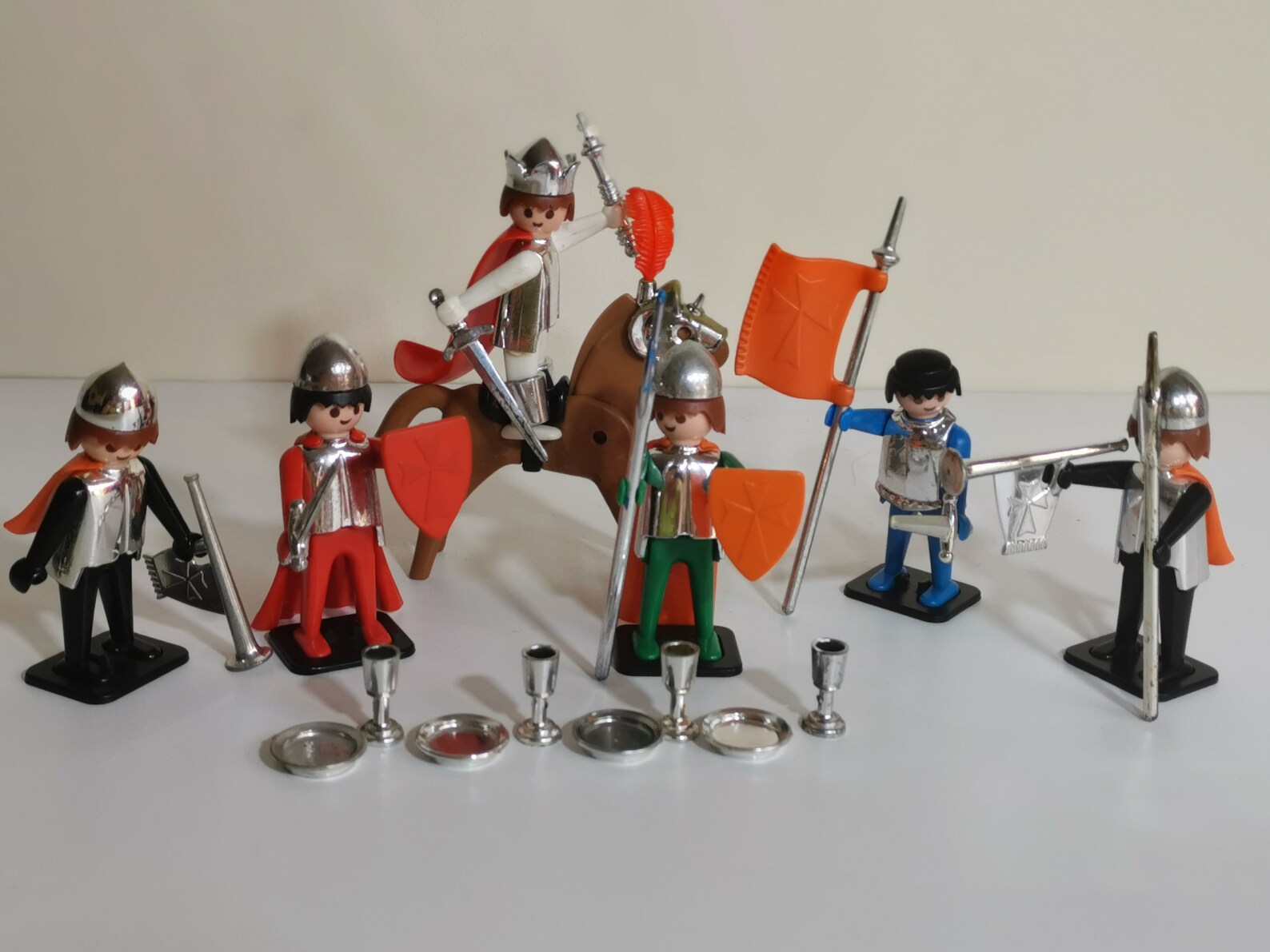 VTG Playmobil 3261 knights 1974,Germany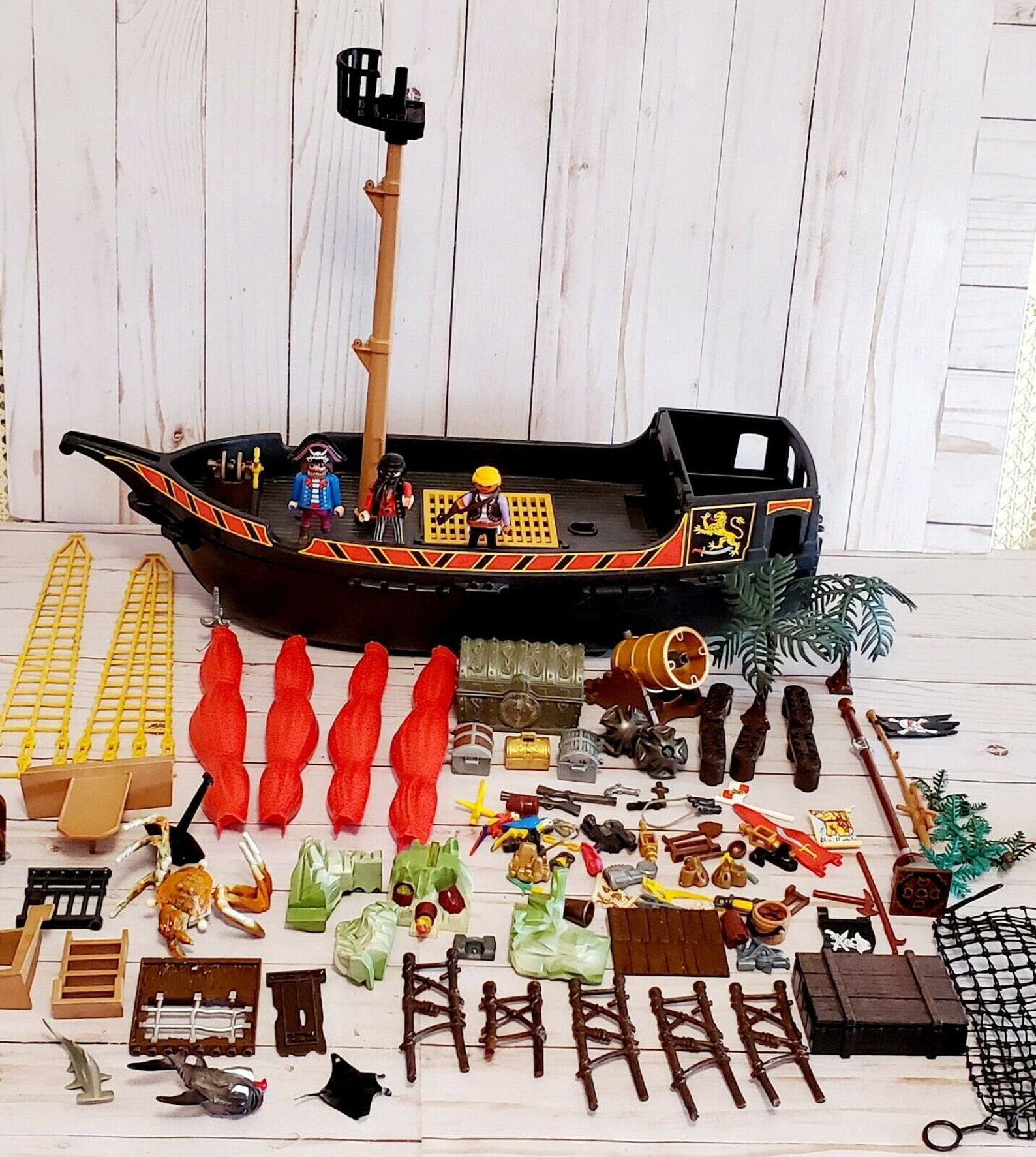 Vintage Playmobil 5736 Blackbeards Pirate Ship incomplete and Huge Lot of Accessories – 1978 Geobra for Parts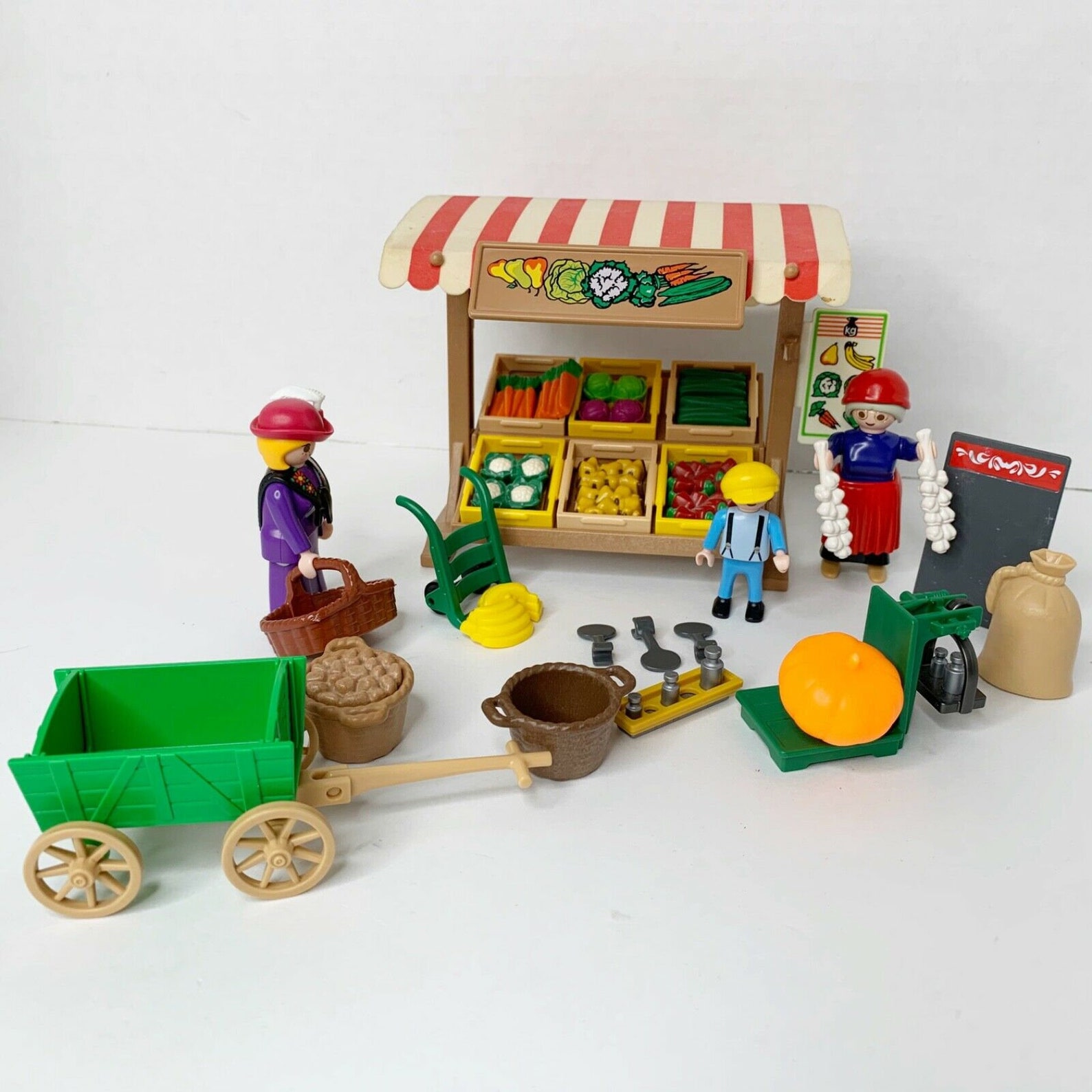 Playmobil PRODUCE MARKET STAND 5341 Vintage Complete!!!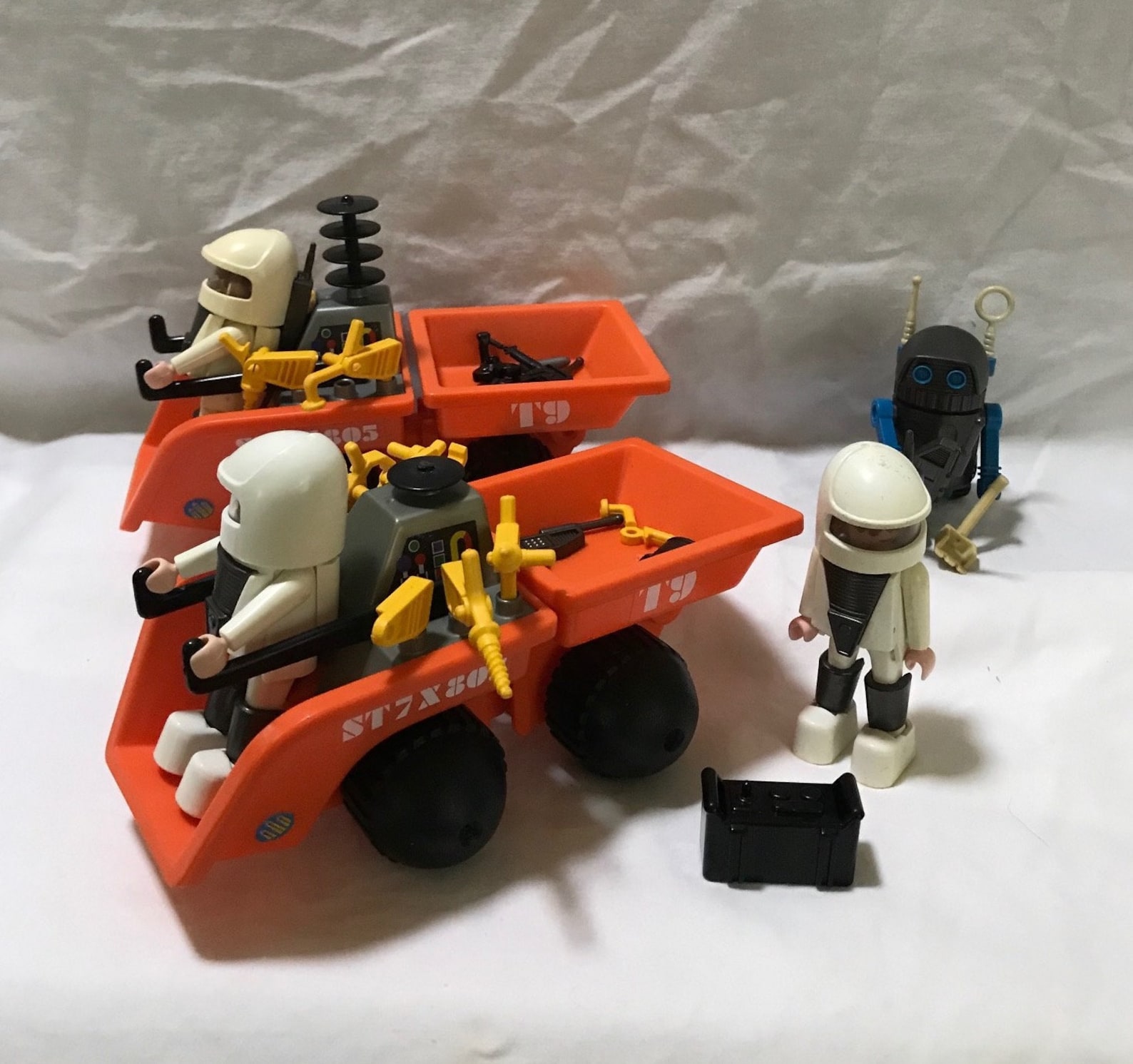 Vintage 1982 Playmobil Moon 2 Orange Vehicles With 3 Spacemen in White With a Robot and Accessories Playmobil Space Set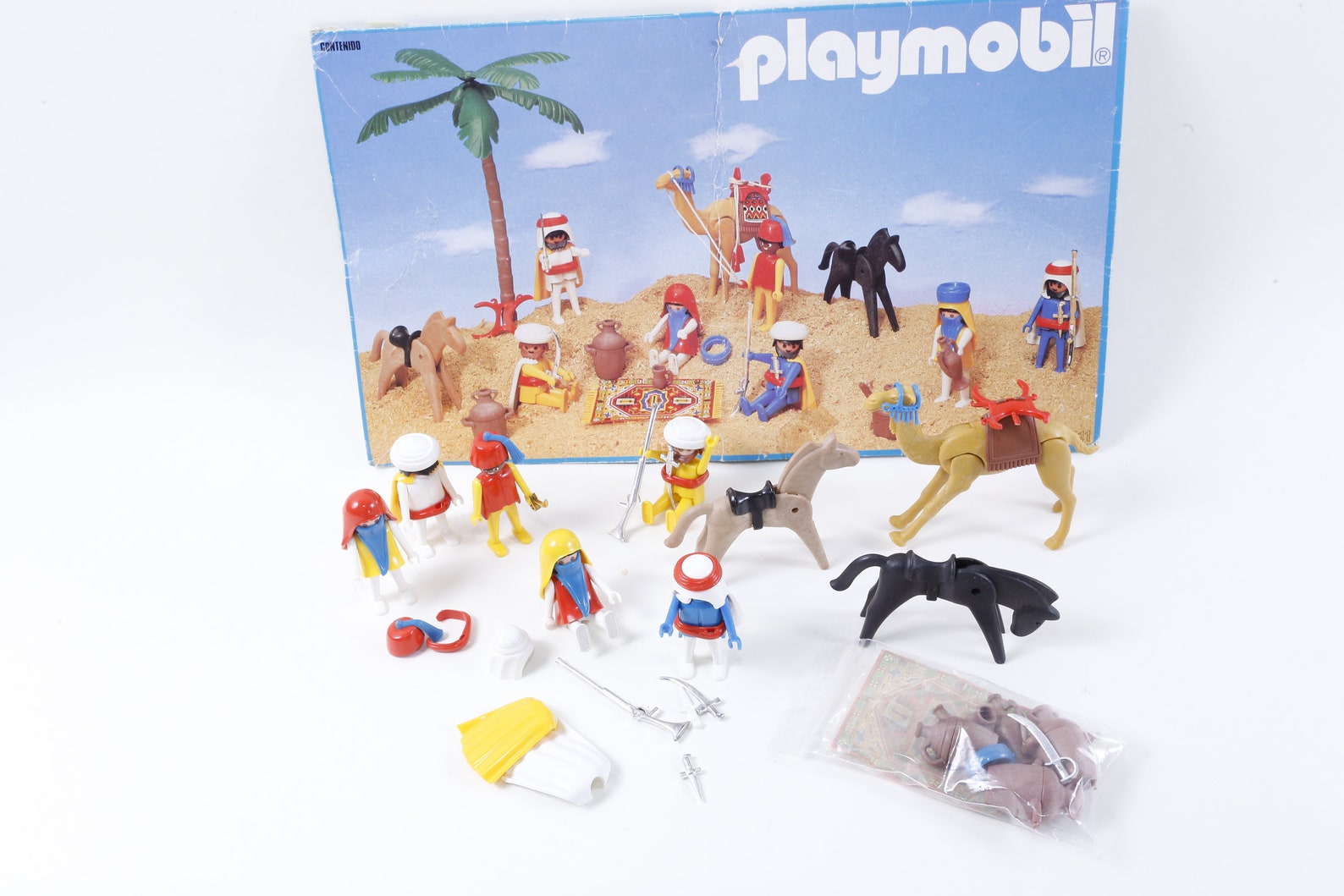 Vintage, 1977, Contenido, Playmobil, Toy, Set, Figures, Camel, Horse, People, Eastern Desert, Collection, Children, Camel, Desert ~ 170125

Playmobil Christmas Sets
St.Nickolas / Father Christmas / Santa Claus first hit the store shelves in 1995… just in time for my oldest to get his first Christmas Playmo set!
PLAYMOBIL® Christmas Bakery with Cookie Cutters

LEGO Creator Expert Winter Holiday Train 10254 Construction Set

PLAYMOBIL Nativity Stable with Manger

Playmobil Figures
In 2011, a new series called Figures was released. You could buy individual figures and mix/match them. Perfect for collectors and stop-action movie makers.
PLAYMOBIL® Series 8 Girls Mystery Figures (Styles May Vary)

Playmobil Figure Boys Series 3

Stop Motion Video with Playmobil
What is Playmobil? A Great medium for making MOVIES!
The Playmobil Castle
When my daughter found a Playmobil Fairy Tale Castle under the Christmas Tree her eyes lit up, and she disappeared into a wonderful world of fantasy for ages.
The castle itself needed assembling, but it was nothing I couldn't handle. Directions are straightforward… and no extra tools or batteries are required! Once it's together, the furniture can be arranged and re-arranged any way you want. The people are a perfect size for young hands to manipulate, and are sturdy enough to be played with. There are a multitude of accessories for the Castles, you can add everything from extra rooms, to fountains, to furniture, to musical instruments. There are Unicorns and a variety of other animals.
&
&
For Boys and Girls…. (although, I think my girls would have preferred  cannons to glitter)
PLAYMOBIL Crystal Palace

Playmobil Novelmore Grand Castle of Novelmore Playset