Steiff Stuffed Animals – Toys to Love for a Lifetime
Like so many German kids, I was lucky enough to have a few stuffed Steiff Stuffed Animals & Plush toys. A  small Dog with a blue collar and a bell, an Owl, and a Goldfish. One very memorable Christmas, I found a Steiff Bear sitting in the branches of our Christmas Tree. The Owl is still with me today, it sits on the table next to my chair and watches me read. The little dog lives in my daughter's room, the collar and bell gone, but the dog is still loved. The Goldfish makes an occasional appearance.
When my kids were born, they received Steiff animals from family in Germany… a bear, a lamb, and another bear.
Unlike so many things today, these lovely stuffed toys were designed to last a lifetime, and be enjoyed by generations. These are toys that kids love and remember.
&
Steiff Classic 1920 Teddy Bear Light Brown 10

A Little Steiff Teddy Bear History
Margarete Steiff was born in Giengen on the Brenz in 1847. As a child, she contracted Polio, and although she lost the use of her legs, and had constant pain in her right hand,  she never slowed down. Her parents and family encouraged her to be strong and independent, and she leaned to get around despite the wheelchair. She initially trained to be a seamstress with her sisters, but found the work frustrating because of the limited strength in her hand.  Undaunted, she took up the Zither, and got good enough to give lessons. All of the work on her beloved instrument helped her overcome the hand weakness. She and her sisters pooled their money, and bought the town's only sewing machinedj, adjusting it, so that it worked well for her needs. Together with her sisters, they started a tailoring business that grew successful enough so that her father build her own little shop in the family home.
Margarete sewed clothing, and established a business specializing in pieces made from felt, like coats and underskirts. And her little shop thrived.
The first Steiff animal was an elephant. She found a pattern in a sewing magazine that she thought the children would love it as a toy, so she made a few for Christmas presents. Although, it was just a hobby for friends, that first year, 1879, she sold 8 of them (I wonder if those elephants are still out there…?).
Margarete Steiff- Public Domain
By 1880, Margarete began sewing other animals from patterns in the Modenwelt magazine out of Felt and Mohair, and the Steiff company was founded.  Her toy line included a monkey, camel, donkey, parrot, poodle and of course, a bear. Her brother saw the opportunity in her talents, so he took a sack of her elephants to a market in Heidenheim, and sold out. Orders came in, and by 1886, she had sold 5000 of her little elephants!!
The business was growing like crazy! By 1887 they had 30 employees, and were selling tens of thousands of stuffed toys. Their success meant that there were plenty of imitators, so to prevent confusion, in 1904 her brother Franz trademarked the famous line Steiff- Knopf im Ohr (Steiff- Button in the Ear), and from then all each original Steiff came with a button. Business EXPLODED!
This Steiff button is on my Owl's foot
The Steiff Teddy Bear
Margarete's nephew Richard Steiff went to art school, and his designs were used for many of the stuffed toys. Then in 1902 he sketched out a bear with moveable arms and legs. These extra cuddly bears were covered in soft mohair. Despite her skepticism, they went ahead with the project and took the new bear to the Leipzig Toy Fair. An American buyer bought 3000, and took them to America, where he introduced the bear as "Teddy" Bear, named after President Theodore Roosevelt. After this Steiff became internationally famous.
Sadly, Margarete Steiff developed a lung infection and passed away in 1909.
Steiff Company Today
The Steiff company uses environmentally friendly materials that are tested for allergens and toxins. They weave their own materials to insure quality. "Only the best is good enough for our children" is a motto the company stands by. When you buy a baby toy from Steiff, you can be assured that it is safe and durable enough to last a lifetime…. and maybe even their child's lifetime.
You can read more about Margarete Steiff and her incredible story on the Steiff Website… 
Sadly my bear was accidentally donated away… (My poor dad may never recover from the tauma of that mistake). Today, I'd like to think that somewhere a child is enjoying it, and that it's not just sitting on a shelf somewhere… A Steiff Bear is for loving.
In 2015, the Steiff Jubilee Bear celebrated 135 years of Steiff…. The bear holds the original Elephant!
Steiff 135 Year Jubilee Teddy Bear
Other Steiff Jubilee Bears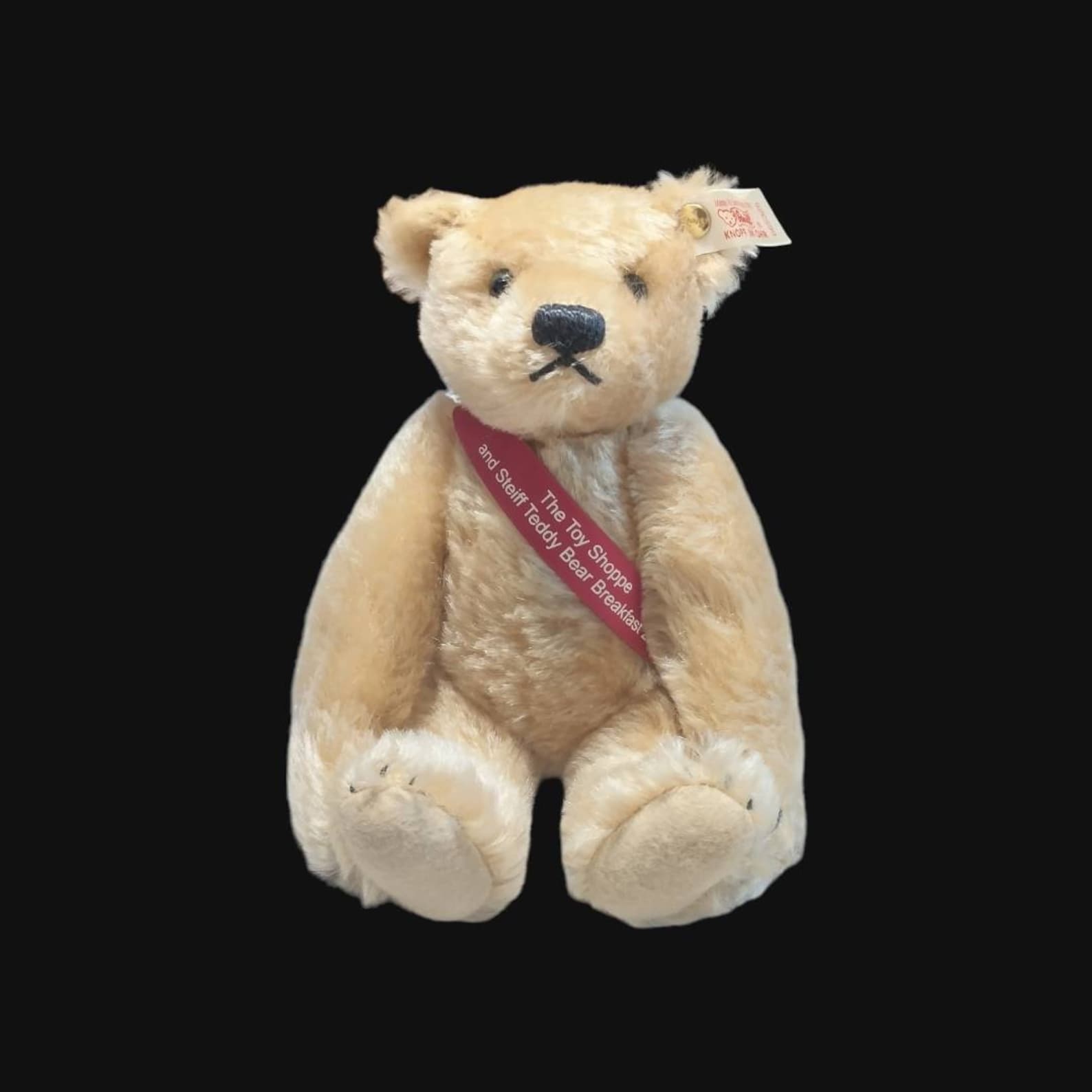 Rare Steiff Bear Limited Edition EAN 665325 The Toy Shoppe and Steiff Teddy Bear Breakfast 2003 Exclusive with Ear Tag and Banner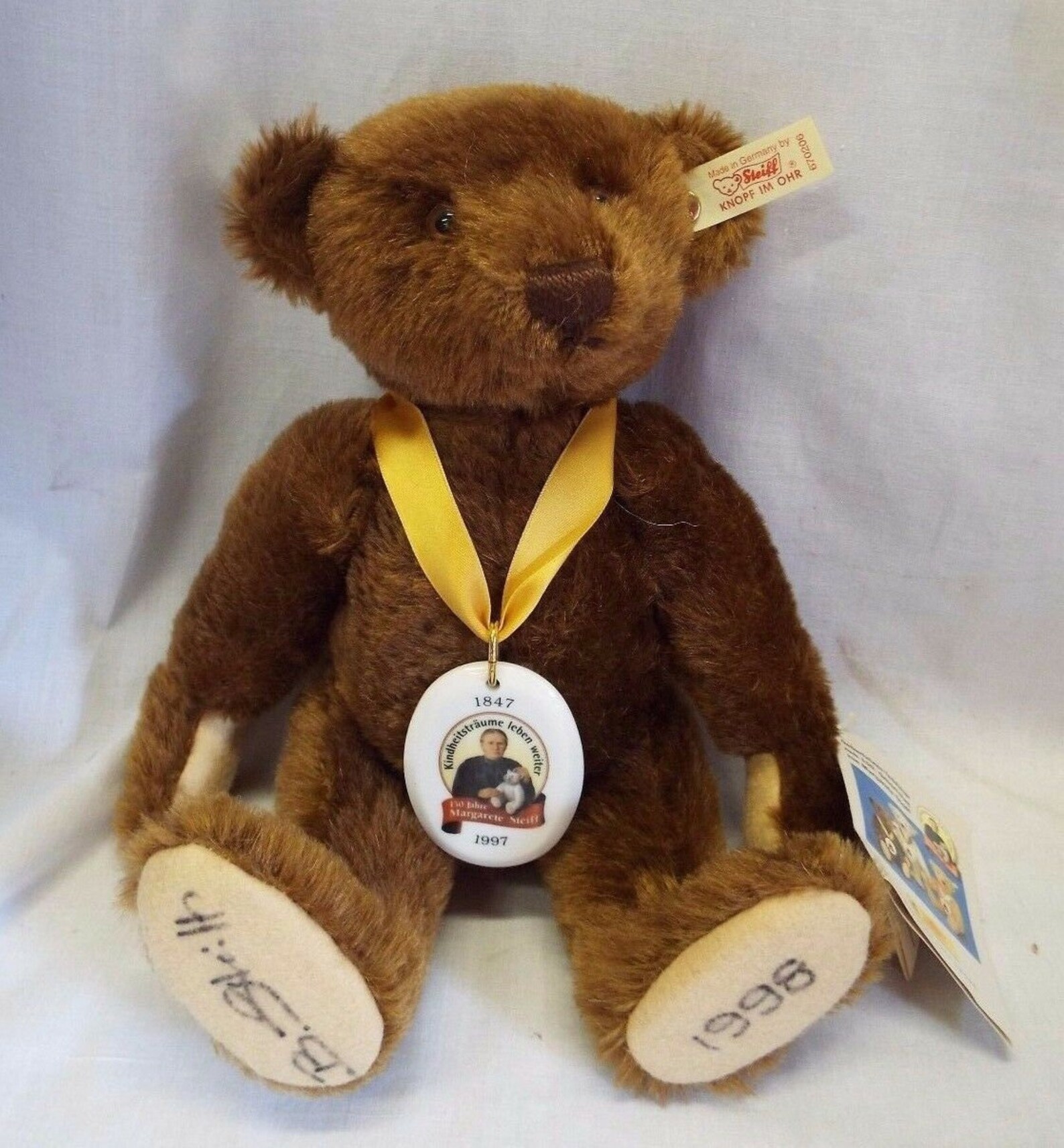 1997 SIGNED LTD. ED. German Steiff Brown Jubilee 150th Anniversary Bear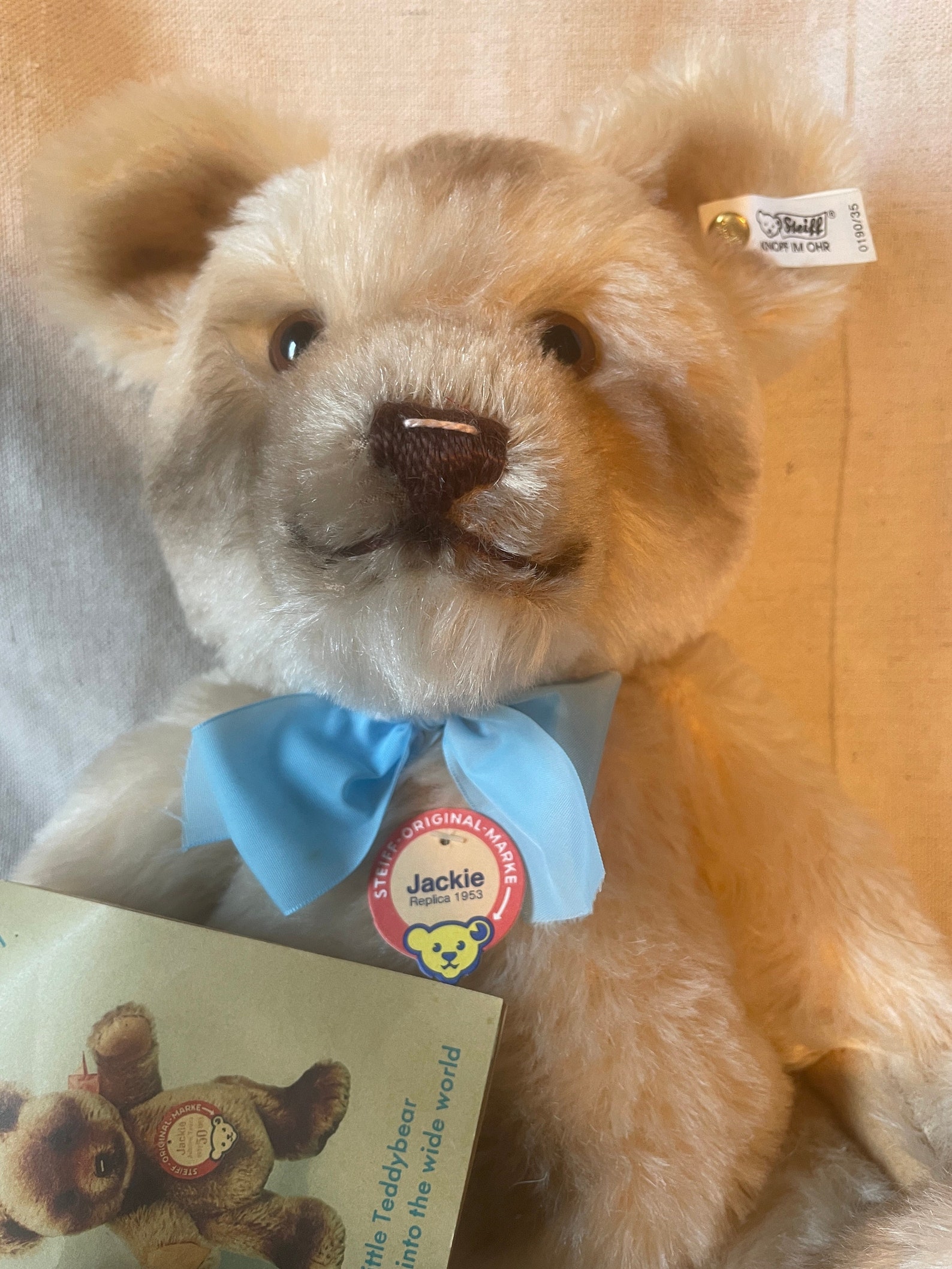 Steiff – Jackie 50 Years Jubilee -1988 Limited Edition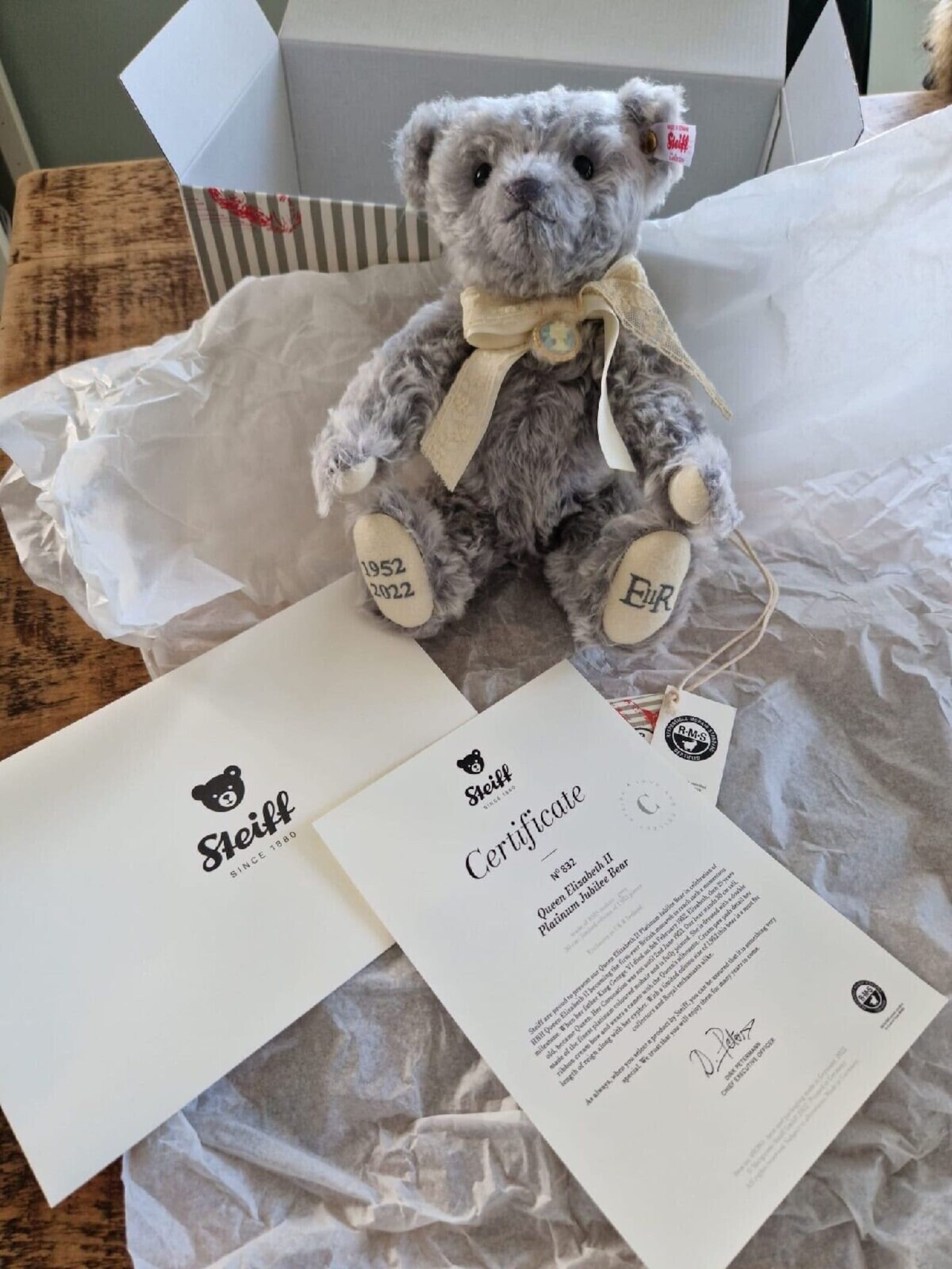 Steiff Queen Elizabeth II Platinum Jubilee Bear EAN 691393 No. 832

Steiff Stuffed Animals & Plush Toys
Looking for the perfect Steiff Bear?
For Your favorite Child? Or maybe yourself? (I miss my 1920 mohair bear….)
Steiff 14

Steiff Classic 1920 Teddy Bear Light Brown 10

Steiff Luca Teddy Bear 12

Steiff Mini Teddy Bear 4

Steiff Vintage Teddy Bear – Soft And Cuddly Plush Animal Toy – 12

More Steiff Stuffed Animals & Plush Toys
It isn't just BEARS… there are so many Steiff animals to choose from…
Steiff Flaps Penguin – Big 28

Steiff 63770 Soft Cuddly Friends Octopus Turquoise

Steiff 064623 Kango Kangaroo Plush Animal Toy, Beige Tipped 16 inches

Steiff 075742 Tuhin Tiger Plush Animal Toy, White

Steiff JOGGI Hedgehog Plush Animal Toy, Brown

Steiff Toys for Babies!
Special Extra Soft and Cuddly
Steiff Baby Teddy and Me Teddy Bear Girl with Pajamas, Beige/Pink

Soft Cuddly Friends Fuzzy Lamb

Steiff Soft Cuddly Friends Tilda Rabbit, Pink, 45

Steiff Soft Cuddly Friends Girta Giraffe #068157

150 Jubilee Assortment!
To celebrate the 150th Birthday of Margarete Steiff, the Steiff company created a special collectible box made up of stuffed animals like the ones she made when she handled each one personally. (Including that adorable elephant!)
Steiff Jubilee Assortment – 150th Birthday – Margarete Steiff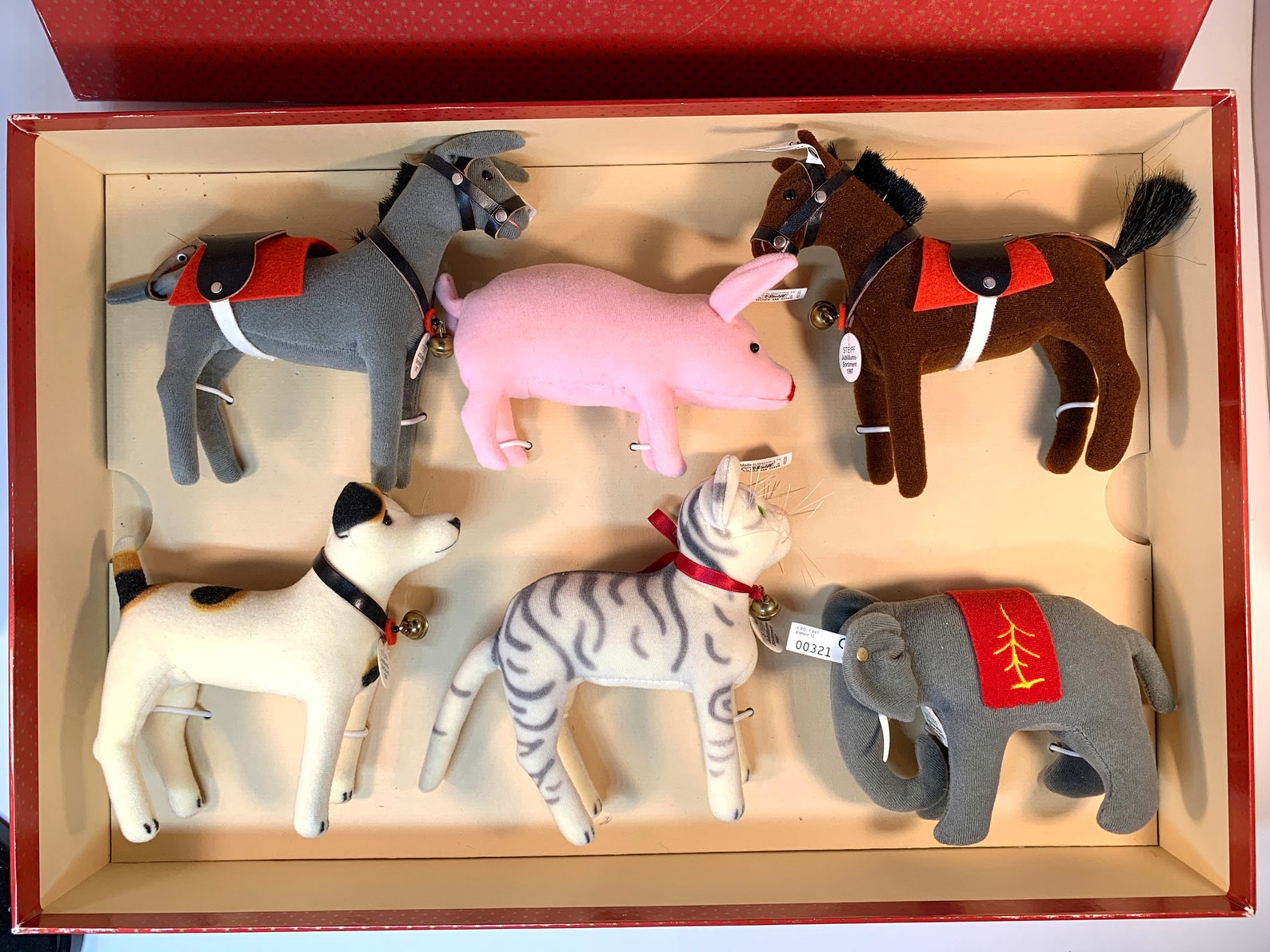 Steiff Jubilee Assortment of Animals for the 150th Birthday of Margarete Steiff, EAN 400285

Vintage Steiff Bears
Ohhh… now I'm even sadder about my bears vanishing!! Some of these are really expensive!
These bears look like they've gotten a lot of love.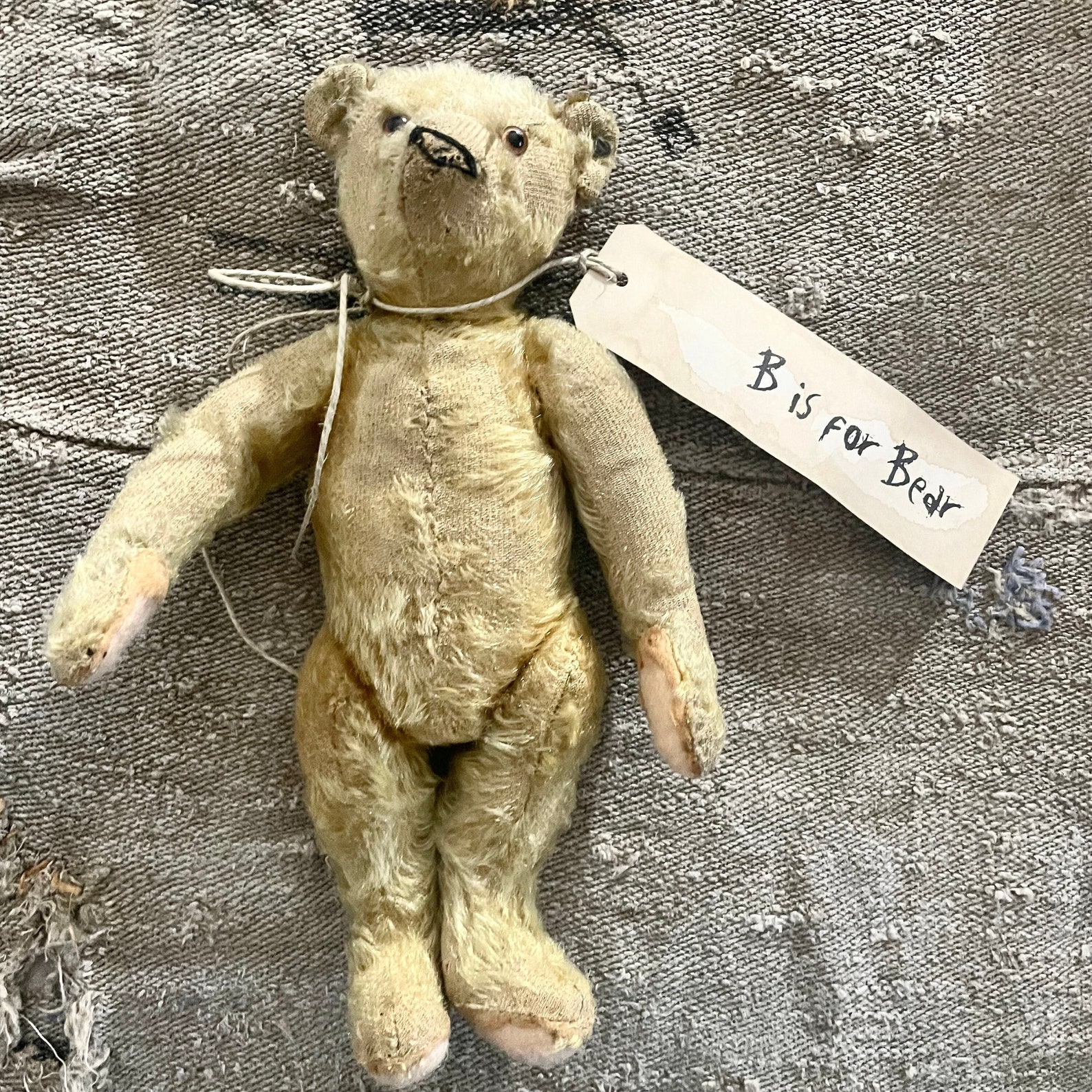 Antique Steiff Bear,1905 to 1933, Steiff Button, German made antique Bear.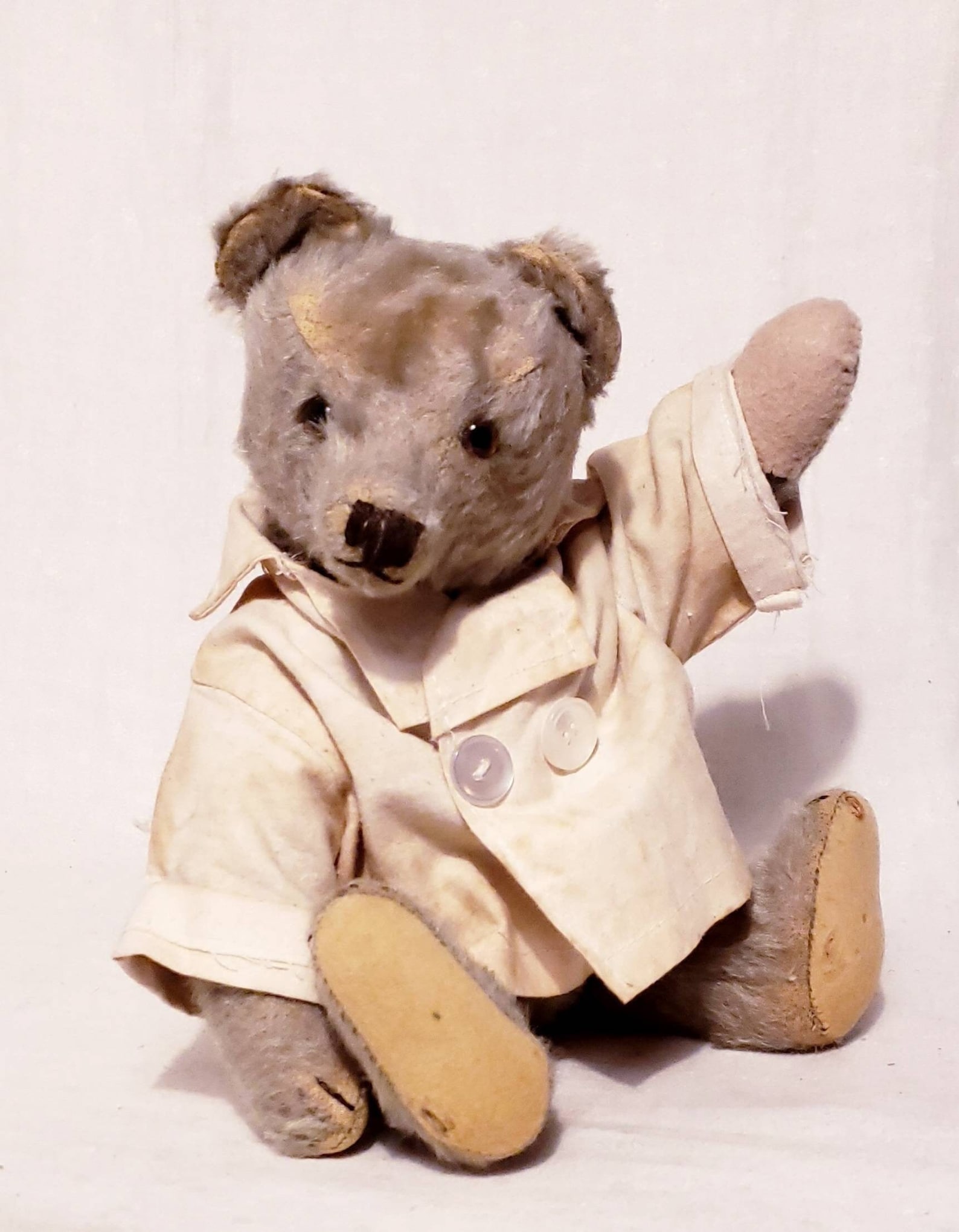 Antique Vintage Collectible Steiff Original Germany Teddy Bear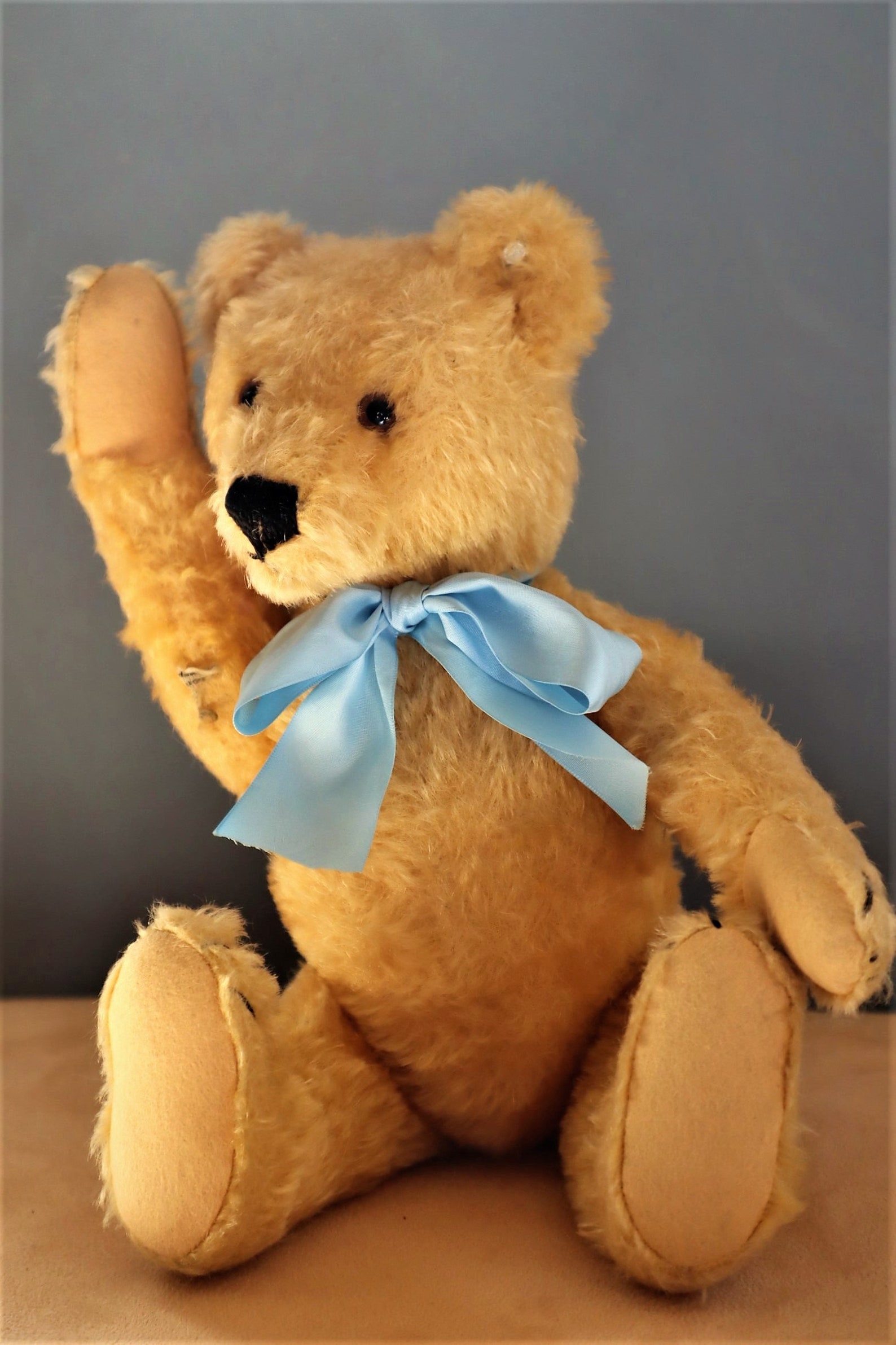 US Zone Tagged Early Vintage Steiff Original Teddy Bear w/ IDs, 1950-1953 Art and Collectibles Toy 13″ T, Mohair, 5xJointed, RARE !

Vintage Steiff Animals
Steiff made a lot more than just bears…I had a bird, a fish and that little doggie!…
LOok! MECKI!!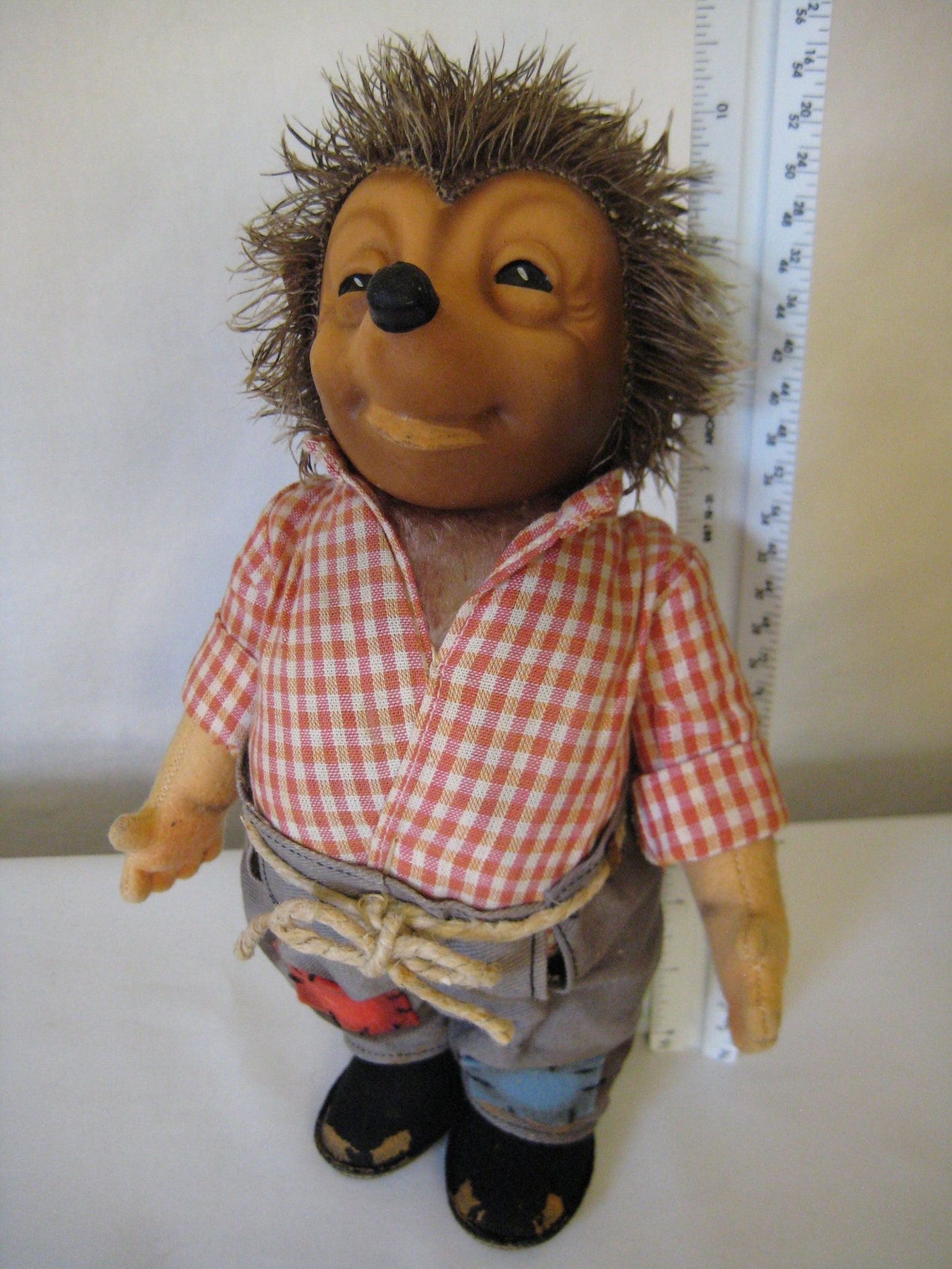 Steiff Vintage LARGE 28cm Mecki Hedgehog Father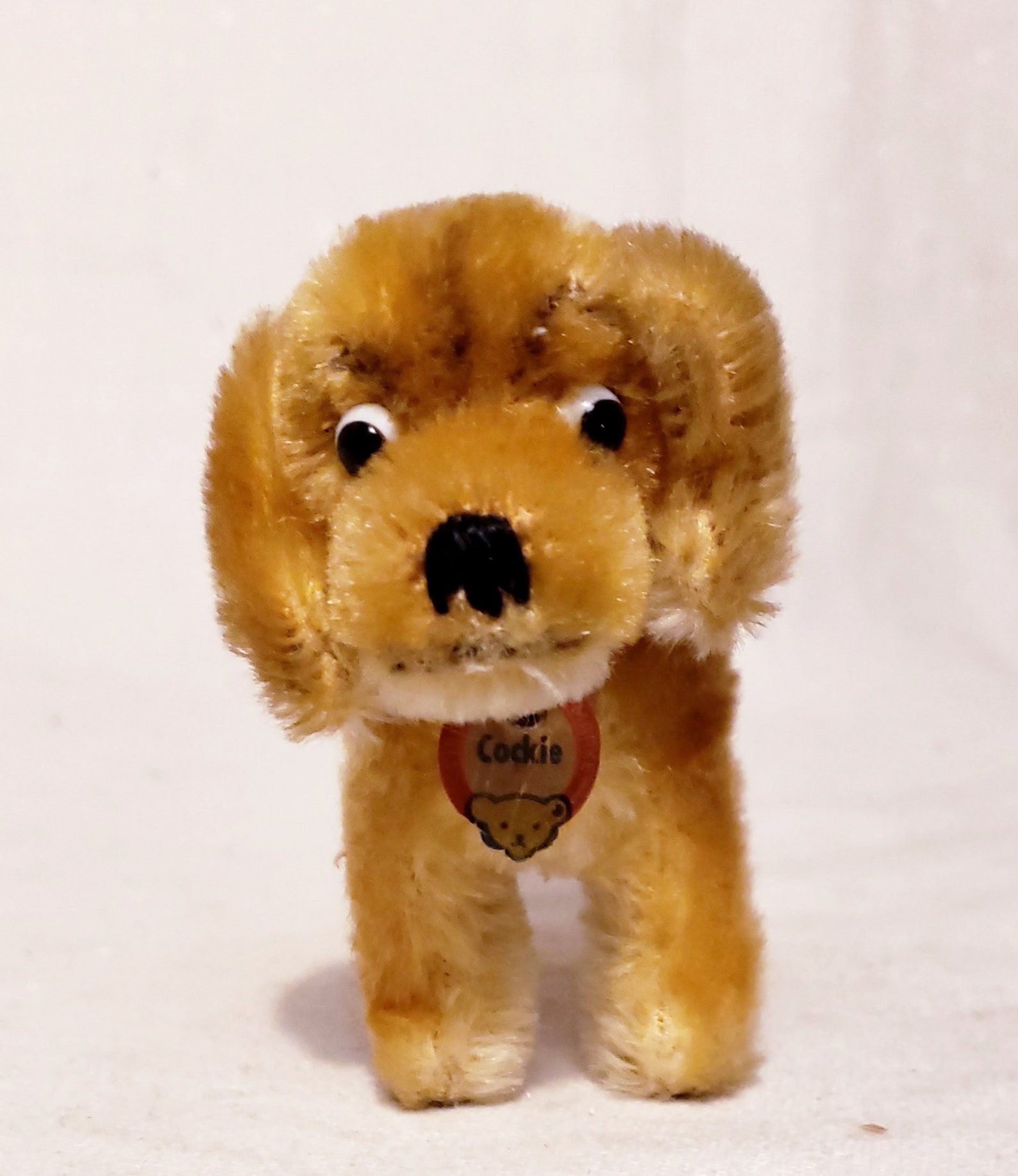 Vintage Steiff Miniature Cockie the Cocker Spaniel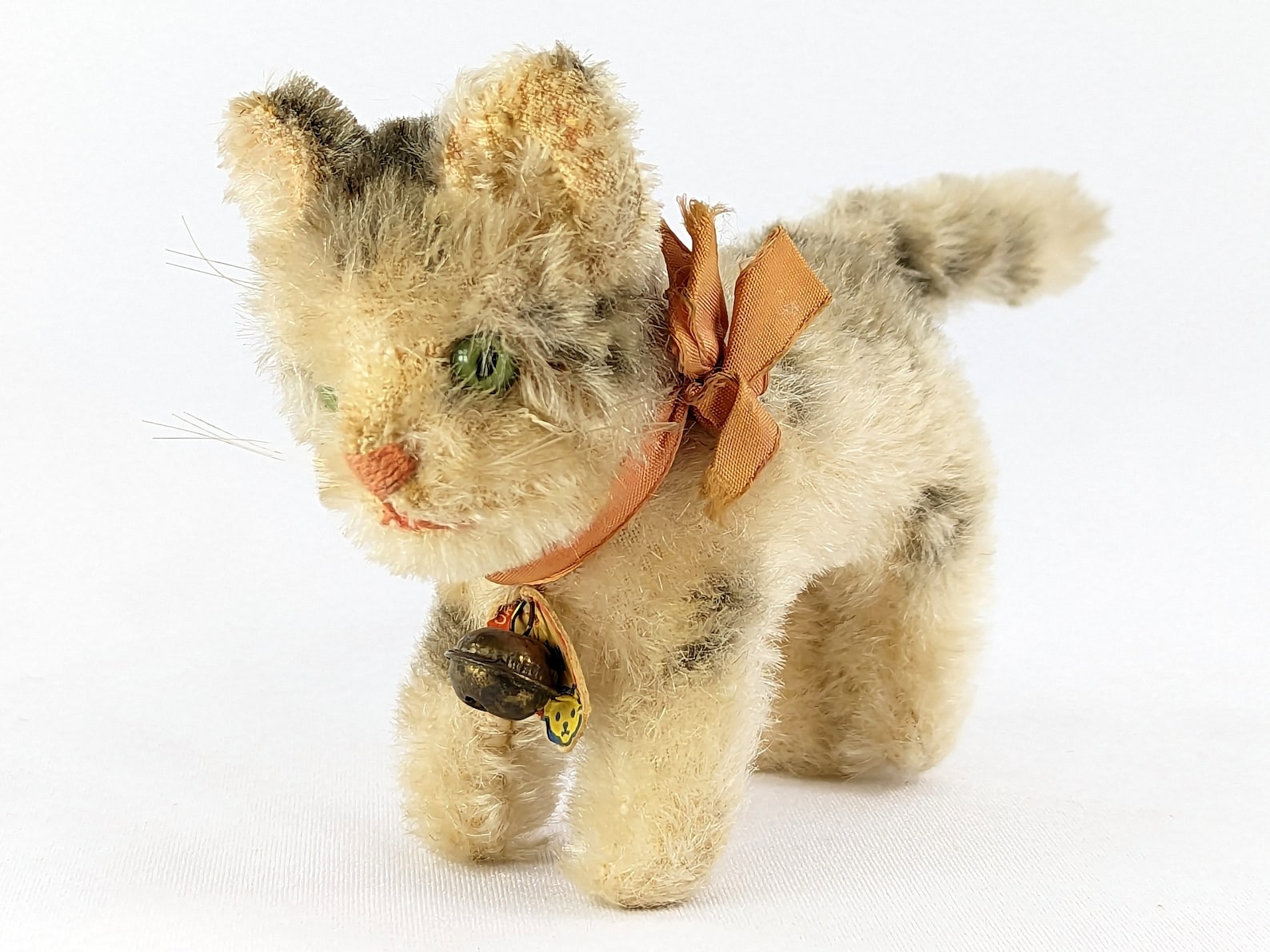 Steiff Cat Tabby with ID 1965 to 1971 vintage 4 inches tall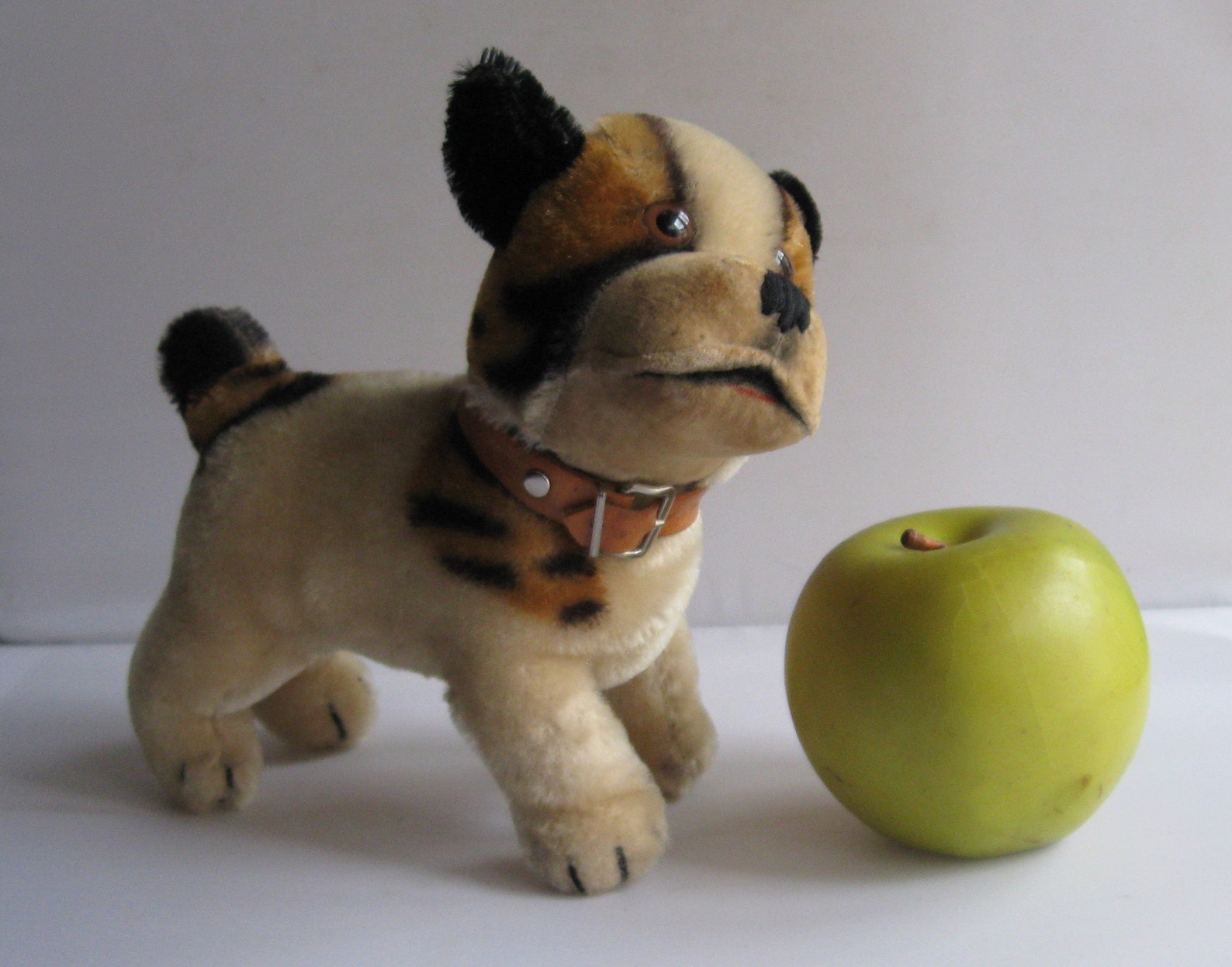 Original Steiff cuddly toy / plush toy Bully bulldog, 17 cm. Material: mohair plush. 1952 – 1974 Made in Germany. VINTAGE toy collectible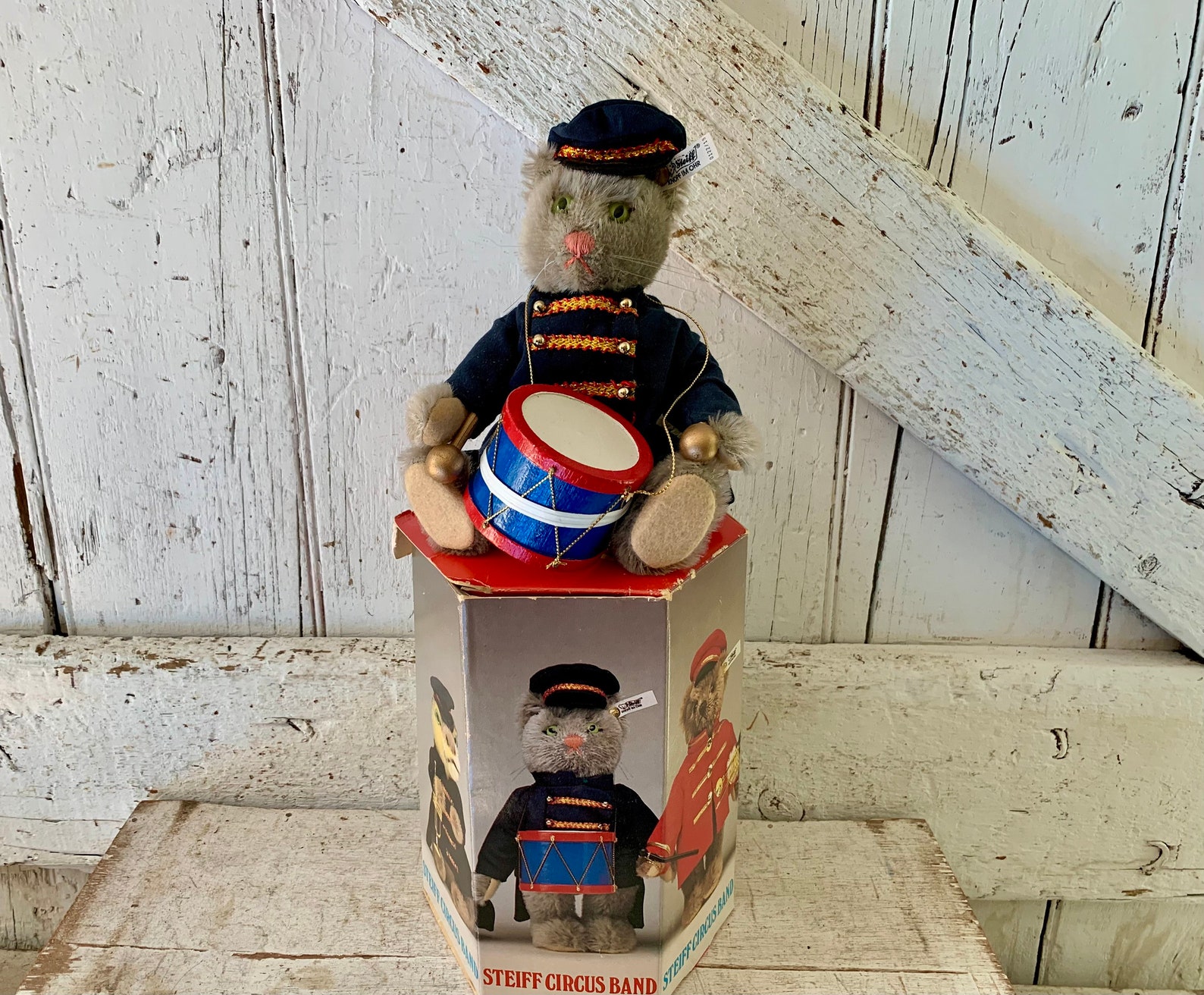 Steiff Cat Bandsman with Drum Golden Age Of The Circus Limited Edition 012219 #193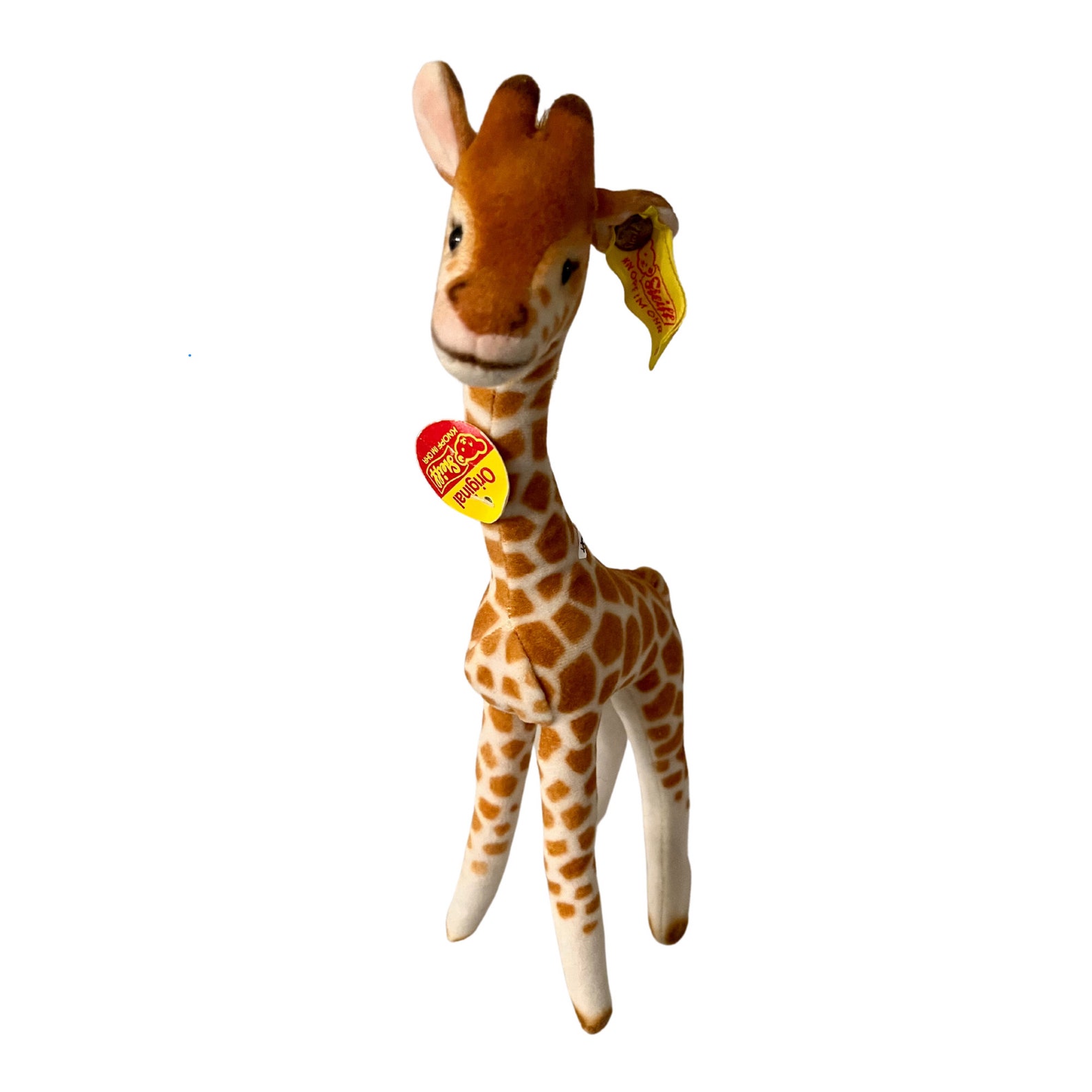 Vintage Steiff Giraffe with Original Tags and Button on Ear, Made in Germany

>