Visiting My Oma in Germany- From Suburban California to NRW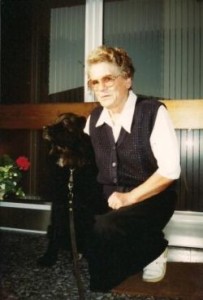 My Oma, Elfriede, was a strong woman. She was a widow for the last 20 years of her life, and lived alone with her dog, Ben. But, she never seemed lonely. She had her routines, her friends, and a set way of doing things.
I loved going to visit her in Germany. Once I turned 11, my parents would send me alone on a plane, so I had her all to myself. My bed in her house was the most comfortable place I have ever slept. Soft mattress, thick feather bed piled high on top of me to keep out the chill. I had a small room, but it was perfect. In the middle of the night, if I couldn't sleep because of jet lag, I'd creep down the hall to her room. Her snoring was legendary, and could be heard from 3 blocks away! She'd wake when I whispered her name, and take me to the kitchen and make me cocoa, then she'd sit with me and talk until I was tired enough to go back to bed.
Then she'd wake me at 6 AM with the vacuum cleaner!
Oma let me bake my first real cake, not from a box mix, but a real cake. I remember, it was a Rhubarb Cake. The recipe is lost in time, but the memory remains. I was so proud, because she let me do it myself, and then she served it to her Doppelkopf (card game) group. She even told everyone I made it.
Oma spent a lot of time working in her huge vegetable garden. She'd can and freeze everything, and much of it would be given away, because she couldn't possibly eat it all alone! There was no question of doing less though. Into her 80′s she'd rake leaves, and keep that big lawn clear (there is even a legendary story about her climbing the the trees to get the leaves BEFORE they would fall).  And she'd talk to things around her- the radio, the stove, Ben. She'd tell those flies to leave her kitchen, and then giggle with this crazy laugh after she bashed them with the fly swatter.
As I got older, we spent more time talking… about the past, about relationships, about family. She had strong opinions, and an ingrained sense of what is right. But, if something bad happened, when the dust settled, she didn't dwell on the negative.  When we were done she'd just say, "that's all we have to say about that." And it was done.
When my kids were small, I got to see her one last time. Oma was still cooking up a storm, still had her strong opinions, still had her dog, but she was starting to lose her memory, and we all knew it was a matter of time before she couldn't live alone anymore. My cousins and my Aunts and Uncles would check in on her, but after a while it became unsafe, and she had to move into a home.
She passed away three years later, quietly in her sleep. My parents happened to be visiting Germany, and got to see her just the day before. Maybe she was waiting to say good bye.
A few years ago, I was back in Germany, and got to go in to her house. It was hers, and it wasn't. My cousin lives there now. Much is the same- the furniture, the dangerous curving staircase into the cellar, the cold bathroom! But she's not there. And I miss her so.
8 Grandchildren and 2 Great Grandchildren All Spent Time Sitting Here
My Oma had 8 Grandchildren, and knew 2 of her Great-Grandchildren before she passed away. We all sat on her Kitchen Counter, in front of the big window, and kept her company.
I have such an unbelievably strong memory of this place. If I close my eyes, I'm there- watching her cook, snibble beans, can cherries, or bake a cake. I can smell the cooking, hear her radio, hear her talking back to the radio (hahahaha)… and I loved every moment.
And I miss her so….