The German Beer Boot- The History, Game, and How to Drink from It
I remember the first time I saw the German Beer Boot… I was 18 years old in Heidelberg, and a group of friends and I were in a Gasthaus where a Beer Boot competition was happening. I'm happy  to report that my Texan friend  won hands down (several times…) His prize? a Beer Boot to take home!
But I did wonder… Why? How? WHAT possessed anyone to drink from a boot? (and what came first as a drinking vessel, the glass boot or the actual boot that someone's foot was in??? ick!!)
So I did a little digging. It turns out that there is a story behind it (of course there is). And I learned the rules for the game to play with your German Beer Boot! (warning, there might be some drinking involved). Also important… how to drink from it without getting all wet. Best of all, I found out where to get your OWN Beer Boot for your home bar! Or maybe get one for that special friend with the hollow leg… (like my buddy,  Cuddles…) (I must go digging in the attic for the photo album of that trip!)
German Beer Boot History
Over a century ago, according to legend, a Prussian general promised his troops that he would drink beer from his boot if they won a battle. But after they did, good sense prevailed, and the general saved his boot leather (and avoided the unpleasant flavor of feet in his beer) by asking a local glass maker to create a boot shaped beer glass. Soldiers have been celebrating victory with a beer boot ever since.
Another story tells that in WWI, before battle, German Soldiers would share a last beer that they passed around in a boot, because they didn't have a glass. This story makes no sense to me because 1. Why didn't they just pass around the bottle of beer? 2. No German soldier would be stupid enough to get his boot soaking wet before a cold battle. 3. It's just icky.
The German Glass Beer Boot Mug Drinking Challenge
Is it a glass? Is it a mug? Is it a boot? Who cares! As long as there is beer in it! In recent years, the Beer Boot has become a drinking challenge or game. Remember, if it is your turn to drink, always point the tip of the boot UP until you have reached the bottom, then rotate… otherwise you could end up with a face full of beer.
Beer Boot Game Rules
Get a Boot of Beer and a circle of friends around the table and play…Take a good long swig of the Beer (no whimpy little sips), and pass it along.
The Boot must travel around the table clockwise.
The boot may not be put down… it must be passed along… or you have to drink again.
Some places have a rule that says you must flick the boot with your finger before passing it along… or drink again.
You must drink with the toe UP, or you must drink again. (Yes, this gets tricky.)
If you get splashed in the face, you must drink again (and then you may dry off)
The person who drank BEFORE the person who finished must buy the next round. (Obviously, if you are drinking with the guy who can guzzle a boot full of beer, you don't want to be handing off to him. Move, or you will be buying A LOT)
Never never never clink Beer boots or slam them to the table… they could break! Then you are not only buying a new round, you will be buying a new Beer Boot!
If she can down a boot of beer…. you can too
Find the German Beer Boot here…
There are many to choose from!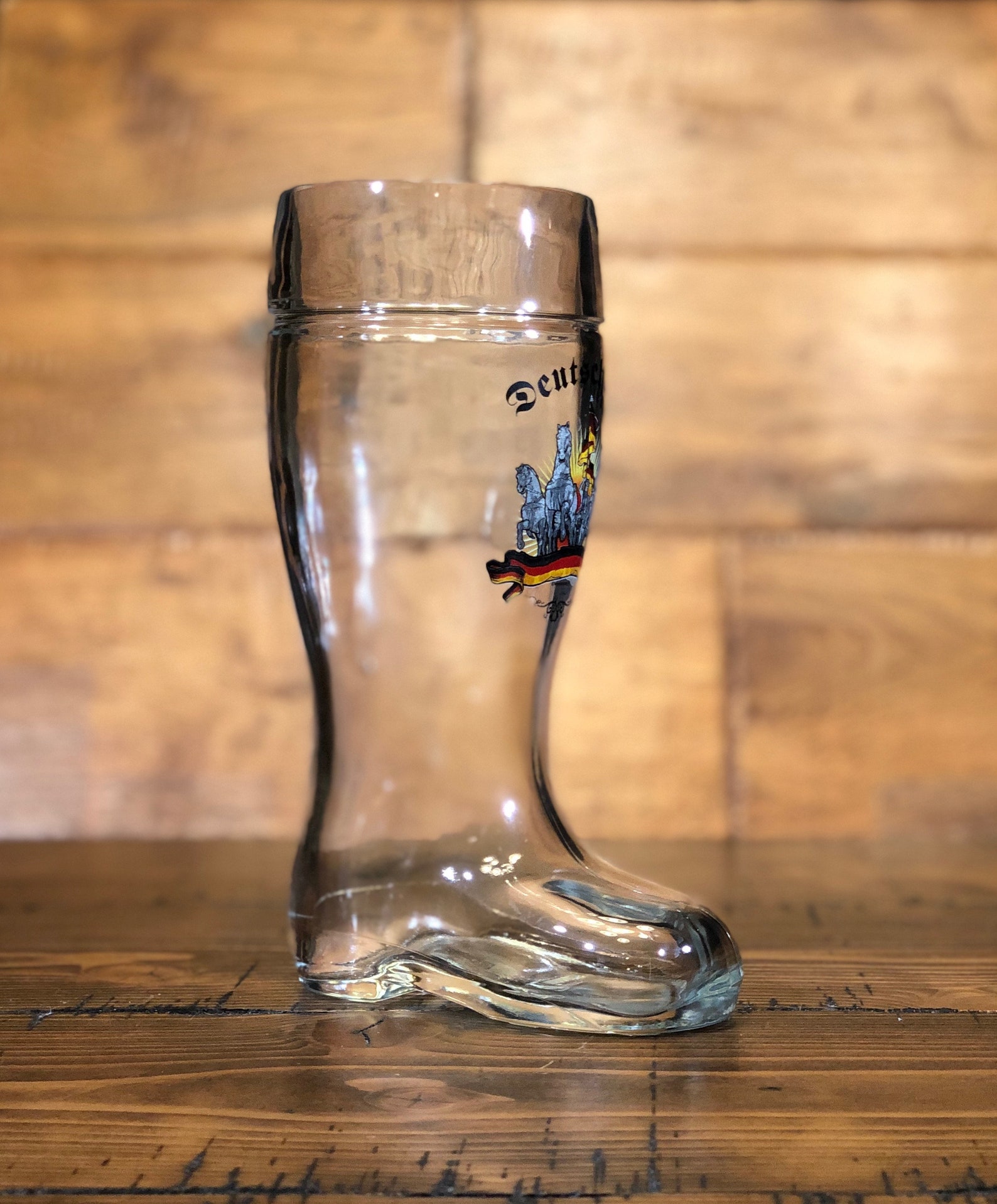 Deutschland Beer Boot

Stolzle Bierstiefel One Liter Glass Beer Boot

Henry Cornell and Associates Hofbrauhaus 0.50L Glass Boot, 0.5 L, Clear

2 Liter Beer Boot Glass Set – Oktoberfest Beer Boots – Set of 2 – MyGift

Chefcaptain Boot Mug Set of 2 Huge 1 Liter Glass Beer Mugs Drinking Glasses, Clear, 1 Liter

Hofbrauhaus Munich Munchen Glass German Beer Boot 1 L Germany Oktoberfest
Where to Buy a Personalized Beer Boot
Whether you are buying a Beer Boot for yourself… or as a gift (maybe for drinking buddies or grooms men, there are several engraving styles to choose from.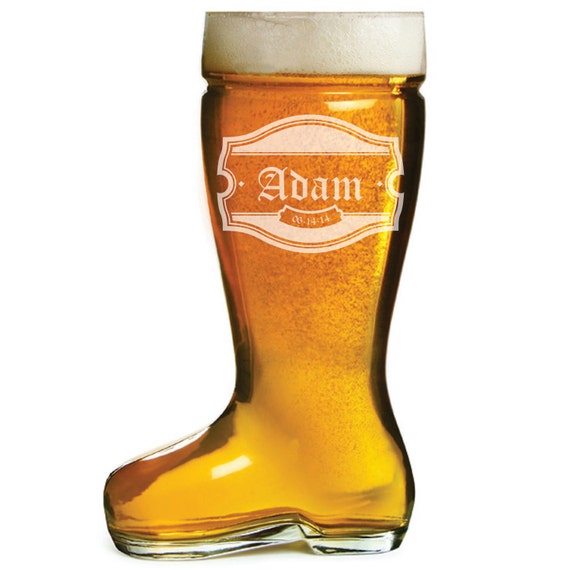 Custom Engraved 1 Liter Beer Boot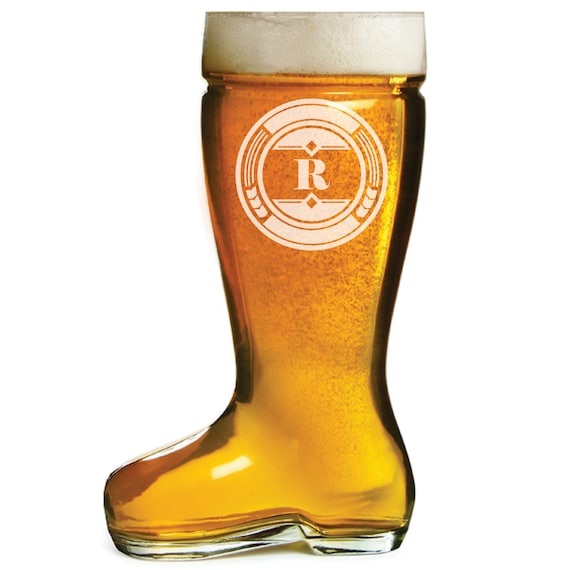 Glass Beer Boot, different Engraving styles

Mini Shot Glass Boots
Surely you can finish these in one go!
Bavarian Coat of Arms Beer Boot

Harvest Crest Beer Boot Shot Glass

Mini Glass Boot 3 Pack Shot Glasses Standard

Hofbrauhaus HB Munchen Beer Boot Shot Glass

Contiki Tours Are a GREAT Way for Young People to Experience Europe
Rather than just send your kid off with a backpack alone, send them on a Contiki Tour. The price is good…the trips are fun… and there is some supervision. I LOVED my trip! My best friend and I traveled together and me the most wonderful people from all over the world.