What is Spanferkel? A Roasted Pig, Perfect for German Festivals!
I'd heard there would be Spanferkel at Germanfest, and I was a bit confused… What is Spanferkel? A "Ferkel" is a little Pig" (it's also what my mom would call me when I came home particularly muddy) and "Span" is wood chips. Pig in Wood Chips? That can't be right. It was time to learn more. My introduction to Spanferkel came the first time I walked through the German Fest Grounds in Milwaukee.  Right in the middle of everything was an area with pigs roasting on spits. A LOT of pigs. Slowly spinning and roasting… Now, I've been to big Bar B Ques… and I've been to Luaus, so the 'whole pig' thing was not new… But this was a serious LOT of pigs. We had to stop and talk to the guys at the pit… and then we had to try it! I have to say, Spanferkel is pretty delicious…. let me tell you all about it.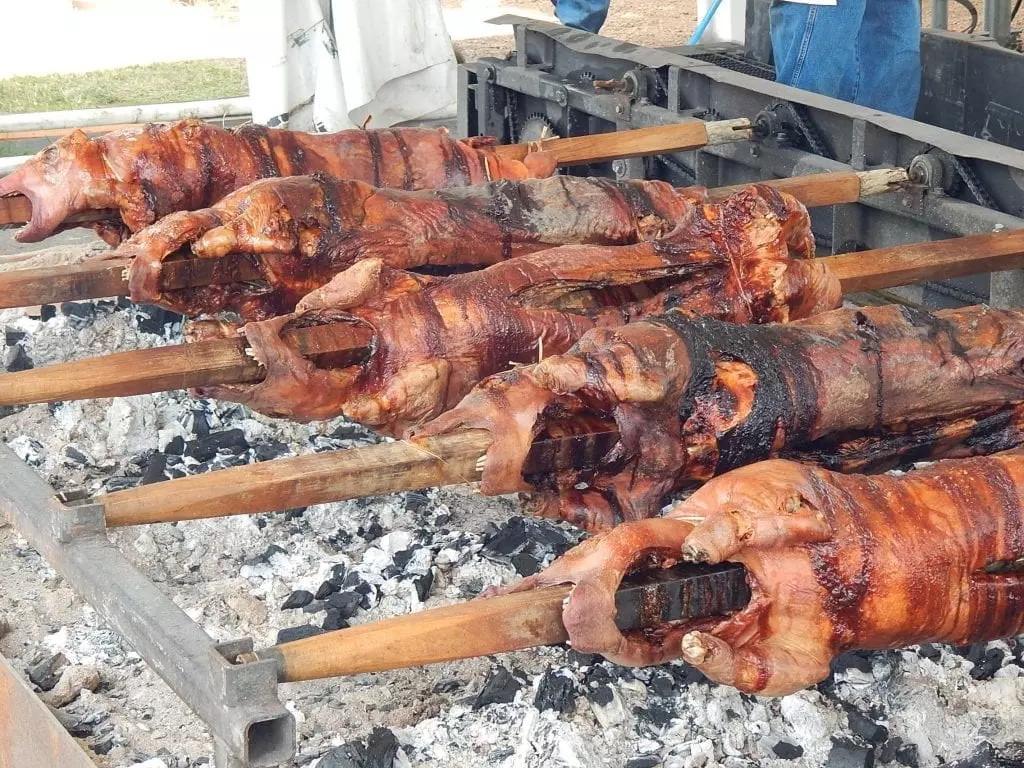 What is Spanferkel?
The most basic definition of Spanferkel is a suckling pig. It's served at Festivals like Oktoberfest, where a large number of people show up hungry! (It's really not just a dinner for the average Tuesday). But that doesn't really explain how the magic happens. Mark, who has been making Spanferkel for German Fest and Oktoberfests for 16 years told us how it works.
The cleaned and seasoned pigs arrive at the festival grounds (all wrapped up neatly in plastic). These aren't giant hogs, but rather young pigs, around 4- 6 weeks old, that weigh 25- 35 pounds. Mark and his guys put the pig on the rotisserie, then lay it over the coals. The pigs turn and roast… getting all crispy and yummy for just over 5 1/2 hours. (These guys get up EARLY to make sure that the first people through the gates get their Spanferkel!).
Even heat over hot coals is the key to a perfect Spanferkel. The outside must be crisp, and the inside cooked through, yet it's essential that the meat remain moist.
It's at least a 2 man job to load the pigs on the spit... and then carry them to the kitchen for chopping up once they are roasted though. The three guys on the shift at German Fest will oversee the roasting of 55 pigs over the three days of the Festival. And it is a lot of hot and heavy work… but in the end it's worth it.
Every last bite will be eaten!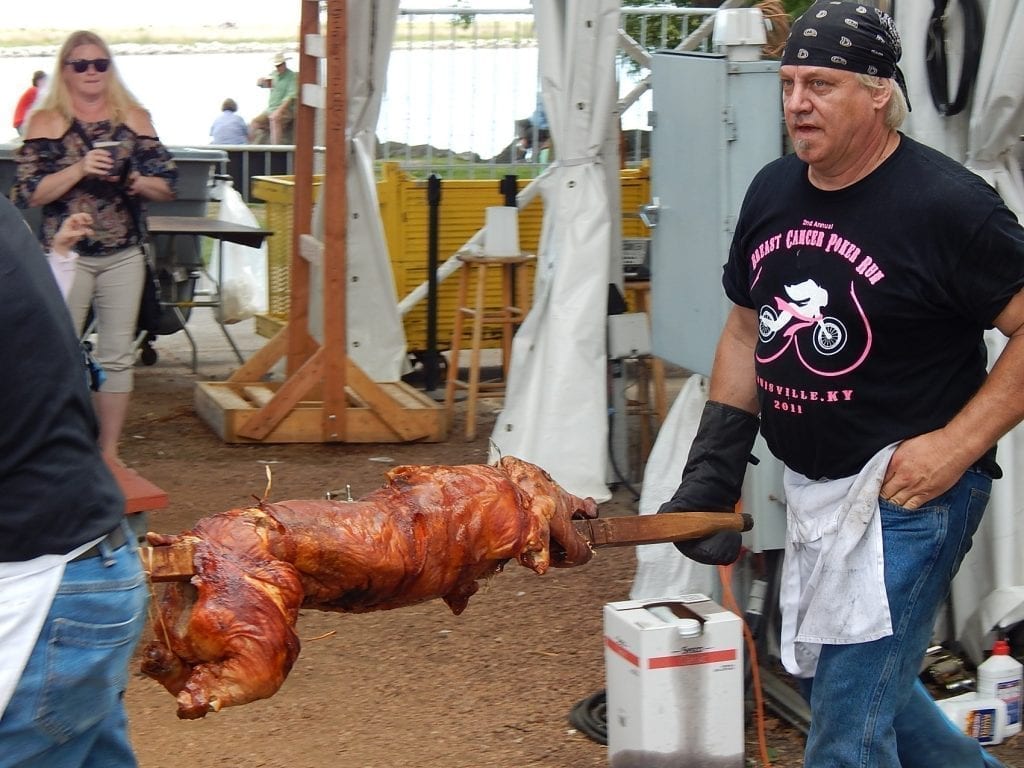 Pig's Head Anyone?
Yes, even the heads! In fact, the Pig's Heads are soooo popular, that they are sold separately and whole. You can buy a small head (those are the ones that are attached to the Spanferkel)… or, you can buy a large head…. (Oh boy… want to freak out a suburban kid from California, let the guy open up the smoker of heads…). The large heads are smoked separately and sold, brains, cheeks and all, for people to pick off the meat. (In fact, they sell out fast! There are only 60 large heads available…)
Want to make a Spanferkel Yourself?
Planning a big German Party? Maybe you want to host an Oktoberfest at home this year? Follow this link to this recipe adapted from Steven Raichlen's Planet Barbecue! (This is the guy who wrote the Barbque Bible… you can trust him). His version includes Ginger, and has a Honey Beer Glaze that you can add.
https://barbecuebible.com/recipe/german-whole-hog-spanferkel/
This German Recipe is more vague about the marinade, but insists that it include Oil and Salt, Pepper, Mustard, crushed Garlic and Paprika  Powder.
https://www.gutekueche.at/spanferkel-grillen-artikel-1169
The important thing is to begin marinading the Spanferkel 12 to 24 hours in advance. 
I don't have a big enough grill here at home, but I plan to try making both recipes with smaller sections of pork. Promise I will update when it happens!!
This Book of Spanferkel Recipes can be ordered as a Paperback, or on Kindle…
Spanferkel: vom Spieß – gebacken – gegrillt (German Edition)

Our Dinner!
We chose to get the mixed plate. The guys were roasting Chickens as well as Spanferkel, so we got to taste both… along with Sauerkraut, Sausage and bread. It really was more than enough for 2 people.
Mixed plate with Spanferkel, Chicken, Potato salad and Sausage

Know any Big Spanferkel Fans??
I found the perfect Gift for them!
Spanferkel And Biers Oktoberfest T-Shirt