Super Easy German Fanta Cake or Fantakuchen Recipe
You probably won't find Fanta Cake in a fancy German Cafe, but don't scoff at this super easy and quick to make Fantakuchen Recipe. When my kids were young, I loved having what I called "afterschool cake" recipes. Snack cakes, that could be whipped up without too much fuss. And this one is done in well under an hour (perfect when a crowd of kids appear in the backyard to play). In Germany, the Fantakuchen shows up at Children's Birthday Parties or Family Karneval Parties, all decorated with colorful sprinkles or Smarties to make it extra festive. I can see this cake being a hit with kids AND the childlike at heart at any Potluck you attend.
While I did use Orange Fanta for the cake, you can substitute other soda. In fact, my cookbook calls this recipe "Seltzer Kuchen", and points out that you can substitute other bubbly drinks or even Orange Juice if you like. (Note, the bubbles in the soda does give the cake extra "lift"). Because I used the Fanta from my regular Grocery store, the cake was a little sweeter than the one you might eat in Germany (but that is totally ok with my people). You could probably reduce the sugar a bit to compensate. Or use REAL German Fanta.
How easy Fanta Cake? You don't even need a mixer. My original recipe is a Schüttelkuchen (a Shake Cake) which basically means you can dump all ingredients into a bowl with a tight lid and shake it to mix the ingredients. (I used a mixer because… well…. I just had this image of cake ingredients flying around the kitchen because of a lid fail.)
Note to all you scout leaders… this could be a great project cake for the next meeting! I bet you could even bake it in a Solar Oven to get that Merit Badge. 
Fanta Cake Recipe
Bake the cake in a standard 10 x 13 inch pan (30 cm x 40 cm), like the one you would use for brownies.
Fanta Cake Fantakuchen Recipe
Ingredients
Cake:
2

cup

300 gr Flour

2

tsp.

1/2 pkg Baking Powder

1 1/2

cup

300 gr Sugar

Zest of 1 Orange

4

Eggs

1/2

cup

150 ml Vegetable Oil

1/2

cup

150 ml Fanta or Juice
Icing:
2

cup

250 gr. Powdered Sugar

4

Tbl Fanta or juice

Sprinkles

candies or Smarties to decorate
Instructions
Preheat Oven to 350 degrees F or 180 degrees C

Cover the bottom of an 10 x 13 inch (30 x 40 cm) baking pan with parchment paper.
Cake:
Put the flour, baking powder, and orange zest in a mixing bowl.

Mix a bit to combine.

Add the Eggs, Sugar, Oil, and Fanta.

Mix to completely combine. Scrape the bottom and sides of the bowl to get all the dry parts.

Make sure it's completely mixed.

Pour into prepared pan.

Bake 20 to 22 minutes.

Remove pan from oven, and let cake cool completely on a rack.
Icing:
Combine Powdered Sugar and Fanta or Juice.

Whisk until smooth.

Pour over cooled cake... spread evenly with a spatula.

(It won't be very thick)

Decorate with candies or sprinkles.

Cut and serve.

I found it neater to lift the cake out of the pan using the parchment... but you can cut and serve out of the baking pan.
Notes
This easy cake is perfect for kids. Make it for a birthday party or potluck!
Easy German Cookbook
Like this recipe? Find 80 Traditional German Recipes made Easy for the American Kitchen in my Easy German Cookbook.
Easy German Cookbook: 80 Classic Recipes Made Simple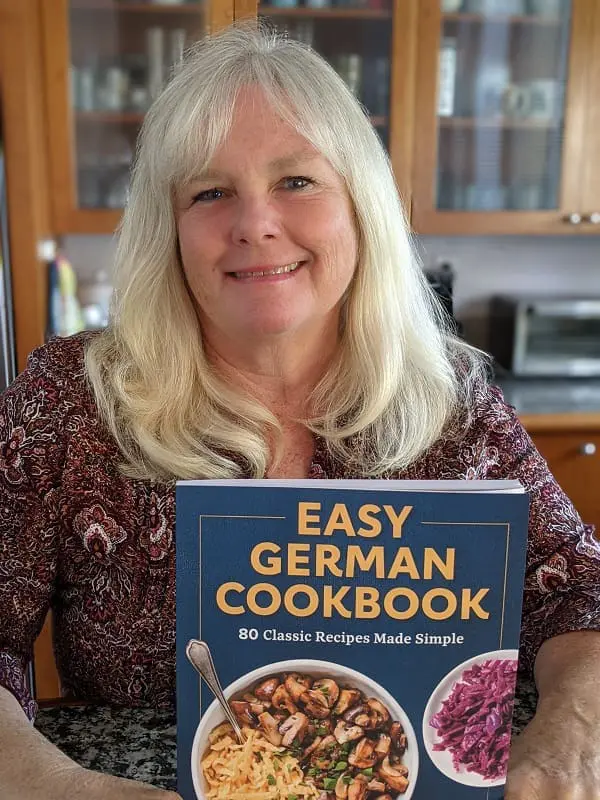 Easy German Cookbook SIGNEDGermanGirl Shop
German Fanta Orange
The REAL German Fanta Orange is not so sweet, or so Orange.
Fanta Orange 0.5LGerman Shop 24