Shopping for German School Supplies in Germany
My daughter, Katy, spent a Semester studying in Berlin. I'm delighted that she sent us a few posts about life as a California Girl in Germany. This week… shopping for German School supplies. Apparently, it's not the same as it is here in California… 
All photos taken by Katy used with permission. 
There were many things I expected to be different during my study abroad in Germany, yet the one thing I did not expect was  the vastly different experience shopping for German School Supplies. When I was growing up, we had long school supply lists with requirements of 3 inch binders, grid paper for math, and colored pencils for science. There were so many choices, that we would keep mom in the store for hours finding the perfect folder with cute animals on them and and pencil cases disguised as toys. Of course, the lists were shorter when I went to college, and shopping was more about getting the basics when I had to pay for it myself, but the choices and selections were still huge.
I worked at Target during the summer, and saw the piles of colorful, cartoon covered items people picked up for their kids. Everything was marked down so cheap,  everything is sold in bulk.  But, when I went to buy my needed school supplies in Germany, it was a totally different experience. First of all, all the paper good stores I saw were generally small, only around 2-3 aisles and containing very specific items. This meant there was no surplus of different brands vying for your attention in post-its or pencil sharpeners.
The folders and binders were mostly plain and there wasn't a large variety of different notebooks or binders. Of the selection they did have, only a few had characters of patterns as most things stuck to primary colors. And where were the pockets in the folders?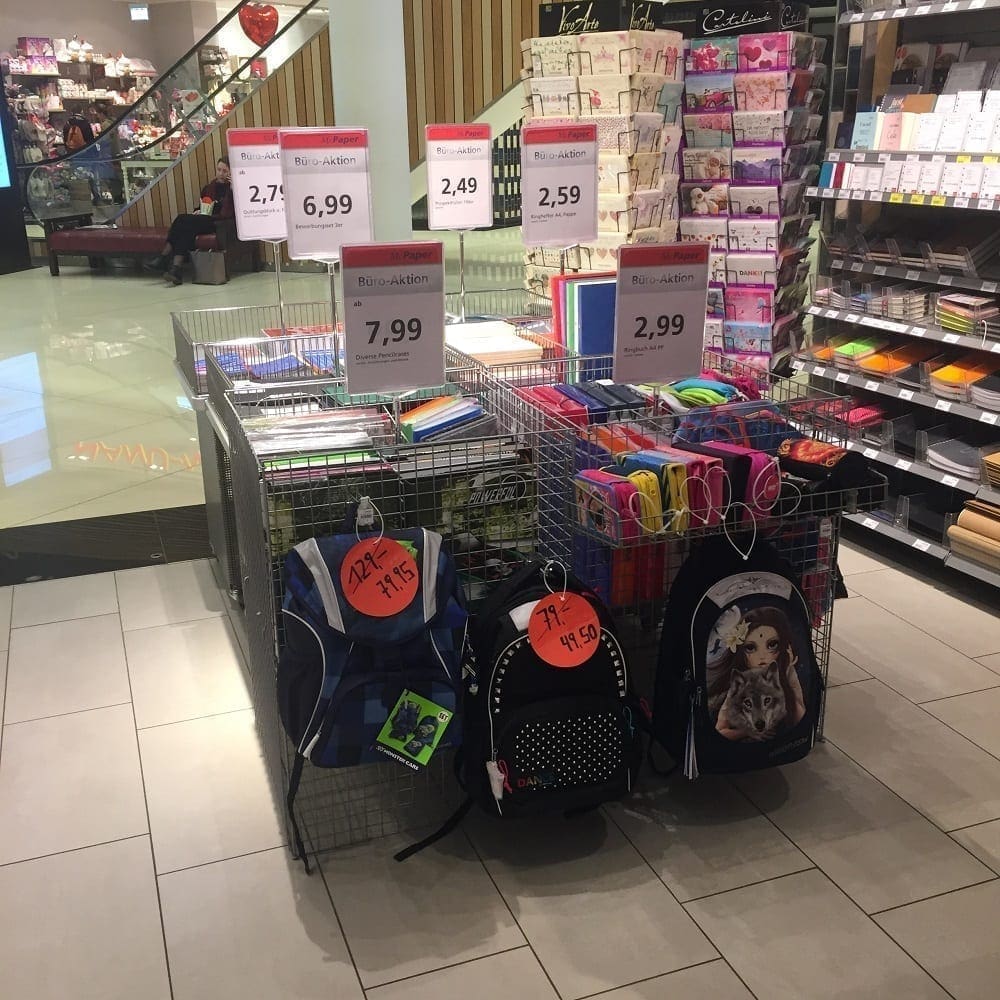 Even more noticeable, beyond not having a huge selection of each item, things were not sold in bulk. The largest pack of classic ballpoint pens I found was a 10 pack. Pens, pencils and highlighters generally were sold individually or in packs of two. I equate this to German's sense of appreciating the things you have, and needing fewer things that you treat with care.
The other huge difference is that they have different designs for their products. After walking into 4 stores I still could not find my familiar 2 pocket folder or accordion folder. Instead, all I found were binders and their interesting version of folders which rely on flaps and elastic to hold papers inside. It looks like I will have to get used to a new way of storing my notes, or ask for a care package from home.
Coming from a world of unlimited selection, it is interesting to shop in a German paper goods store that only had 4 types of backpacks and 3 different pencil boxes. Still, I found everything I need.
Katy attends the University of California in Berkeley where she earning a double major in History and Political Science. This year is spending the Winter and Spring terms studying at the Free University in Berlin and learning to deal with snow. Navigating Berlin is a lot different than Berkeley, but she's loving the experience.
We will be hearing from her fairly regularly as she shares what's it's like to be a California Girl in Germany.
Update! Katy finished up at UC Berkeley, and is now studying Law in Washington DC.

Looking for German School Supplies?
Who else had one of those zippered pencil holders that was loaded with colored pencils, a sharpener, pens and even a compass?
YOUSHARES 72 Slots Pencil Case – PU Leather Handy Multi-Layer Large Zipper Pen Bag with Handle Strap for Colored/Watercolor Pencil (Purple)

Pelikan Fineliner 96 Pen Set, 0.4mm Tip, Assorted Colors, 10 Colors Per Set (940676)

Staedtler Karat Aquarell Premium Watercolor Pencils, Set of 24 Colors (125M24)

Leitz 2-Ring 3-Inch Premium A4 Sized European Black Marbled Binder, Black (R80)

Staedtler Watercolor Pencils, Box of 36 Colors (14410ND36)

Pencil holder / Savings box – Container – Werkhaus

Pelikan 338 Medium Rollerball Refill – Blue (Pack of 2)

Pelikan Pelikano Jr. Fountain Pen, Right-Handed, Medium Nib, Turquoise, 1 Pen (924886)