The Maschkera… The Story Behind the German Fasching Masks
Cover photo- photo by F Delventhal courtesy flickr creative commons
The Rhineland may be known for it's Karneval / Fasching parades and celebrations, but go further south, to Alpine area of Baden Württemberg, and you will find a different sort of Fasching Reveler. The Maschkera hide behind heavy carved wooden German Fasching Masks and parade through towns making noise to frighten away the demons of winter. No one knows who the masked men are… in fact, it's a big secret, and their identities are well hidden… but they carry on a tradition that started over 500 years ago. Wearing a mask during Karneval / Fasching is not unusual. Identities were hidden for a number of reasons… to frighten spirits, to hide yourself from spirits, and (most important) to allow a person to mingle with the upper classes undetected. Masks make you anonymous… and allow you to behave in ways that would not normally be allowed.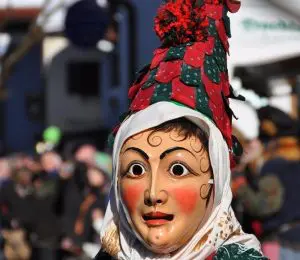 Maschkera- the Mystery Men in the German Fasching Masks
Immediately after the Epiphany, when nature is still hibernating, the Maschkera pull masks, Lederhosen, white shirts and green hats (the uniform of the mountains)  out of locked trunks, and bang at 12 noon, begin to parade through towns in Upper Bavaria. The 12 men (representing the 12 months) follow a leader who sets the pace, they dance in a crazy procession, wearing cow bells to scare away the Winter Demons and awaken spring.
But these are not ordinary masks, like you would find at a costume shop, and they aren't light and colorful masks like you see in Venice during Carnivale. These heavy, hand carved wooden masks, also called Larvae, are passed on from generation to generation in families, and are well preserved. Some of the oldest masks still in use date back to the 1790s! The Mittenwald is known to be the Violin carving are of Germany, so many were carved by Violin makers. Some are simple, others more complex, most get their expression from large eyes and colorful paint. There is a bit of magic in the mask.
(Thank you to Renate for sharing these photos of a Violin maker who also carves Masks… the tradition and skill lives on today!)
Maschkera never speak, they only grunt deeply to disguise their voice… and they walk with a stomping gait. Many will even cover their hands with gloves. Occasionally, they will even trade masks with one another to throw people off.
There are some fairly strict rules to being a Maschkera…
You may NEVER wear your mask outside of Fasching.
You must disguise your voice and your gait, so you are never recognized.
You may only perform on certain days… the semi- holy days of Wednesday and Saturday, as well as Sunday are off-limits!
The rowdiest days are the 5 leading up to Ash Wednesday…
No one is allowed to touch the Maschkera….
If any of these rules are violated… the mask of the Maschkera become attached to the wearer's face forever!
After their parade though town… the Maschkera head to the local Kneipe or pub… for a well earned beer or two.
Over time, other masked figures formed groups and joined in the Fasching celebrations.
Other Masked Fasching Characters in the Maschkera Group
The string of 12 Maschkera men aren't the only Masked Figures you see parading through the streets of Southern Germany. In Garmisch- Partenkirchen and Grainau there are a host of other characters. The "Jacklschutzer" drag winter out of town in the form of a straw doll. "Bärentreiber" (bear chasers), who represent the time when the trade route to Bolzano, Italy passed throught the Mittenwald.  Witches frighten children and sweep away the winter with their brooms. Men wielding giant whips crack them loud enough to bring winter to an end! You might even see the Muiradl (mill wheel)… men ride on horizontal spinning wheels attached to a sort of maypole.
photo by F Delventhal courtesy flicker cc
Straw Bears, that look like Wild People and other mythical creatures parade by.  But the children's favorites are the Fishers who give out chocolates and treats on Shrove Tuesday. They all wear decorative hand-carved masks and heirloom costumes that are handed down from generation to generation.
Muiradl photo from http://www.brauchwiki.de
Narrenzunft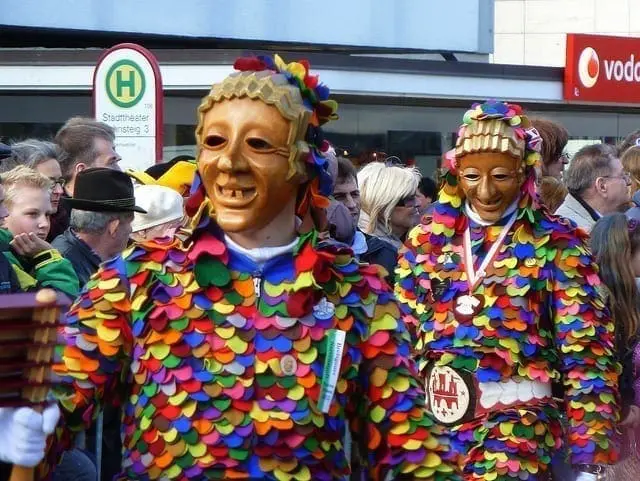 photo by F Delventhal courtesy flickr creative commons
For many Fasching Parade watchers, the Narrenzunft, or Fool's Associates, are favorites. Each community has one or more groups (called Narrenha) who wear the same costumes, based on an event that happened within their town. Often they are colorful one piece outfits made from what looks like scraps of cloths. Their job… lead the parade… and make mischief! Strangely, the Narrenzunft are relatively new in Fasching history… the first "Fool's Guild" was established in the 1920s.
 Carrying on the Tradition in the United States
In Milwaukee, the Muller Fasching Verein Nordamerika carry on the traditions by performing the dances and customs here in the United States. Learn more about this organization here–> Muller Fasching Verein Nordamerika

Can you BUY German Fasching Masks?
For a REAL Personalized Fasching Mask, Contact Master Woodcarver Bryan Berenson