History of Hummel Figurines -How to Date Old Hummel Figurines




[no_toc]
Many people associate Germany with Hummel Figurines, and presume that we would have loads of them in our home. Actually, while I was growing up, my mother always had just one Hummel Figurine displayed in her Living Room Schrank… a little girl walking with a basket. She told me her aunt gave it to her when she left Germany, so it had special meaning to her. As I came to know other Germans, and people of German descent, I learned that a LOT of people do love and collect Hummels… for their beauty, and their collectible value. I also found that the history of Hummel Figurines is as sweet as the faces on the ornaments.
Over time, some Hummel Figurines became valuable collectibles, while others, are just precious objects meant to be enjoyed. As for me? I have a Hummel Figurine of my own, given to me by my mother… a little girl sitting in an apple tree, a reminder of the young adventurous girl I once was (and still am inside). Looking at it always makes me smile.
Viktoria Hummel, Grand-Niece of Berta M.I. Hummel photo Karen Lodder
I was privileged to meet Veronika Hummel at Germanfest in 2016. Veronika and her father Alfred Hummel direct Das Berta-Hummel-Museum which houses the larges collection of Hummel Figures in the world.  So, who was Berta Hummel? How did she become M I Hummel? And how did her adorable figures spread across the globe? Read the History of Hummel Figurines to learn more….
History of Hummel Figurines
People have continued to cherish M.I. Hummel figurines through many decades. The charming figurines depicting sweet children and babies warm the hearts of many collectors and fans. The success of M.I. Hummel figurines is built on a long-standing tradition of attention to detail, quality production, and faithfulness to the vision of the artist.
The artist responsible for these adorable creations was Berta Hummel. She was born in Bavaria in the early 1900s. She enrolled in the Academy of Applied Arts in Munich, Germany, where she developed her talent further. Children were largely the subjects of her drawings. Religion was also important to Berta Hummel. She entered a convent where she continued to pursue her artwork and later changed her name to Maria Innocentia. Her drawings began to be published on postcards. Franz Goebel liked the drawings and made an agreement with her to produce porcelain figurines from her images. Goebel's company only was granted the right to produce the figurines based on M.I. Hummel's drawings. Berta Hummel was so prolific that new figurines can still be created today.
M. I. Hummel figurines were first introduced to the German public in 1935. They were received well and became popular. During World War II, production of the figurines was restricted, but they were not forgotten. After the war, as the German citizenry recovered, the figurines were sold in shops again. U.S. soldiers in Germany also bought the figurines to send back home.
The actual creation of an M.I. Hummel figurine is a laborious process. When an image is selected for production, it is first sculpted in clay by an experienced artist. This process alone can take many weeks to complete to perfection. Once the figurine is approved, the sculptor and the master mold maker make decisions regarding the production. The figurine must be able to be reproduced in molds, sometimes requiring the figurine to be molded and assembled in a series of pieces. The pieces are made from liquid ceramic, which is poured into plaster molds. When the liquid ceramic thickens, any excess is poured out and the hollow piece can be removed from the mold. The pieces are assembled using more of the liquid ceramic as glue to hold them together. After the excess is removed, the figurine can be smoothed so that no seams can be seen. The figurines are allowed to dry completely then go through two firings in a kiln. They are fired a third time to ensure color bonding and soft surface. The figurines can then be painted. The paint colors used for this process were especially created to match the color palette that Berta Hummel herself used. Once the master painter prepares a sample figurine which meets approval, then the figurines can be painted to follow suit. Each one is lovingly painted by hand. This is a long process, but well worth the wait.
M.I. Hummel figurines have endured as some of the most beloved treasures in the world. Berta Hummel passed away prematurely at the age of 37, but her joy of life and her touching renditions of the world around her have transcended well beyond her lifetime and will continue to be cherished for many generations to come.
Hummel Figurines photo- Karen Lodder
In 2008, the last Hummel Figurine was produced, ending an era. However, since they are no longer being made, the prices can only go up.
Value of Hummel Figurines
Hummel figurine Apple Tree Girl, original MI Hummel Collection, gift-boxed

Remember that HUNDREDS of Thousands of Hummel Figurines have been sold since the 1930s. In West Germany they were popular items in the Military PX (store), and soldiers purchased them to send home as gifts. As their popularity spread, they took on a collectible status, people bought, sold and traded the figurines not just because they love them, but because they wanted to make money. Values increased until the late 1970s when the bubble burst. Some of the rare, or more complex Hummels can be sold at high prices, but the average figurine is worth around $50.
And remember! Condition is a HUGE part of the value. And if the original box is present, the value can only go up.
There are rare old Hummel Figurines or Special Edition Figurines that were produced in less numbers, and therefore have more value. It gets even more confusing when you thing that some of the figures were reproduced for years. The earliest versions have value, but the later ones less so. For example, "Adventure Bound" #347 with the TMK-2 stamp (pre-1959) could be worth up to $6000 (depending on condition/box) But newer versions are worth less.  Your best bet is to identify the figurine, and compare it to existing price lists.
M I Hummel ** Adventure Bound 7.25

Identifying Your Hummel Figurine
On the bottom of the Hummel Figurine, you will see symbols and numbers.
Click HERE to see the Factory Marks over the years–>Hummel Factory Marks
The numbers correspond to the name of the Hummel figurine. Click here to match the number of your Hummel with its Name—-> Hummel Figures Name and Number 
What does TMK Stand For?
When you see TMK on a Hummel listing, it refers to the name of the Mark stamped on the figure. So, for example…
TMK-2 refers to the mark with a FULL Bee (dated 1940-1959)
While TMK-3 refers to a Stylized Bee (dated 1960-1972)

Value Old Hummel Figurines
Hummel Figurine value changes all the time, and the most recent price guide available is dated 2013–> Prices Hummel Figures- Hummel Price Guide
Also, Antique-HQ.com has put together this chart —> Hummel Figurines and Collectibles Value Chart
Truly, the value of a Hummel Figurine is owning an object that you find to be beautiful, and that has meaning to you. The lovely children that Berta/ Maria Innocentia captures on paper and in porcelain have made people smile for years. Thanks to the efforts of Albert and Veronika Hummel at Das Berta-Hummel-Museum, and Hummel Clubs worldwide, these precious ornaments will be treasured for years to come.
Where to buy Hummel Figurines
Here you have a huge selection of Hummel Figures at all price points, so you can find the one that means the most to you.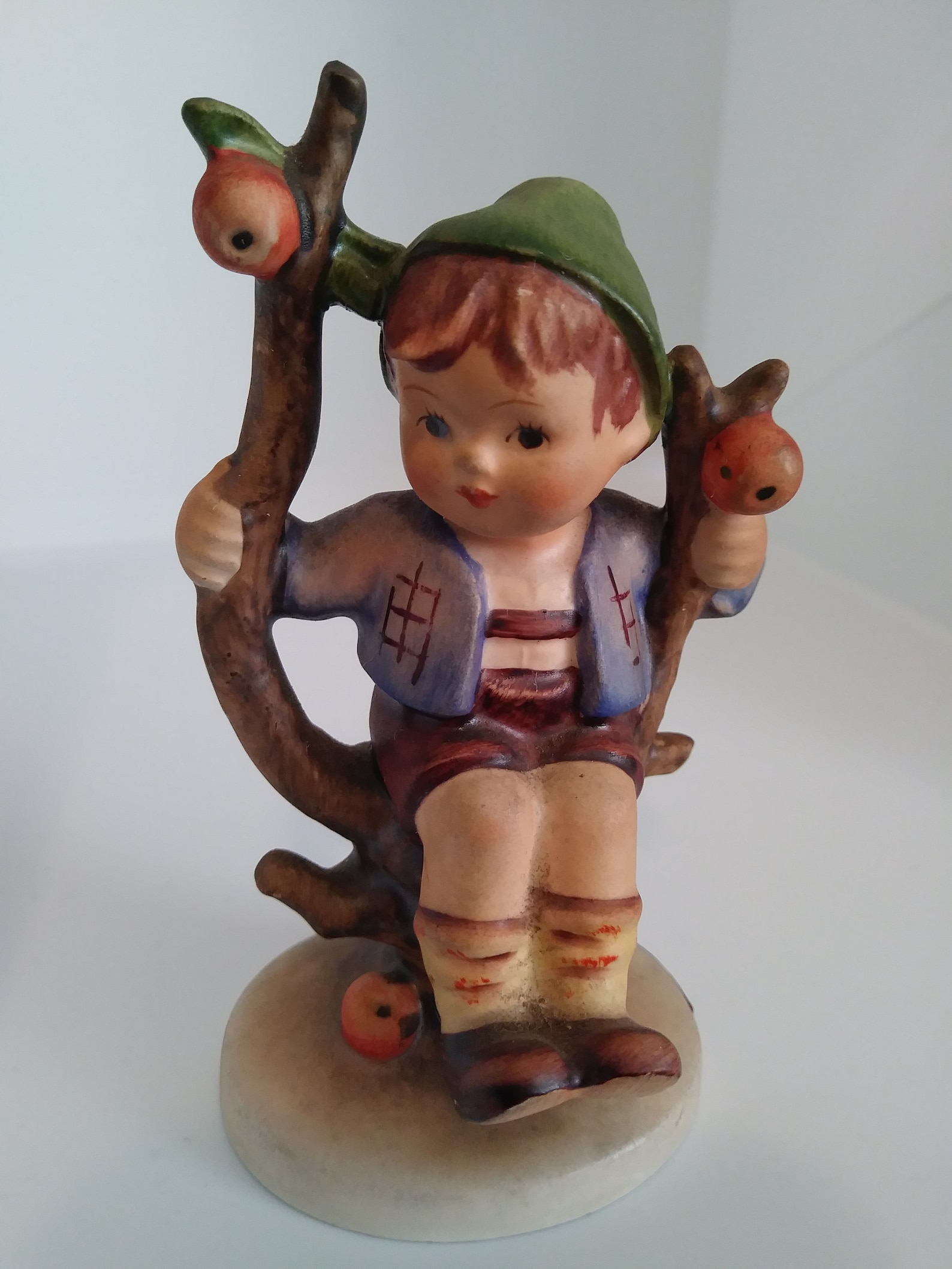 Vintage Hummel Figurine Apple Tree Boy 142 3/4 92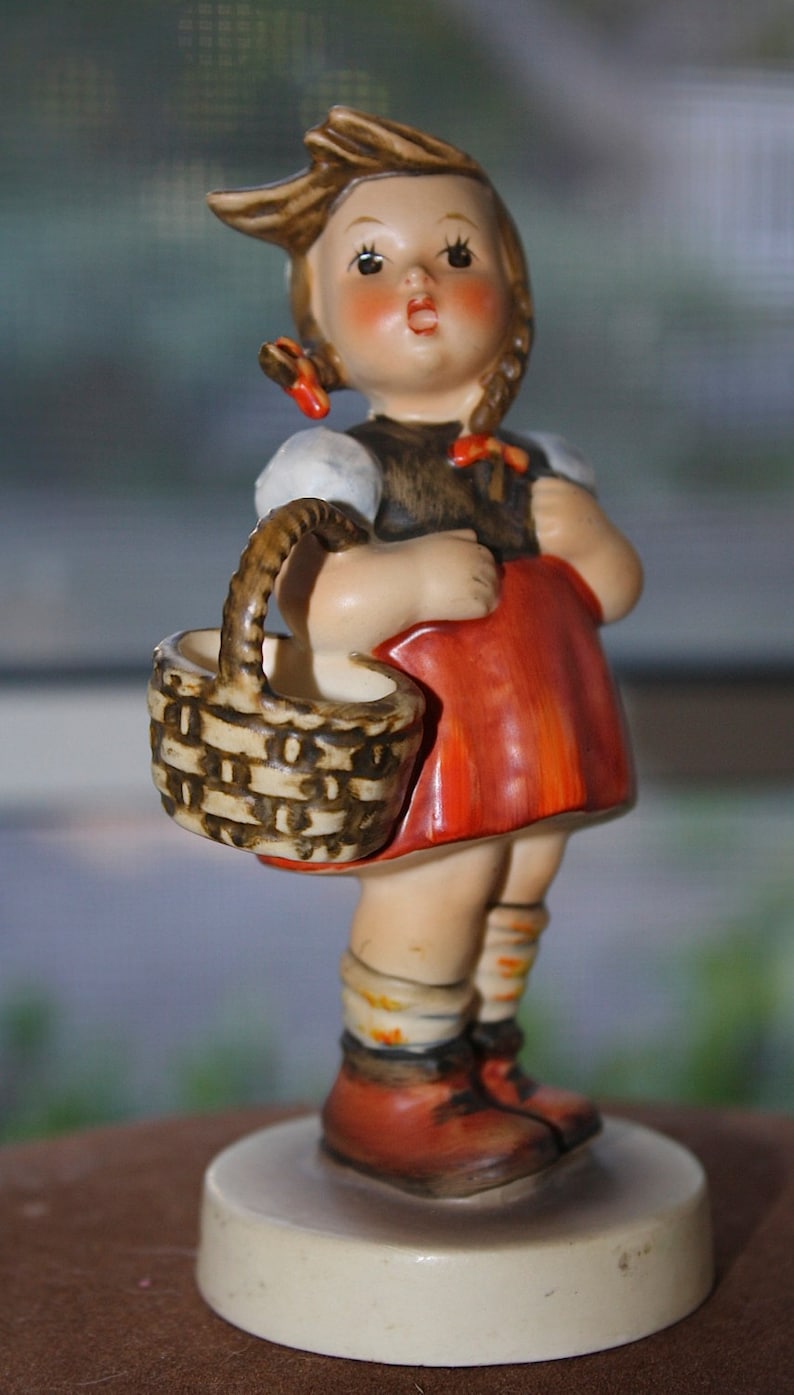 Rare 1959 Hummel – Little Shopper Gretel 96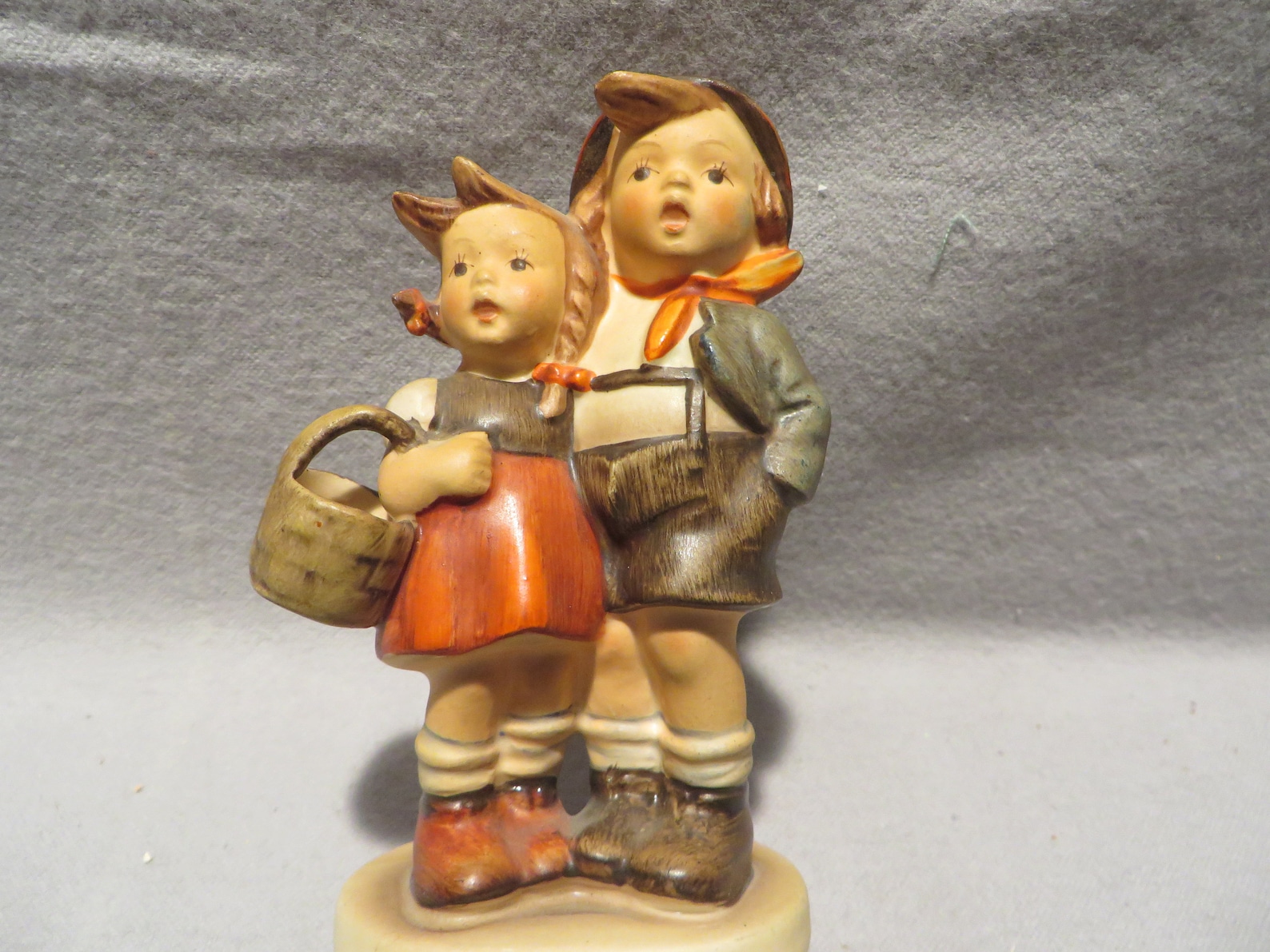 Vintage Hummel Figurine Number 94 "Surprise" Marked With Mark 5 (1972-1979)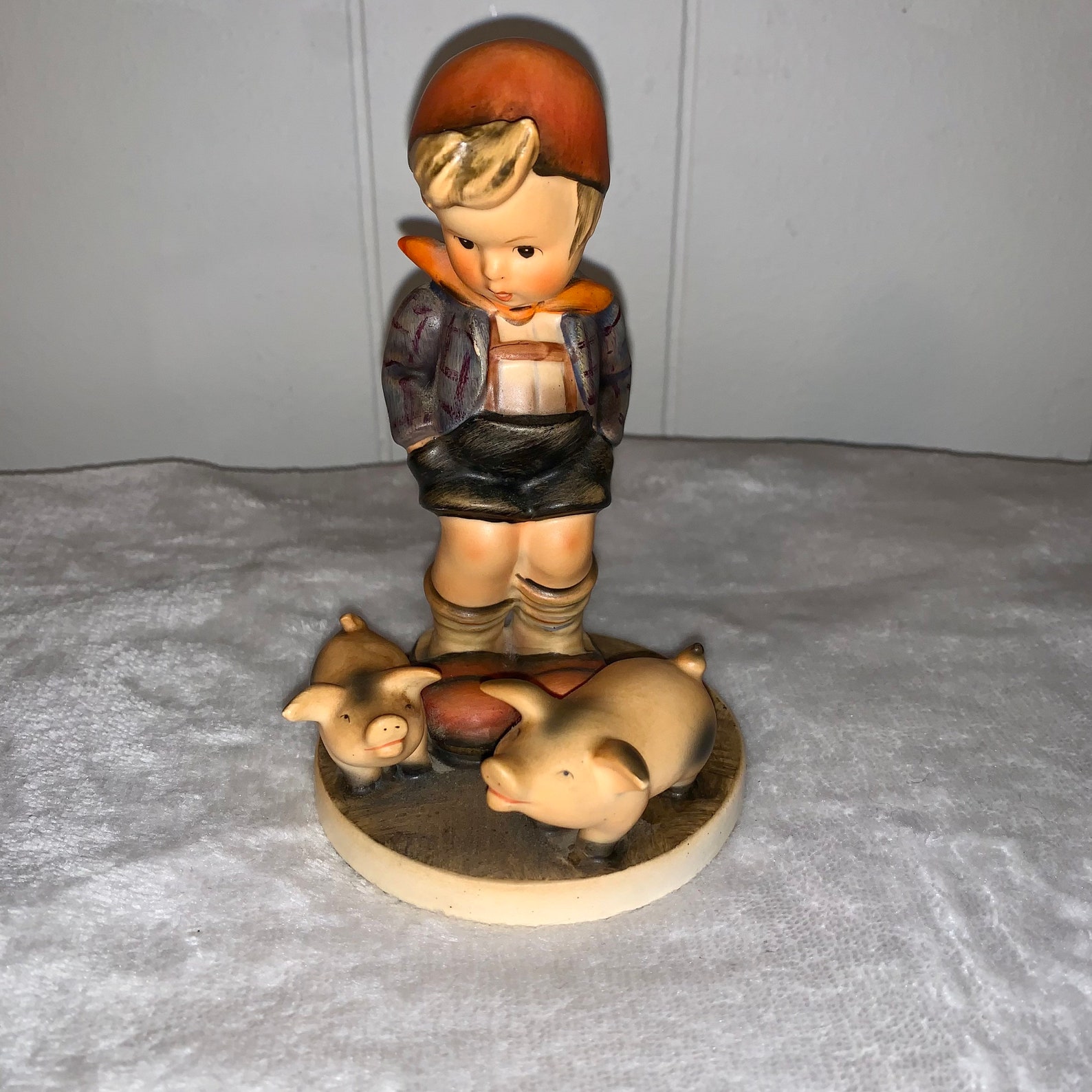 Hummel "Farm Boy" #66 Figurine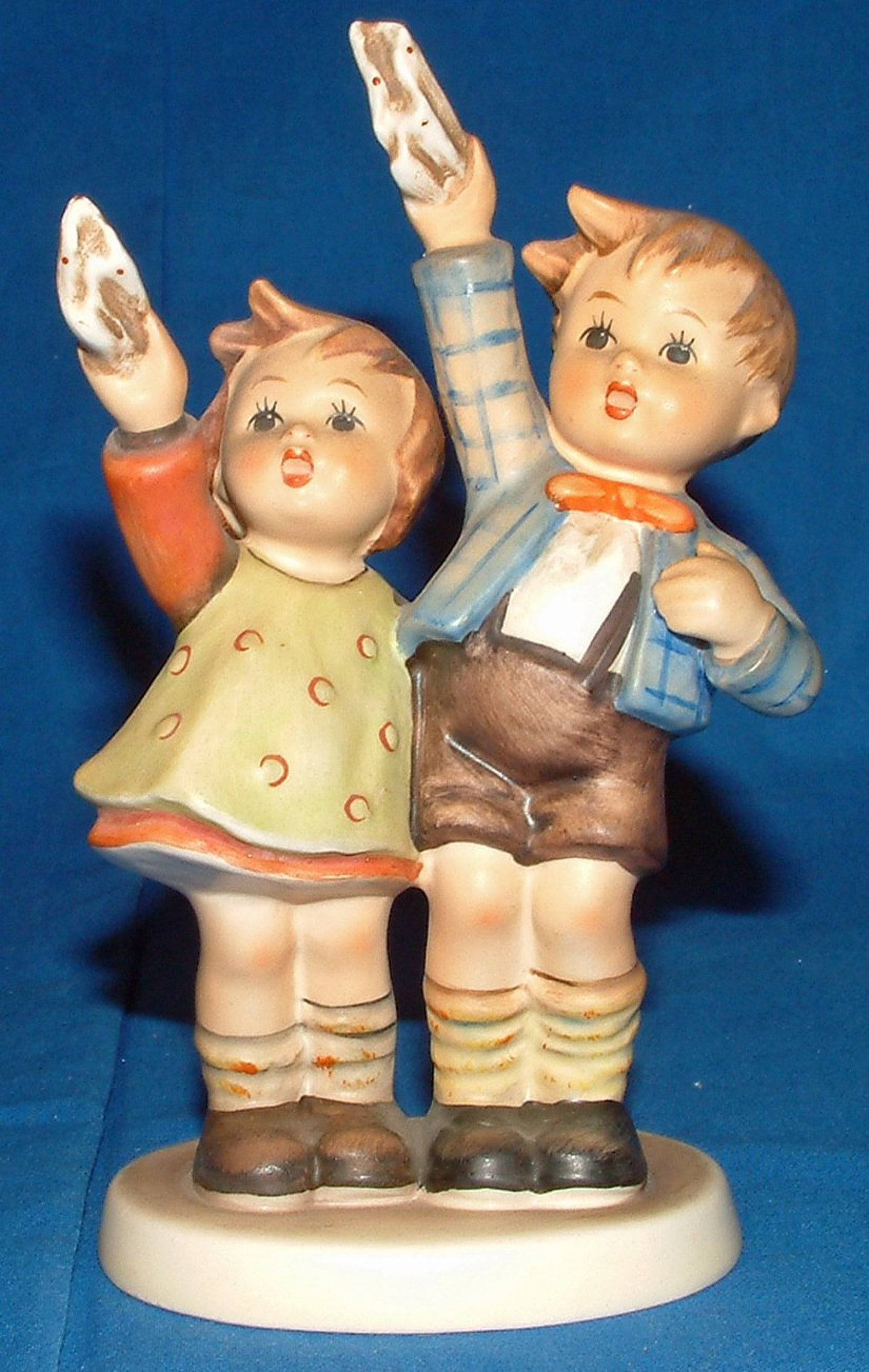 1960's Auf Wiedersehen TMK3 Waving Goodbye Hummel Figurine #153/0 5.75″ tall W. Germany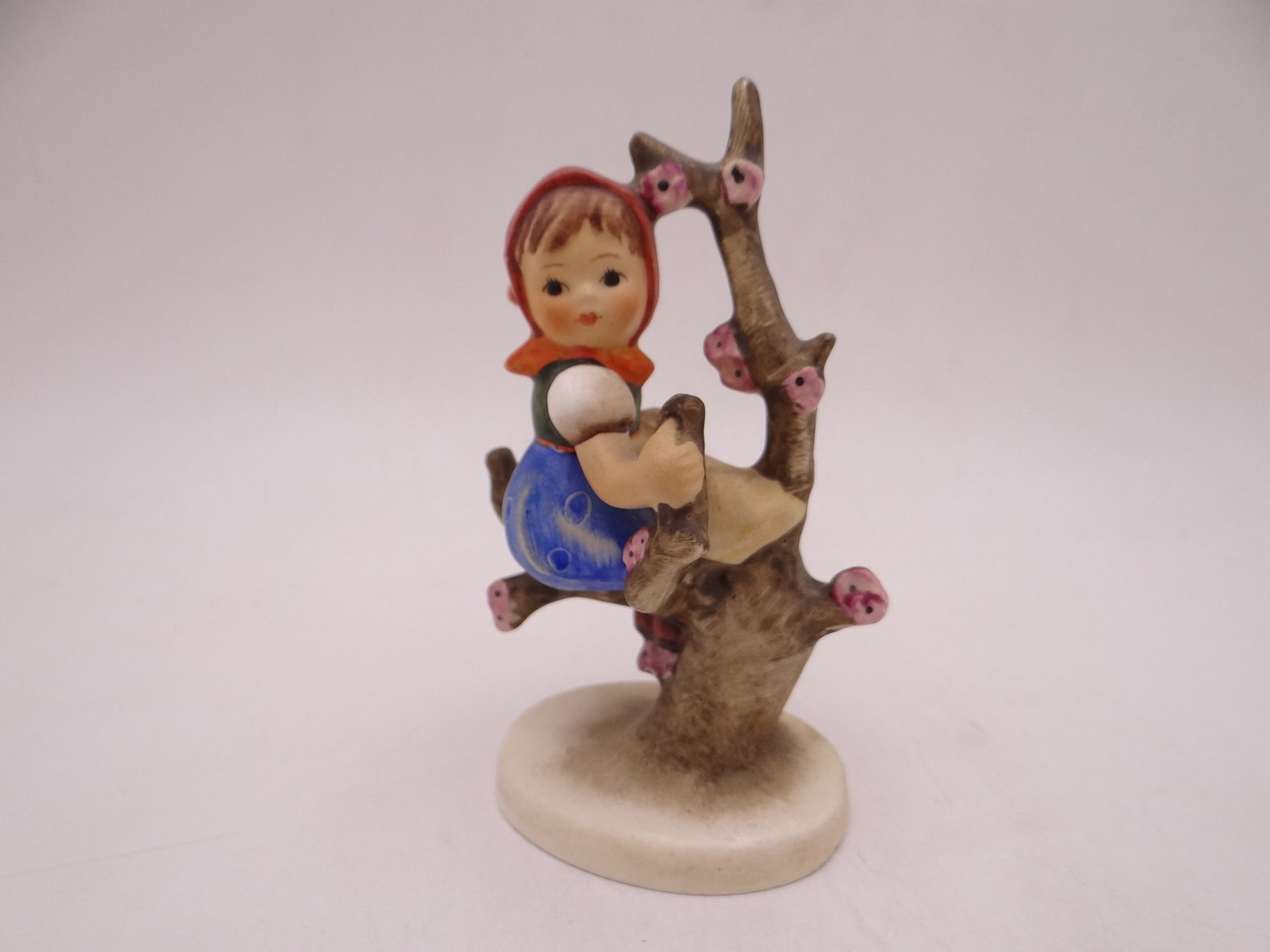 Mint Vintage Goebel Hummel "Apple Tree Girl" Figurine – #141 3/0 Girl TMK-4 mark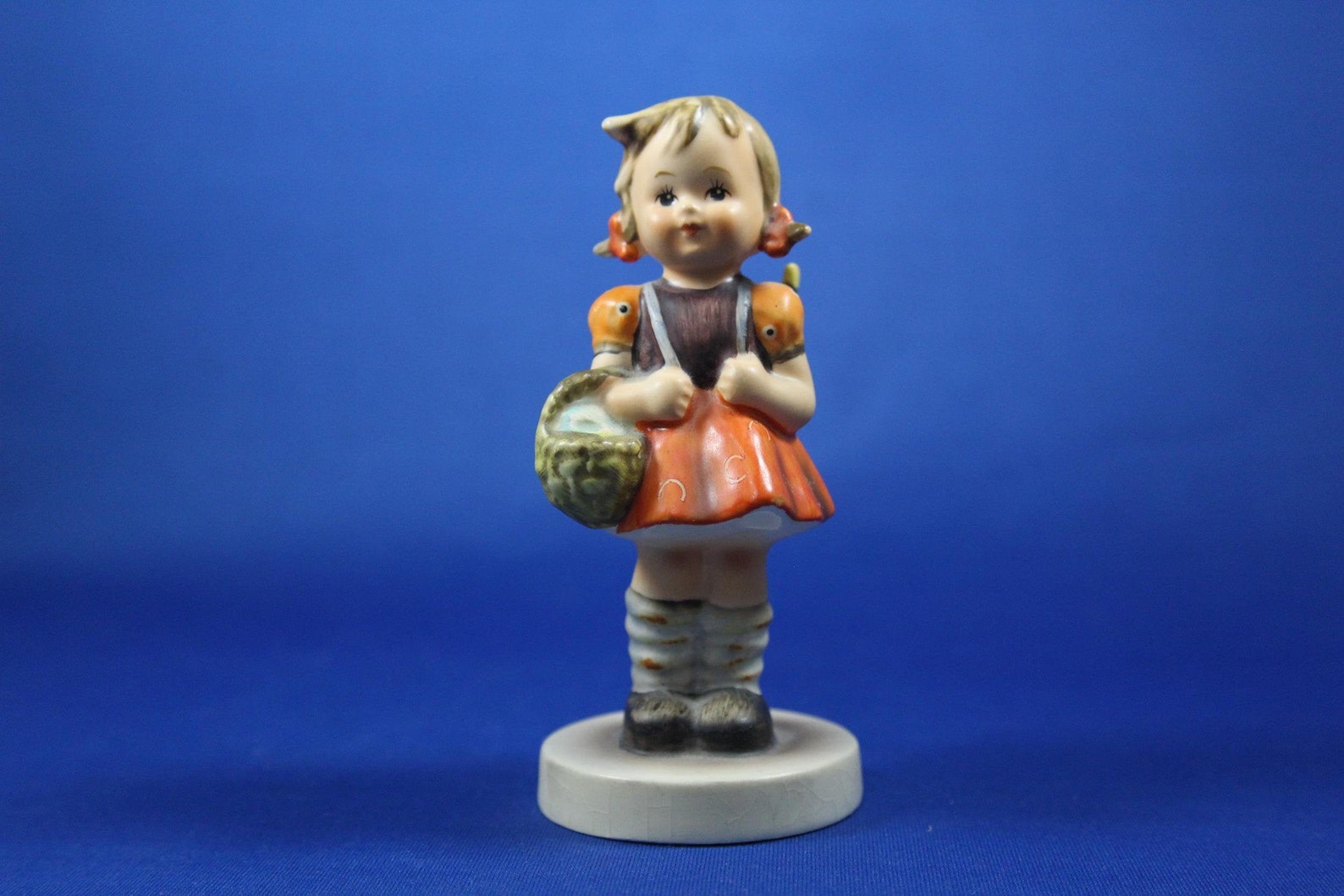 School Girl Hummel Figurine, 1960s era, TMK 3 Stylized Bee, 4 1/4″, Vintage Goebel W. Germany, Item# 81 2/0, Girl with Basket and backpack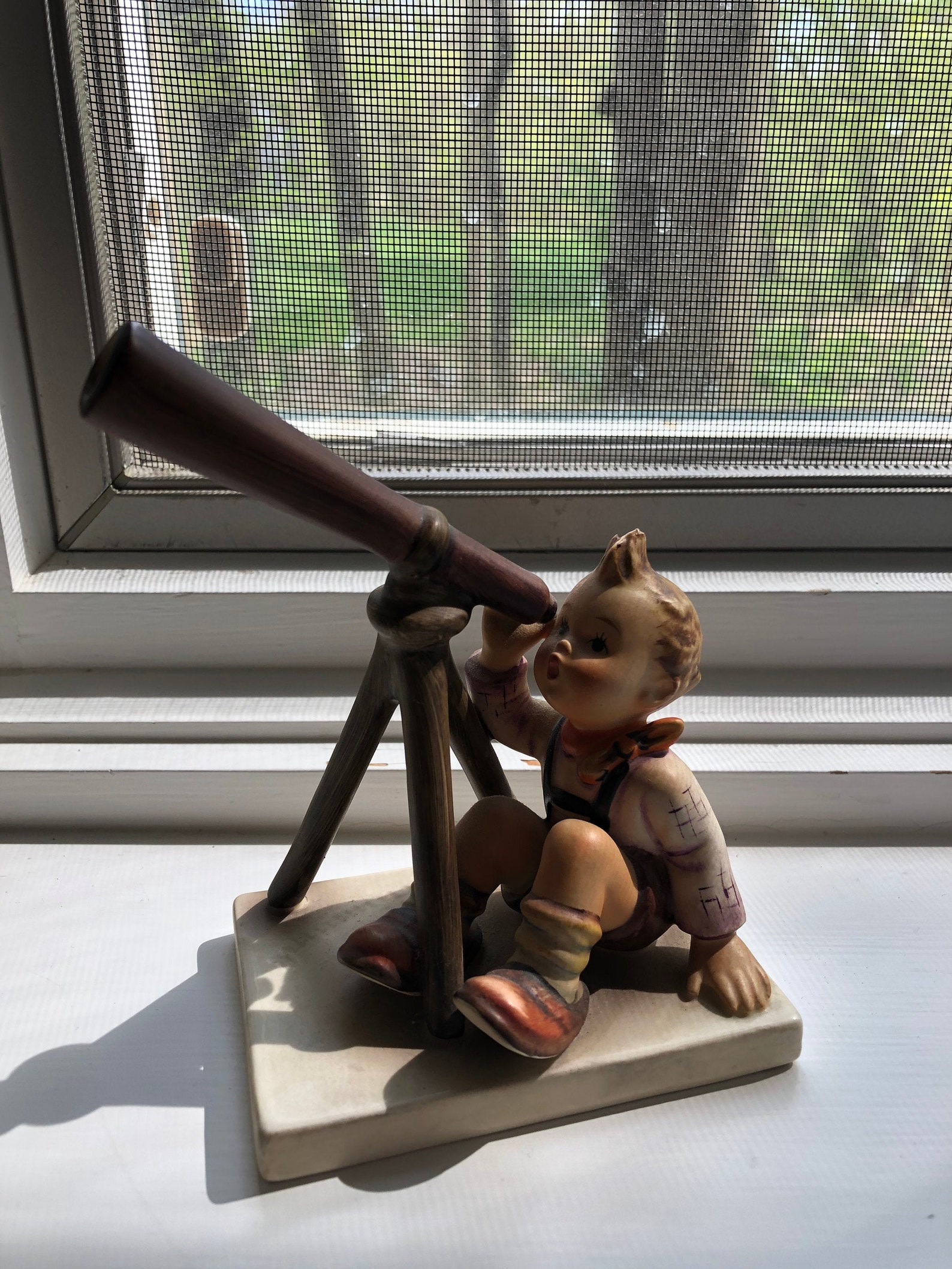 Hummel Figurine – Stargazer – #132 – Perfect Condition

c1972 Goebel Hummel Wayside Devotion figure 28/II NEGR141

c1957 Goebel Hummel Out of Danger model 56/B figure

Find new figurines here…
Vintage Goebel Hummel Postman Mold #119 TMK 5 Like New

Hummel c1957 Goebel Out of Danger Model 56/B Figure

M.I. Hummel Figurine

The Little Drummer Figurine 4.25

Doctor Hummel Figurine

Daisies Don't Tell Goebel Hummel #380 TMK6

Hummel Vintage Goebel Blessed Event TMK 4 Figurine

GOEBEL HUMMEL FIGURINE

Goebel M I Hummel Brand New Keepsake Figurine Keeper of the Goal

M.I. Hummel Figurine

Hummel Figurine Stormy Weather 6 1/4

Hummel Music Boxes
Beautiful top quality music boxes decorated with scenes of Hummel figures.
Nostalgic Heart Shape Painted Ercolano Music Jewelry Box Titled -Stormy Weather by MI Hummel

Handcrafted Italian Ercolano Musical Jewelry Box – "The Photographer" by MI Hummel

Hummel Figurines Nativity Set
Berta MI Hummel was a nun who began by drawing religious images. I think she would have approved of these sweet Nativity Sets.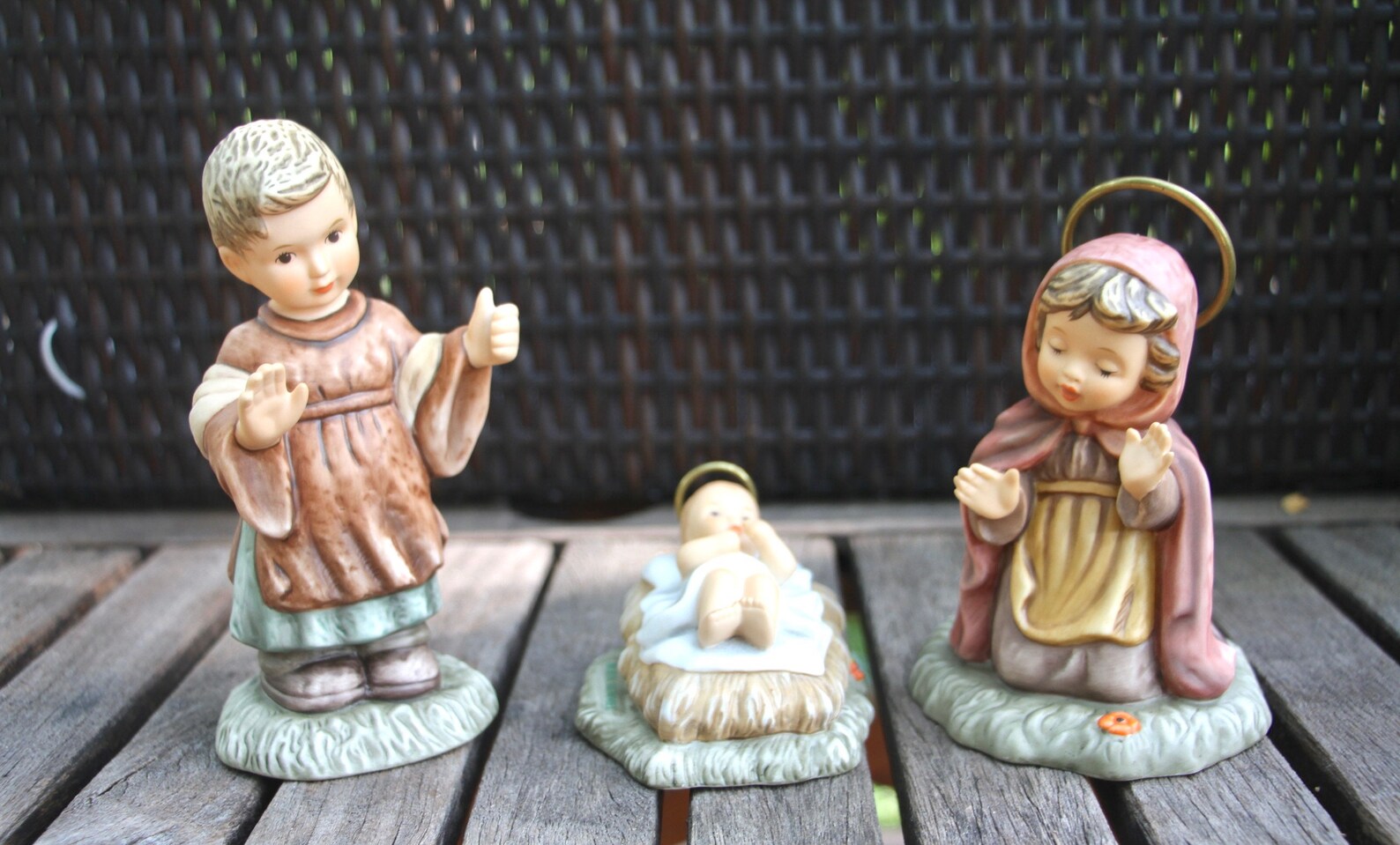 Hummel Mary, Jesus and Joseph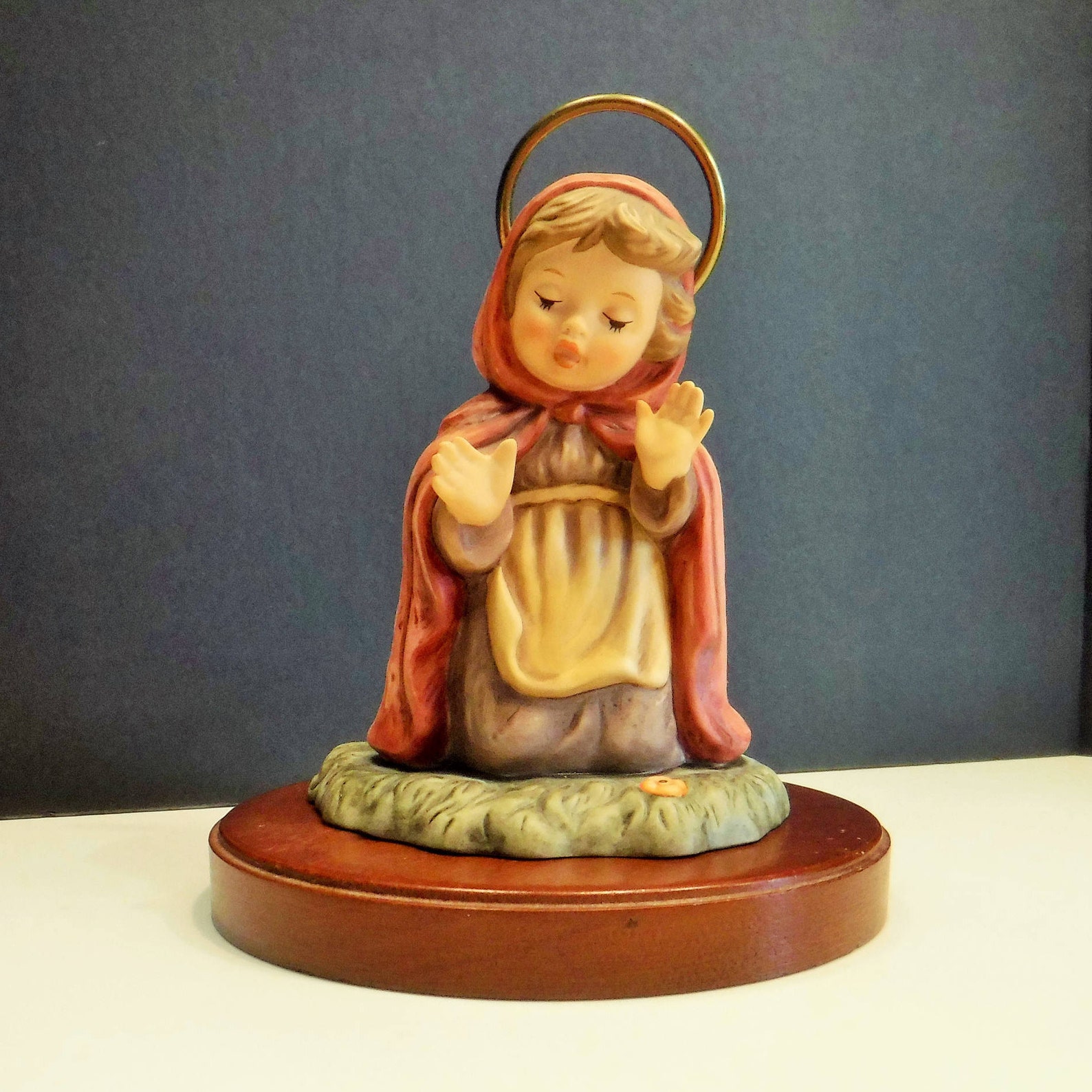 Nativity Mary Goebel Berta Hummel Nativity Mary, Mary Hummel Nativity piece, Replacement Mary for Goebel Nativity Set, Porcelain Mary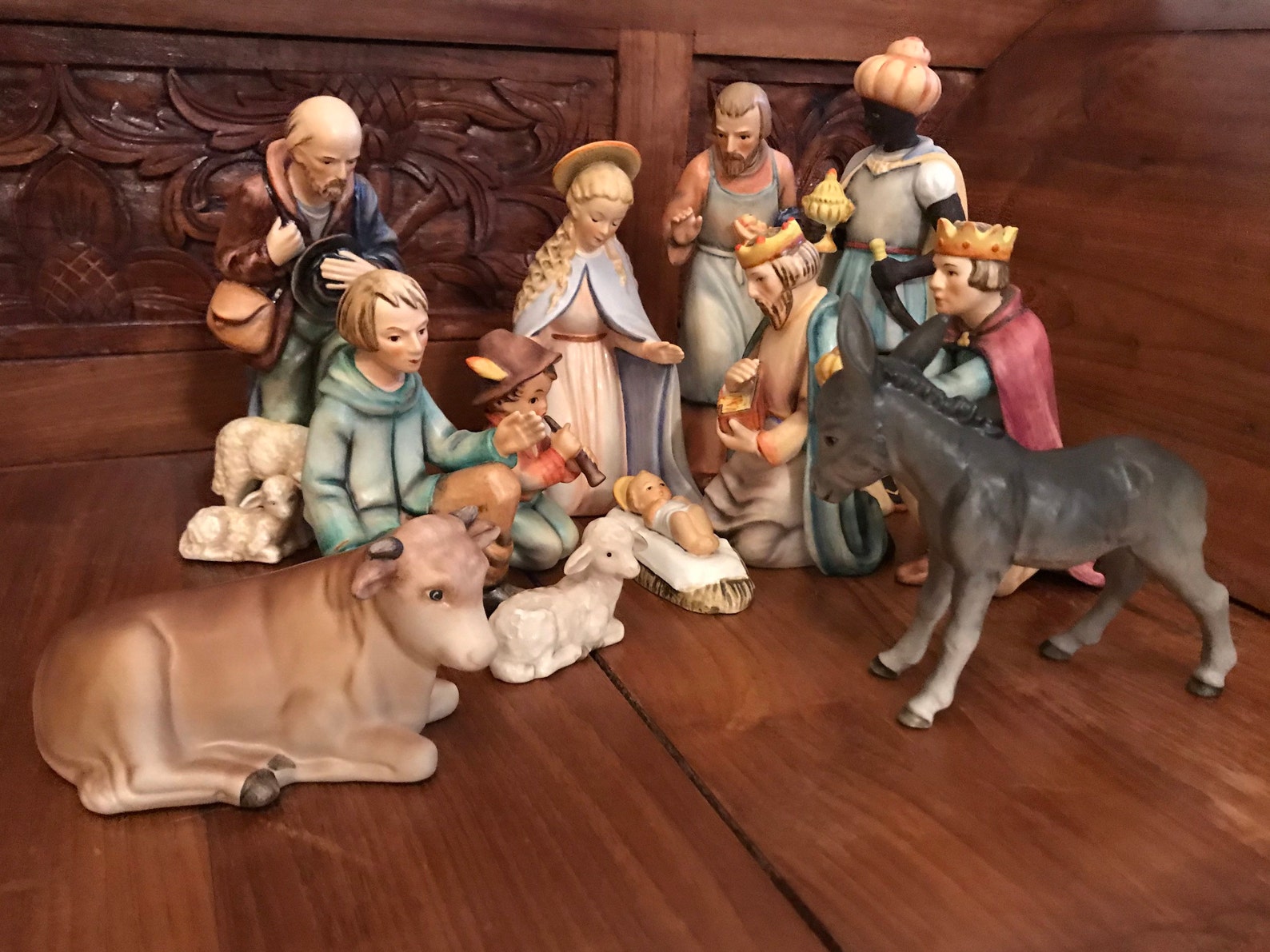 Goebel Hummel nativity set, 1951 West Germany, (214 series) 12 piece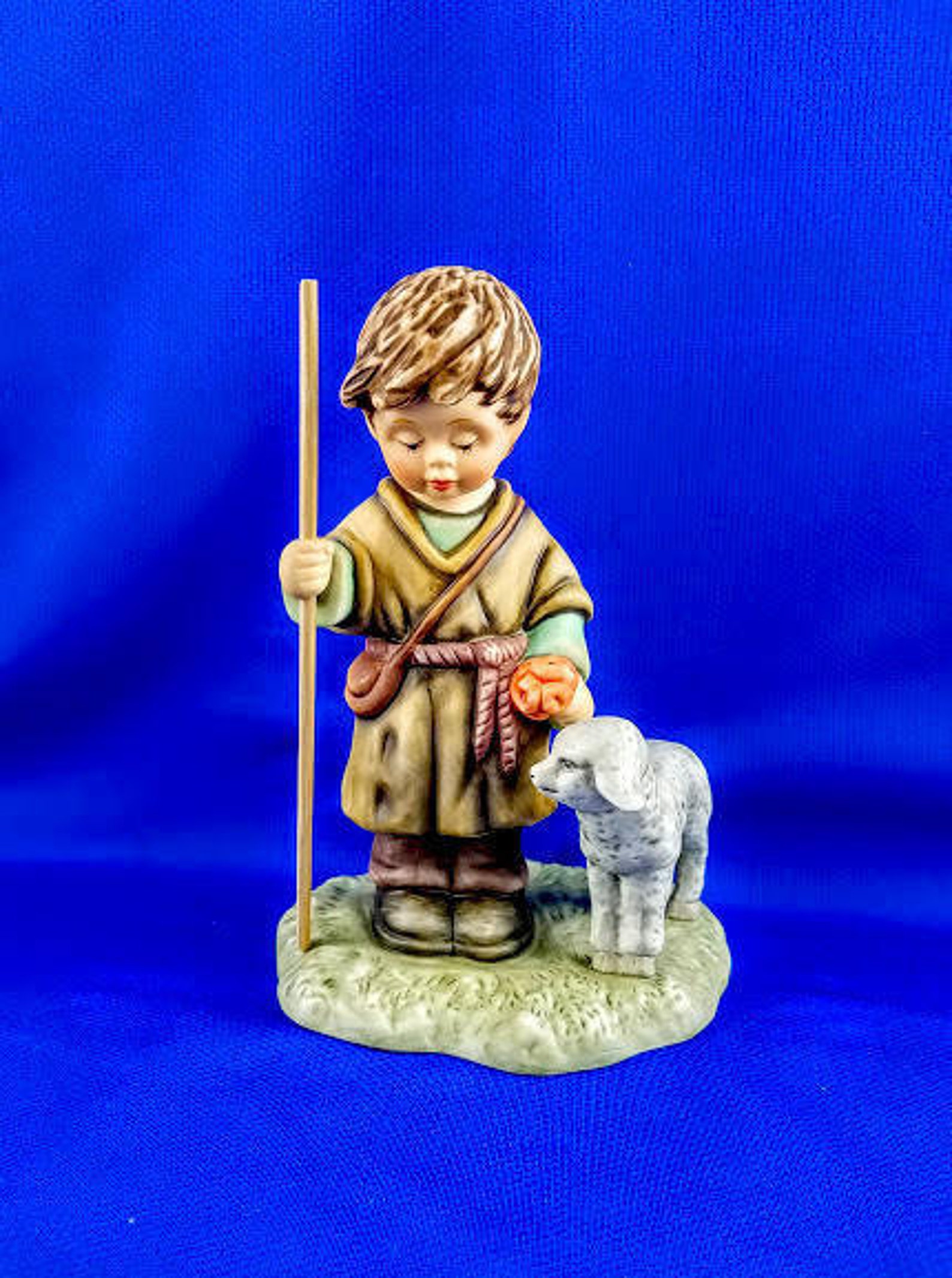 Berta Hummel Nativity – Shepherd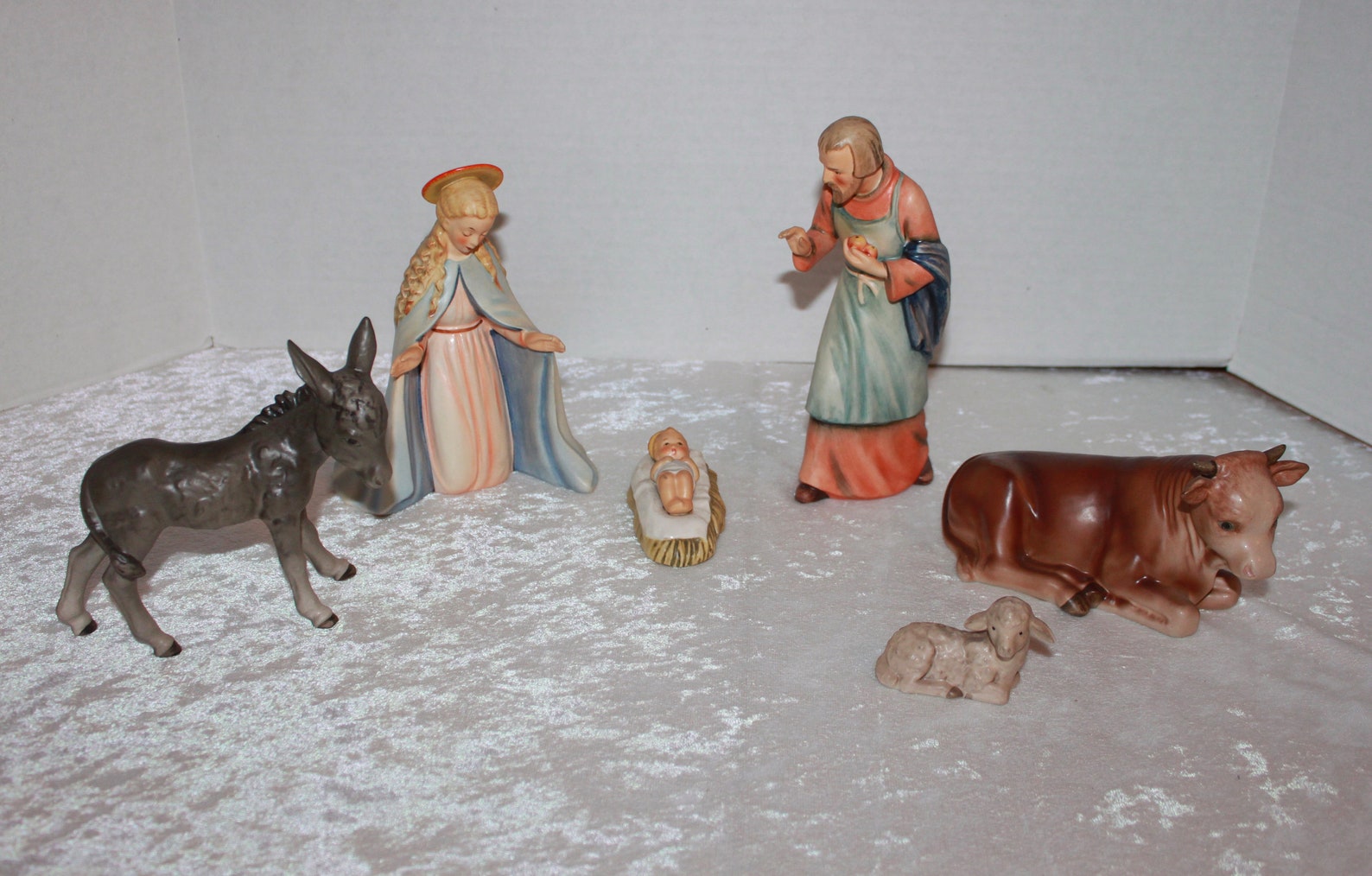 6 Piece Goebel Hummel Nativity Set Mary Joseph Jesus Donkey Oxen Lamb TMK-4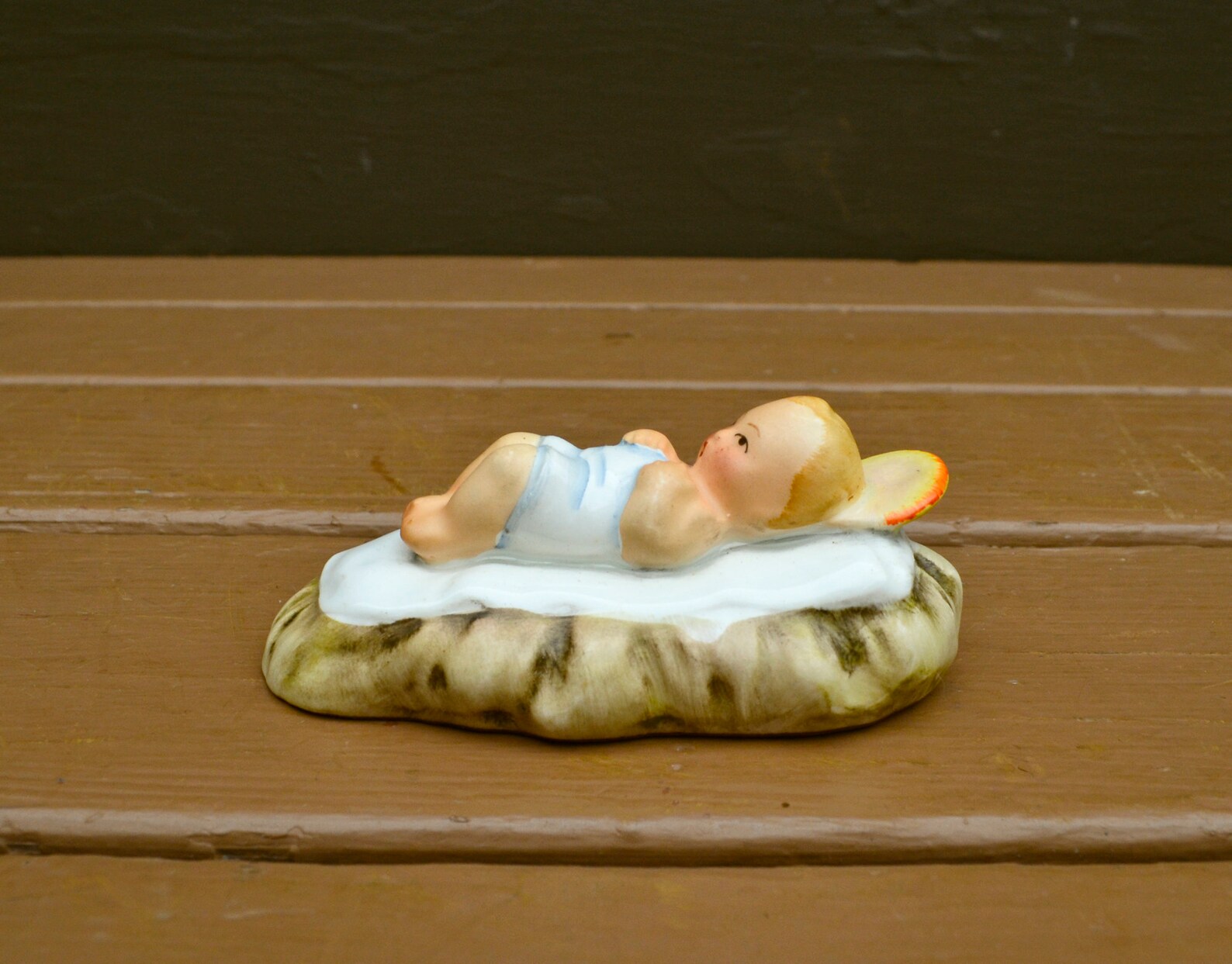 Goebel Hummel "Baby Jesus", Vintage Nativity Scene Figurine, Hummel 214 A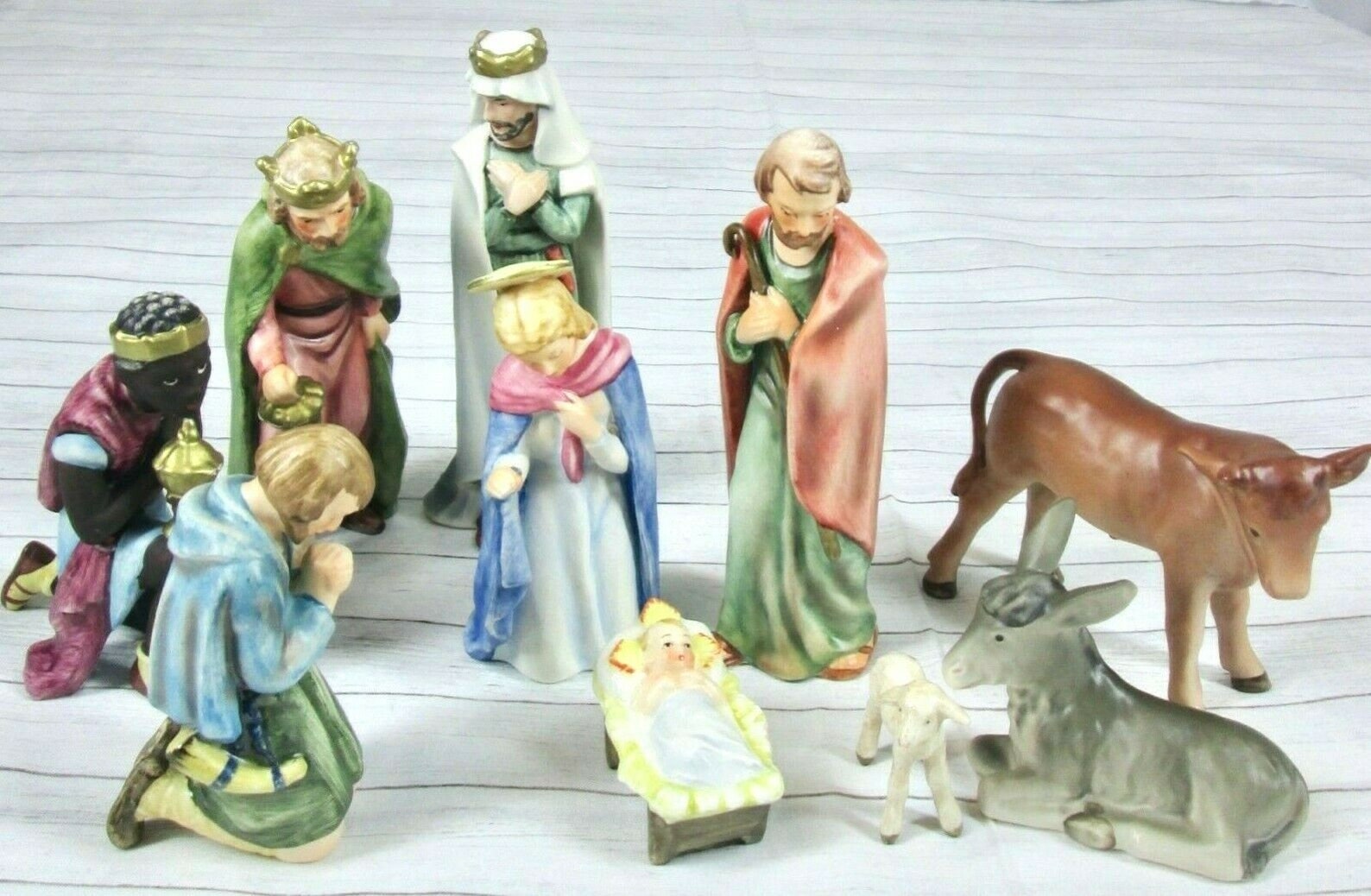 Vintage Hummel Goebel West Germany Nativity Figurine Set 10 Piece HX323 TMK 5

M.I. Hummel Miniature Nativity Figurine – Susi

c1972 HUM21 Heavenly Angel figurine – NEGR49

GOEBEL HUMMEL #343 CHRISTMAS SONG FIGURINE – TMK 6 – 6 1/4

Hummel makes Christmas Ornaments, Plates and Angels!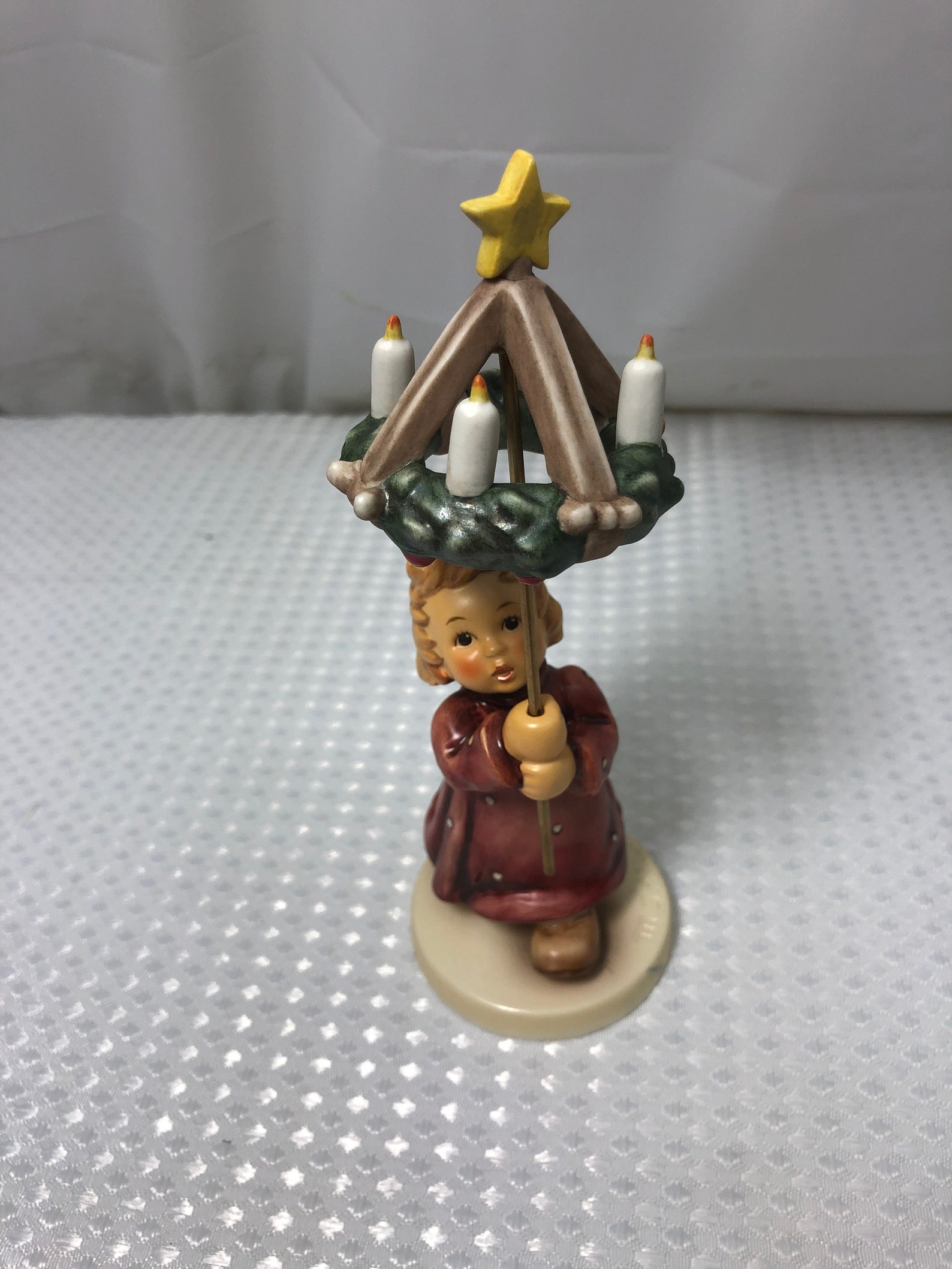 Hummel Figurine Christmas By Candlelight #838 NEW CONDITION with Original Box – FREE Shipping!!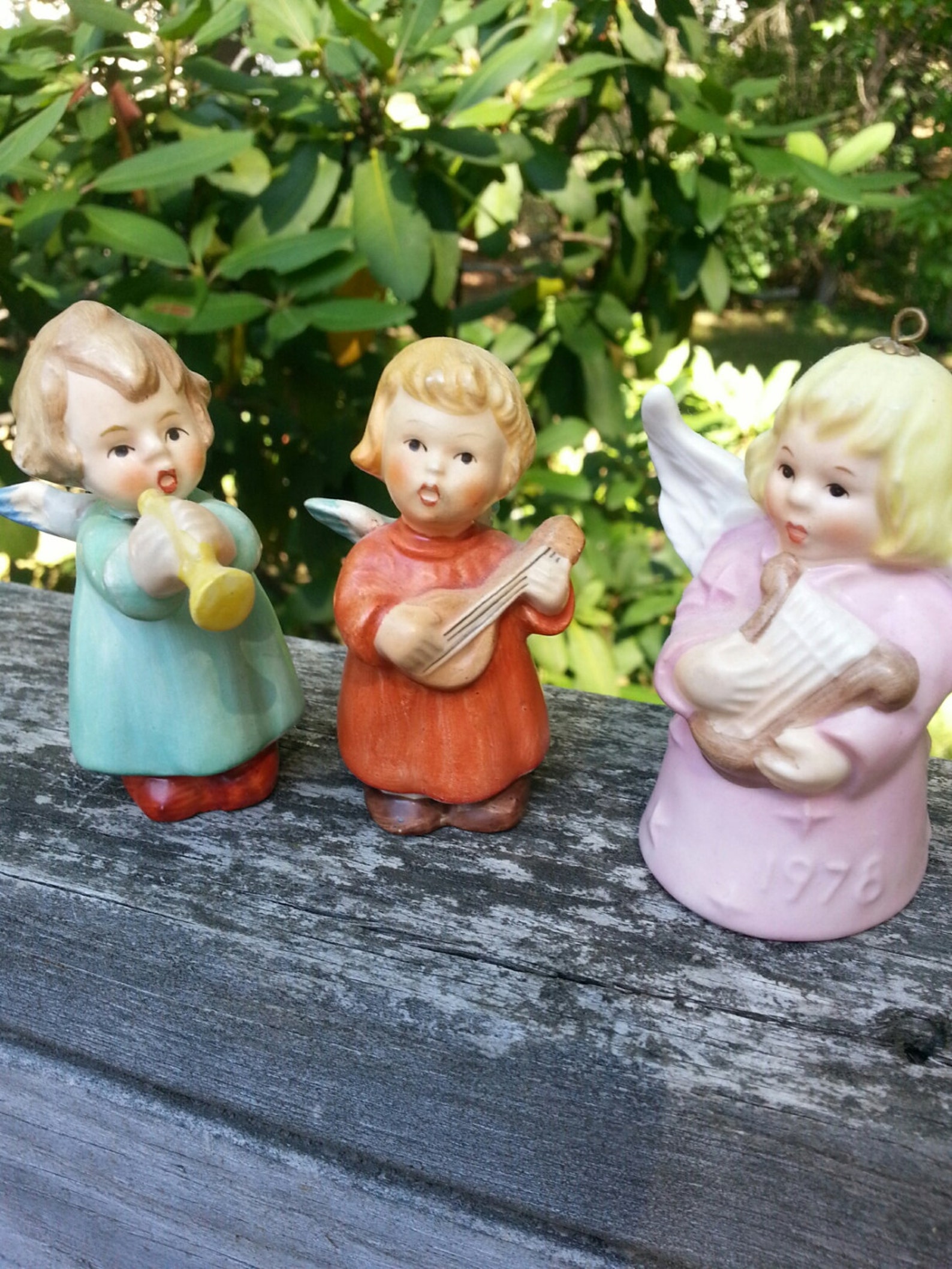 Hummel Angels, Christmas, Christmas Angels, Vintage Hummel, ornament,Vintage Angels, Guardian Angel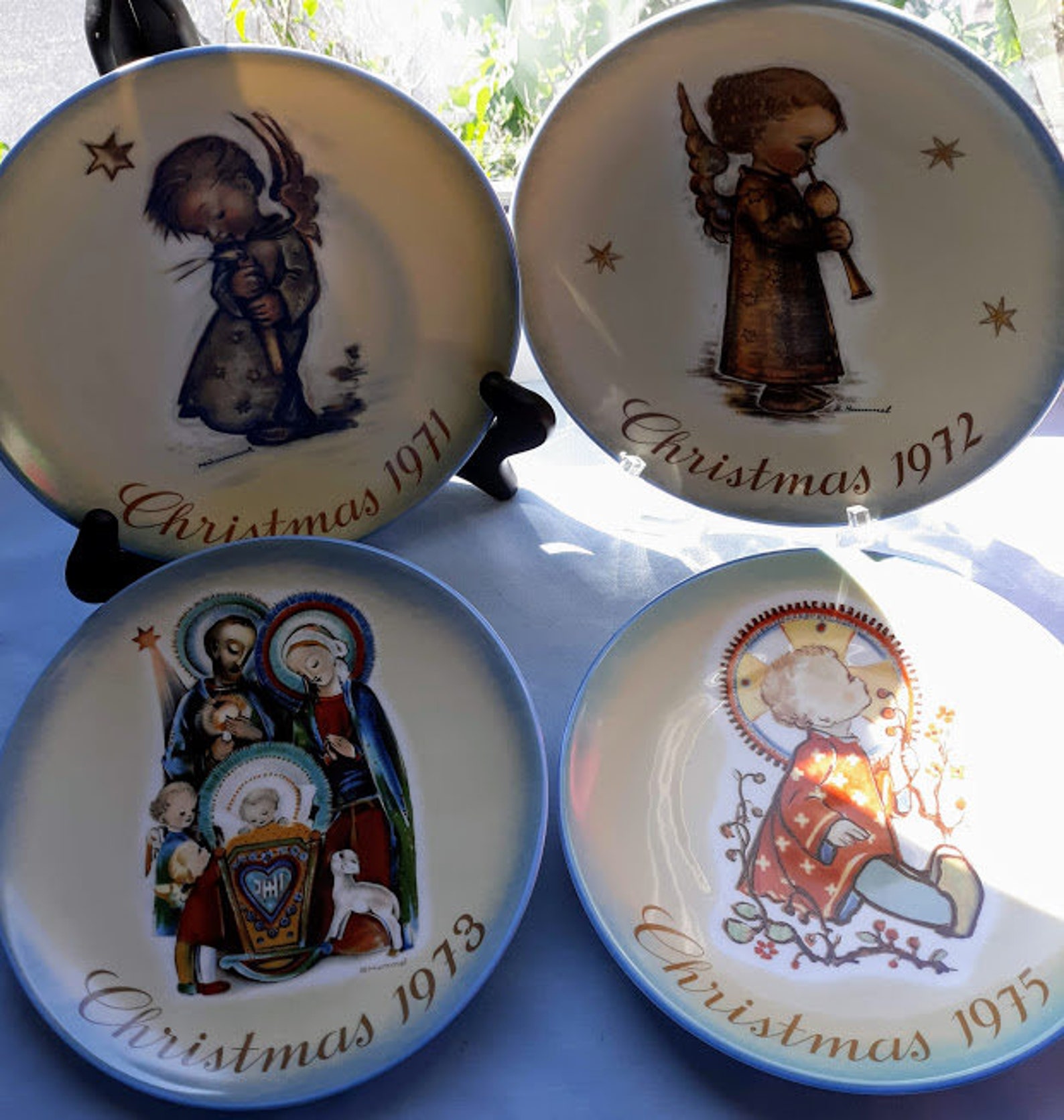 Vintage Lot of Four Hummel Christmas Plates, 1971, 1972, 1973 and 1975, Berta Hummel Artwork

Vintage Hummel Christmas Bell

Do YOU Collect Hummel Figurines?
How did you get started, and how many do you have?
Join the Hummel Collectors club HERE–> Hummel Collectors Club