Christmas Tree Lametta- German Tinsel for the Christmas Tree
We always had
Lametta, or Tinsel for the Christmas Tree, a German Tradition
. (Even for their first Christmas in America, my parents had it!) Long strands of silver that hang from the tree looking like shiny icicles. Mom insisted on it. I loved it, even though none of my American friends had a Christmas tree that looked anything like ours. And we never had strings of popcorn or garland like they did…  (Even the
type of tree
we had was different, but that's another story.) Lametta may have clung to our clothing when we walked too close, but the shimmering beauty made it all worthwhile.
Lametta made our Christmas tree SHINE!
History of the Christmas Tinsel
Tinsel or Lametta was first used in the 1600′s, and was made from real silver that was pounded flat and cut into thin strips. Since silver tarnishes, tinsel was later made of tin. Today, Lametta is made from shiney plastic. Yes, it's still quite pretty, but it loses something. Still, I can't imagine hanging real silver from the Christmas tree. I'm sure that everyone made absolutely certain that EVERY last strand would have been collected after Christmas. (fortunately, the vacuum cleaner hadn't been invented yet, or someone would be untangling bits from the rollers).
The Beauty of Lametta
The beauty of Lametta… of Tinsel… is most evident on Christmas Eve. My parents would be sure that all the lights in the house are turned off, and candles are lit around the room. Once upon a time the tree would have had real candles on it too, but here in California we had electric lights as a fire precaution.
We kids would be brought into the living room to see the tree. And what an amazing sight it was. Candlelight and the tree lights would flicker against the silver tinsel. The Christmas tree looked MAGICAL!
Then we sang German Christmas songs… ending of course with Stille Nacht, Heilige Nacht (Silent Night, Holy Night) while gazing at the the tree, and the mysterious packages underneath it.
Lights would be turned back on, and the spell would be broken. But, the magic of the beautiful Tree stays with me.s…. tinsel was later made of tin. Today, Lametta is made of plastic. And it loses something…. but is still quite pretty. I can't imagine hanging real silver from the tree… I bet everyone made sure that EVERY last strand was collected after Christmas!
Luckily, it is possible still to find the vintage Lametta online!
The Spider Christmas Tree Legend
The Origins of Christmas Tree Lametta

There is a sweet story about the origins of Christmas Tree Lametta. (It's a little unclear if this is a German story or Ukrainian story, but when you consider that up until the 1840s,  the reach of the German border extended to modern day Ukraine, it's possible that they share stories).
 Once upon a time a poor woman did her best to clean the house and decorate the Christmas tree for her children. In her flurry of cleaning, she banished the spiders to the attic. But, since spiders are notoriously nosy, they crept downstairs after she went to bed. They crawled all over the tree admiring her work. Unfortunately, they left a lot of cobwebs on the tree. When the Christkind came, he saw what had happened… and transformed the spider webs into silver strands that shimmered in candlelight.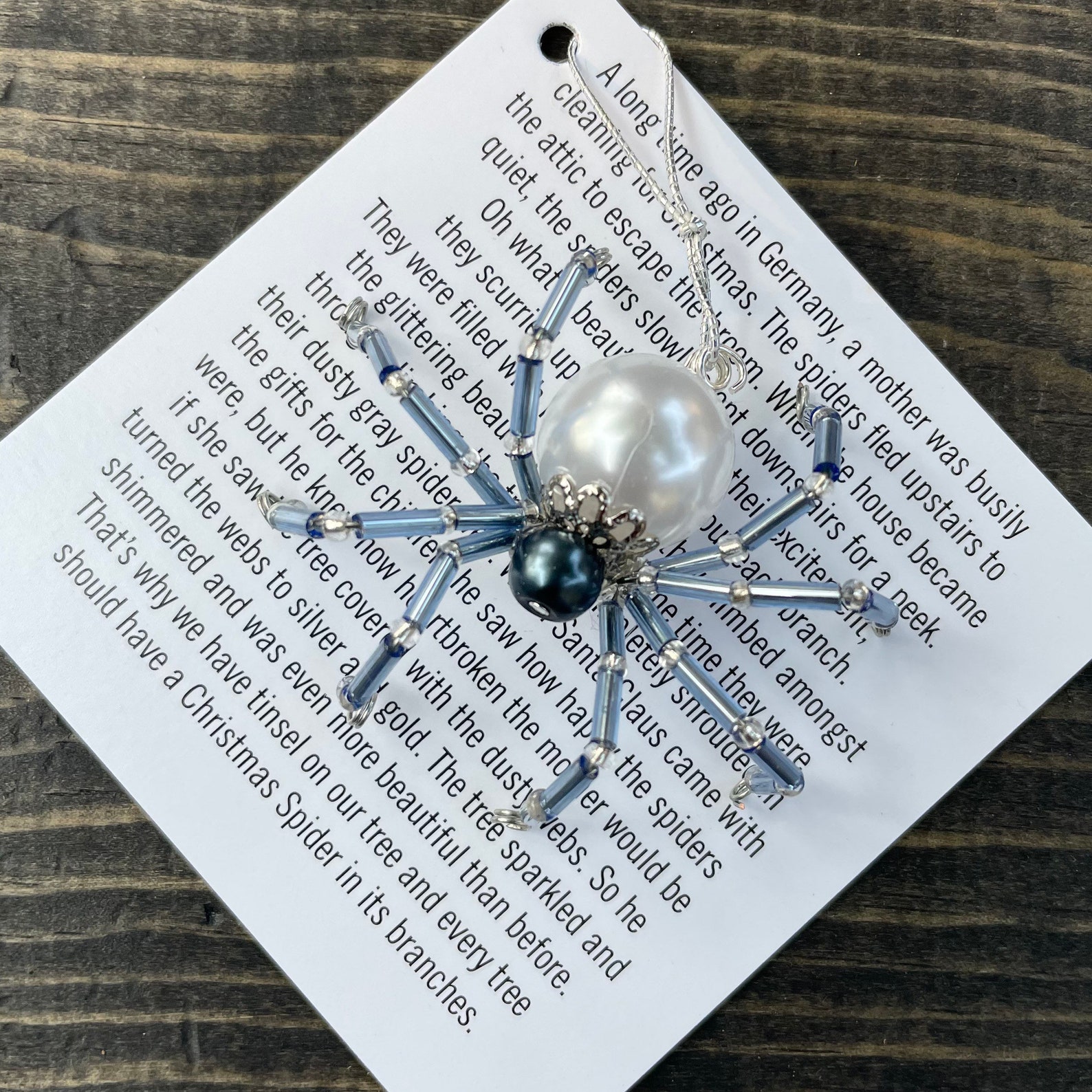 German Christmas Spider – Slate blue

And that is why we have Tinsel or Lametta on the Christmas Tree….
Read more here..
The Christmas Cobwebs

Cobweb Christmas: The Tradition of Tinsel

How to Hang Tinsel on a Christmas Tree
There is an art to hanging Tinsel on the tree…. use a light hand… only a few strands on each branch end…make sure it hangs down. (And if my mom is supervising… it better be done right! Or you will be doing it over and over again.)
And warning… as you walk by the tree (if your tree is placed on carpet) you will attract it with your clothing . And for weeks after the tree is cleared away… the lametta will still turn up around the house. Like a Christmas memory for your vacuum cleaner!
Now… when the Epiphany rolls around, and it's time to clear away the Christmas Tree… We do not LEAVE THE CHRISTMAS TREE LAMETTA ON THE TREE! Each strand is to be carefully collected and saved. Line them up straight on a piece of cardboard, and fold it safely away for next year….
Warning!
I recently learned that you should never put the metal Lametta on an artificial Christmas Tree! I really don't know why…(probably because the metal might touch the metal of the Christmas Tree frame and cause a spark?) but I thought it best to pass the warning along.
Vintage Metal German Lametta
If you want the look you remember from years ago… you have to go with the vintage metal German Lametta.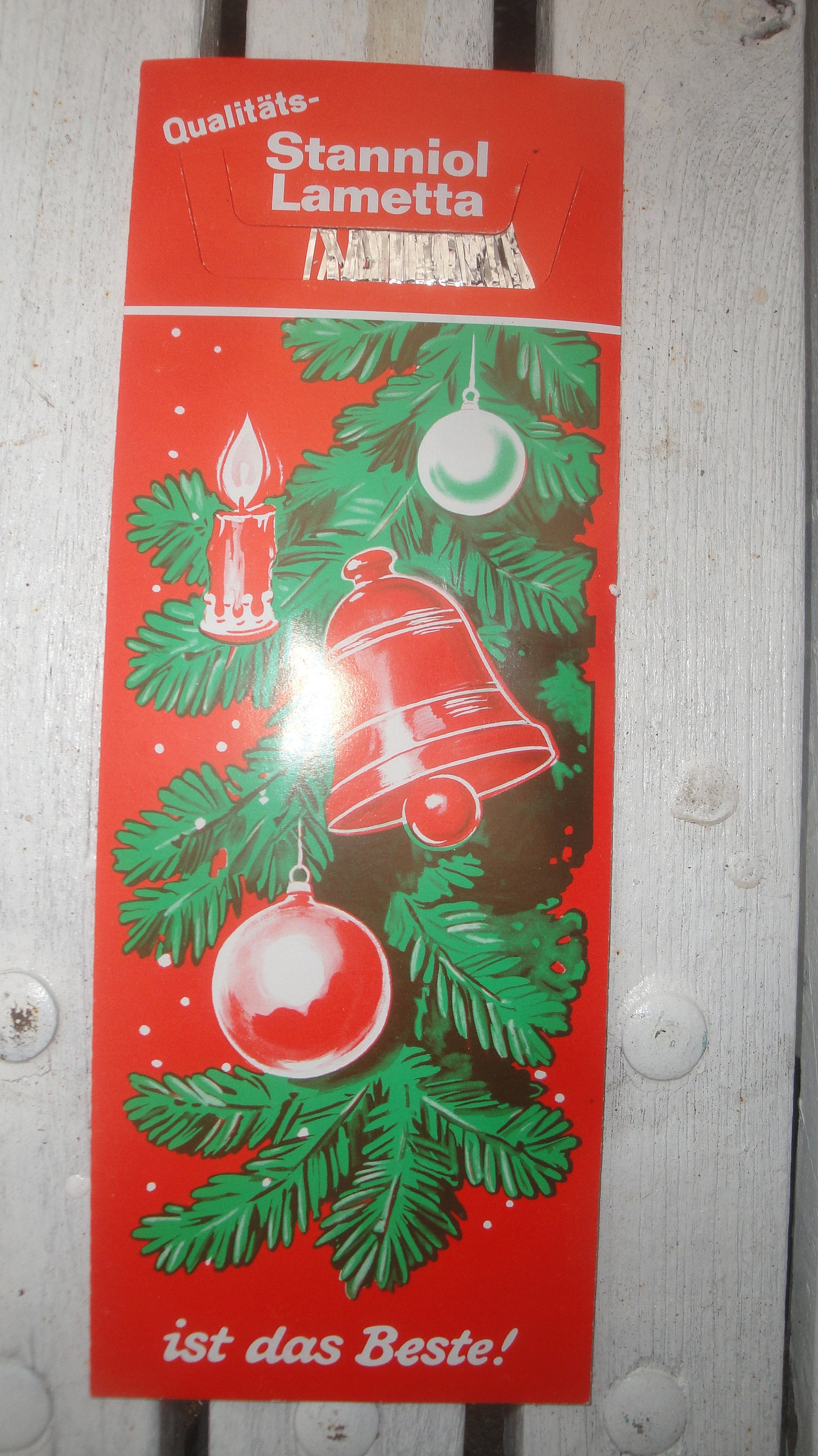 ONE Authentic REAL LEAD Silver Christmas Tree Tinsel Eislametta Vintage 18″ Long Stanniol Lametta Silver Rain Strands Ornament Decoration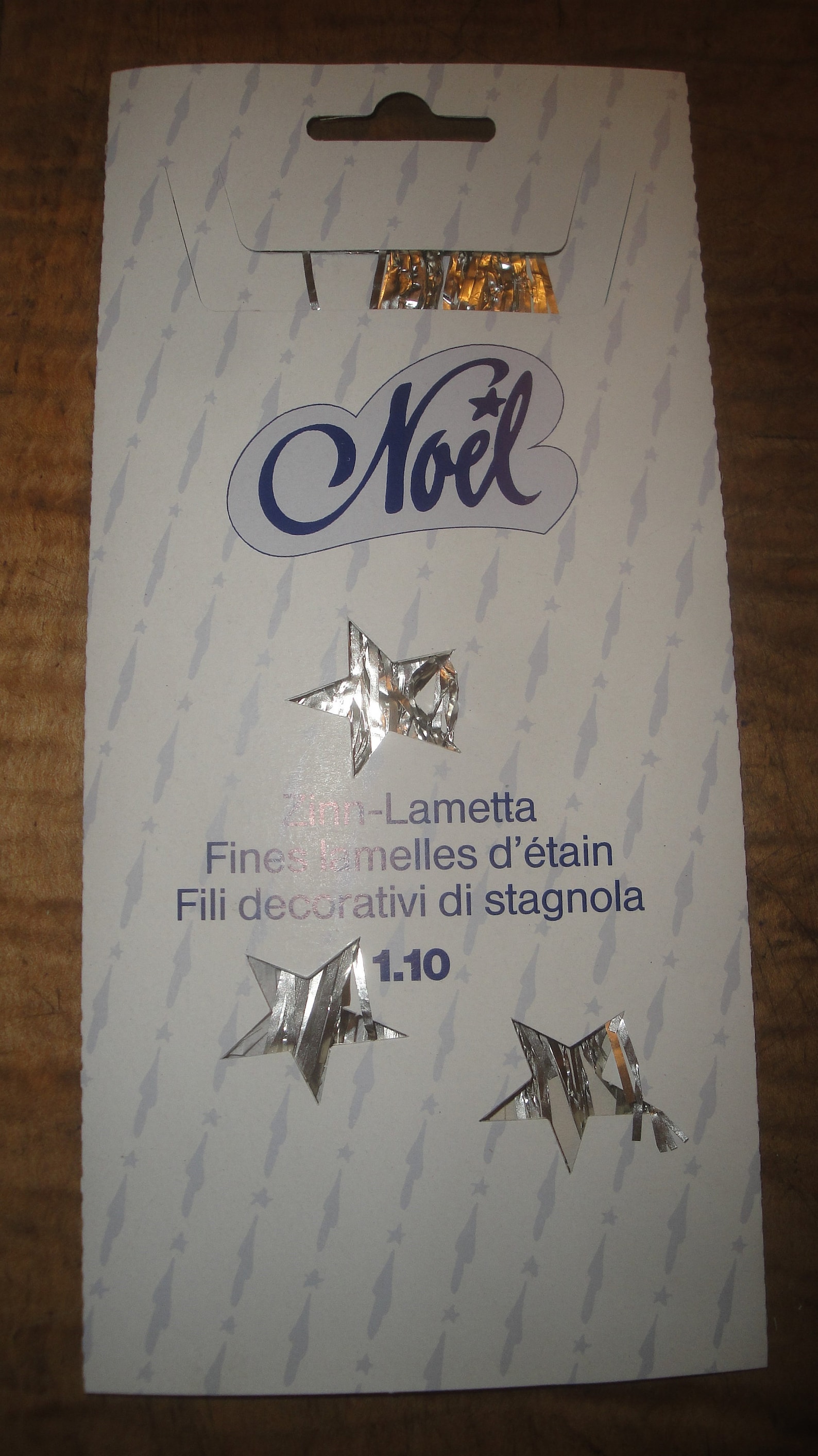 2 Packs German REAL LEAD Christmas Tree TINSEL Silver Antique Foil Icicles Ornaments Decorations Vintage Genuine Metal Foil Antique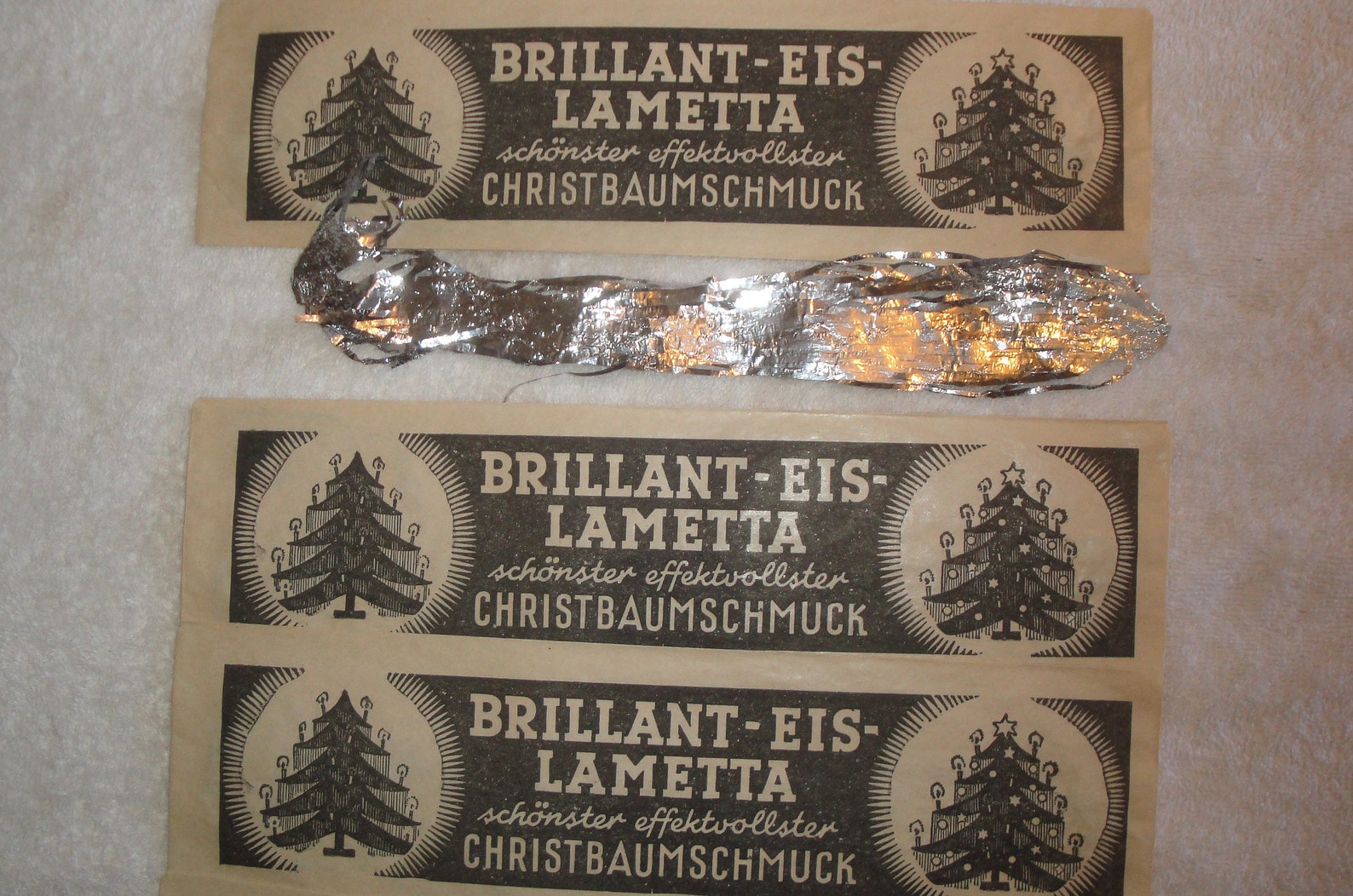 ONE Real LEAD Christmas Tree Silver Tinsel Icicles German Germany Antique Vintage Old Stanniol Lametta c 1930s Pre World War II 2 Ornaments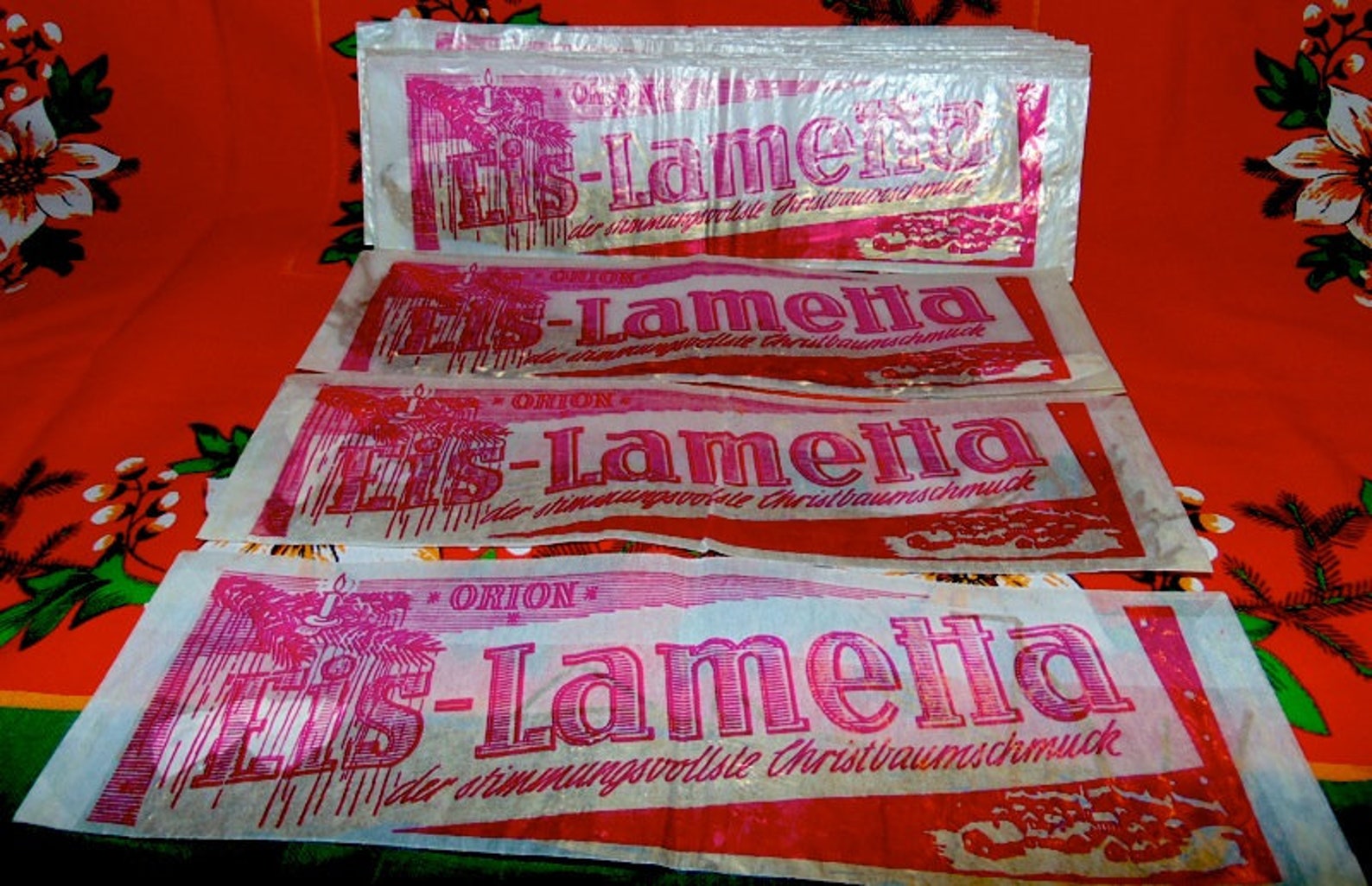 Vintage 1940s German Tinsel in Original Package~Metal Tinsel~Orion Eis-Lametta Tinsel~GOLD~**Buy 2 get 1 Free Deal**~1 PACKAGE per PURCHASE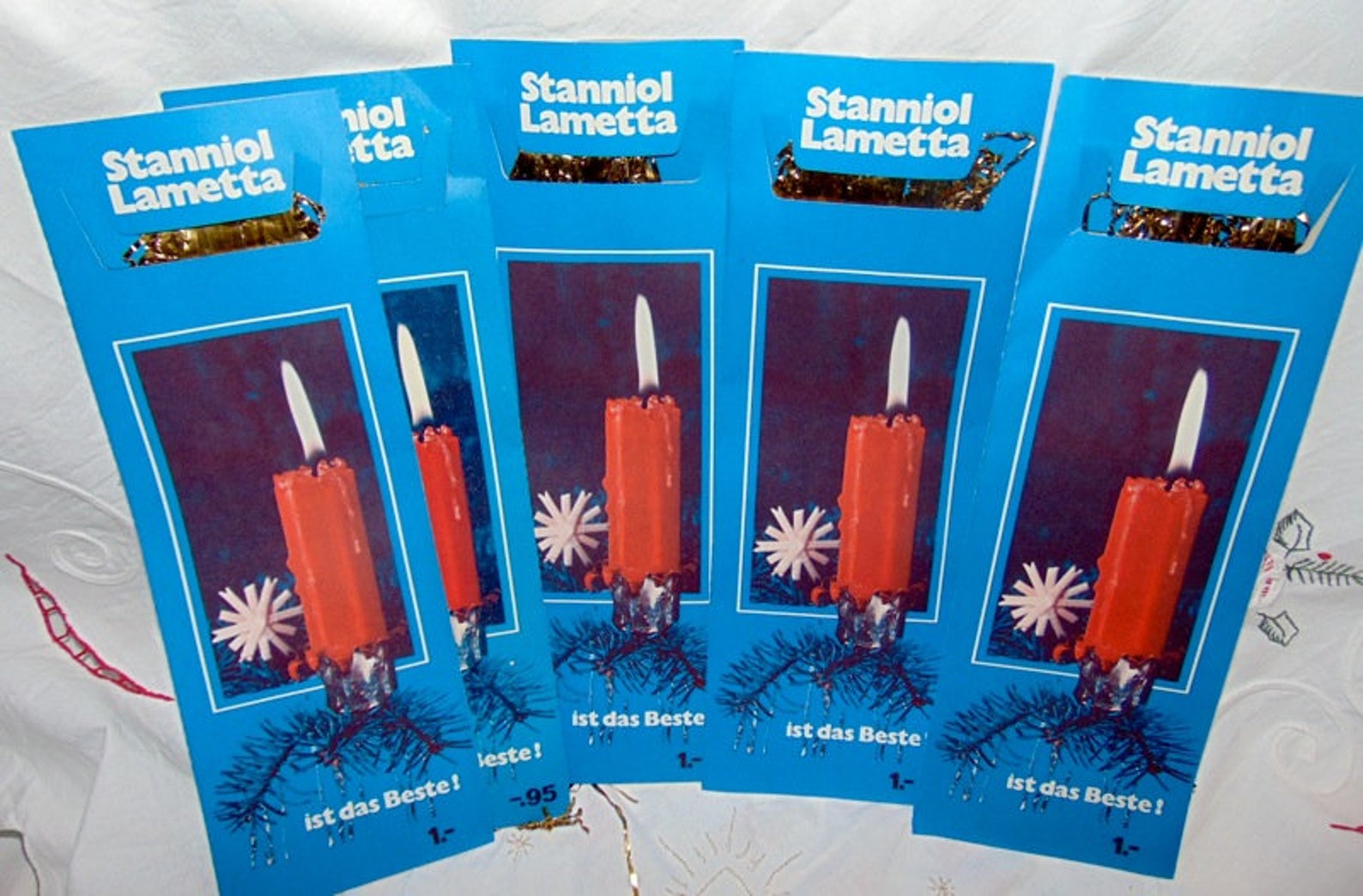 Vintage German Tinsel in Original Package~Metal Tinsel~Stanniol Gold Lametta Tinsel~GOLD~1 PACKAGE per PURCHASE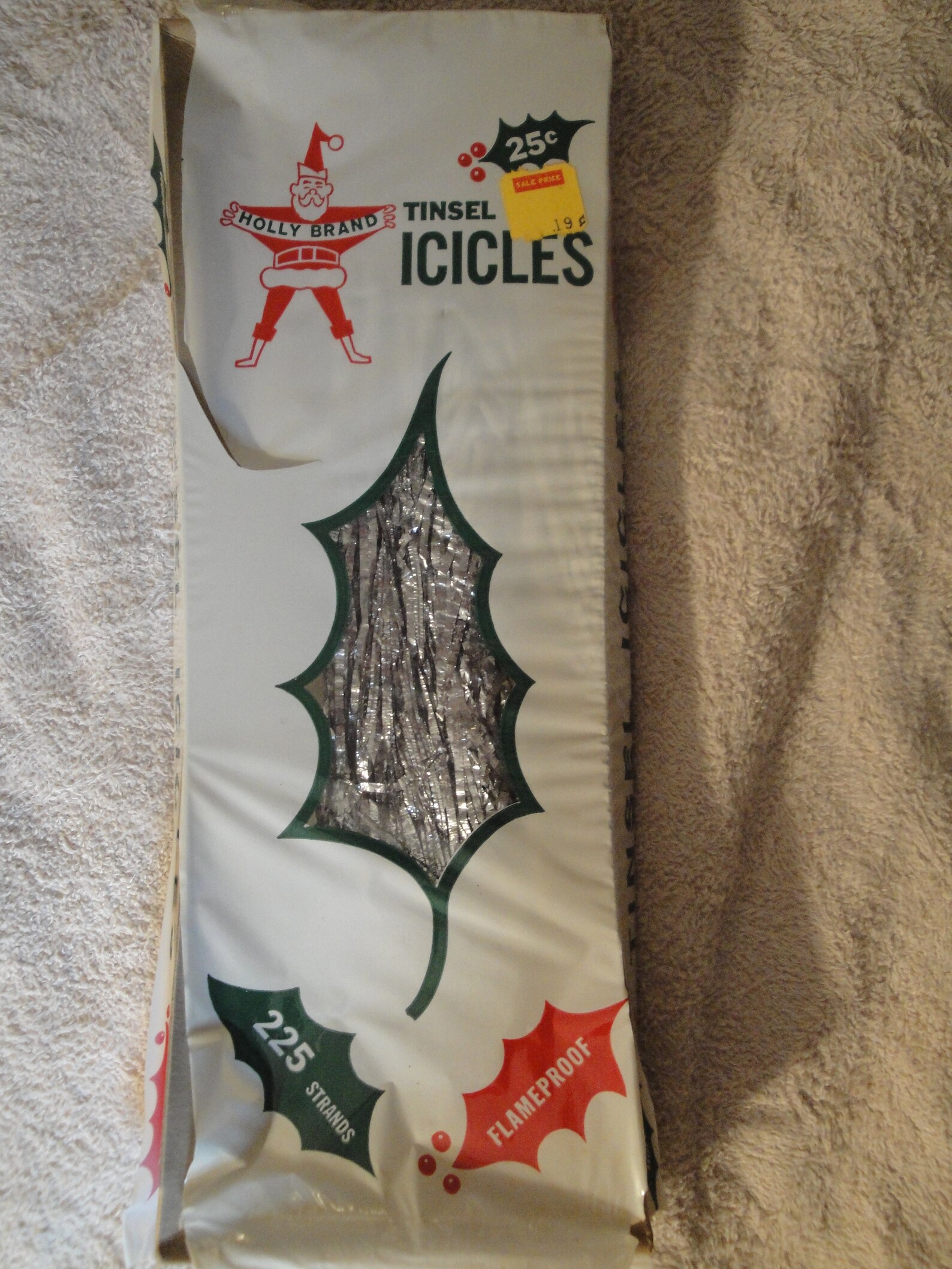 ONE 1950s Real Lead Christmas Tree Tinsel Icicles New Old Stock Orig Box Ornaments Decorations Old Fashioned "Silver Rain" Stanniol Lametta

New Metal Lametta
The Metal Lametta/ Christmas Tree Tinsel is much more expensive than the plastic, but it hangs better, and is easier to reuse.
Meyer Imports Brilliant Eislametta Iridescent Tinsel Strand Icicles for Christmas Tree – Metal Silver German Lametta Icicles – Perfect for Garlands, Wreaths, nativities – 18 Gram (3 Pack)

Plastic Lametta
Plastic is vastly cheaper than metal, but it doesn't hang as well.
Northlight 1000ct Silver Tinsel Icicle Strands Christmas Decorations 18

BRITE STAR Silver 18-Inch Icicle Tinsel – 2000 Strands

SILVER TREE TINSEL Icicles 6000 Strands 3 BOXES NEW