Our Traditional German Christmas Dinner Menu
Every year we do our best to put together the traditional German Christmas Dinner menu for Christmas Day. When I was growing up, we would alternate Christmas dinner between our house, and my god-parent's house.  All of us dressed in our new Christmas Clothes (nice sweaters, even though it could be in the 80s in Southern California). Mom's or Tante Annemarie's clean white tablecloth and napkins on the table set with nicest china. And while the venue changed, the menu was always the same (and so were a lot of the jokes). Our mid-afternoon meal sticks in my mind as a favorite childhood memory.
A generation later, we are still making the same meal, but now, it's my kids dressed in nice sweaters and listening to the awful jokes.
My daughter Katy co-wrote this post with me, so we will take turns doing descriptions of foods.  I will share links to recipes where possible. You can find most of the recipes, including Christmas Goose, Kartoffelklöße, and Rotkohl HERE–> Easy German Cookbook
Now, Christmas EVE dinner is different… Christmas Eve is a quick and simple meal that cleans up fast so that we can get to Church on time and then have the Bescherung (present exchange) without a big kitchen mess. A recent poll in Germany showed that Würstchen with Kartoffelsalat is the most common Christmas Eve Meal. Usually in our house, it was Bratwurst, Mashed Potatoes mit Soße, Sauerkraut and a Salad. Bratwurst may not seem like a "special" meal, but keep in mind that during my childhood, getting REAL German Bratwurst took a road trip to Fred Reich in Los Angeles, so it was special.  Mom told me that when she was growing up, people served Carp on Christmas Eve (she'd laugh, because the Carp would swim in the family bathtub for a few days to "clean out", which meant that the family went without bathing for a few days…YIKES!).
Our Traditional German Christmas Dinner Menu
Goose or Gans
Katy- I know some of you wonder "what on earth could you have besides Turkey (or maybe some ham) on Christmas". Well listen, might I recommend goose? Perhaps this was more of a taste preference, I'm pretty sure my Oma only likes turkey for  sandwiches. As a kid I remember not truly understanding the difference and not thinking much of having goose instead of turkey. Plus, why would I when it is so tasty? I mean like 'fight my brother for the last piece' delicious. In my opinion, goose meat tends to have a bit more flavor and often gets less dry than turkey. It stands better on it's own and doesn't have to rely on the symphony of sides. All I am saying is that goose is delicious, and definitely worth the try.
Karen- Because it's not very traditional here in California, the toughest part is finding a Goose ( apparently, you aren't allowed to get the ones that live on the golf course). Do yourself a favor and take care of the cleaning the day before you plan to roast it. Rinse inside and out. Cut away the flaps of excess fat. And remove the extra bits like the neck and liver… (this was always the dog's Christmas Present).
Prepare the goose by liberally salting it inside and out, then sprinkle on a generous amount of Thyme. Stuff a peeled onion and a peeled apple inside to roast. Prick the skin so that the fat can come out into the pan. You will want to roast the goose on a rack (collect all that melted fat after cooking… it's kitchen gold). Roast until the temperature reaches 170 F at the thigh.
Side Dishes:
Side dishes vary by household, but this is how OUR Traditional German Christmas Dinner Menu looks….
Klöße or Knoedl with Gravy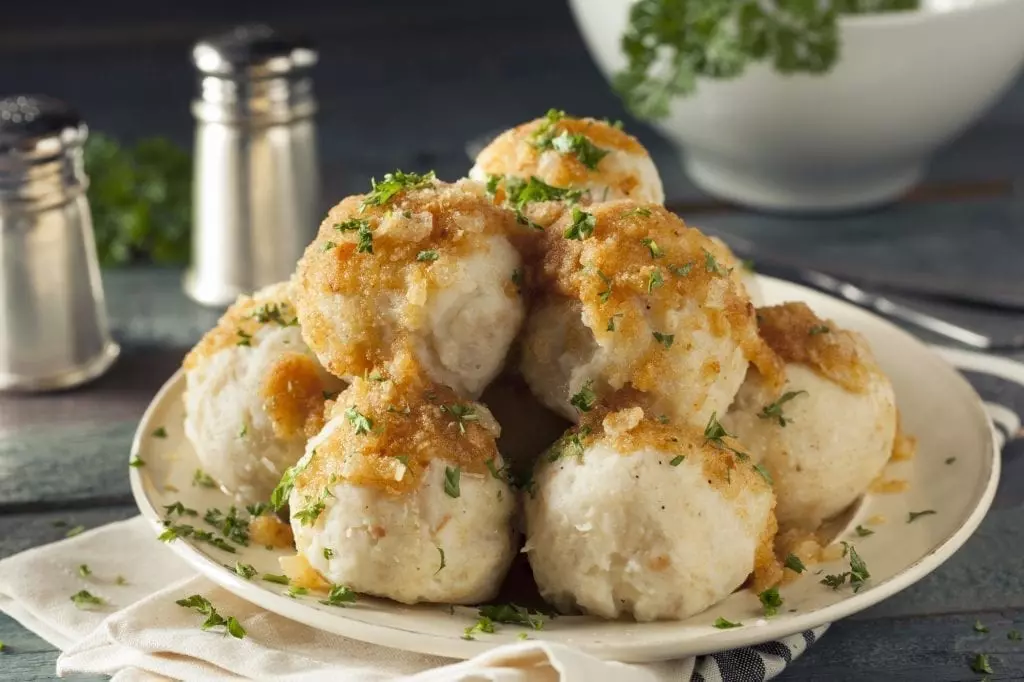 Katy- If 10 year old Katy could have eaten one thing for the rest of her life, it would probably have been knoedl, or German potato dumplings. These incredible balls of fluffy, sticky, starchy potato have the consistency of giant gnocchi but the absorbency to mop up endless gravy. They are delicious and one of the most quintessential comfort foods I know. One could easily use them as a replacement (or an addition) to mashed potatoes. Also, while potato dumplings are the common version in the North, in the South many Germans make them with bread. (And really, what is stuffing, if not deconstructed knoedl?)  Personally, I believe the potato versions reign supreme but don't take my word for it, make both and you can decide for yourself.
Karen- Klöße go with Gans. And I know there are lots of Omas who make them from scratch… but my mom generally used a Pfanni packet. With everything else going on during the holidays, a shortcut is perfectly acceptable. But they aren't hard to make! (And you'll find the recipe in my book)
Red Cabbage / Rotkohl / Blaukraut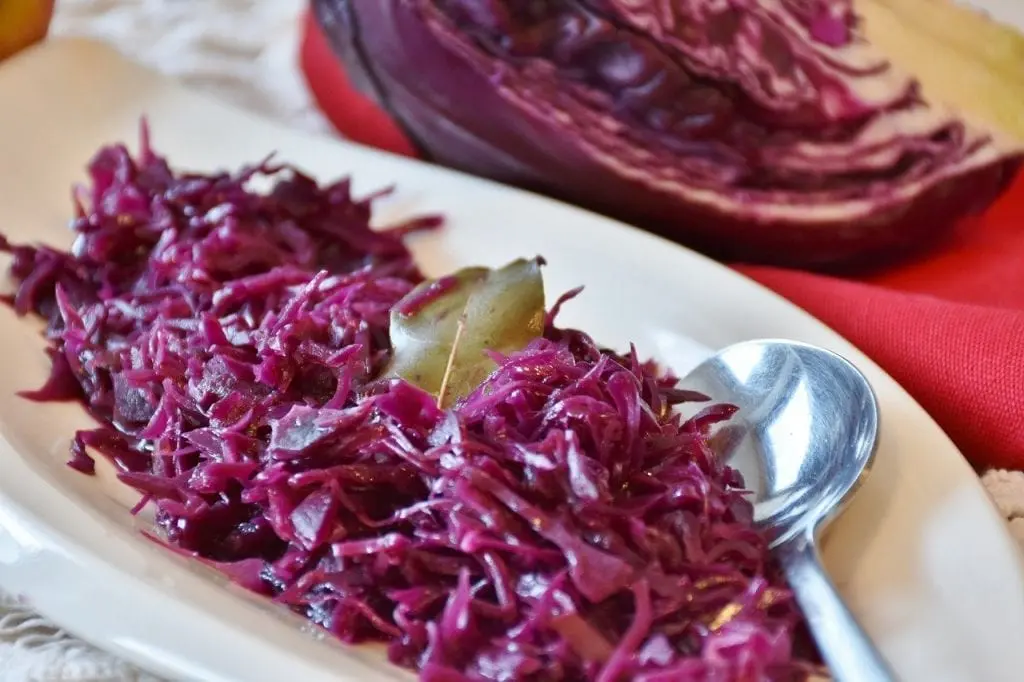 Katy- While Red Cabbage or Rotkohl is not my favorite, in fact, I can go most of the rest of my life without eating it, my Oma LOVES it, so it always turns up on the Holiday table. As far as I can tell, the use of liberal amounts of red wine is what makes it edible. For some reason Rotkohl is called Blau Kraut (Blue Cabbage) in parts of Germany. Makes you wonder, doesn't it?
Karen- I really love my mother's Rotkohl, because it's not too soft. In Southern Germany, Blaukraut is often cooked with Bacon or more fat, which changes the texture a bit. It's all what you are used to. Added bonus, you can make it in advance and freeze it! Here is my mother's Rotkohl recipe.
Brussels Sprouts/  Rosenkohl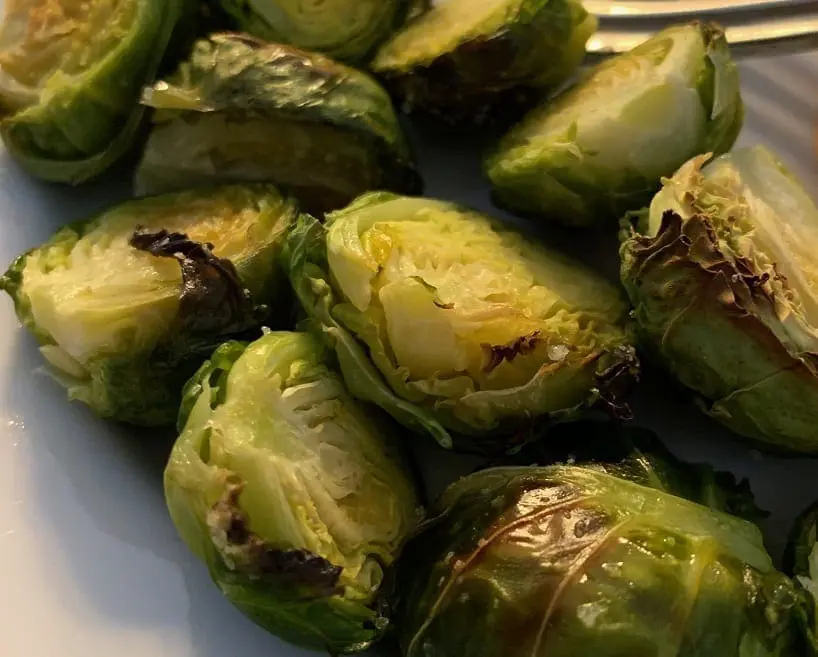 Katy– My mother is pretty sure I've lost my mind, but I firmly agree with my Oma that Brussels Sprouts or Rosenkohl, belong on the holiday table. OK sure, when they are boiled and overcooked, the taste can be a bit… umm…. yucky. BUT if you just steam them, or better yet, roast them, so that the edges caramelize….mmmmm. Maybe add a bit of bacon, and they are perfect.
Karen- Um… you can chase me around the room with Brussels Sprouts.
Although I might make an exception for this recipe from All Tastes German for Brussels Sprouts Casserole
Green Salad
Katy- I liked being allowed to make the salad in Oma's kitchen. SHE always did the dressing from scratch herself, but I could tear up the lettuce, and cut in the other veggies. If the pomegranate tree had fruit, my brother and I would pick some and pick out the seeds for the salad too. Because it was a special occasion, we would serve it on cut glass salad plates.
Karen- In Germany my Oma made Feldsalat with a sweet dressing made from cream, vinegar, onion, salt, pepper and sugar. In California, we didn't have the same lettuce, so we just made a regular salad with fresh ripe tomato, some green onion, and maybe pomegranate seeds  (if the kids managed to not eat all of them first). A simple vinaigrette made with Salat Krönung would dress it. Or you can Oma's dressing and toss it with Butter Lettuce.
Desserts:
Cherries
Katy- One thing that made our German holiday table so different from what I saw on TV or at a friend's house was the dessert. We didn't finish the meal with a selection of pies. In fact… when the dinner dishes were cleared away, Oma would bring out a big bowl of Cherry compote. And we were all ordered NOT to spit the pits at each other. (Oma knew us all too well). Fruit was a good way end to a rich meal.
Then we would all stagger off to the kitchen to clean up… maybe have a nap… until it was time for CAKE.
Karen- I don't know if it really belongs on a Traditional German Christmas Dinner Menu, but after a heavy meal, my mom never put out a rich dessert. Instead, she always served a bowl of Cherry Compote. She made it herself from the cherries that she froze in the summertime. It's quite simple. Put the Cherries into a pot, add some water and sugar (maybe a cinnamon stick) and cook until the cherries are softening a bit. Taste to make sure it's sweet enough, and maybe add more sugar. (Start with 2 pounds cherries, 1/2 cup water, 1/4 cup sugar). The syrup shouldn't be too thick. (Put out little bowls or make sure there are saucers to collect the pits)
Most of these Recipes Can be Found in the Easy German Cookbook
I did it! I managed to put most of my favorite recipe… including the Christmas Goose, Kartoffelklosse, and Rotkohl in one cookbook! Find it here in paperback or as a Kindle….
Easy German Cookbook: 80 Classic Recipes Made Simple

Cooking Partners in Crime

Katy and her Oma