Traditional German Tracht Show at German Fest, Milwaukee
Many people think that the German Fest events, like the one in Milwaukee, are all about "Bavarian" attire. I'm happy to report that not only are other regions of Germany represented in food and culture, the Tracht from other parts of Germany are seen around the grounds…. and on Saturday, there is a special Traditional German Tracht Show to highlight these beautiful dresses and outfits from around the country. This show has been a part of German Fest, Milwaukee since the very FIRST fest in 1981 when Wilma Giesal organized it to highlight the beautiful clothing German immigrants brought with them to Wisconsin. Today, Wilma still oversees the Tracht Show! And it's one of my favorite parts of the Festival…
All photos were taken by me… while running back and forth to my table to take notes. Please forgive any funky angles or focus issues. Also, please ask permission before using them. 
Traditional German Tracht
First of all… What is Traditional German Tracht? Tracht is not just one outfit. In this case, it refers to a regional style of clothing worn by German people. The Dress (or pants for men) would typically be a specific color and style. There might be beading or embroidery…but most often the everyday clothing would be simple, and reflect the lifestyle of the person in the area. Special Occasion Tracht was also specific to a region. Often these outfits would have heavy beading or embroidery to reflect its importance. Tracht, especially the special occasion Tracht, did not change quickly. Unlike today, where contemporary fashion changes style every season… Tracht from a specific region would remain the same for decades. And often the dresses were handed down from generation to generation. What's interesting, is that the styles stayed the same, not just because of cultural identity, they stayed, because people could not afford to constantly change and buy new dresses/Tracht outfits.
But Tracht is more than a Regional Dress
Tracht also refers back to the word "Tragen", meaning to carry. Basically, this means that the uniform of a certain profession, and the things they typically carry, is known as Tracht. The most common example is the German Chimney Sweep with his black clothes and broom.
More recently (as of the 19th century) there has been a change, especially in Bavaria, where the farming community became romanticized by the upper classes. You would find nobles and artists sporting Lederhosen in an effort to appear more Bavarian. On top of this, the industrial revolution made clothing more affordable. Suddenly, you didn't have to be rich to afford that new dress. What this all led to was a new idea about Tracht. Basically, the old designs were changed, and modernized a bit, and sold as Trachtmode (Tracht Fashion). This is what you often see at German Festivals, like Oktoberfest, today. You also find dance groups or musical groups who have a Tracht specific to THAT Group.
The Trachtenverein (Tracht Clubs or groups) started to appear in the 1880s. These groups were dedicated to the preservation of Traditional German Tracht. And thanks to these groups, and to women like Wilma Giesel, there are some beautiful examples of Traditional Regional German Tracht to share.
Trachtenschau German Fest Milwaukee
Pomeranian Tracht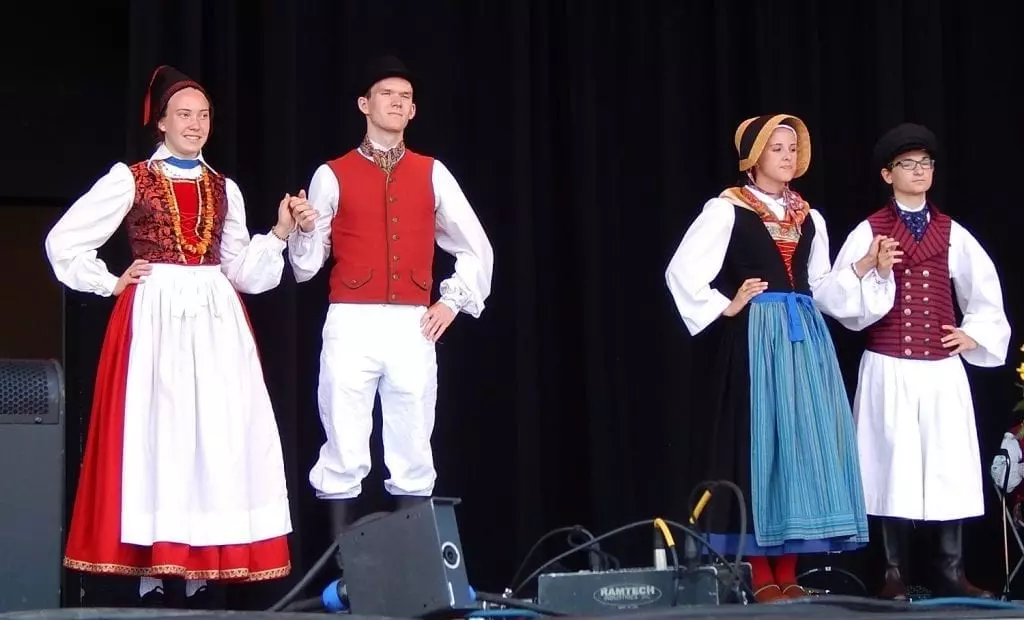 Pomeranian Tracht
This is an example of the Mönchguter Fischertracht from Pomerania, a region on the southern shore of the Baltic Sea now split between Germany and Poland.
Men wear wide white pants that dry quickly, a red vest and black boots.
Married Pomeranian Woman
The married woman in the photo wears a red skirt with gold braid  and white apron. Her amber jewelry compliments her embroidered vest. And her hat is a close fitting black cap.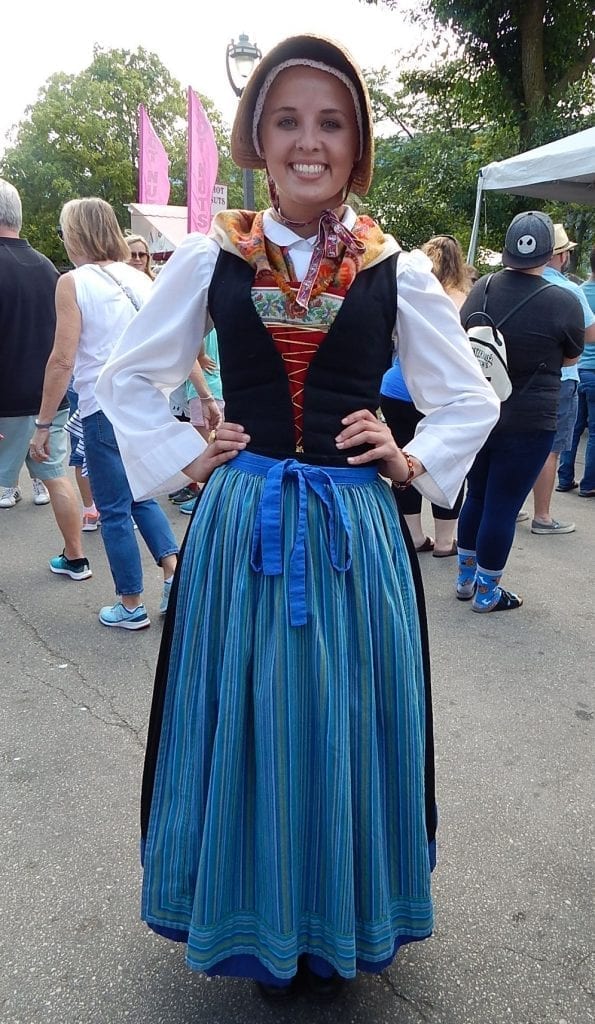 Unmarried Woman in Pomeranian Tracht
The Mönchguter Fischertracht for everyday has a black skirt, blue apron and waistband, a vest embroidered with Pomeranian Roses, wooden shoes (to walk and work in saltwater), and a straw hat. The unmarried woman wears red socks.
Schweriner Tracht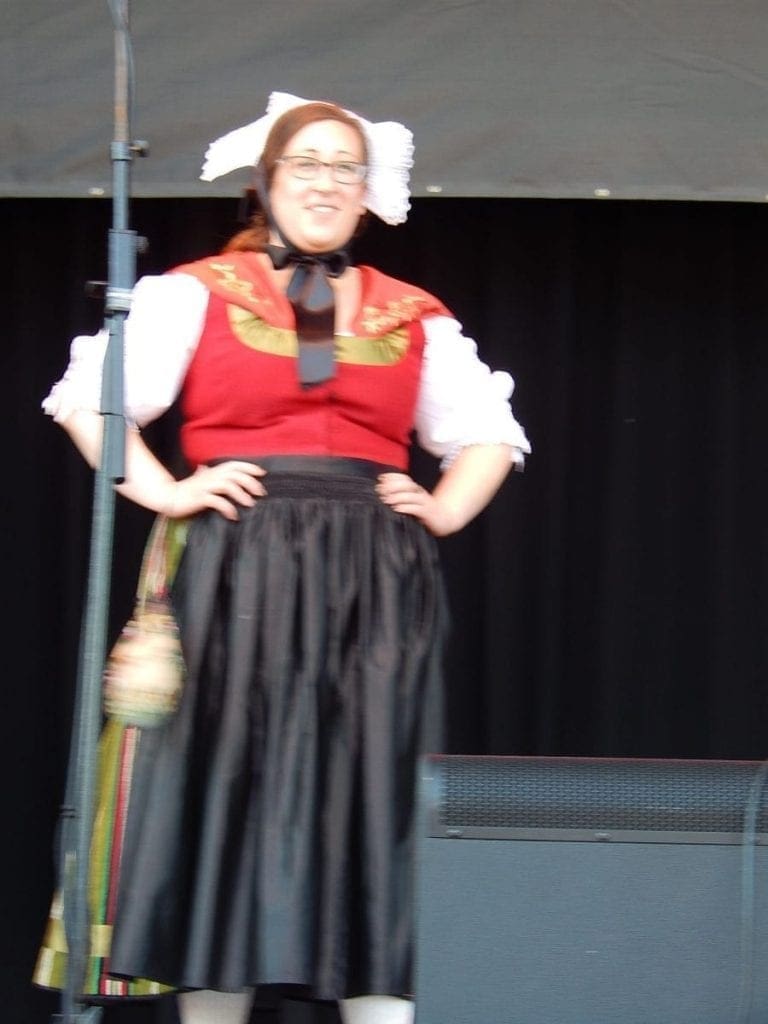 Schweriner Tracht
The Schweriner Tracht comes from Mecklenburg Vorpommern, a state in the North of Germany.
The skirt is striped under a black apron. The number of stripes, and the fullness of the skirt indicates wealth.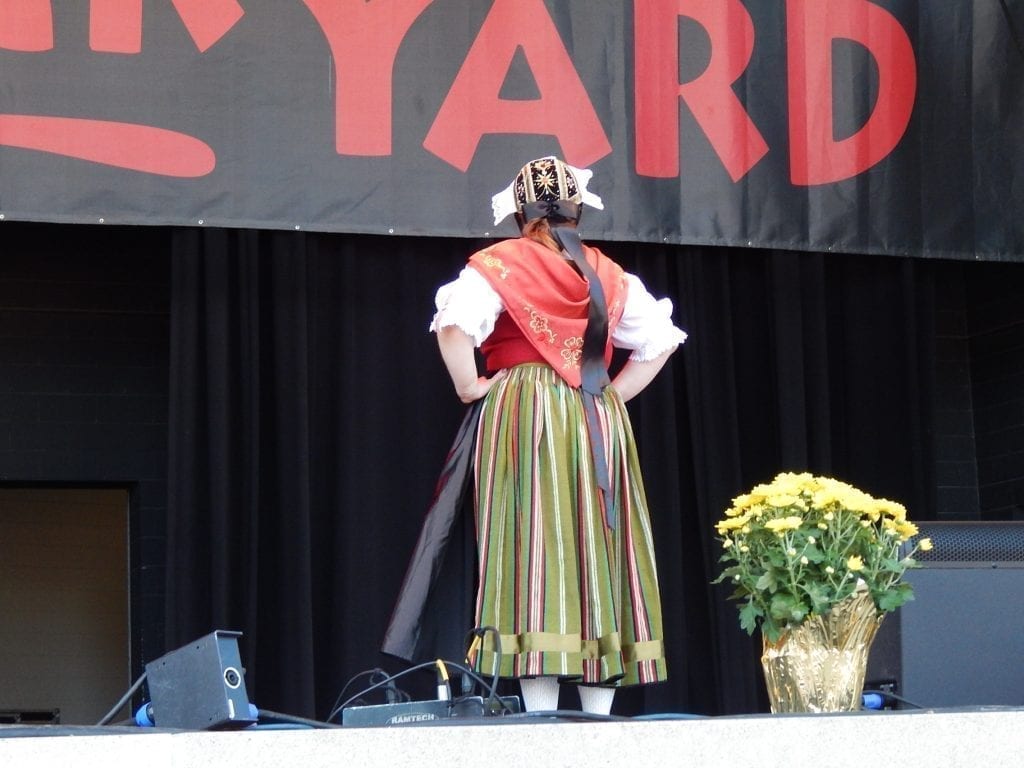 Schweriner Tracht
The white lace cap is embroidered with pearls.
Learn more about the Schweriner Tracht here–>Schweriner Tracht
Black Forest Tracht
Black Forest Tracht from Freiburg
The Freiburg Tracht from the Black Forest has a blue skirt and full vest.
Freiburg Tracht
You may wonder about the hat. Unmarried Protestant women in the certain towns of the Black Forest wear the Bollenhat… the hat with 13 Red Pompoms. Married women wear a Bollenhut with black pompoms, or a straw hat.
Use the Code HappyShopping20 for a 20% discount from German Slippers. They have the PERFECT shoes to wear with your Dirndl!
Bavarian Miesbacher Tracht
Miesbacher Tracht
The Bavarian Miesbacher Tracht dates back to 1042.  The Half-Tracht is for everyday work wear. It's more simple, with no hat or flowers. The apron is striped and practical.
Miesbacher Tracht
The Sunday and Festival Miesbacher Tracht includes an embroidered shawl, an embroidered apron, and flowers are tucked into the bodice.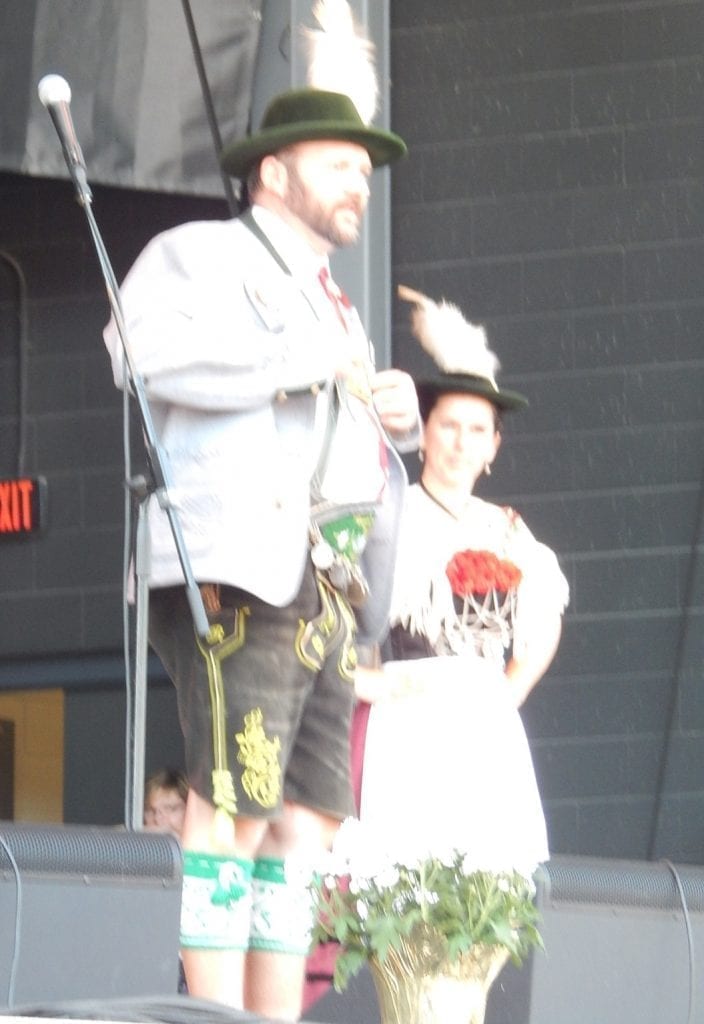 Miesbacher Tracht
The men's Tracht includes Lederhosen made from Elk hide. The Loferl/Stutzen (half-socks) cover the calves, and the shoes have wooden pegs.  The jacket is made from Loden fabric, which is native to Bavaria.
Baden Württemberg Schwäbisch Hall Tracht
Schwäbisch Hall Baden-Württemberg Tracht
This Schwäbisch Hall Baden-Württemberg Tracht is also known as the Salt-Boilers Tracht, because it was worn by salt workers.
Schwäbisch Hall Baden-Württemberg Tracht
The woman wears a red skirt with a white apron. She wears a hat with long ribbons.
Schwäbisch Hall Baden-Württemberg Tracht
Tirolean Tracht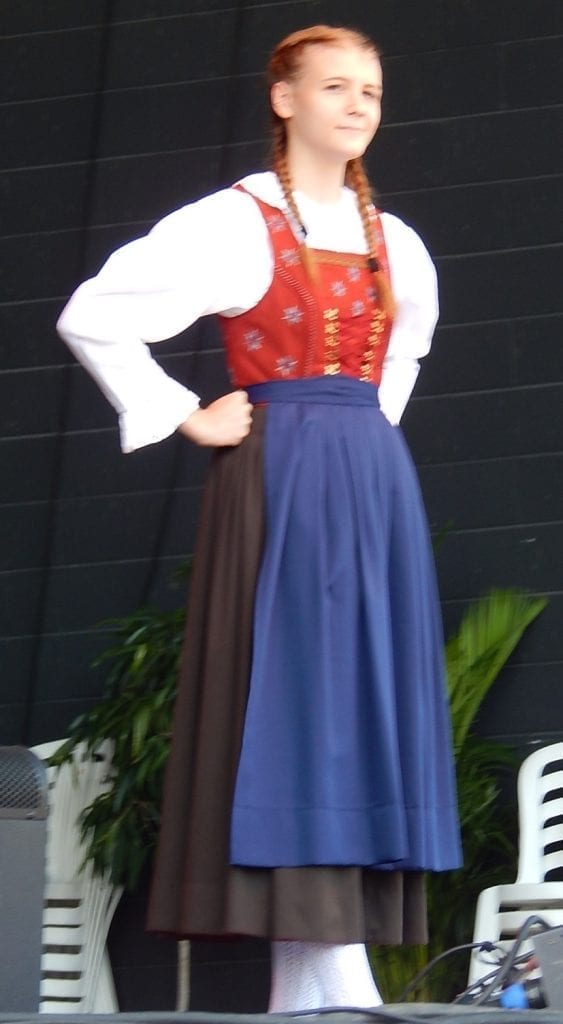 Tirolean Tracht
The Tirolean Tracht comes from Austria. This is an example of the Summer Tracht. The woman wears a black skirt with a red vest.
Tirolean Tracht
The red vest has beautiful embroidery.
Schlesien Tracht
Oberschlesien Tracht
The Tracht from Oberschlesien is one of my favorites, because it's so colorful! (Oberschlesien or Upper Silesia is found in the southeastern part of the historical and geographical region of Silesia, located mostly in Poland, with small parts in the Czech Republic.)
Oberschlesien Tracht
The skirt is green, and the apron is embroidered with colorful roses.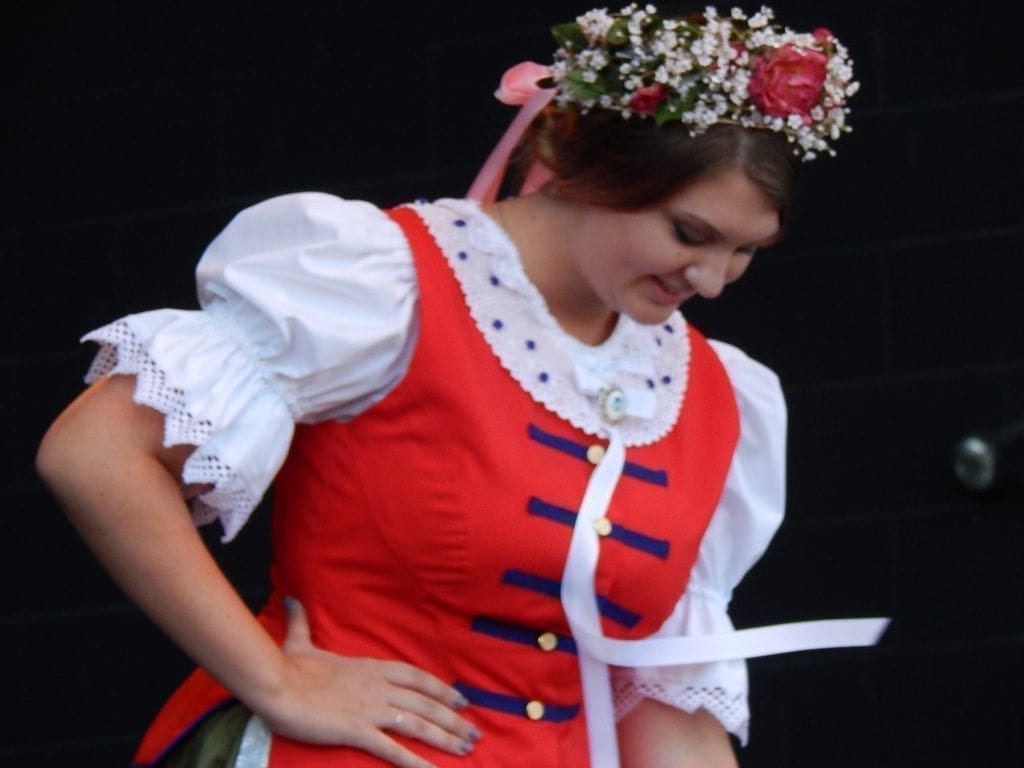 Oberschlesien Tracht
The headpiece for unmarried women is a crown of  Roses. Married women wear scarves over their head.
Find Dirndl Jewelry HERE—>Dirndl Jewelry!
Donau Schwaben
Donau Schwaben Tracht?
These two girls were wearing modern recreations of dresses worn by Donau-Schwaben. In my notes it says Slevonian? I've been searching for more information about the dresses. Sadly, I couldn't make out exactly what was described. Can anyone help?
Modern Tracht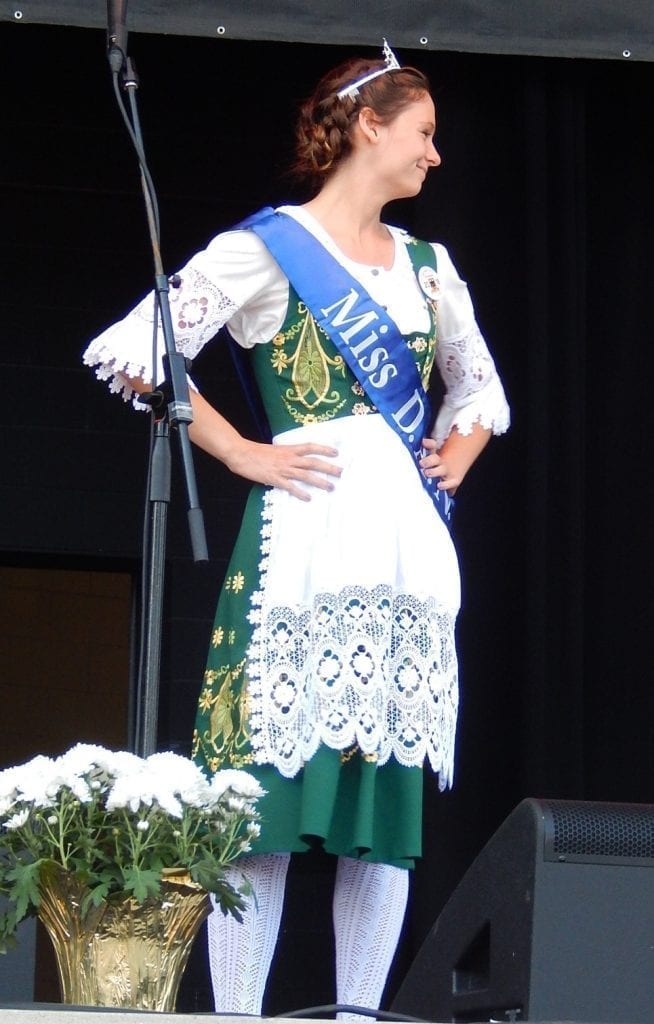 Modern Tracht
Miss DANK wears the modern Tracht. Hers has a green skirt and gold embroidery.
Modern Tracht
Miss DANK was joined by her partner in a matching green vest and tie.
Thanks again to Wilma Giesel, her Trachtenverein, and the German Fest Milwaukee for keeping these Traditional German Tracht pieces alive for all of us to enjoy. If you have a Traditional Tracht, and would like to show it at German Fest, contact them here–>Contact German Fest 
Looking for a Modern Dirndl? Check out my review of Rare Dirndl here–> Shopping at Rare Dirndl
Interested in Learning MORE about Traditional German Tracht?
The book "Traditional Couture: Folkloric Heritage Costumes" by Gregor Hohenberg is an absolutely STUNNING book filled with photos of regional Tracht. Read my review here–> Traditional Couture
Or purchase it here–>
Traditional Couture: Folkloric Heritage Costumes

German Books about Tracht
Obviously, there are a number of German Books about Tracht. Find a great selection here.
Trachten in Mecklenburg: Eine Dokumentation und Arbeitsanleitung

Trachten

Tracht im Blick: Die Oberpfalz packt aus

Faszination Tracht

Oberfrankens Trachten

Tracht oder Mode: Die europäische Sammlung Paul Prött im Deutschen Textilmuseum Krefeld

Probstei: Ländliche Lebenswelt im Blick