Oma's Münsterländer Struwen Recipe for Good Friday
Around Münster, a Good Friday without Struwen is unimaginable. So, every Good Friday, my Oma would make the . And now, thanks to my Tante Anne, I have the recipe for Münsterländer Struwen. These yeast dough pancakes satisfy hunger in a time of Fasting without appearing (as my aunt said) "üppig" (extravagant). Struwen are sweet, but not too sweet, topped with a sprinkle of sugar or cinnamon sugar, filled with raisins, and are often served with applesauce.
Münsterländer Struwen
I see Struwen as a cross between a pancake and a donut. They are thicker than regular German Pancakes, and even thicker than American Pancakes. Make them about the size of the palm of your hand. The original recipe says to use a soup ladel full of batter. It won't spread much once it's in the pan. They come out fluffy on the inside, and a bit crisp on the outside. It might seem like a lot of raisins/cranberries, but they add a nice sweetness.
Honestly, the trickiest part of making Struwen is watching the heat. Too high, and your Struwen will burn (and no one wants burnt Struwen…) too low, and they absorb oil (bleh).
Side note. I can chase my people around the room with raisins. They just won't eat them. Not a problem, I substituted dried cranberries, and everyone was fine with that (never mind that they look and almost taste like raisins in the Struwen….we've had this arguement all too often around here, and I'm just letting it go).
I've seen a few other variations to the recipe while researching. Traditionally, they are made with a sprinkle of sugar, but some call for Cinnamon Sugar (I made them both ways, both were a hit). Some people add a bit of lemon zest to the batter for a zip of flavor (since my neighbor was home, I couldn't send the kid over the fence to steal a lemon, so we went without).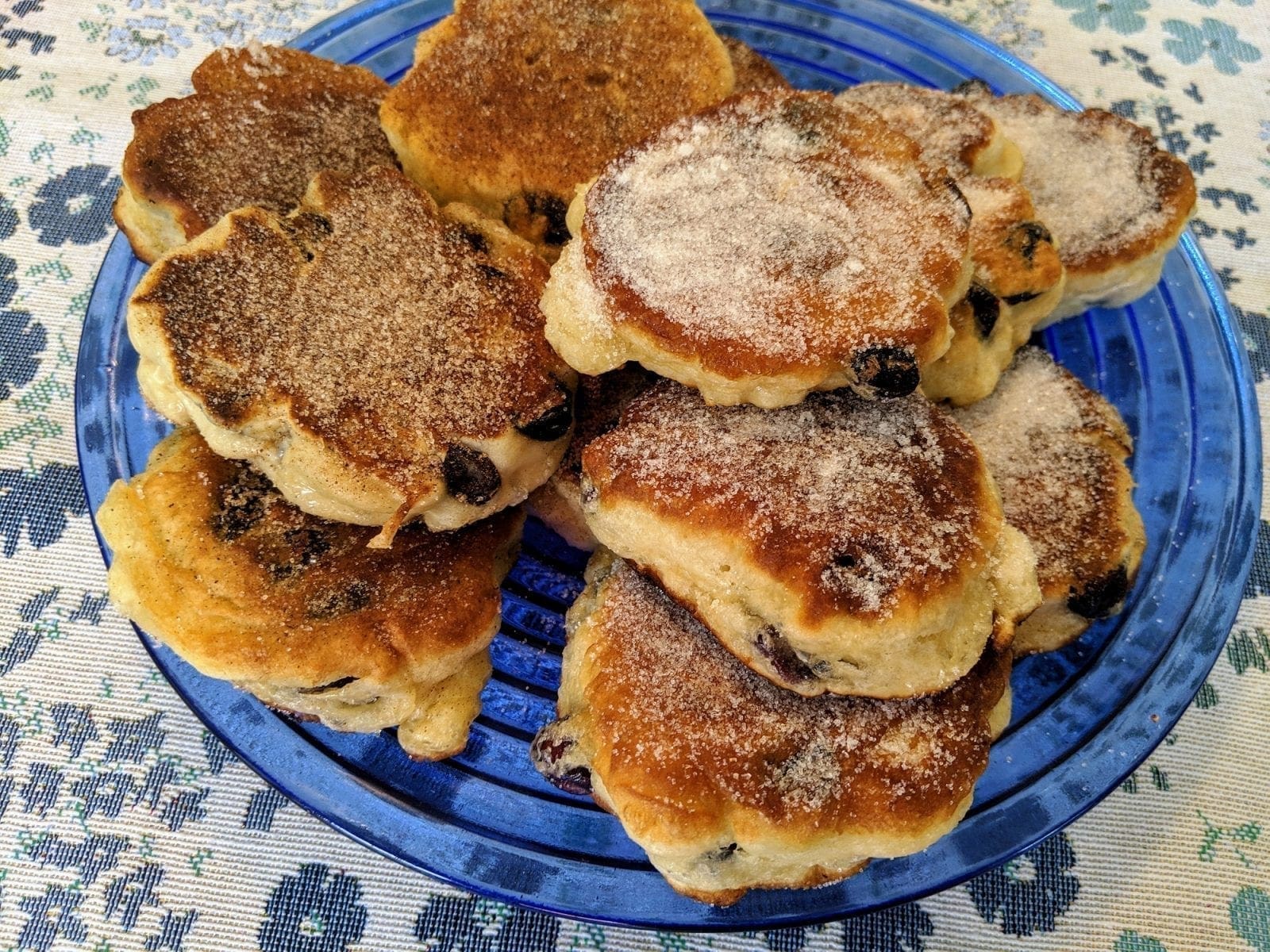 Münsterländer Struwen Recipe
Ingredients
500

gr

All Purpose Flour

4 cup

1/2

liter

Milk

2 cup lukewarm

40

gr

Yeast

2 1/4 tsp dried yeast

2

pkg Vanilla Sugar

3 tsp Vanilla Sugar or 2 tsp plus 1 tsp Vanilla extract

2

eggs

1

tsp

Salt

Optional- zest of 1 lemon

375

gr

Raisins

or dried Cranberries (2 1/3 cups)

Oil for frying

Sugar or Cinnamon Sugar or Powdered Sugar for dusting
Instructions
Combine Milk and yeast with Vanilla Sugar and a few tablespoons of flour in a bowl. Let sit for 5 minutes. Then add flour, eggs and a bit of salt. Mix well, and let the yeast activate for 10-15 minutes.

Add the Raisins, mix in well.

Add enough oil to a frying pan to cover the bottom with maybe 1/4 inch. Heat it up.

Add batter (it will be sticky) to the oil by the ladle full.

When it browns on the bottom, flip it over.

When both sides have browned... put the Struwen on a rack covered by a paper towel.

Sprinkle with Sugar or Cinnamon Sugar.

Serve them Warm!! (You can eat them cold, they just aren't as nice).
Only on Good Friday?
Oma was originally from the Rhineland where she learned the Struwen Recipe as Hefeplinsen. There was no set day to make Hefeplisen, so she made them whenever she felt like it…. served with Applesauce, Rübenkraut (sugar beet syrup or Golden Syrup),  or Pflaumenmuß (plum butter). It's a dish guaranteed to make kids at the table happy. Breakfast for dinner!!!
My Little Book of Münsterland Recipes
The recipe in this book calls for butter in the batter…

Step by Step Instructions to Make Münsterländer Struwen
Dough will look like this when ready.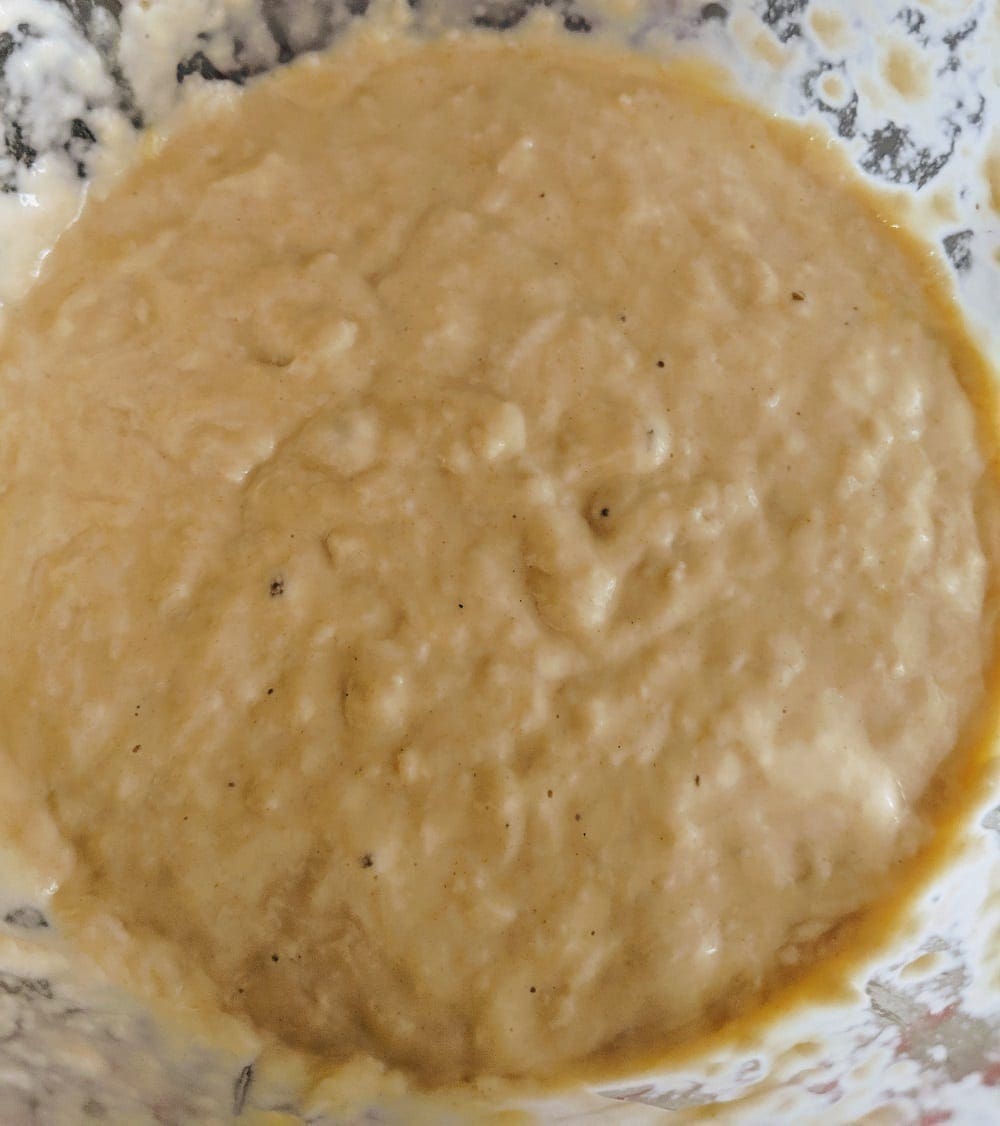 Add Raisins (or Cranberries) combine well
Ladle the Batter into a Pan with Hot Oil

Sprinkle with Sugar
Eat!
Looking for more Delicious and Easy German Recipes? My Easy German Cookbook has 80 Recipes, written for the American Kitchen.
Find it here…
Easy German Cookbook: 80 Classic Recipes Made Simple