Erzgebirge Flower Children-A Sweet Memory of Blumenkinder
 The Flower Children are a messenger that Spring is upon us! Bright colored outfits, little rabbits , sweet smiles, and of course, those giant Flowers. The Erzgebirge Flower children were traditional gifts for birthdays and Christenings.
Gisela sent me an email with a memory. Does anyone else collect Angels and Erzgebirge Flower Children? My mom has a set of the flower children in her bedroom. I always loved going in to touch them… carefully of course… They were so sweet, and had such ENORMOUS flowers. How could you not love them?
Gisela's Blumenkinder Story
I fell in love with the little Angels and Erzgebirge Flower Children in the 1940's. Mom would sew for a well to do family in Viernheim, they had 3 children and the mother was bedridden. My mom would go 1-2 times a year and take me along with her.
The family lived in a villa and in the upstairs hall stood a big cabinet with glass doors where the Wendt and Kuhn Angels, Erzgebirge Flower Children and those wonderful books with those pretty pictures were kept. They were just the right size for my little hands, and a life long love was born. I could not read yet , I was only 3 or 4 years old at the time and the love that began then is alive and well now 70 years later.
I do not have to add that I have accumulated quite a collection now. I have the Angels, the flower children and several of the little books. The only one that I ever got as a child "Haenschen im Blaubeerwald" is still here with me. I love it as much today as I did when I got it all those years ago.
Just a recollection of many years ago that made a sad childhood fun and exciting and so memorable.
-Gisela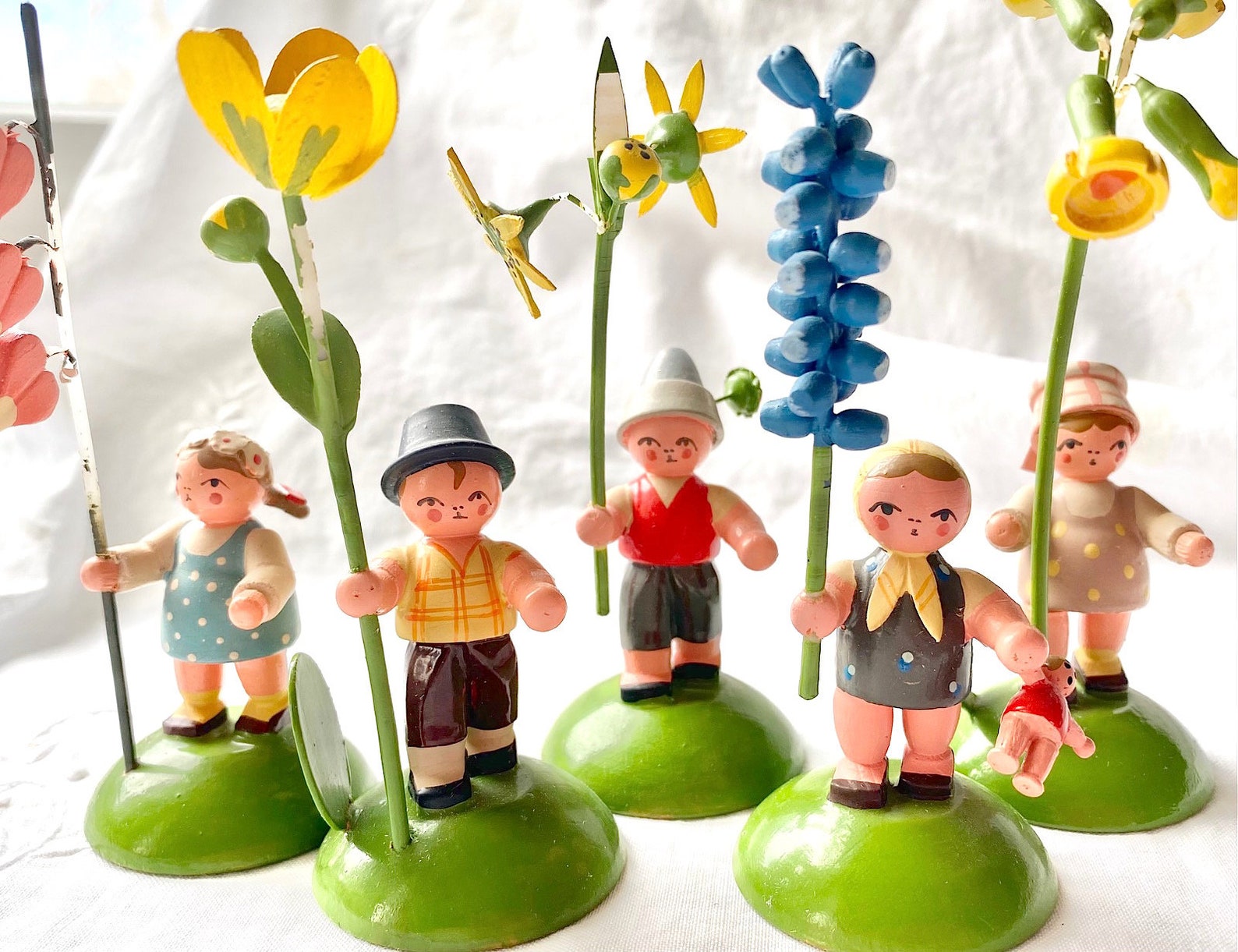 Choose From Five Darling Flower Children Made In The GDR

What are Blumenkinder?
Quite simply, Blumenkinder are delightful little figurines of children, each carrying an oversized flower. The sweet faces reflect a childhood innocence, while the bright colors add a touch of  Spring to any home. The Blumenkinder are collectible and decorative. Many Erzgebirge woodcarving houses produce their version of the Flower Children, and they are instantly recognizable by style.
The first Blumenkind created in 1929 by the Wendt und Kuhn group held a daisy. Why? Because Greta and Olly Wendt loved daisies. Over the next 8 years they added 18 more children holding oversized flowers to their catalog. Like their famous Angels, the girls wear full skirts, but these are painted with details to match their flower. And each hand painted child seems to have a personality!
Another collection came from WEHA. Franz Haubt began his woodcarving career with chandeliers, but after the war, he switched to Fairy Tale pictures that would simple add color and happiness to children's rooms. By 1948, he added Flower Children to his company (WEHA- WErkstätten HAupt). His figures are hand turned, hand painted, and then varnished. Sometimes there are animals with the children, and these are produced in the Reifendrehen style (carved from a hoop of wood on a lathe- see that in action here). It's the flowers that set the WEHA Blumenkinder apart. The buds, and calyxes (the green bits around the petals) are carved from wood… but the petals and leaves are made from cardboard or heavy paper reinforced by wire.
Hubrig's flower children with their ruffled skirts and distinct hats (wide brimmed straw hats for the girls, green hats with a band for the boys), feel like they are in motion. The  strong colors make them stick out! These Blumenkinder come in a few different sizes. While Dregano's Blumenkinder look like teenagers or ladies with their distinct side-bun hairstyles.
It is still possible to find the Erzgebirge Flower Children that Gisela loved so much…
Collect Erzgebirge Flower Children
Cheer up your Spring decorations with Blumenkinder!
Vintage Blumenkinder
They never go out of style…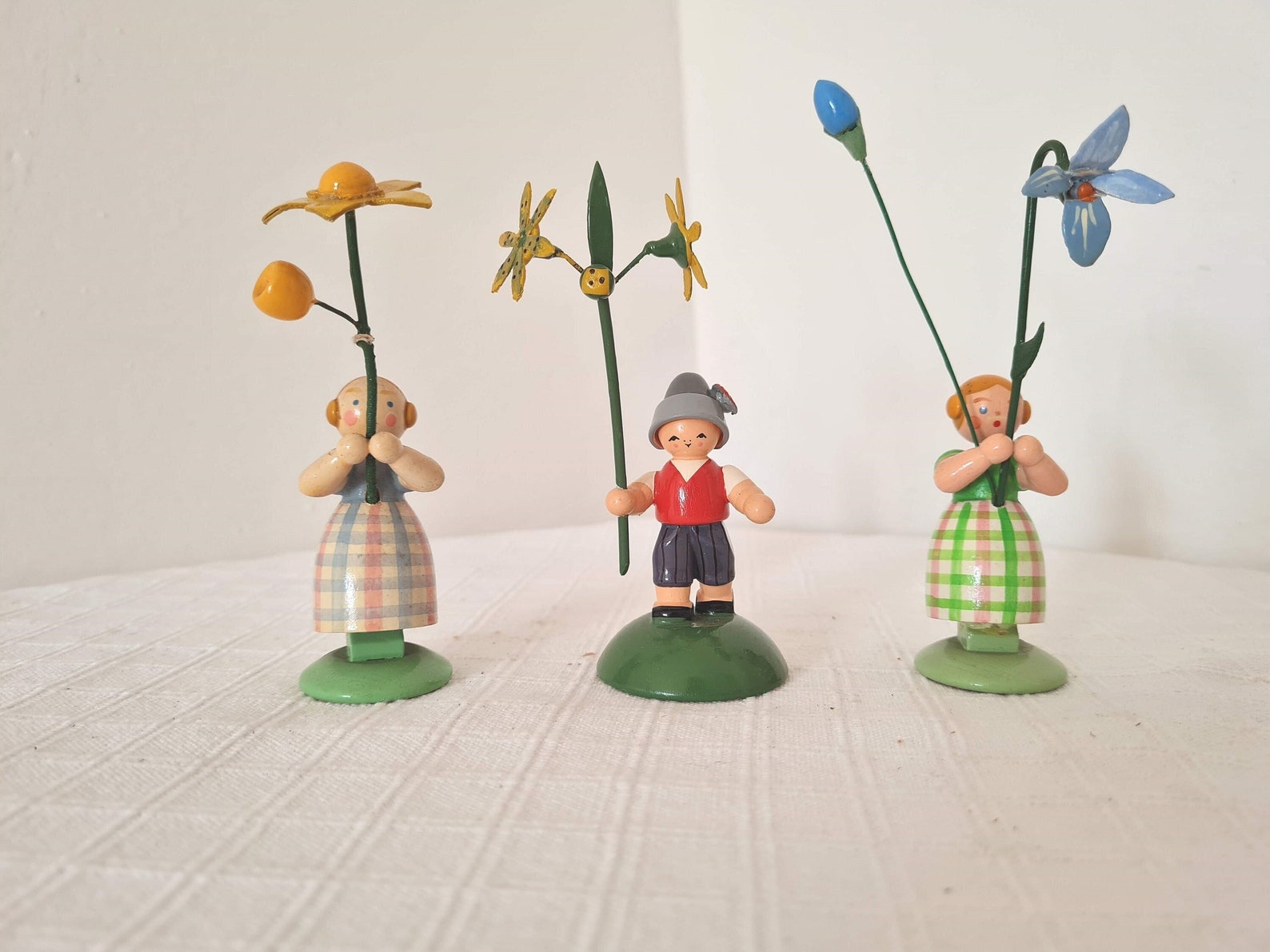 Vintage German Erzgebirge Wooden Hand Painted Flower Child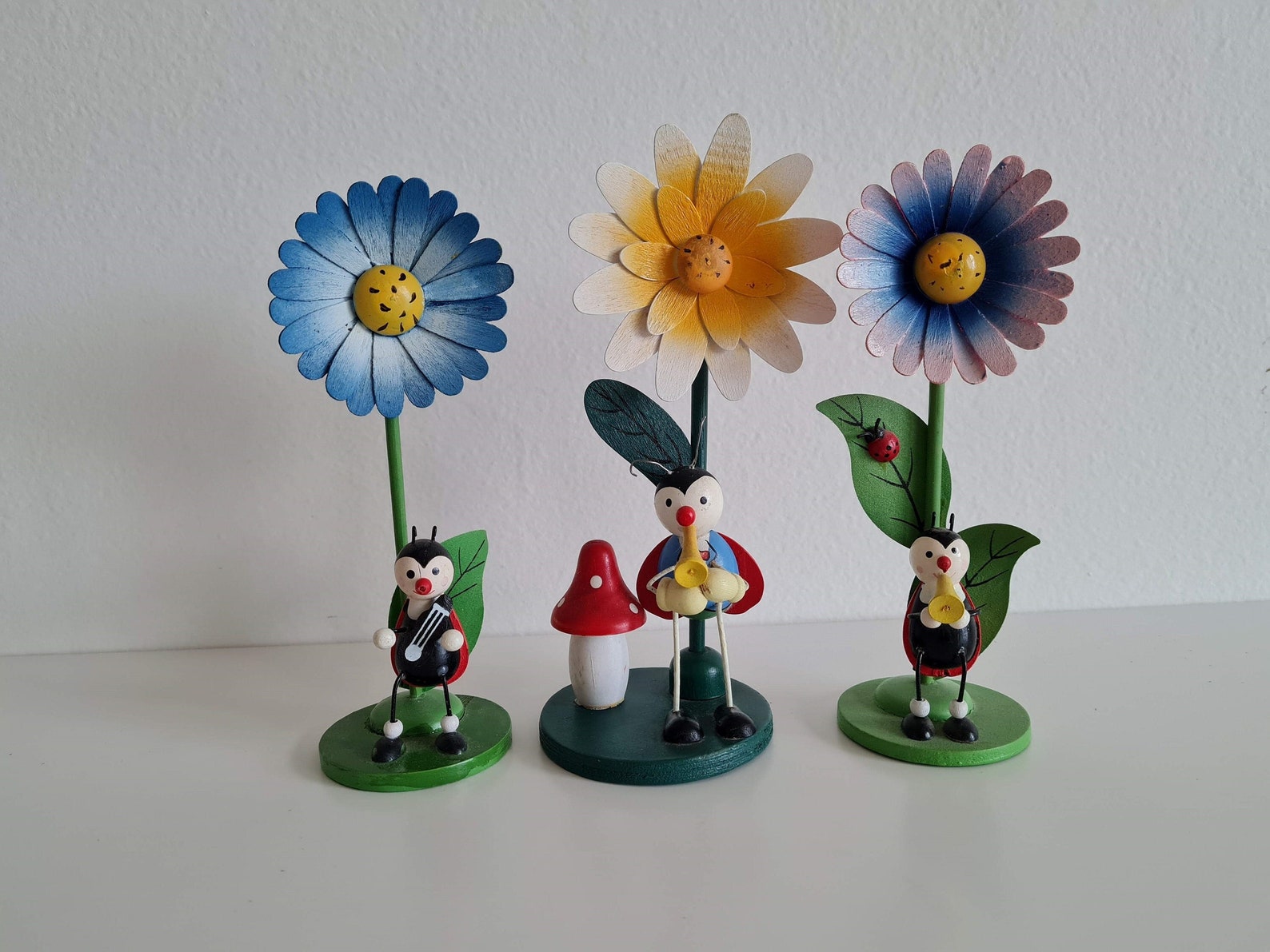 Vintage Erzgebirge Easter ladybug figurine, miniature ladybug collectible figurines painted East Germany Easter Wooden decoration

Wendt & Kuhn Flower Children
Wendt & Kuhn make my favorite figurines…the faces are so sweet. This company has been making figurines for 100 years!
Girl with SnowdropKäthe Wohlfahrt Store
Girl with VioletKäthe Wohlfahrt Store
Girl with Four-Leaf CloverKäthe Wohlfahrt Store
Boy with tulipKäthe Wohlfahrt Store
Flower-boy with NarcissusKäthe Wohlfahrt Store
Girl with PansyKäthe Wohlfahrt Store
Hand Painted Wooden Boy with Daisy

Wendt and Kuhn Girl with Cornflower

Wendt and Kuhn Girl with Scilla

Wendt & Kuhn Girl with Winter Aconite

Hubrig Volkskunst Flower Children
There is a difference in the faces and the painting. Hubrig Volkskunst uses strong colors…bright cheeks, and more details. Collect the series you love best.
Flower children Poppy flowerKäthe Wohlfahrt Store
Flower children Spring snowflakeKäthe Wohlfahrt Store
Flower children Lily of the valleyKäthe Wohlfahrt Store
Flower children PrimroseKäthe Wohlfahrt Store
Authentic German Erzgebirge Handcraft Small Figures & Ornaments Flower Girl with Daisy – 11cm / 4,3inch – Hubrig Volkskunst

Small Figures & Ornaments Flower girl with Flax – 11cm / 4,3inch – Hubrig Volkskunst

Flower Child Girl with Sun Hat – 11 cm / 4.3 inch

Dregaono's Flower Girls Also celebrate Spring
These flower girls look a little older, but have wonderful colors and distinctive hair.
Alexander Taron 013-2009 Dregeno Easter Figurine-Violet Flower Girl-4.5

Alexander Taron 013-2008 Dregeno Easter Figurine-Orange Flower Girl-4.5

Alexander Taron 013-2010 Dregeno Easter Ornament-Green Flower Girl-4.5

Alexander Taron 013-2003 Dregeno Easter Figurine-Red Flower Girl-4.5

Limited Edition Flower Children from Kindertraum
These are more elaborate Flower Children… and I love how they all have a little extra creature, bird, bug, or animal with them.
"Bleeding Heart" Flower ChildKäthe Wohlfahrt Store
"Blue Hydrangea" Flower ChildKäthe Wohlfahrt Store
"Colored Lily" Flower ChildKäthe Wohlfahrt Store
"Violet Aubrieta" Flower ChildKäthe Wohlfahrt Store
"Bindweed" Flower ChildKäthe Wohlfahrt Store