German Side Dish Ideas for Thanksgiving Dinner




[no_toc]
When I was growing up, my mother never made the traditional American Thanksgiving meal of big roast Turkey, green bean casserole, sweet potatoes, etc.  We would have a German meal instead (which was fine by me, I'll take a pork roast any day). Still, after being married to an American, I learned to make the American meal, and incorporate a few German side dish ideas for Thanksgiving Dinner. You may not get out of putting marshmallows on sweet potatoes (I still don't care much for that), but you can bring some delicious German foods to the table that won't look so strange (and will compliment the Turkey very well).
Win win…everyone is happy!
German Side Dish Ideas for Thanksgiving Dinner
It doesn't have to be radical changes… just a few twists on the standards will make your traditional Thanksgiving Meal a little bit German.
Instead of Butternut Squash Soup- German Kurbis Suppe
To me, German Kurbissuppe or Pumpkin Cream Soup has a much milder flavor than the American counterpart. What makes this really international is the Hokkaido pumpkin (from Japan). Around the world in one soup! Add a drizzle of balsamic vinegar (a good one) if you want it to look fancy. Or maybe sprinkle it with a few roasted shelled pumpkin seeds.
English recipe for Kurbis Suppe
Watch it made here–
Or go ahead and take the short cut with this instant–> Kurbiscreme Suppe
Instead of Stuffing- Semmel Klöße
Semmel Klöße or Bread Dumplings are basically Stuffing or Dressing (Stuffing goes IN the Bird, Dressing is cooked SEPARATELY FROM the bird). Old bread is seasoned and softened… then shaped into balls and cooked until done. Now, a lot of people have serious stuffing/dressing issues, and you might not be allowed to make the substitution, but since everyone loves it so much, why not offer Semmel Knödel as an ADDITIONAL side dish. (The kids will love you, because there won't be any of the "things" that people are always sneaking into stuffing… like celery).
Learn how to make them here-
Or take a short cut with a Pfanni Mix–> Pfanni Semmel Knödel
Instead of Green Bean Cassarole- Grüne Bohnen mit Speck und Zwiebeln
Green Beans mixed with canned Mushroom soup? Not when you can make them with BACON! The beans are fresh and tasty, and even kids won't turn up their noses to green veggies if there is bacon involved. (FYI Speck in Germany isn't quite the same as Bacon in the US, but you can use Bacon as a substitute in this recipe).
Find the recipe here–>German Speckbohnen Rezept
And in English (this recipe needs a bit of salt and pepper)–> Green Beans with Speck and Onion

Instead of Sweet Potatoes make Potato Croquettes
If you've never had them, think of Potato Croquettes as high end Tator Tots. Crisp fried, and super delicious… these will be the first to vanish from the table. Best of all, you can make them ahead of time and freeze until you are ready to cook them up. Croquettes are made with mashed potatoes, egg, seasoning, and some bread crumbs… shaped and fried up! YUM!
Find the Recipe here–> Recipe for Croquettes
or watch it made here–
Instead of Macaroni and Cheese- Käse Spätzle
Macaroni and Cheese is as American as Thomas Jefferson, but you can switch things up a little with Käse Spätzle! Instead of cheddar, Käse Spätzle uses Gruyere cheese. AND for those who really miss those fried onions from the American Green Bean Cassarole, they make a great topping here! Make the Spätzle yourself, you can even make them ahead of time… or use the ones from a bag (only your Oma will know the difference!).
Find the recipe here–> Käse Spätzle
Watch it made here–
Click to order a quick packet of Cheese Spätzle 
Other ideas for Germanizing your American Thanksgiving….
Rotkohl or Red Cabbage 
Rotkohl or Red Cabbage seems to be part of every German Celebration or Holiday meal, so why not make it for Thanksgiving? It's a little sweet, a little sour, and pairs well most meat. I'm more used to Rotkohl that isn't cooked so long.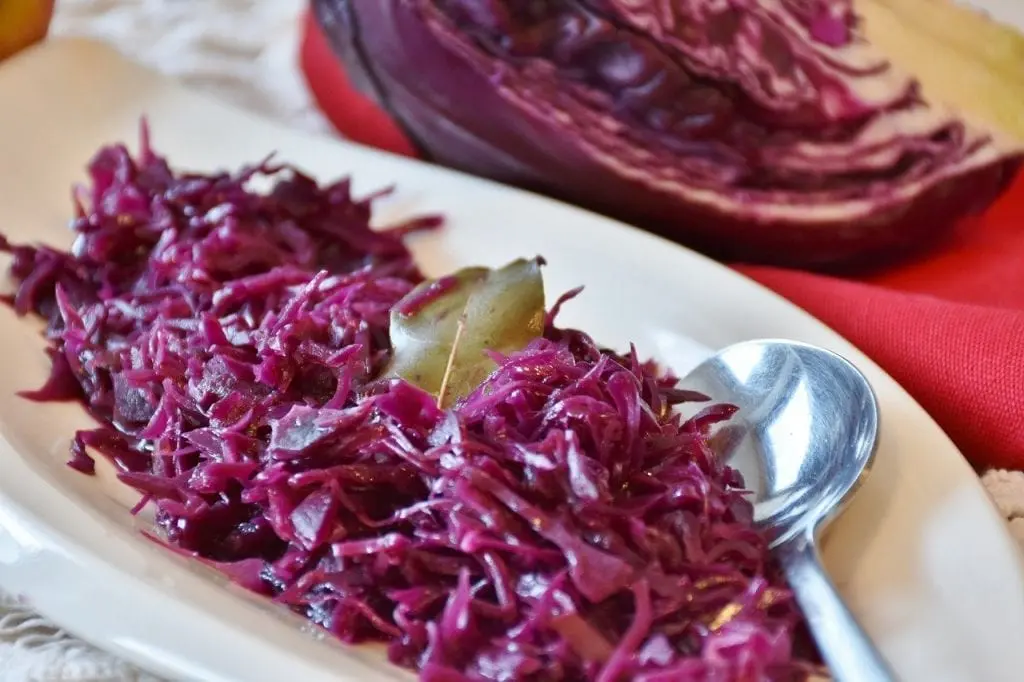 This recipe, with less cooking time, is good–> Rotkohl
Or you can cheat, and buy the pre-made–> Red Cabbage

Schupfnudeln or Potato Noodles
You are appealing to kids with this recipe (and me). Think of them as longer friend Gnocci. And they are soooo delicious! You don't even need gravy, but you will love them with gravy.
Find the recipe here–> Schupfnudeln
Rosenkohl or Brussels Sprouts
I'm going on record that I am NOT a fan of Rosenkohl. But I will eat them. HOWEVER, I have never in my life not eaten the food that was put in front of my by someone I love. My daughter roasts them (which isn't tremendously German, but is good) and This recipe cooks them in Beer–>Bier Rosenkohl
And For Dessert?
Apfel Kuchen instead of Apple Pie!
You can go with the classic Vesunkener Apfelkuchen (Sunken Apple Cake) OR I suggest the Apfel Streusel Kuchen (Apple Streusel Cake!). It's juicy and delicious. Travels well… and best of all, is covered in STREUSEL!

Find more German Recipes for a Perfect Thanksgiving or Christmas Meal HERE
The German Cookbook was written by Alfons Schuhbeck, a famous German chef. His recipes are easy to follow, and come out delicious. Culinaria Germany is broken up by region, so it's easy to find that perfect recipe that goes along with your Oma's heritage.
The German Cookbook

Culinaria Germany: A Celebration of Food and Tradition