German Smoker Witch- Fun Decoration for Halloween and Walpurgisnacht!
A German Smoker Witch is a fantastic decoration for Halloween, Christmas or even Walpurgisnacht! I know, we associate Räuchermannchen with Christmas… usually they are Santas or Woodsmen…. But, since they are really just decorative incense burners or smokers, it seems perfectly logical that you could use them for other celebrations. What child wouldn't love watching at a smoking witch? Or a witch with a bubbly cauldron? And since the incense comes in different scents, you could easily find incense cones to match the appropriate season.
Don't forget, Germany has a strong tradition of Witches, so it isn't unusual to see them in the household. My mom (and I) have kitchen witches guarding over our cooking! And of course, Grimm's Fairy tales are absolutely LOADED with witches! So it makes perfect sense to have smoker witches too…
Why not set a new tradition, and get a German Smoker Witch to decorate your home for the Holidays…
German Smoker Witch
A German Smoker Witch works just like a regular German Smoker Incense Burner. These hand carved wooden German smoker figures open up so you can put a small cone of incense on a metal plate inside it. Light the cone, and put the burner back together…. Sweet smelling smoke will come out of holes in the witch… generally from her mouth or pipe.
The cauldron Witch is very cute though…
I love the details on some of these witches… they have cats or birds with them, some carry a cauldron, and all have a real straw broom and look ready to zoom off into the night!
These are not "toys"... so they aren't something you would give a child to play with HOWEVER Kids do love watching them. The smokers are not very big… and they can get quite expensive… but remember, these are hand-made from the Erzgebirge! Not just decorations that you buy, use once and toss into a box or throw away. German Smokers are collectible, and for many families, they become heirlooms.
If you love German Smokers & Incense Burners, take a look at this collection of German Smoker Witches!
Christian Ulbricht Smoker – Helloween Witch – 21,5 cm / 8.5 inch

Hubrig Volkskunst Smoker – Gingerbread Witch – 20 cm / 7.9 inch

Müller German incense smoker Halloween witch with pumpkin, height 25 cm / 10 inch, original Erzgebirge by Mueller Seiffen

Mueller Halloween Pumpkin Witch Smoker Made in Germany

Hansel und Gretel Haus with a Witch!
Super Cute!! The smoke comes out of the chimney.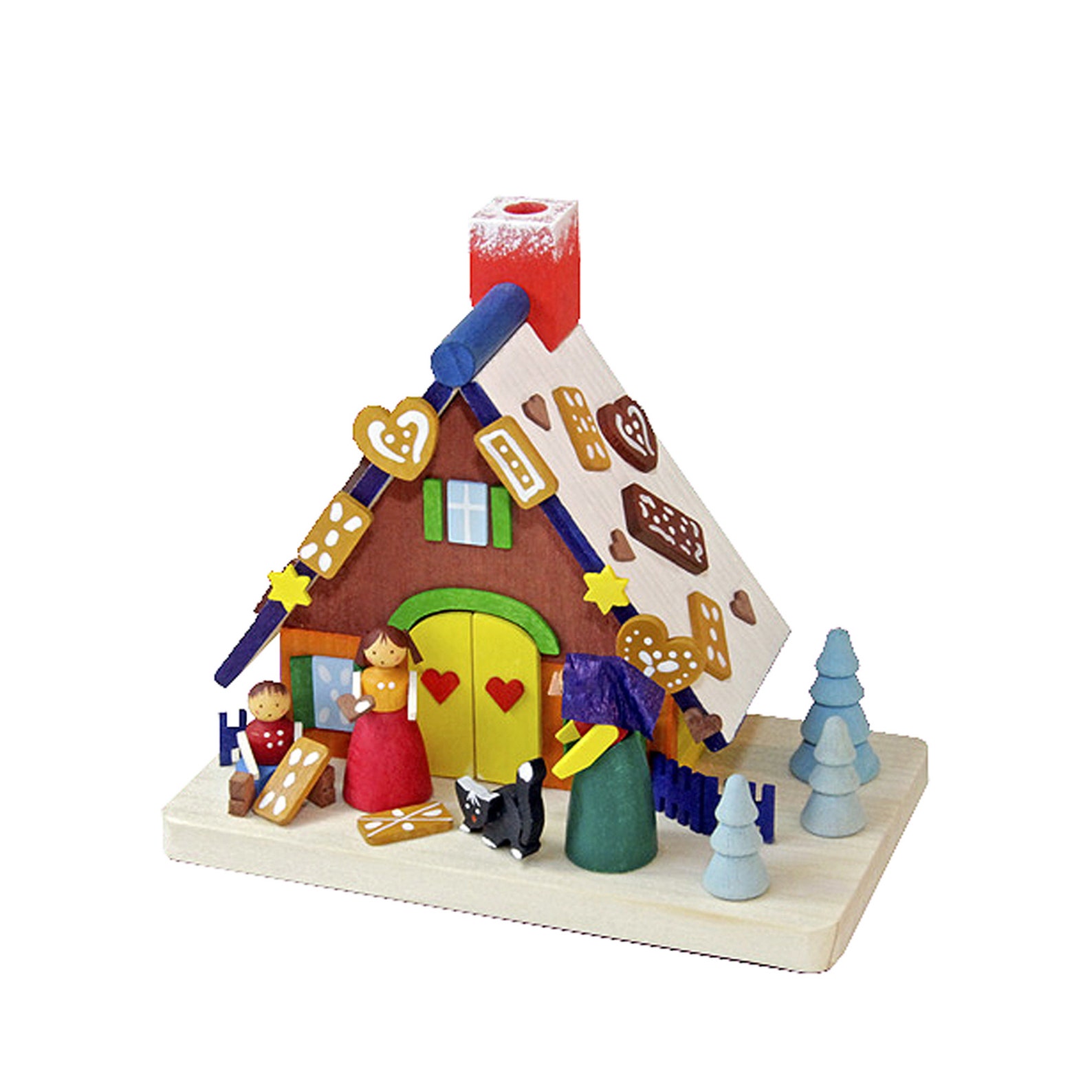 German Erzgebirge Smoker House: "Hansel & Gretel" by Graupner, w/ bonus

Vintage Smoker Witches
Older witches still need love…
Christian Ulbricht German Smoker Witch Vintage Christmas Germany Incense Burner Volkskunst Tall Wood Halloween Figurine Cat Pumpkin Broom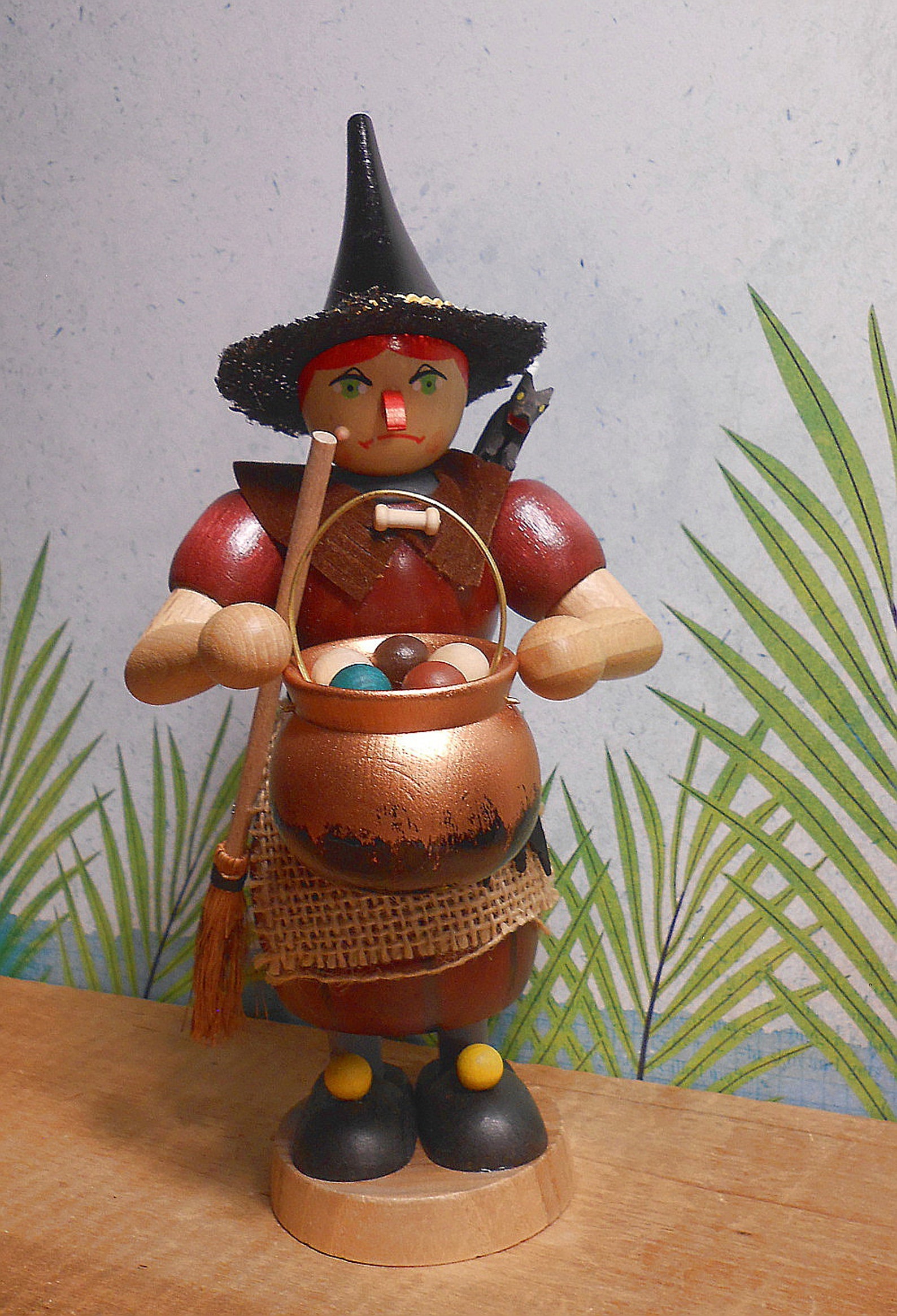 Germany Halloween Witch Smoker – Erzgebircische, Wood, 7 1/2″

Order A German Smoker Witch from Germany
And for fun… a Hexenhaus Pyramid! And a DIY Hexenhaus that you build yourself.
Dekohelden24 Lustige Räucher-Hexe, ca. 19 cmAMAZON.DE
SIKORA P30 2-in-1 Holz Teelicht Weihnachtspyramide mit funktionsfähigem Räucherhaus Motiv HexenhausAMAZON.DE
Bastelset Räucherhaus Hexenhaus, das Original aus dem Erzgebirge. Basteln mit Holz für Erwachsene nach einer ausführlichen deutschen Bastelanleitung. Das 3D-Puzzle zum Räuchern.AMAZON.DE
Buy German Smoker Incense
Don't forget the incense! And with scents like Honey, Gingerbread and CHOCOLATE, you can really bring on the fall season.
Sigro Knox Burners Mixture of Fir and Sandal Incense Cones, Blue, One Size

KNOX Cinnnamon Scented Incense Cones, Pack of 24, Made in Germany

TR
&