Some of My Favorite Things to do; Germany… What are YOURS?
)Lately people planning vacations ask me, "What are your favorite things to do? Germany is such a big place." My smarty-pants answer is "go into a bakery, and take a big sniff, then go into a butcher shop and do the same." But… I don't think many people want to spend the cost of a plane ticket to smell bread (maybe you do, in which case there really isn't much point to reading any further).
Obviously, when I visit Germany, I go to see family. But it's not just family! As an adult, with a driver's license and a yen to travel, I've started to spread my wings, and experience things that aren't necessarily on the standard Tourist Checklist.
I find that Germany is one of the easiest countries to get around in. The transportation system works, people are generally friendly and helpful, and while it is a big country, it isn't so big that you can't manage to see a lot of in in just a few weeks. And you can't go wrong with the food.
Don't let an inability to speak German slow you down. Germany is a country with many and varied attractions and activities. Go and see… then go back and see some more.
My FAVORITE things to do in Germany!
There are so MANY things I love to do, this list barely scratches the surface (and I'm always adding more)..
Stadt Bummel (wandering through a City)
…especially in Münster!

I love Westphalia, obviously, because my family is there.  My favorite "big city" to wander through is Muenster in North-Rhine Westphalia. The Prinzipalmarkt, situated between the Lamberti Kirche  and the Dom Platz, is lined with glamorous shops, fabulous for window shopping. Although much was destroyed in the war, the buildings have been lovingly restored to their original look with their big fronts that touch one another. The covered walkway means you can enjoy it, even in the worst weather. Go on market day in the Domplatz, and stop to enjoy some Kartoffelpuffer from a kiosk (eaten standing up). Or visit the cafeteria on the top floor of Karstadt, the inexpensive but delicious food comes with a great view.
Ready for a real meal? Go to Pinkus-Muller. This brewery/ restaurant has been a favorite of locals and students for 200 years.
Rent Bicycles and take a Ride
…Anywhere you can! I've ridden in Munich, the Black Forest, and most often in Westphalia
Westphalia is flat, really flat which makes the area great for Farming and Cycling. As a tourist, you probably aren't interested in the farming, but I do suggest a bike ride. Many roads have separate bike ways (often separated from the road by several feet to keep you safe from those speedy drivers zipping around the curves). On weekends we would take the bikes out and ride from Gasthaus to Gasthaus, Wasserschloß to Wasserschloß. Villages can be as close as 5- 10 km apart, so you get a chance to see a little country with frequent breaks for Radlers.
What is a Radler? Cute story… apparently the drink, originally called a Radlermass was invented in Bavaria when a huge group of Cyclists ended up at a Gasthaus, and the owner started to run out of beer. He blended Beer with Lemon soda to stretch things a bit… and it was a hit. Today cyclists love drinking Radlers because it's refreshing … and you still get your beer.
Cycling is also a great way to see the English Garden in Munich (it's big, really big…. and for some reason the gentleman I was with kept swinging by the nude sunbathing area). Most cities and towns have bike shops, and often you can rent them for a few hours.
Visit a Cathedral
…All are amazing, but the Cologne Cathedral is my favorite
Yes, the Cologne Cathedral is on the Tourist path… but I would suggest doing more than a drive by. And, if you are going to visit a Cathedral, might as well see is the largest Gothic Cathedral in Europe… and when I say it's big, I mean REALLY BIG. If you stand near it, you can't see it all. Even standing back a bit, you have trouble getting a real idea of the scope and size of the building(someone tried to explain the concept to me, using words like parallax…sadly I got bored and wandered off to a postcard stand). But don't just stand next to it, go in. Despite the thousands of tourists who wander through each day, this immense building has a cool and quiet feel inside. Like the whole world is whispering. Look up at the ceiling, now imagine what it took to build something that magnificent in the days before crane lifts and OSHA. Stop by the golden Shrine holding the bones of the Three Wise Men, then go underground to see the treasure room. Finally, and this is my favorite part, climb the 533 steps to the top of the Dom. It's a bit claustrophobic, but there are windows from time to time to keep you from feeling completely caged (warning, around step number 367, I start cursing at myself for putting my not-so-young body through this torture… then I spend the next 50 steps apologizing for cursing in a church). Near the top you get to the Bell Tower. If you are lucky (or unlucky… depending on how you like noise) you will be there when the bells are ringing. LOUD!! At the top you get an unmatched view of Cologne, the Rhine, and the roof of the DOM. It's breathtaking.
Added bonus… after climbing back down, you can go across the street to enjoy a Koelsch!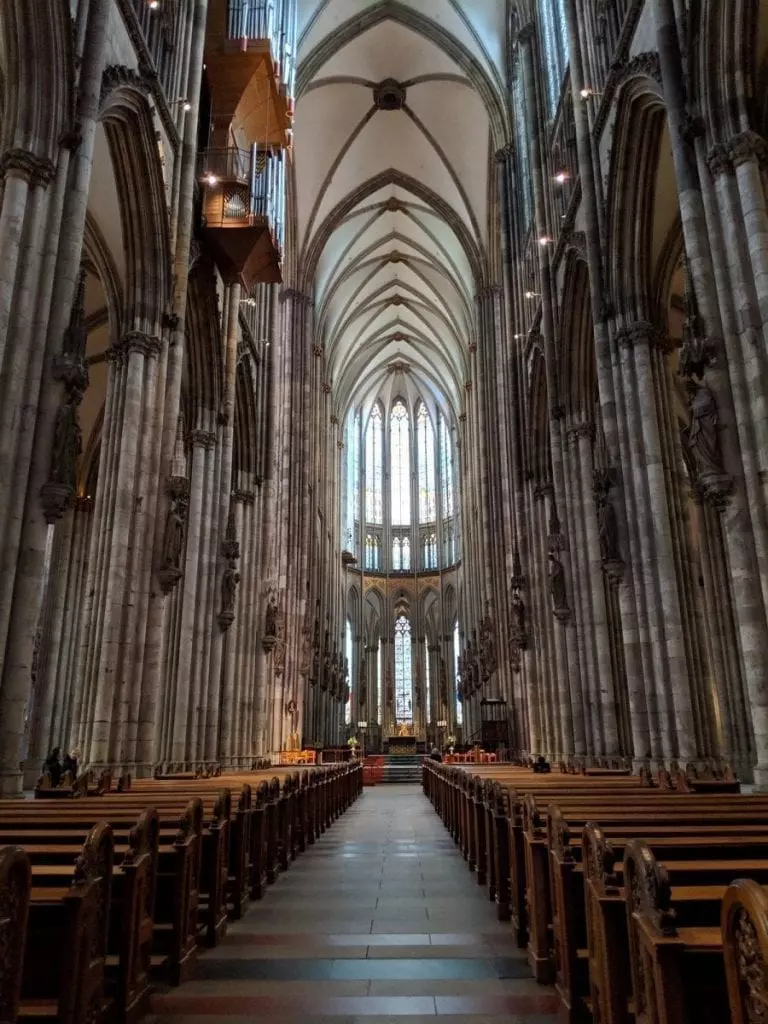 Take a Train Ride
…Leave the driving to a train engineer
Train travel is easy in Germany, and it's a great way to get from city to city. And unlike the Autobahn, you can see the countryside you are traveling through. I've traveled by train quite a few times in Germany, and you get that swaying, ambling feeling as you move across the countryside in your little cabin (also, there is food, and a bathroom!)

If you can't stand to go slow, riding an ICE train is a great way to quickly get from one end of Germany to the other without flying. Jump on an ICE Train, and it's a different world. The scenery SHOOTS by you much faster than it should. The seats are comfortable… and I entertained myself by watching the speedometer, and then looking out the window for fixed points.
Enjoy a Café
…Any and every city and town has a Café. Find one and just enjoy
Every city, town, village in Germany has at least one outdoor Café or Konditerei where you can sit and watch the world go by. Now, having a coffee in Germany is not the Starbucks grab and go experience… this is a sit down, put your darn phone away, relax and order a Kännchen of Coffee and a slice of Torte experience. (Don't like cake? Order an Eiskaffee)
Savor the time, don't rush it. Feel the sunshine, people watch (tourists, artists and peddlers abound), and geniess it (relax and enjoy!).
Things will still be there when you get back up again, even if you sit for 1000 years.
Visit a Museum
...You'll find museums to cover every interest!
Interested in art? Don't miss the Städl in Frankfurt… this compact museum is filled with masters (including a Vermeer!). Did your family emigrate from Germany? You need to visit the Auswandererhaus in Bremerhaven. This interactive museum deeply immerses you in what it FELT like to climb aboard that ship. There's a bread museum in Ulm, and a mechanical museum in Rüdesheim. Don't miss the Medieval Crime museum in Rothenburg! It really is an interesting change from the fairy tale world outside its doors. And of course, a few museums have toy museums… In Seiffen you find the Erzgebirgisches Spielzeugmuseum dedicated to historic wooden toys from the area, the Munich Toy Museum is right next to the Marienplatz, and my favorite toy museum is the Spielzeugmuseum Nuremburg. Nuremburg started off as the city of tin soldiers, and they still hold a toy exhibition every year. The whole museum is a walk down memory lane, and I LOVE the tower of Playmos!

River Boat Cruise on the Rhine or Mosel Rivers
…the slow boat will get you there, and you'll have the best view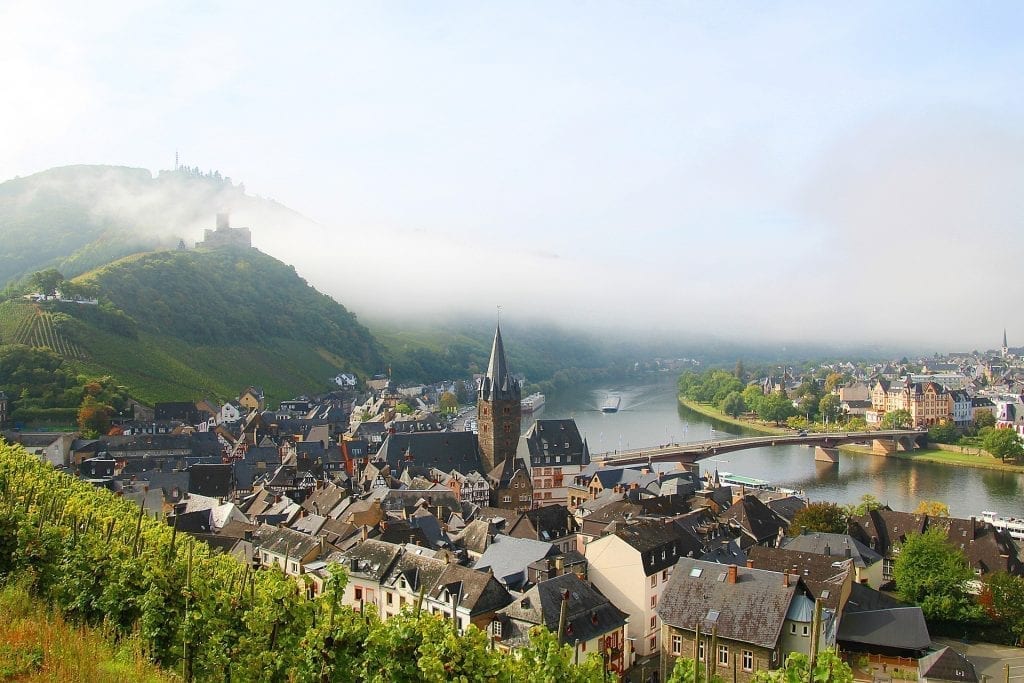 Cochem on the Mosel
The Romantic Rhine and the beautiful Moselle Rivers are best seen from the deck of a riverboat cruise. Yes, you can drive… but ZIP your focus is on the road, and not the beautiful scenery. Slow down, watch the vineyards and castles slowly slide past you. Most ships make frequent stops, so you can disembark to do a little pedestrian touring, or stop and have a nice lunch somewhere. Some towns even have buses that will take you up to the local castle for a tour, or a nice view.
Better yet… stay a while.
Drink Wine
… like in Rüdesheim, the Drosselgasse and beyond
A stop in Rüdesheim on the Rhine is not complete without a visit to the Drosselgasse . This alley wide road was originally intended as a thoroughfare from the Rhine to the rest of the town. The Narrow and lively avenue is now lined by wine bars, beer halls, souvenir shops and places to eat. Many are open to the Drosselgasse so music and laughter pours out at you from both sides. Pick one at random, sit down and enjoy the local wine and the show. I'm not a huge souvenir shopper… but if you are, you will find plenty to buy in one small area. Added bonus, you can leave the non-shoppers at a table with some beer or wine, and everyone's happy.
Not crazy about crowds? There is a lot more to Rüdesheim!
Go up to the end of the Gasse… and go right or left. You will find restaurants and shops on quieter side streets. Visit the Asbach Museum, or take the Gondola ride up to the Niederwalddenkmal. You can even enjoy a glass of wine on the ride!
Wander through a Historic Neighborhood
…Like the Schnoor District in Bremen
photo by Alfred Schierholz
Historic neighborhoods are living history with cake. Every corner has something interesting to see. One of my favorites is the Schnoor Viertel in Bremen. Roland and the Bremer Stadt Musikanten are only the beginning of your adventure through Historic Bremen. Just a short 5 minute walk from the Rathaus and Domplatz you will find Bremen's Oldest district, called the Schnoor Quarter, low German for Schnur (which means "string"). This neighborhood is lined with tiny half timbered houses and shops that date back to the 15th and 16th century. The cobblestone streets and alleys, too narrow for  cars, are for pedestrians only, making this a fantastic place for a leisurely stroll. For a long time, this was the poorest section of Bremen, because of the difficulty accessing it, but today, the buildings have been spruced up and converted to shops, galleries and charming places to stop and eat. Loads of flowers and small trees make it feel cool, green and inviting to those who stroll through. The Schnoor Neighborhood is conveniently close to the Weser River, and many Biergartens are there to quench your thirst.
Note- Special dispensation allows the shops in the Schnoor Neighborhood to open on Sundays from 11am to 4 pm, between April and December.
Tour a Fairy Tale Castle
…Burg Eltz looks like it came straight from the pages of Grimm
If I could only choose one castle to visit in Germany, it would be Burg Eltz. It covers all of the "castle requirements" that your Fairy Tale expectations give you; Towers and Turrets, Ornate and Imposing, and there is a handsome Prince in residence. While there are crowds, and you have to take an organized tour to go through, it's not as overwhelming as Neuschwanstein. Burg Eltz has been tucked into a valley near the Mosel for 850 years, and has never been disturbed. Pretty darn amazing! In fact, getting to it is not so easy. You have a nice long walk down a hill from the parking lot (and therefore, UP the hill on the way out). Turns out there is a shuttle (ahhhh… but I didn't see it until we were ¾ of the way back up… and hiking is good to work off the delicious Apple Cake that they serve in the Café)
Don't miss the Treasure Room (with the decorated Coconut)… and keep an eye out for gargoyles!
Local Festivals
…every town and village has festivals, and you can join in the fun

Everyone has heard of Oktoberfest, but if you are looking for something smaller, or can only vacation during school break, check out some of the smaller festivals that you find all over Germany during the summer months. You'll Schützenfest, Weinfests, Maifest, Music or Art Fests from May to September. Great food, music, and there's always plenty to drink. Go ahead and join other people at a community table, and get to know some locals. When the music starts, get up and dance. Enjoy parades, costumes, and the fun of being a part of a small town festival. You will know they are coming, because the walls will be papered with posters!
Visit a Freilicht Museum
…living history shows how life in Germany was years ago
Freilicht Museum literally translates to Open Air Museum, these living Time Capsules are perfect for getting an idea of what life was like in Germany's past. I've visited Freilicht Museums all over Germany. In Seiffen (Erzgebirgisches Freilichtmuseum Im Spielzeugdorf Seiffen), Münster (Mühlenhof-Freilichtmuseum), Niedersachsen (Museumdorf Cloppenberg), Hessen (Freilichtmuseum Hessenpark), and  the Black Forest (Vogtsbauernhof) … all are interesting, and all showcase life through the ages in that particular place.
Most recently I visited the Freilicht Museum in Seiffen. It's like Santa's workshop, most buildings are related to toymaking. Don't miss the Reifendreher!
My favorite with kids is the Vogtsbauernhof. Lots of craftsmen were at work carving wood, milking cows, cooking and building things. You could even buy some of the tools and toys they were carving. Added bonus, there were areas the kids could play. A Freilichtmuseum falls under the heading of Edutainment to me; I learn something (making me  truly thankful for my gas stove) and we have fun (pumping bellows and climbing posts).

Added bonus… the Vogtsbauernhof is quite close to a Rodelbahn. A free flying coaster that takes you to the top of a hill, then lets you cruise down along the track. YOU control the speed and brakes!

Visit a Brewery
… you can Visit a New One Every DAY
Germany has almost as many breweries as Castles  (and that's a lot) so why not go to the source? You might be able to tour the brewery itself… or you can just sit and enjoy the product.   Visit Weihenstephaner, the official State Brewery of Bavaria, and the oldest Brewery in Germany. Want to try something unusual? Visit Schlenkerla Brewery in Bamberg. This 600 year old brewery is known for its "smoked beer" served from wooden barrels. Monestaries like Kloster Andechs and Kloster Weltenburg still brew and serve their beer on site. Or, sign up for a beer tour, and drink your way across Germany.
Tour with a Nightwatchman
…Like the tour in Rothenburg
Many cities in Germany with an Altstadt have Nightwatchman tours. Some take place weekly (like in Gengenbach) others are more frequent. The most famous Nightwatchman is in Rothenburg. Twice every evening (once in English, once in German), the Nightwatchman of Rothenburg leads a groups of people around the historic old town, sharing stories about this towns long history. The engaging tours are both entertaining and rewarding.
Added bonus, the tours start after the bulk of the tourists have climbed abord their busses and cleared out.
Swim
…find a local pool or Bad
photo courtesy Wikipedia Commons
The Germans do build the best swimming pool facilities, complete with sauna, kiddie pools, indoor and outdoor pools and slides… but I have to say, with Tropical Island (around 60 km south of Berlin), they have outdone themselves. Located in an old Zepplin hanger, this swimming paradise has EVERYTHING you could want, all under one climate controlled roof. Swimming pools, slides, a beach, water falls, rivers, restaurants, suanas, spas and even places to stay. The Tropicano Club for kids has bumper boats, cars and legos… while the Spa has Steam rooms, facials and massages for parents. After touring busy Berlin, the Tropical Island is a nice mental break.
But even if you don't make it to Tropical Island, you'll find swimming pools and complexes all over Germany. We spent a lovely rainy afternoon at the Moselbad Cochem. There were water slides and multiple pools, including a splash pool  for the little ones… and a sauna for me. Swimming is such a great way to take a break from endless touring.
And this is just the Beginning…
Granted, this list is far from complete. There really is so much that the average tourist doesn't get a chance to see like the Lüneberger Heide, the Northern Islands of Sylt and Ruegen, Berlin's East Side Gallery, or the Toy Museum in Seiffen, but it is a start. Get of the regular tourist trail, hop off that bus! Spend time and really see what this beautiful country has to offer.
What would you add to this list of Things to Do, Germany??